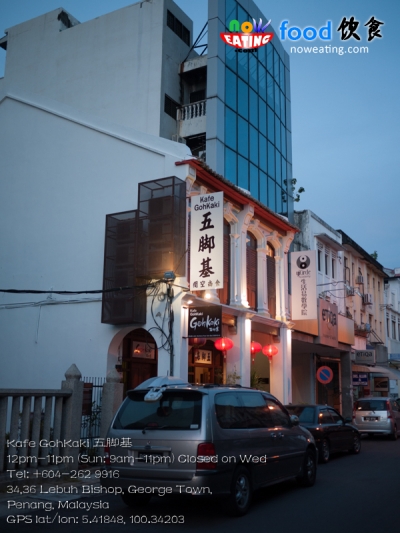 Back in old time, at each row of shophouses, there is a five feet width shaded corridor in front of the shophouses for pedestrians to walk around and act as a shelter place during bad weather. In Malay, it is called "Kaki Lima". I believed that GohKaki 五脚基 Cafe is named as such to act as a shelter for busy workers to relax themselves in nicely decorated and renovated old house.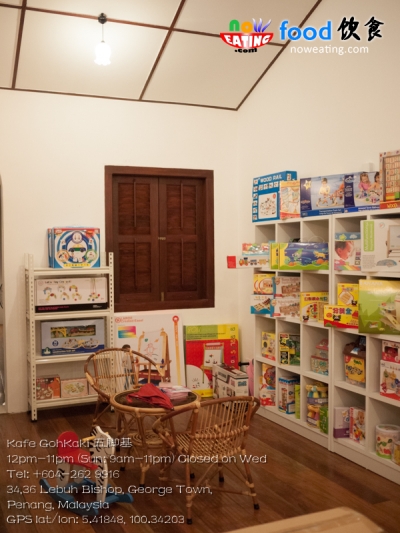 The cafe is located at Bishop Street, a one-way street next to busy financial district of George Town. It occupies two shophouses. Rental at George Town is a nightmare and to fully utilise its space, first floor of GohKaki is used as a premium toy store and is operated by another owner. So if you are looking for toys for kids, you may visit GohKaki as well.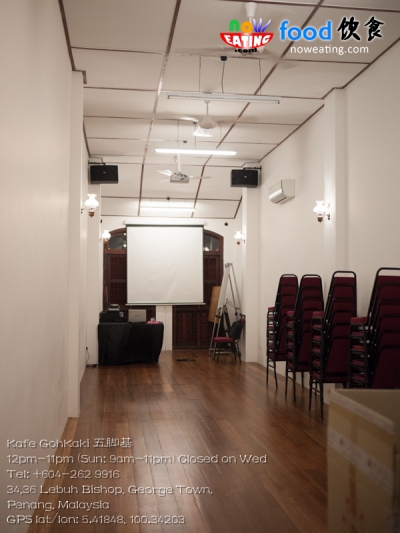 Next to the toy store is a conference room. I believe it can be used for public events as well.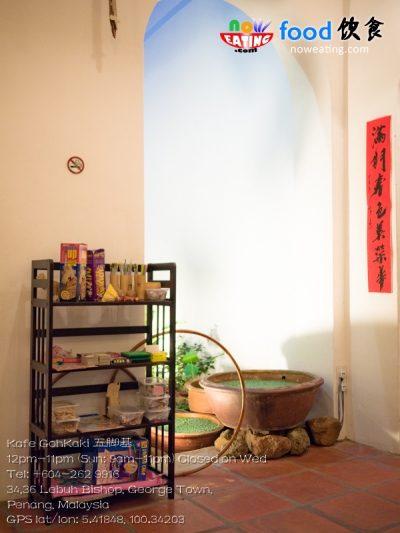 In front of the dining area there is a corner with childhood toys, such as Hula Hoop, gasing (top spinning), card and board games. You can play them on the spot. However, we found out that some cards were missing so please put everything back after playing.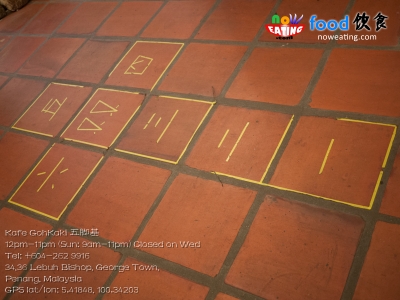 This is Hopscotch 跳房子. Personally I never played this game before.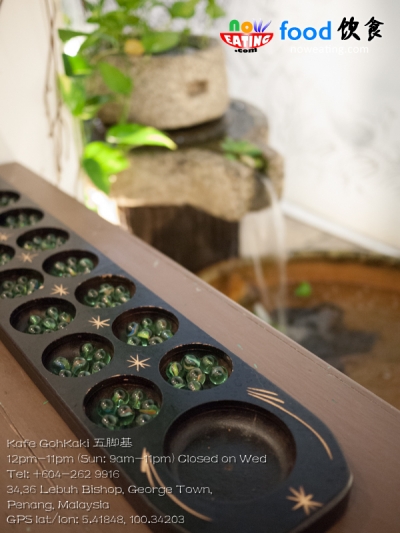 We spent our evening learning on how to play congkak. The host was friendly enough to teach us on how to play it. It required some calculation in order to outsmart your opponent. The result? I lost.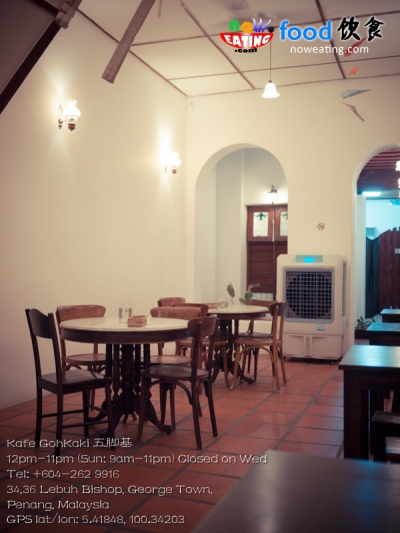 No doubt the ambient is really nice with music playing at the background.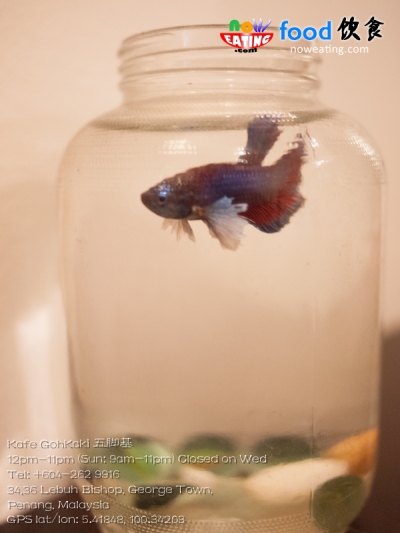 On each table you will see a bowl of water with Siamese fighting fish a.k.a betta in it. This is another childhood game in which kid will bring his own male betta fish and fight with others.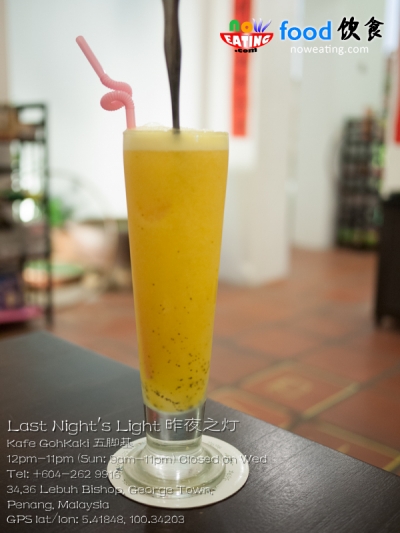 Time for food review. We ordered two drinks and were rather unique. The first one is Last Night's Light 昨日之灯 (RM9.90/RM11.90 with fruit ice) made of passion fruit and 3x orange. For each fruit juice, there are two versions – one with Fruit Ice and one without. Fruit Ice is basically ice made of fruit juice to avoid fruit juice becomes diluted and to remain pure freshness.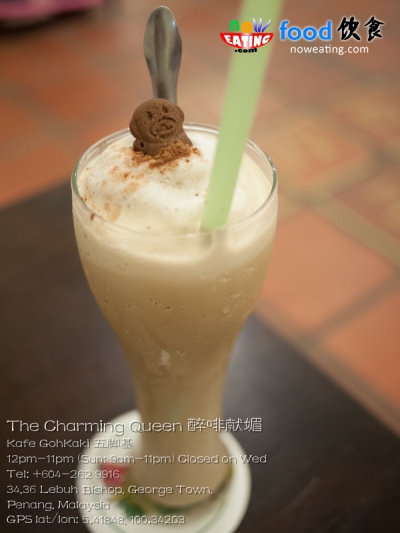 Traditionally, Irish coffee is a cocktail made of hot coffee, Irish whiskey (Wee!), sugar and topped with thick cream. The same item can be found at GohKaki – The Charming Queen 醉啡献媚 (RM8.90) in ice blended version. One special thing is that GohKaki uses Cofee Ice which again to prevent dilution and to keep the pure taste of coffee. It tasted like normal coffee with very mild liquor taste. The gingerbread man on top? Looks like he is enjoying his bath so I just ignore him.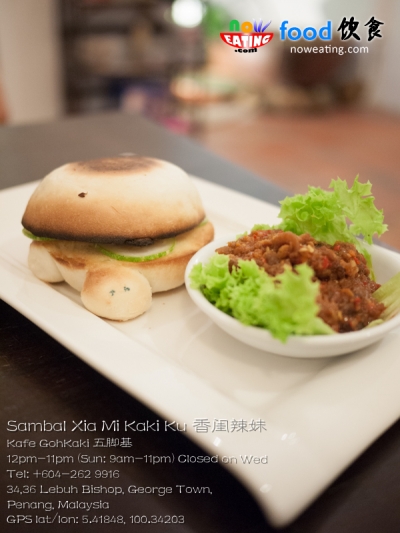 GohKaki Miku is one of their specialties. It came with lightly toasted "turtle" bun with DIY patty. The one we ordered was Sambal Xia Mi Kaki Ku 香闺辣妹 (RM8.90) made of minced dried shrimp with chilli paste.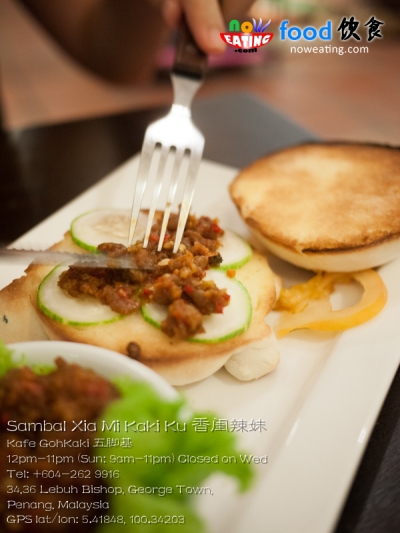 To eat, just open up the sliced bun, spread the Sambal Xia Mi on top of the cucumber slices.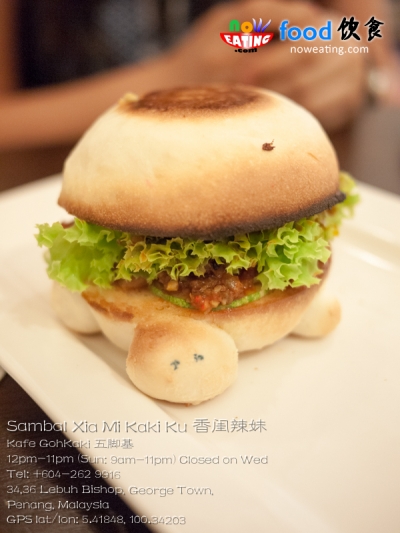 You may also insert the lettuce before putting the top bun back. Eat it like a burger.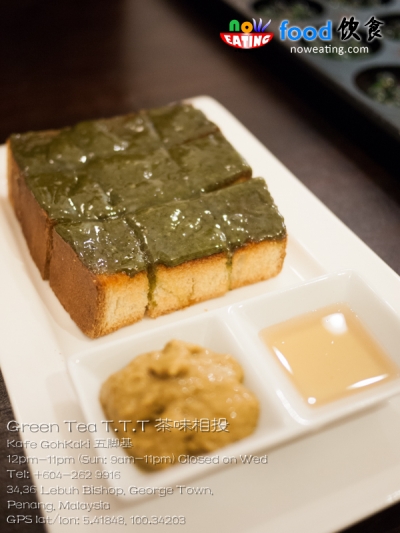 Tic Tac Toe bread is another specialty in which the bread is toasted and topped with spread of your choice. For our case, we selected Green Tea flavour (RM8.50). You can select two out of eight sauces available. For us, we selected mustard and honey. We liked it as the toast was crunchy and the green tea powder was thick.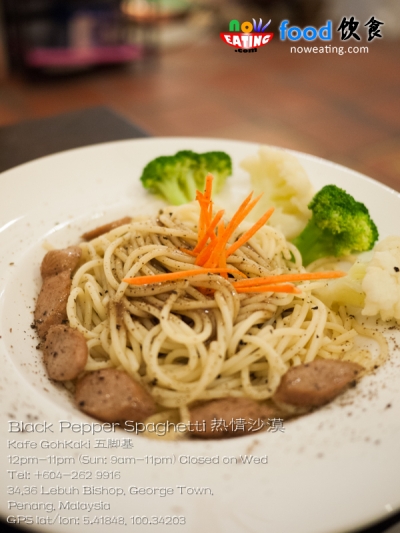 As for the main course, we found them to be average despite having "Recommended" logo next to it. Black Pepper Spaghetti 热情沙漠 (RM14.90), for example, was made of black pepper spaghetti with home recipe black pepper sausage and mushrooms. It was just like normal spaghetti sprinkled with black pepper and was plain hot and dry. Some added sauce would be better.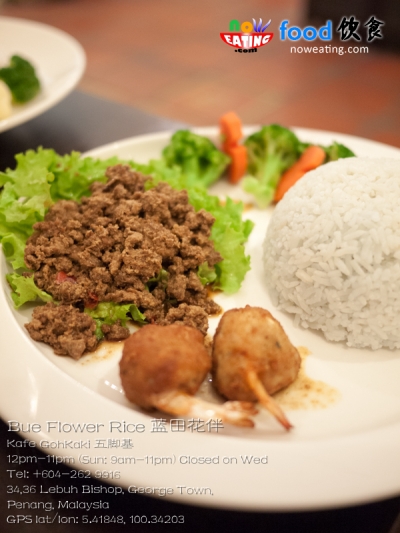 Blue Flower Rice 蓝田花伴 (RM10.90) with home recipe prawn and minced chicken meat. Blue flower has cooling effect and good for digestion. It is also known as Nasi Kerabu Kelantan. Again, it was a bit too dry and additional of gravy or  a bowl of soup would be better.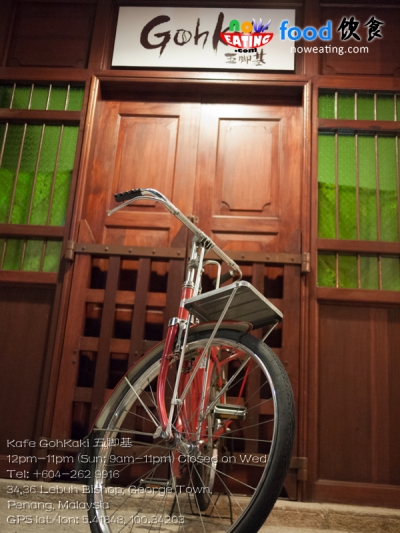 Named after standard corridor width for old shophouses, GohKaki 五脚基 Cafe is not only a new hangout place in George Town, but also a good place to bring back good childhood memories.
| | |
| --- | --- |
| Place Name: | GohKaki 五脚基 |
| Cuisine: | Chinese |
| Address: | 34,36, Lebuh Bishop, George Town, 10200, Penang, Malaysia |
| Tel: | +604-292 9916 |
| Working Hour: | 12pm-11pm (Sun: 9am-11pm) Closed on Wed |
| Last Visit: | 20130627 |