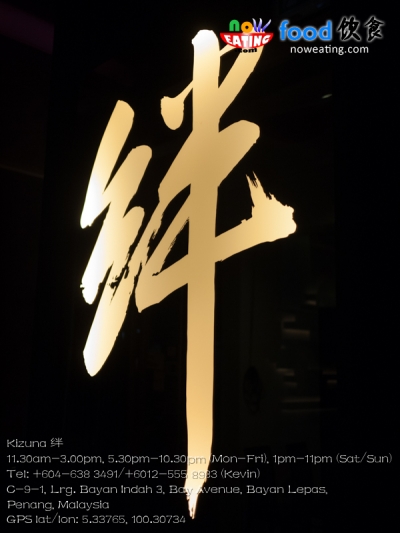 Kizuna 绊 (Chinese: ban4) is a Japanese word meaning "bond". Today, I introduce you a new Japanese restaurant hidden near Queensbay Mall (Bay Avenue) which share the same name – Kizuna.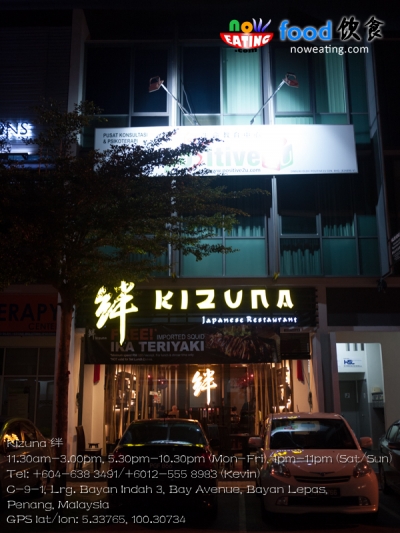 The restaurant is located same row with Journey2Life, opposite of Lolipot. Parking at Bay Avenue is a bit expensive but if you are here for short duration it should be fine. First 30 minute RM0.50. Subsequent every 1 hour = RM1.00. We spent RM1.50 for the parking fee. Still okay.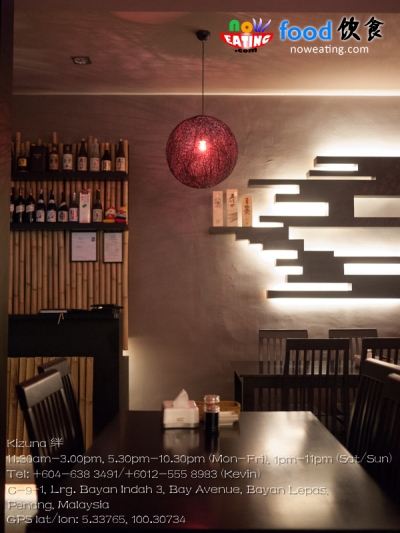 It was one evening in which we celebrated my last day working in an MNC at Bayan Lepas and we decided to give this restaurant a try. The environment was dim so please bear with me on "yellowish" photos. The dining area is air-conditioned but occasionally it can be smokey due to sizzling food. The crew will then open up the glass door to bring in some fresh air.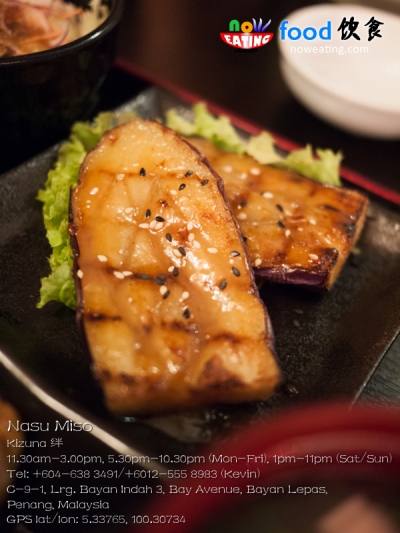 We spent more than 10 minutes in selecting items from the menu. We were looking for something special. From our observation, their price can be considered reasonable (e.g. not the cheapest and not the most expensive around Bayan Lepas area). We liked egg plant and one item caught our attention was Nasu-Miso – fried egg plant with Miso sauce. It was available as ala-carte or as one of the selectable side dishes in set meals.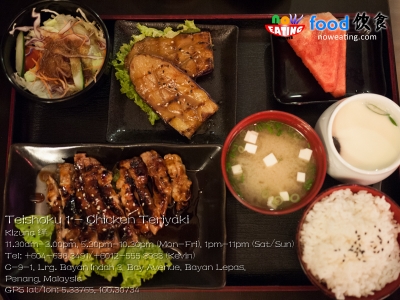 We ended up ordering the set meal – Chicken Teriyaki (RM20.90). You can select one out of four side dishes – Agedashi Tofu, Nasu Miso, Kimuchi Yasai Itame, and Tofu Katsu. We selected Nasu Miso, of course. It also came with salad, fruit, miso soup, cawanmushi and chicken teriyaki.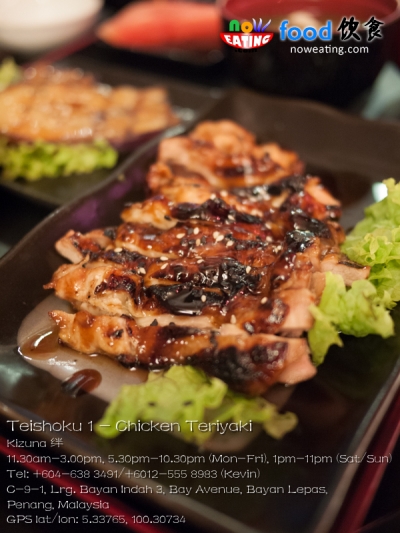 We liked the Nasu Miso very much as the Miso Sauce was soaked into the egg plant, making the egg plant very tasteful. Chicken teriyaki was carefully grilled to tender and coated with thick layer of teriyaki sauce.  Salad and miso soup were tasteful as well. While the rice was average, you could feel that some efforts were spent in preparing this bento set.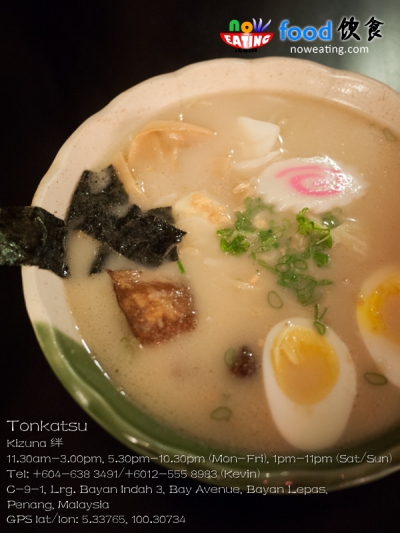 Thinking of trying a noodle item, we ordered Tonkatsu Ramen Soup (RM16.90). Tonkatsu means pork cutlet. In Kizuna, the pork cutlet was slow-cooked to become soft. According to the menu, the soup is specially-formulated with homemade recipe using high quality ingredients. It came with soft boiled egg as well.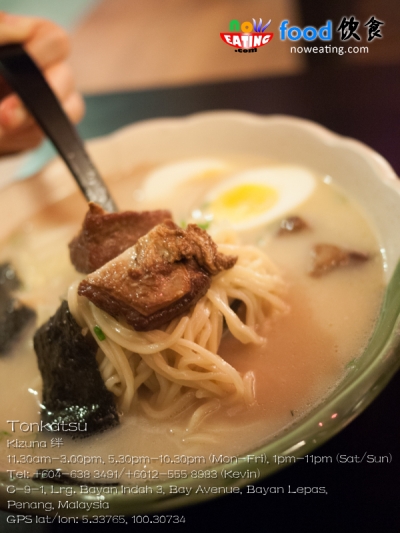 Again, we did a right choice and I finished whole bowl of soup.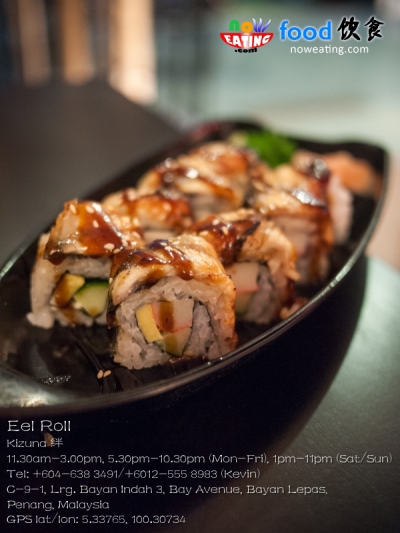 Their maki, however, were pretty common and we had a hard time selecting a special one. Since we like eel, we ended up selecting Eel Roll (RM19.90). It consisted of 8 pieces maki wrapped with cucumber, crabmeat stick, and tamago (Japanese omelett), topped with unagi (eel) with unagi (sweet) sauce. Satisfied, even though the same item can be found in most Japanese restaurants.
With three items, we were quite full for that evening. The food during our first visit was satisfactory. Heard that they are famous with Beef Tataki so you may give it a try if you are a beef lover.
| | |
| --- | --- |
| Place Name: | Kizuna 绊 |
| Cuisine: | Japanese |
| Address: | C-9-1, Lorong Bayan Indah 3, Bay Avenue, Bayan Lepas, Penang, Malaysia |
| Tel: | Tel: +604-638 3491/+6012-555 8983 (Kevin)/+6017-555 8983 |
| Email: | [email protected] |
| Website: | www.kizunajapaneserestaurant.com/ |
| Working Hour: | 11.30am-3.00pm, 5.30pm-10.30pm (Mon-Fri), 1pm-11pm (Sat/Sun) |
| Tax: | 10% Service Tax |
| Last Visit: | 20130729 |