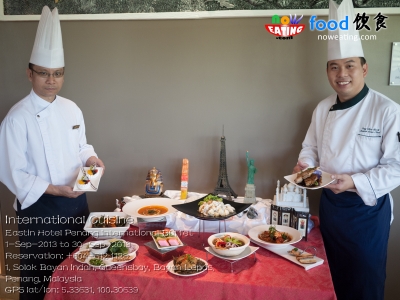 In conjunction with the upcoming September promotion, Eastin Hotel Penang is pleased to offer you a variety of international delicacies. Come and enjoy their unique dishes from German, Japanese, Mexican, Thai and many other exotic cuisine from around the globe.
Among the distinctive dishes to look for are:
Appetizers and soup 开胃菜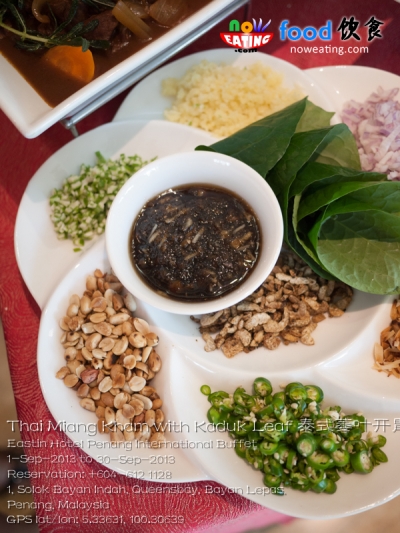 Thai Miang Kham with Kaduk Leaf 泰式萎叶开胃菜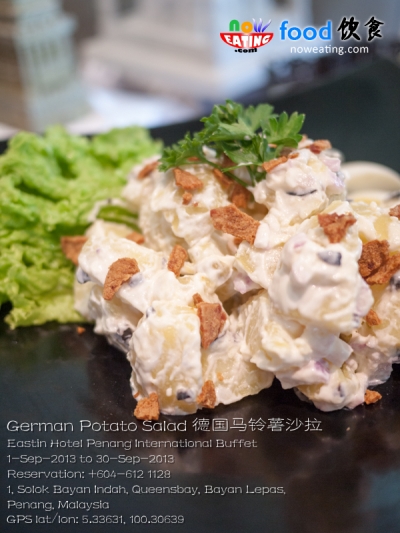 German Potato Salad 德国马铃薯沙拉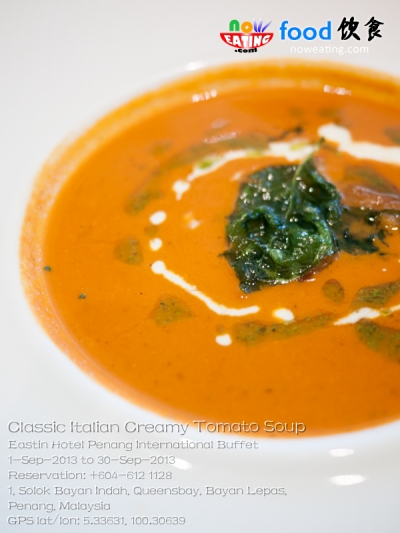 Classical Italian Creamy Tomato Soup 意大利番茄浓汤
Main Course 主菜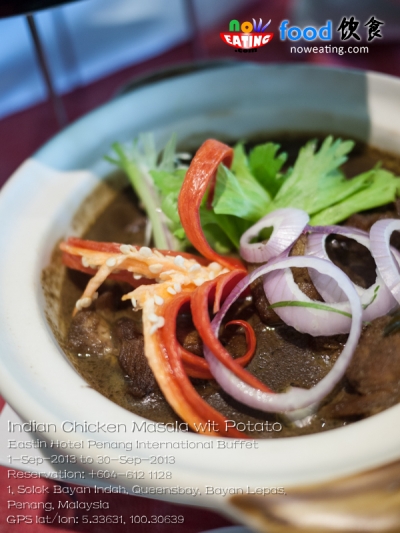 Indian Chicken Masala with Potato 印度马萨拉马铃薯鸡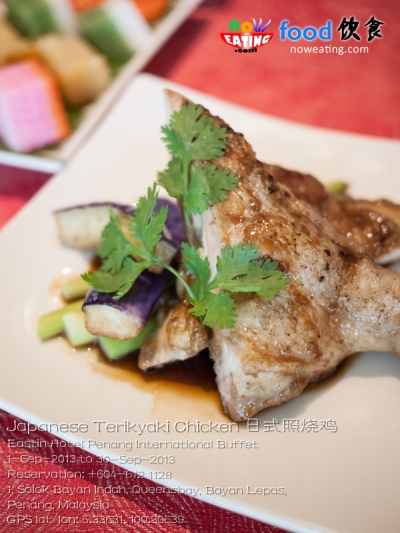 Japanese Teriyaki Chicken 日式照烧鸡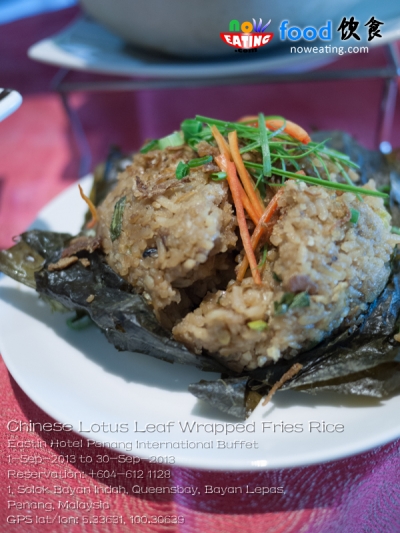 Chinese Lotus Leaf Wrapped Fried Rice 荷叶炒饭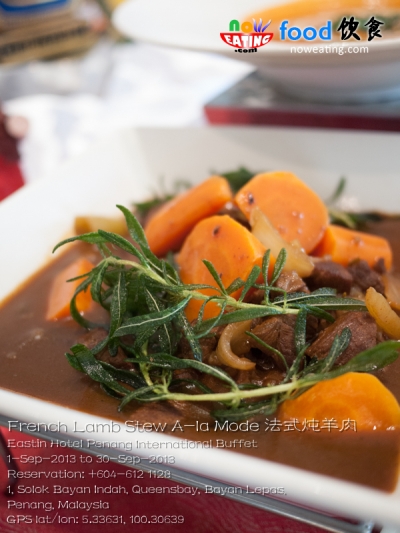 French Lamb Stew A-la Mode 法式炖羊肉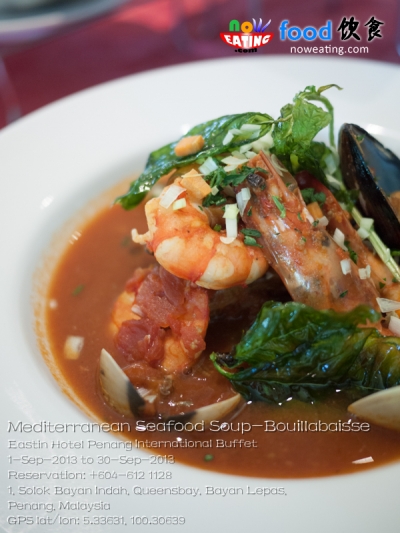 Mediterranean Seafood Soup-Bouillabaisse 地中海海鲜汤
Desserts 甜点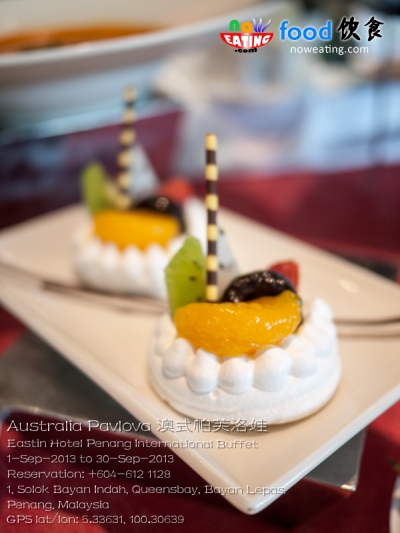 Australian Pavlova 澳式帕芙洛娃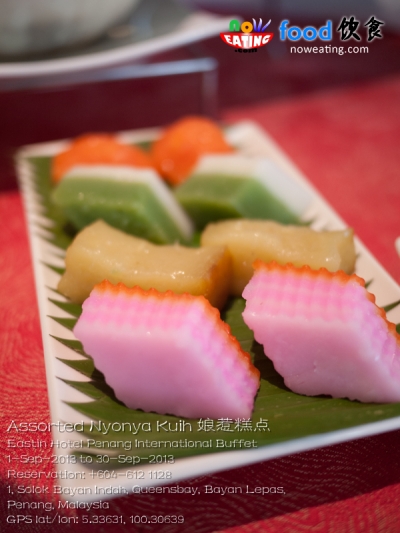 Assorted Nyonya Kuih 娘惹糕点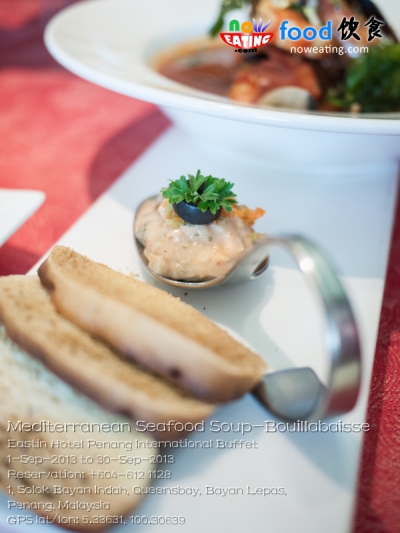 Our food sampling was satisfactory in general. For Mediterranean Seafood Soup-Bouillabaisse, bagel and Aioli sauce made of garlic and olive oil will be provided. You may spread the Aioli sauce on bagel and dip the bagel with the seafood soup. Another way recommended by chef was to mix Aioli sauce into the seafood soup to make the soup less fishy to enjoy.
International Cuisine is available during lunch, hi-tea and dinner at Swez Brasserie from 1-30 September 2013:
Lunch: Monday-Friday
12.00pm-2.30pm
RM48++ (adult) RM24++ (child)
Hi-Tea: Saturday and Sunday
12.00pm-3.00pm
RM55++ (adult) RM28++ (child)
Semi Buffet Dinner: Sunday-Thursday
6.30pm-10.00pm
From RM48++ per person
Malaysia Celebration Hi-Tea (16-September-2013)
12.00pm-3.00pm
RM68++ (adult) RM34++ (child)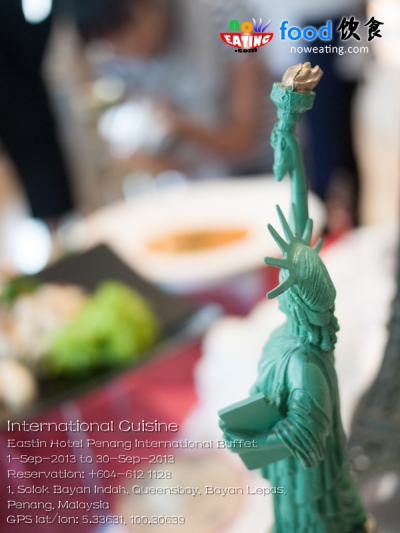 August Credit Card Promotions
MAYBANKARD, Standard Chartered Bank, OCBC Bank, CIMB Bank and Citibank card members, guests can enjoy 15% discount for International Cuisine Semi Buffet Dinner (Monday to Thursday) and Weekend Buffet Dinner (Friday & Saturday) from 6.30pm-10.00pm.
For inquiries or reservation, please call Eastin Hotel Penang, Swez Brasserie at: +604-612 1128.