Restaurants in shopping malls usually share the same characteristic – they are restaurant chains and can be found across different malls and states. In other words, they are lack of uniqueness especially if you are travelling to a new place and looking for authentic local food. Tian Ding Xiang 天鼎香 at Gurney Plaza, however, is an exception and can easily overlooked by diners.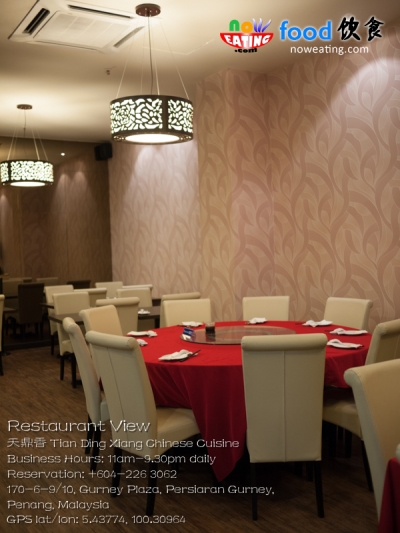 The humble Chinese restaurant is located at 6th floor of Gurney Plaza. Recently, they have new menu launched with ramen series and few new items.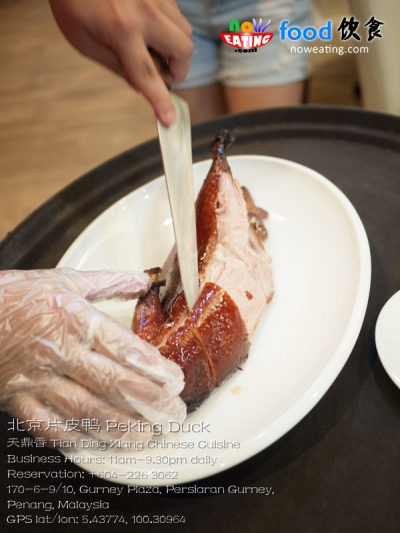 Before I jump into their new items, allow me to introduce their all-time-favourite – Peking Duck 北京片皮鸭. This is an item usually found in fine dining restaurant but now you can get it at RM68.80 for whole bird or RM38.80 for half bird.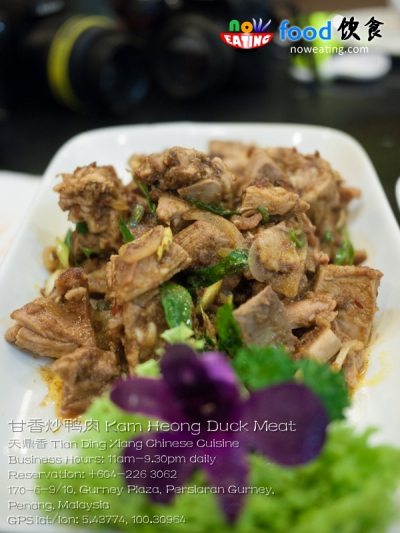 It may sound pricey at first. However, it definitely worth the value with crew slicing the crispy duck skin in front of you and deliver it to your table. Then, the "de-skinned" duck will be sent back to kitchen to stir-fry it into one of the following ways:
Original 原味
Ginger and Spring Onion 姜葱
Kam Heong 甘香
Black Pepper 黑胡椒
Kong Po 宫保
We selected Kam Heong 甘香 for the duck meat. According to the owner, it is the hot-seller among young diners.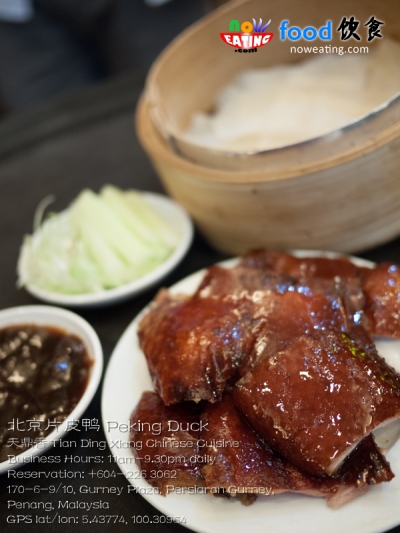 The dish also comes with few slices of mandarin pancakes, sweet sauce, cucumber sticks, and spring onion.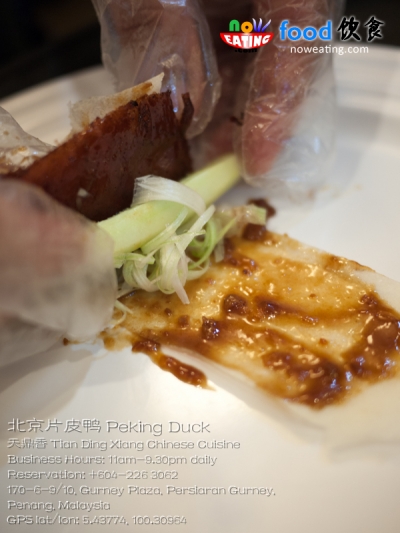 A proper way to consume it is:
Spread a small amount of sweet sauce on the pancake.
Put cucumber, spring onion, and duck skin on top of the pancake.
Roll the pancake and enjoy.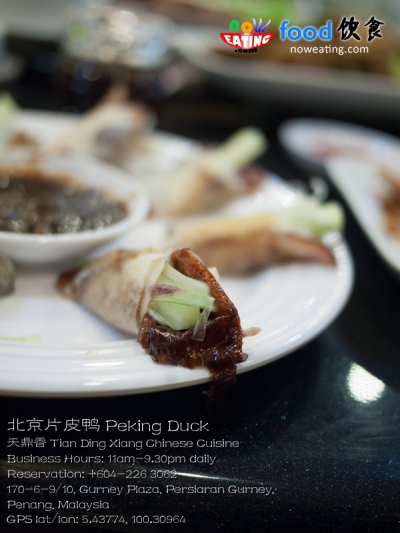 If you are having difficulty in wrapping it, you are always welcomed to ask the professional crew to help you up.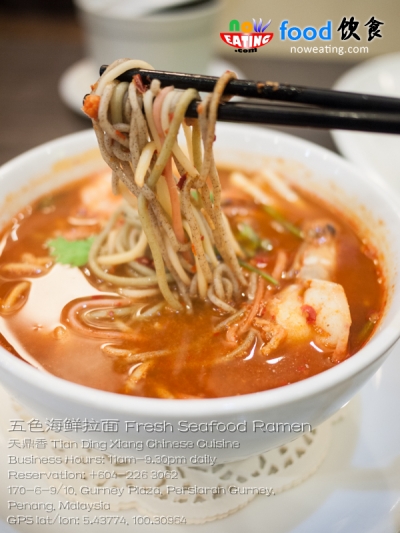 Let's jump to their new dish – ramen series. We had an opportunity to try their Fresh Seafood Ramen 五色海鲜拉面 (RM20.80). For the soup, you can adjust spiciness based on your liking. The one we tried was "Level 2" (the higher, the spicier). However, we found out the even at Level 2, the seafood soup was quite spicy. Maximum level is Level 10. I wonder how a person can finish eating a Level 10 ramen without admitted to ward.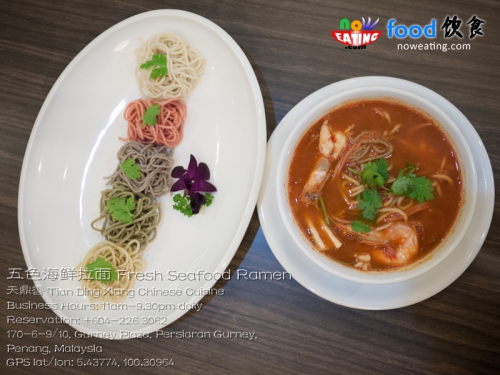 If you noticed carefully, the ramen consists of multiple colours. They are not artificial colours but derived from the ingredients used to make the noodle. Total of five types of noodles available:
Wheat
Spinach
Pumpkin
Black Sesame
Purple Cabbage
Fresh Seafood Ramen is another item to recommend thanks to its tasty spicy soup. For risk-averse customer, you can always go for non-spicy version.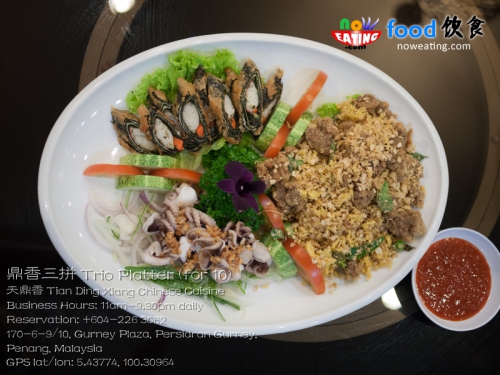 Having difficulty in selecting food? Why not go for their Trio Platter 鼎香三拼 (RM42.80) for 10 persons. It consists of Nestum Mantis Prawn, Steamed Baby Octopus, and Seaweed Roll.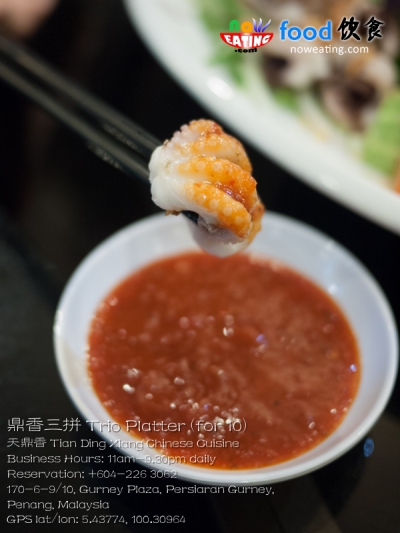 The accompanied chilli sauce is bast dipped with baby octopus.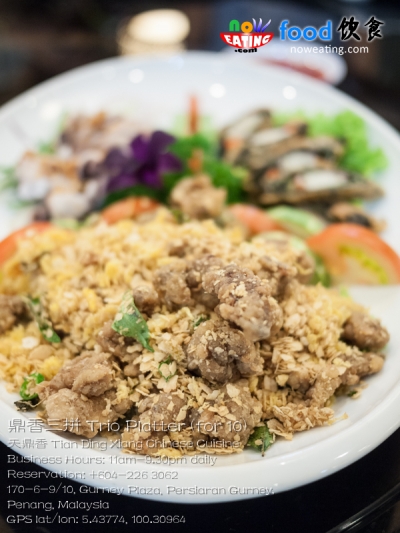 All three items in Trio Platter were satisfactory. Custom selection of each item is not available at the moment.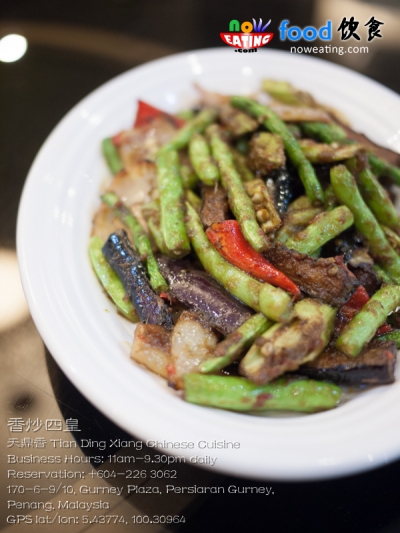 We also tried some dishes commonly found in Chinese restaurants, such as Stir-Fried Assorted Vegetables with Batong Spicy Sauce 香炒四皇 (RM13.80). It is more well-known as 四大天王 in Choo-Char restaurants. It consists of egg plants, long bean, french bean, and lady fingers.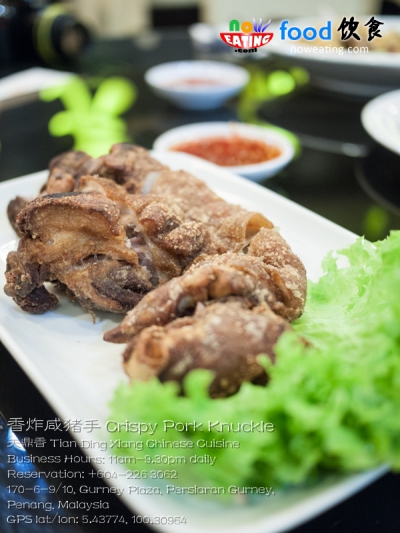 Crispy Pork Knuckle 香炸咸猪手 (RM30.80) is a Thai cuisine sometimes available in Chinese restaurant. Comes with Thai chilli sauce, the deeply fried pork knuckle was not oily outside but juicy inside. The portion is suitable for 3-4 pax.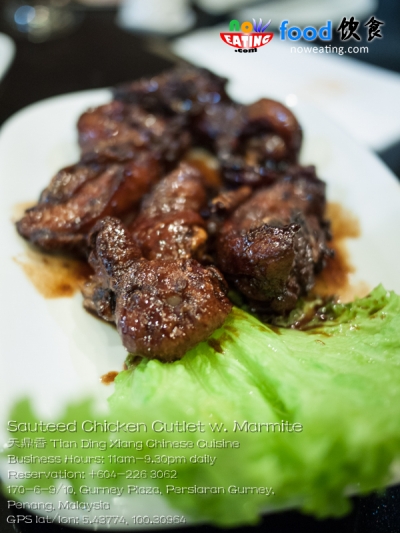 Sauteed Chicken Cutlet with Marmite 妈咪香炒鸡块 (RM15.80) – a dish commonly found in Chinese restaurant nowadays. Marmite is actually a food spread made of yeast extract rich in glutamic acid. I had my first encounter with Marmite during my childhood day.
Deep-Fried Sliced Lotus Root with Salted Egg Yolk 黄金咸蛋莲藕 (RM12.80) is another item you will find in some Chinese restaurant, except the salted egg yolk used here is more generous. Definitely worth a try.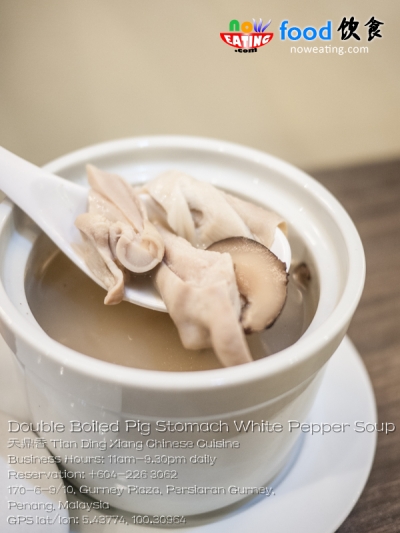 Personally, I like this Double Boiled Pig Stomach with White Pepper Soup 老火炖猪肚汤 (RM16.80). The soup was boiled in closed environment for extended hours and thus tasted rich.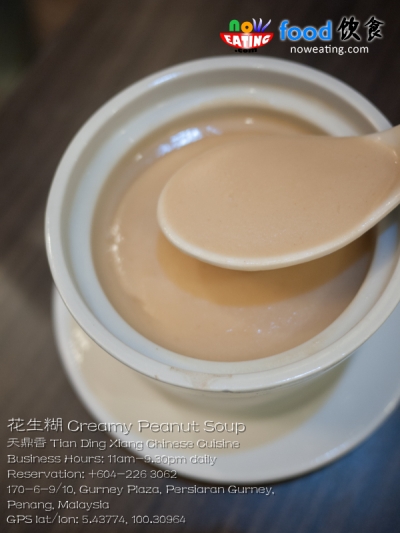 Time for some desserts. Their desserts are kind of low profile but some of them really worth a try. Creamy Peanut Soup  花生糊 (RM5.80) tasted creamy, not something diluted into water. It also tasted a bit too sweet which you may feel irritated toward the end.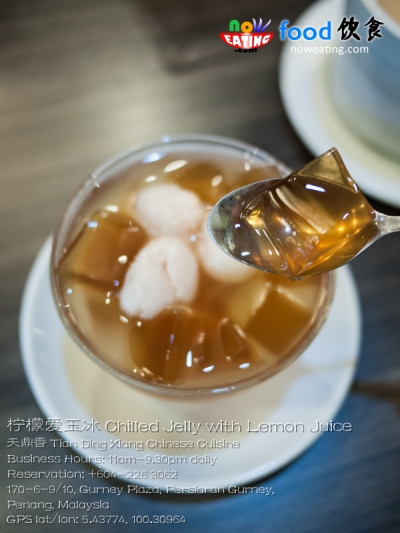 Like something sour? Try Chilled Jelly with Lemon Juice 柠檬爱玉冰 (RM5.80).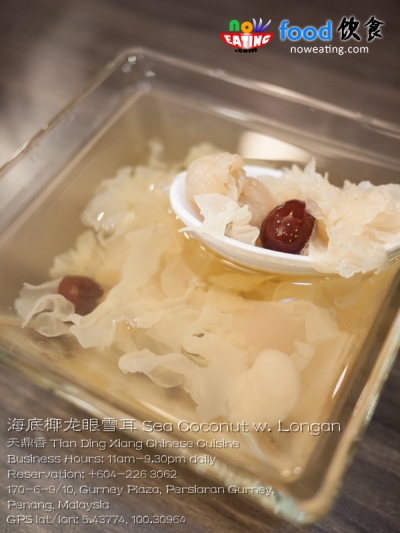 Sea Coconut with Longan 海底椰龙眼雪耳 (RM5.80) tasted just like the home cook version.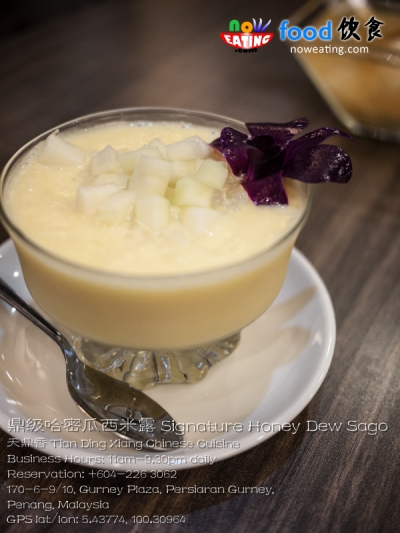 Perhaps the best dessert is this Signature Honey Dew Sago 鼎级哈密瓜西米露 (RM7.80). The secret weapon here is its homemade vanilla cream, which tasted like a melted vanilla ice cream. Eating this is like eating sago dessert with ice cream.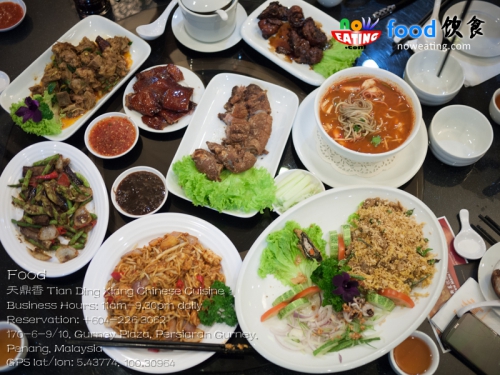 As a whole, the one and the only one Tian Ding Xiang 天鼎香 at Gurney Plaza is a place to recommend for family lunch and dinner.
| | |
| --- | --- |
| Place Name: | Tian Ding Xiang 天鼎香 |
| Cuisine: | Chinese |
| Address: | 170-6-9/10, Gurney Plaza, Persiaran Gurney, 10250, Penang, Malaysia |
| Tel: | +604-226 3062 |
| Working Hour: | 11.00am - 9.30pm daily |
| Tax: | 6% Government Tax |
| Last Visit: | 20130824 |