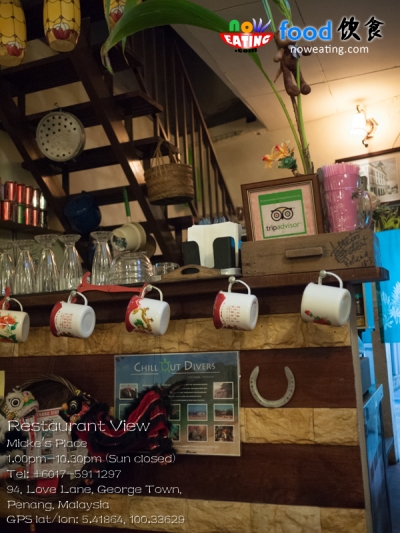 Today, I introduce you a cafe which is recommended by TripAdvisor and usually local customers are outnumbered by foreigners – Micke's Place.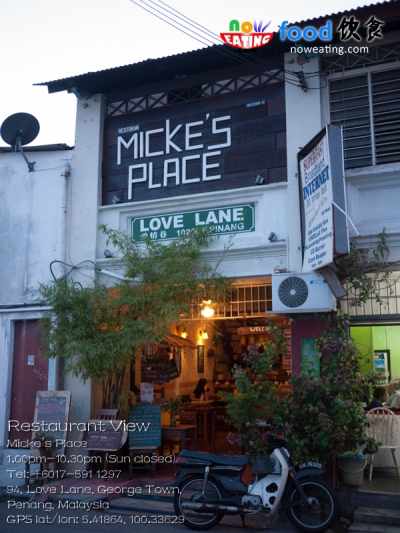 The little cafe is located at Love Lane, an alley in the heart of George Town with many hostels for backpackers. At the same time, it is also well-known of high crime rate to an extend that some shops decided to move out due to high criminal case and high rental (who want to pay high rental and still let people to rob you?).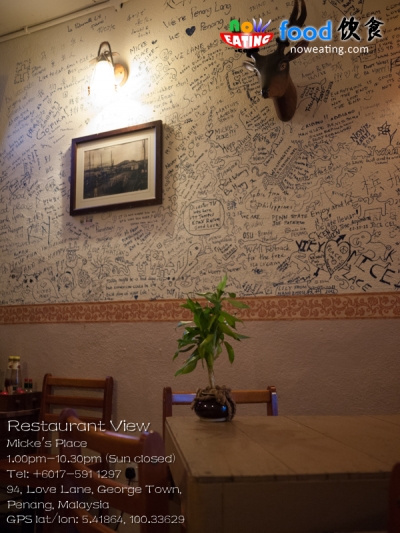 Again, this is a little cafe with about 7 tables for 2-4 persons. Its wall is full of signatures from patrons around the world (this reminded me of Jim Carrey's movie – Number 23). The cafe is operated by a lovely couple who don't hesitate to introduce their favourite food and chit chat with customers especially foreigners. Being too friendly, however, has one drawback – letting customers to smoke inside the cafe. This created a lot of inconvenience for non-smokers.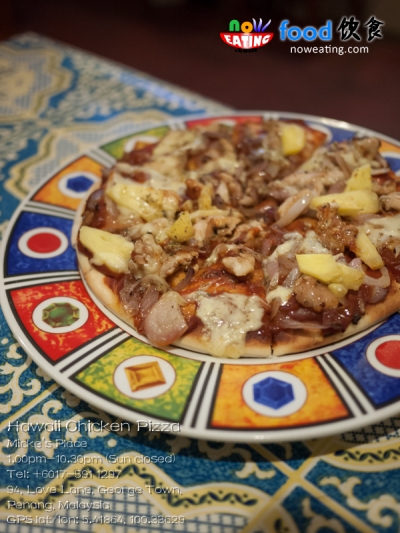 Most of their food are home-made by the lady owner herself so expect some delay in food delivery. During our first visit, we ordered Hawaii Chicken Pizza (RM12.00) made of chicken breast, pineapple, tomato sauce, topped with stretch curd mozzarella cheese.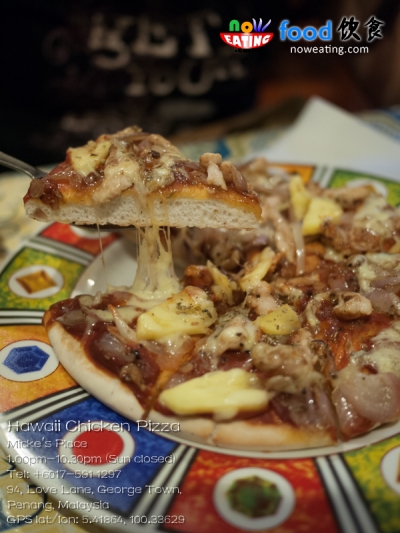 Even though it used thick crust with commonly-found Hawaii Chicken topping, it was well-done and juicy. Suitable for 1 – 2 persons.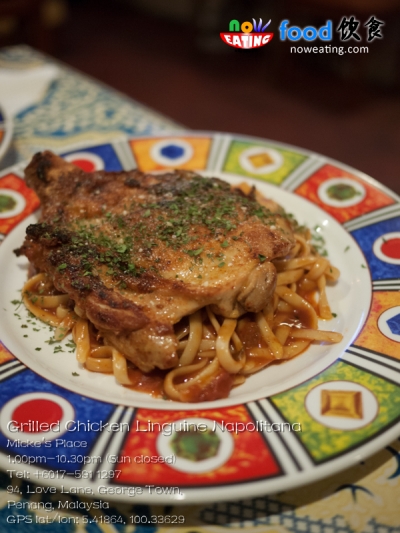 Next item was Grill Chicken with Linguine Napolitana (RM15.00). While eating, the lady owner approached us and asked us on the food quality and whether or not it was too salty. I said the food was good and not salty at all. However, it looked like the salt was not equally distributed, causing certain parts saltier than the others. I only found out towards the end of meal.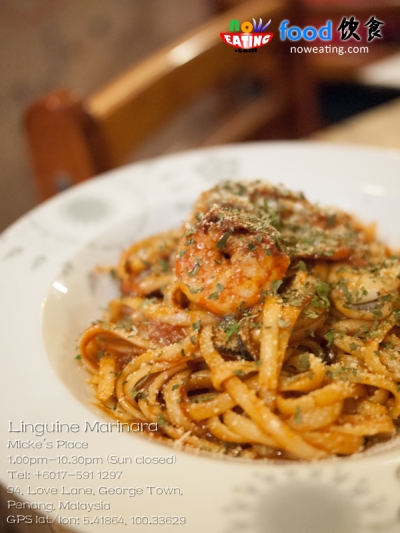 During our second visit, we ordered Seafood Marinara (RM14.00). Marinara is a sauce made of tomato, onion and herbs. The seafood included mussels, prawns and calamari rings. Tasted good even though the portion was utterly small.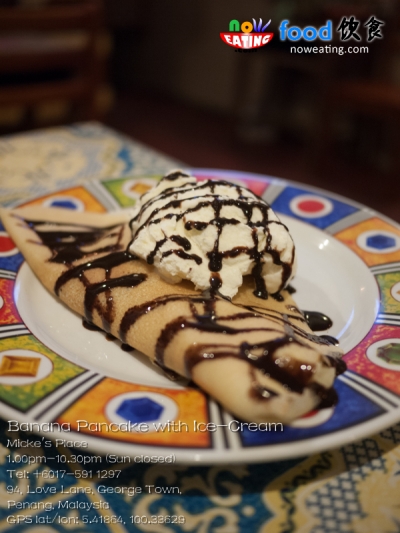 The owner also recommended us their signature banana pancake. We ordered one Banana Pancake with Ice Cream (RM7.50).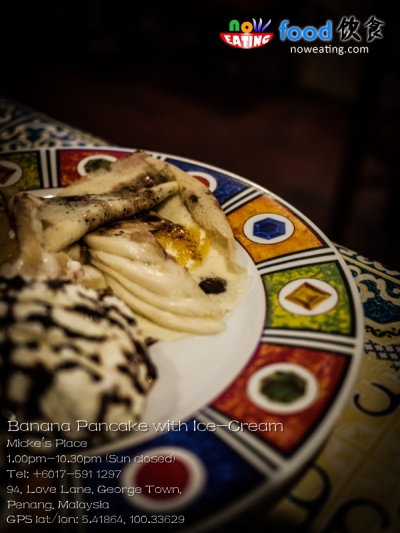 As long as pancake/crepe is concerned, I still preferred the one at Gurney Drive. Micke's Place one is not bad as well even though it looked simple with sliced banana wrapped in pancake and topped with a scope of vanilla ice cream.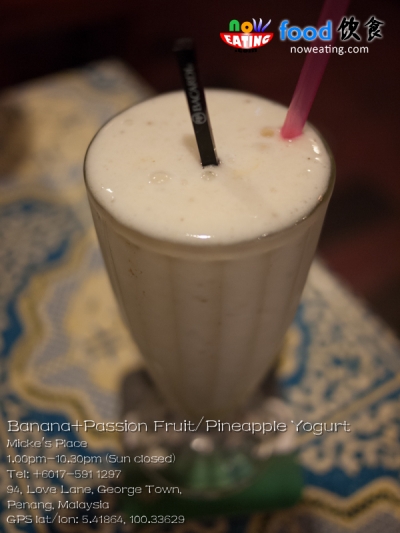 As for the drink, I like their Banana with Passion Fruit or Pineapple Yogurt Ice Blended (RM6.00).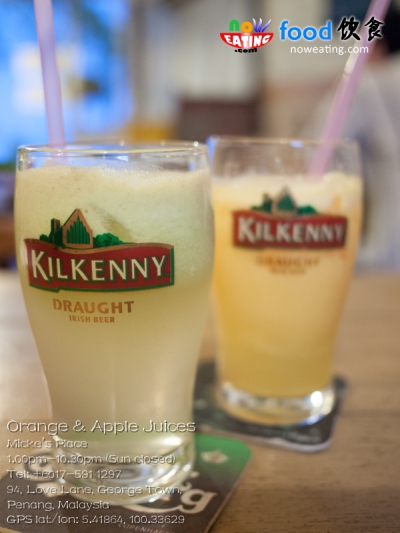 As for other drinks, they are pretty common such as orange/apple juice (RM4.00 each) and can drinks.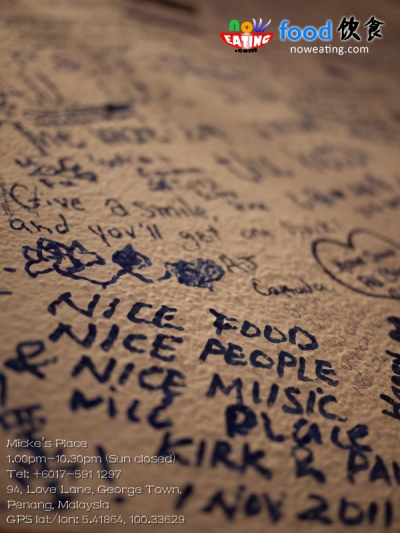 Micke's Place is one of the cafes where foreigners are more than locals most of the time thanks to its strategic location and friendly owner. Pricing and food quality-wise, they are acceptable for locals as well. They have their menu "scattered" everywhere, including wall and hanging signboards. Spotting them is a bit difficult and their menu change from time to time. Click link below to download an offline copy of their menu I captured. For latest pricing always refer to the actual menu.
| | |
| --- | --- |
| Place Name: | Micke's Place |
| Cuisine: | Western |
| Address: | 94, Love Lane, George Town, Penang, Malaysia |
| Tel: | +6017-591 1129 |
| Working Hour: | 1.00pm-10.30pm (Sunday closed) |
| Tax: | No |
| Last Visit: | 20130724 |