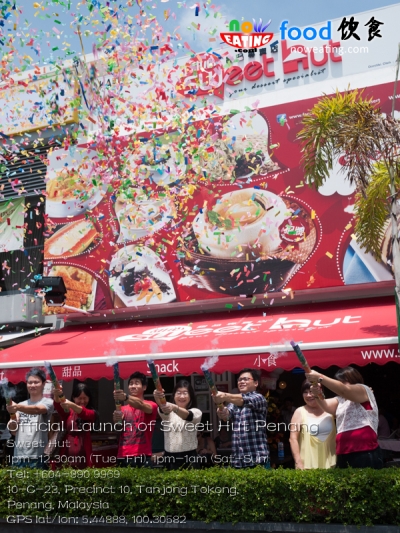 POP! Another dessert house is opened in Penang island. Looks like my plan for diet is postponed again.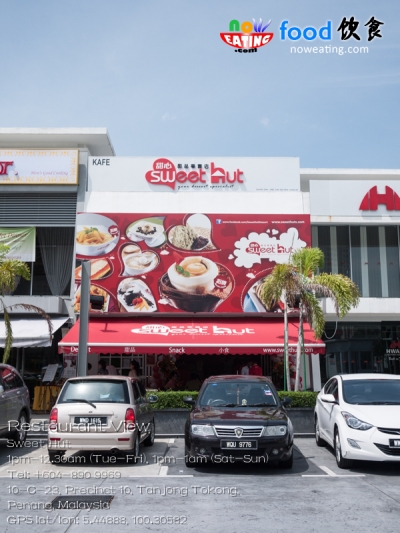 The dessert house is called Sweet Hut (named after Sweet Heart) and is located at Precinct 10, Tanjong Tokong, Penang. It is a local dessert specialist and Penang is the 11th outlet in the whole Malaysia (also the first in Penang). Recently Precinct 10 have parking "promotion" in which all parking before 7pm is free.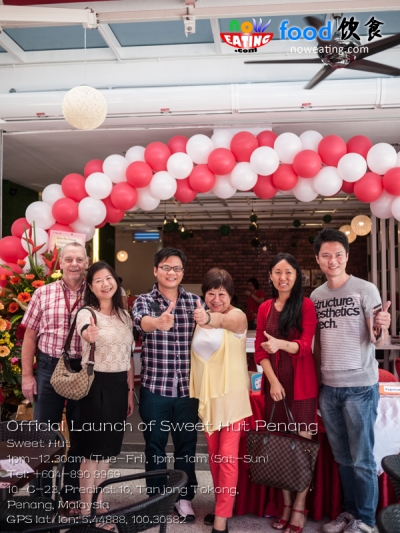 Dessert houses (e.g. Tang Bo Fu, Blackball, etc) are pretty common in Penang. Asking about the selling points for Sweet Hut, the friendly director – Mr. George (third from left) said that it is all about "localization". While others are franchises from Hong Kong or Taiwan, Sweet Hut is 100% local dessert specialist using local fruits such as papaya, coconut, durian and mango as their main ingredients. Sweetness is coming from the fruit itself and no powder product is added. They also did a lot of studies and R&D before entering this highly competitive market to ensure that their dessert is truly outstanding compared to others.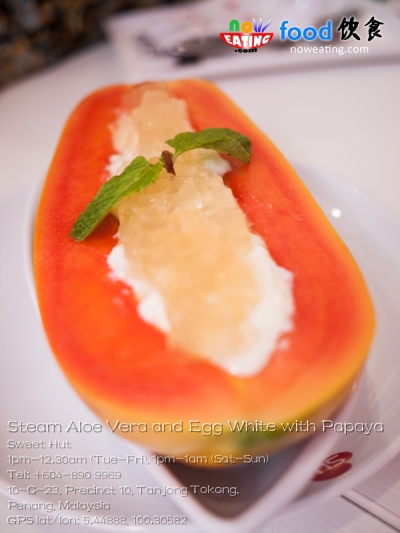 As an example, this Steam Aloe Vera and Egg White with Papaya 暖芦荟炖蛋白木瓜 (RM12.80)  is one dessert you hardly find in any other dessert shop. The real papaya is cut into half, removed the seed portion and replaced with egg white and aloe vera cubes.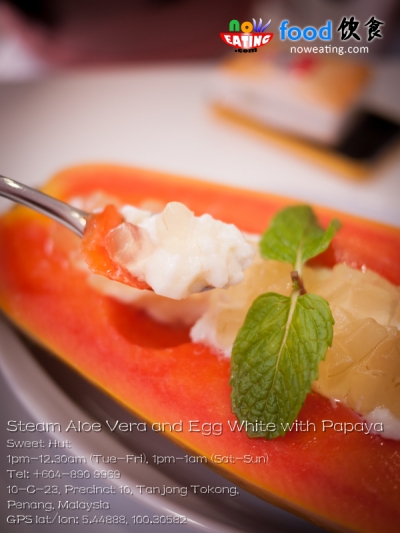 Of course, the papaya is edible. The papaya we tried that day was very sweet. It comes in cold or hot and requires 15-20 minutes for preparation.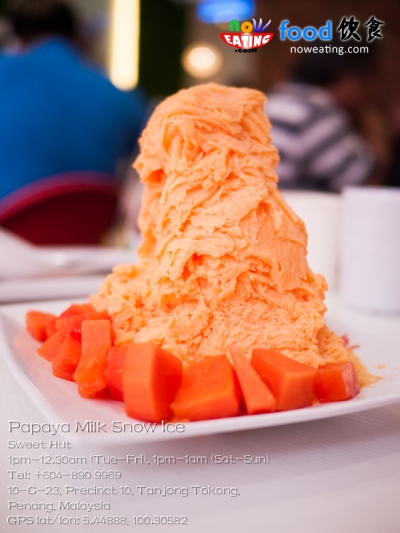 Sweet Hut also serves a series of snow ice dessert. It is quite common in dessert houses but one new item sparked our interest – Papaya Milk Snow Ice 木瓜奶雪花冰 (RM9.90). As long as papaya is concerned, it is a rare item in any dessert house serving snow ice. It has buttery sweetness of papaya with added milk. Girls probably have their boobs increased by 1mm after so many papaya desserts.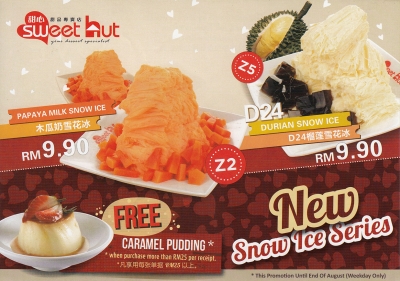 Other than this papaya snow ice, Sweet Hut also has new addition – Durian Snow Ice (RM9.90) using real D24 durian flesh. Until end of August, get a free Caramel Pudding worth RM4.50  if you spend RM25 and above (weekday only).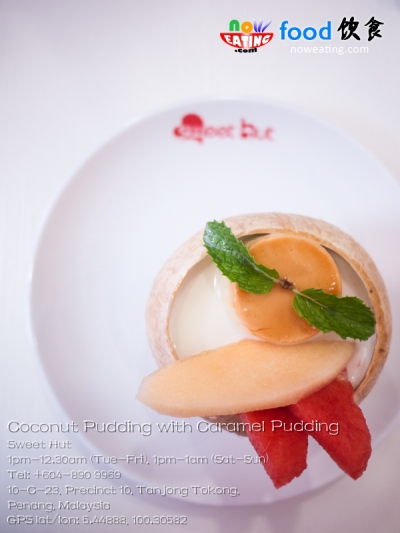 Another specialty and best seller is Coconut Pudding with Caramel Pudding 焦糖布丁椰果子 (RM12.80).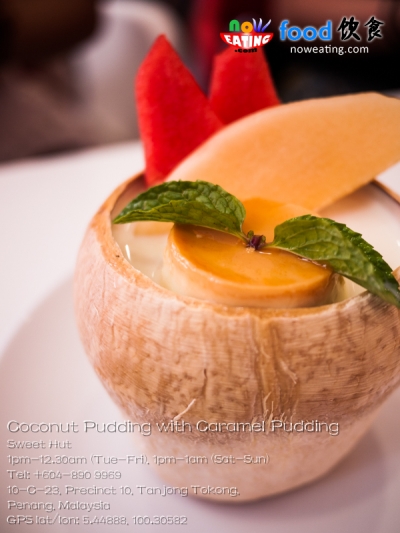 For Penangites, Coconut Pudding should not be a stranger thanks to Joez Coconut Jelly at Dato Kramat Road. Sweet Hut further "enhanced" it by adding light coconut milk, fruits, pudding, or ice cream as its topping. Both coconut and caramel pudding blended in well. This is a dessert in which you won't stop digging after putting the first scope into your month.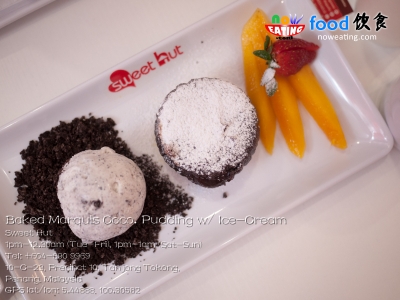 Another best seller is Baked Marquis Chocolate Pudding with Cookies Ice-Cream 焗侯爵朱古力心太软伴曲奇雪糕 (RM12.80). It is also known as lava cake usually served in high-end restaurants. The word "lava" refers to the runny and warm chocolate in the centre of the cake. Once you cut the outer layer, the chocolate flows out like the lava.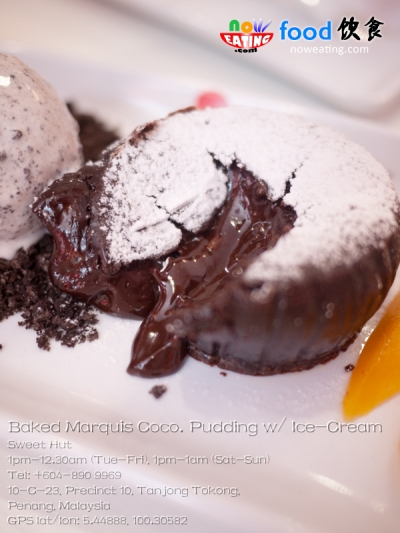 There are few ways to consume this dessert. First is to cut a little hole to let the lava, which is dark chocolate, to flow out. It is bitter if you just eat the dark chocolate alone so it is best to mix it with ice-cream before consuming. The fruit next to the lava cake is not for decoration but is edible and best dipping with the lava (chocolate fondue anyone?). Ice cream is available in four flavours – Oreo, vanilla, mango, and durian.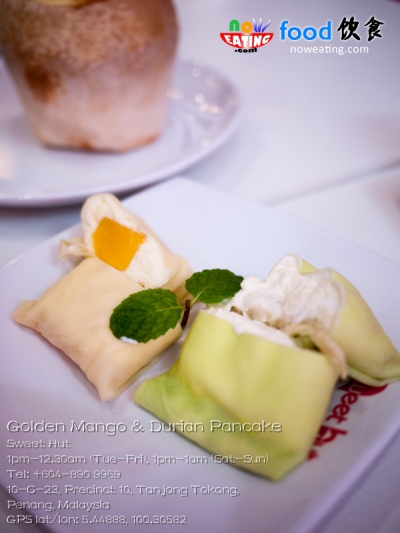 This durian 榴莲果王班戟 (RM9.00 for two pieces) and mango pancakes 黄金香滑芒果班戟 (RM9.90 for two pieces) reminded me of Lucky Dessert at Gurney Plaza and Queensbay Mall, which is now closed. Now I can find the same item in Sweet Hut. They are wrapped with real durian/mango flesh respectively.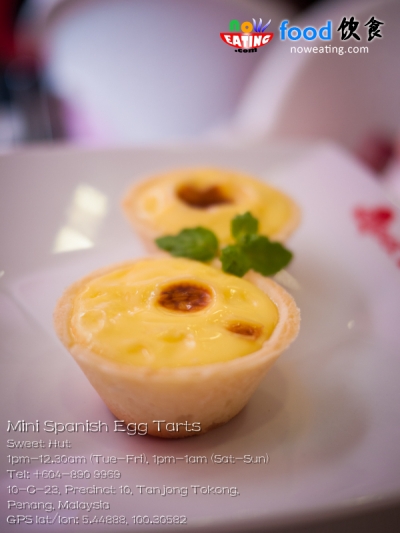 Mini Spanish Egg Tarts 迷你西班牙忌廉挞仔 (RM6.50) reminded me of portuguese egg tarts I enjoyed in Malacca. It comes in 5 pieces and is baked based on order and served hot. Definitely much better than those found in dim sum restaurants.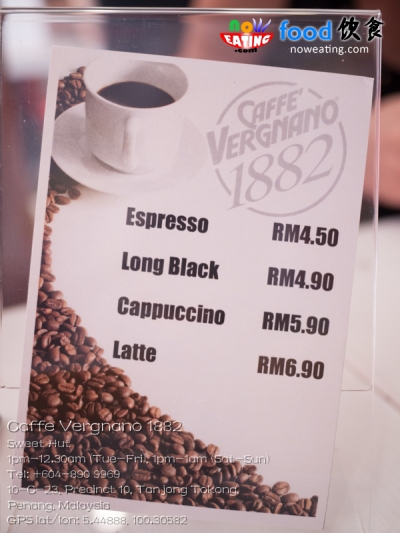 For coffee lover, they also serves Caffe Vergnano 1882 Italy coffee at a reasonable price. The coffee machine is imported from the Europe country.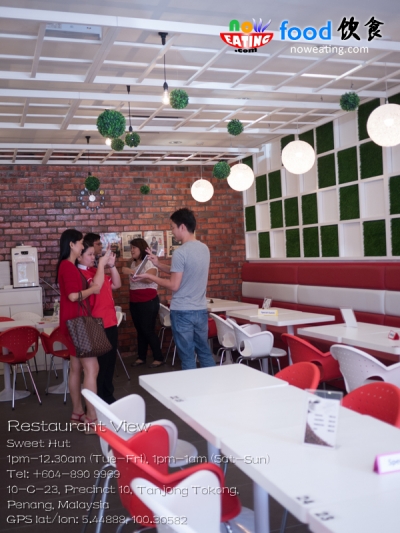 I am satisfied with their desserts especially on papaya and coconut pudding. Definitely will visit it again for other desserts (They have about 110 items in their menu). Menu is available on their official website or you may grab an offline copy below:
| | |
| --- | --- |
| Place Name: | Sweet Hut |
| Cuisine: | Other |
| Address: | 10-C-23, Precinct 10, Jalan Tanjong Tokong, Tanjong Tokong, 10470, Penang, Malaysia |
| Tel: | +604-890 9969 |
| Website: | www.sweethuts.com |
| Working Hour: | 1pm-12.30am (Tue-Fri), 1pm-1am (Sat-Sun). Monday close. |
| Tax: | Service Charge 6% |
| Last Visit: | 20130803 |