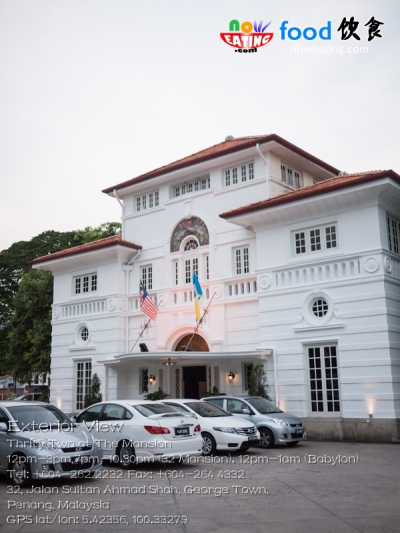 Each time I passed by Lexus showroom in George Town, there are two things I noticed – one is my dream car Lexus CT200H which is out of my league, another one is this 32 Mansion fine dining restaurant which is also out of my reach. Fortunately, I had a chance to visit 32 Mansion recently.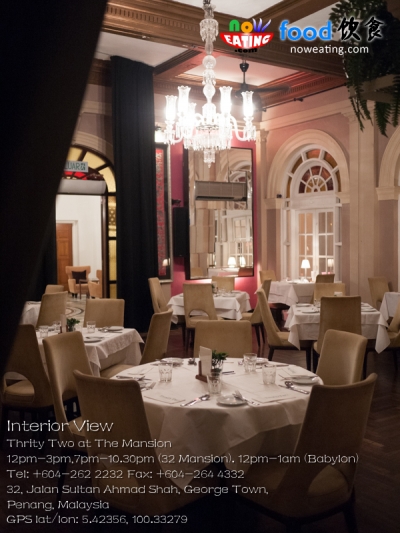 32 is actually the mansion's house number. It was built by Leong Yin Kean back in year 1926 and since then, it was rented to many tenants and the latest one is "32 at the Mansion" and "Beach Blanket Babylon" cafe, both under the same management.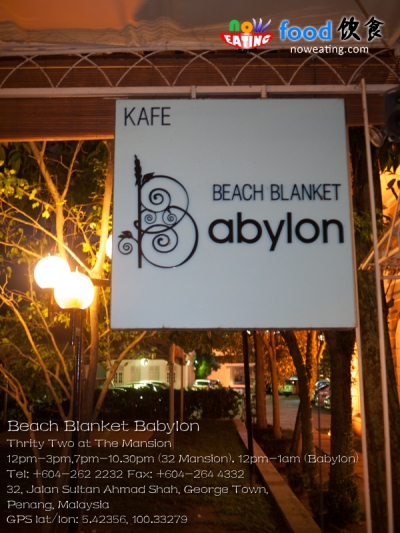 While 32 Mansion is air-conditioned fine dining restaurant, Beach Blanket Babylon is actually an open air lounge outside of the mansion for customers to enjoy sea breeze while having a drink. Both menus are slightly different.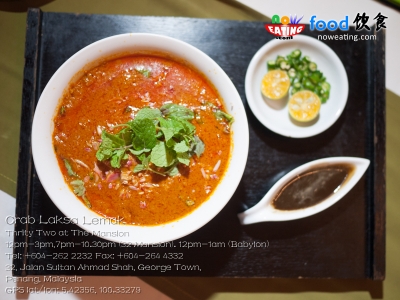 Let's go for some signature dishes first. The first one is Crab Laksa Lemak (RM24). Laksa Lemak is also known as nyonya laksa using coconut milk for the gravy. It can be found in some coffee shop in Balik Pulau.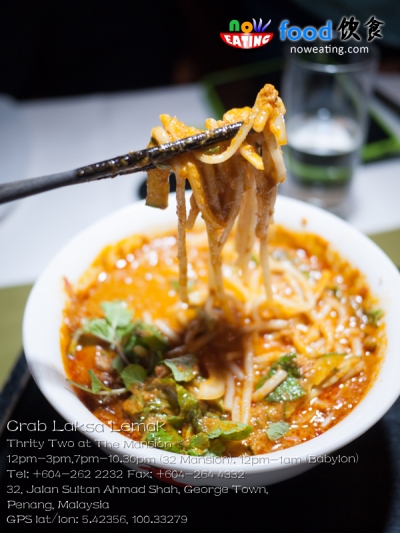 Instead of shredded mackerel as main ingredient, 32 Mansion/Beach Blanket Babylon uses fresh crab meat instead. The overall taste is thicker and richer compared to fish version, to an extend that you feel yourself eating curry mee. Anyway, it is rather special and worth a try.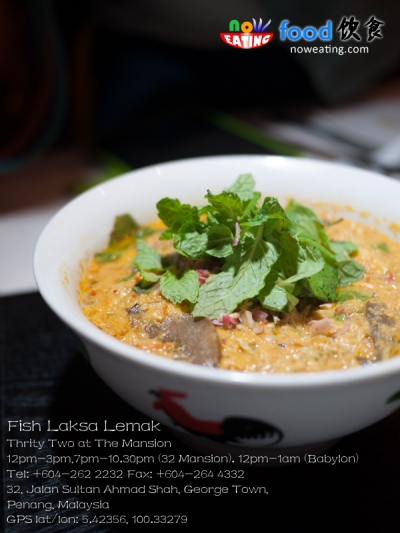 Missing the original laksa lemak? No problem. Fish Laksa Lemak (RM14) is available at Beach Blanket Babylon. Taste-wise, it is more delighted compared to Crab Laksa Lemak. Both crab and fish laksa lemak are carefully prepared and served as they should be in fine dining restaurant.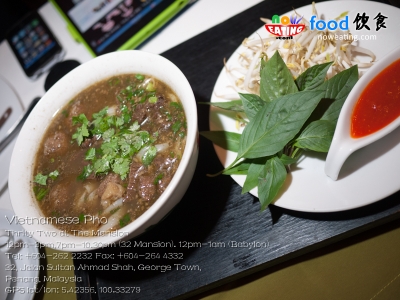 Beach Blanket Babylon also serves Vietnamese Pho (Beef Koay Teow Soup) (RM18). It comes with raw bean sprouts.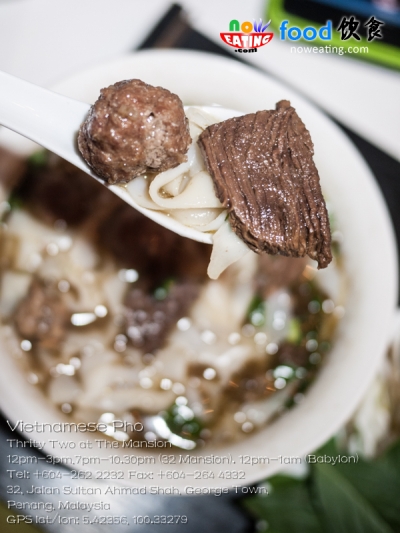 The raw bean spout should be put into the bowl while the soup is still hot. Don't be like us who busy shooting until the soup become too cold to cook the bean sprouts.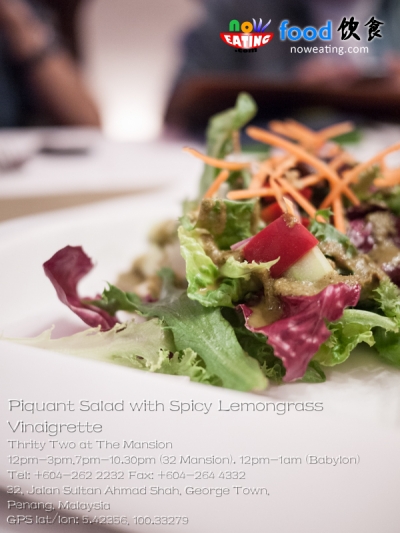 Most people, including myself, are expecting some fine western cuisines here. Let's start with their appetiser. Piquant Salad with Spicy Lemongrass Vinaigrette (RM18) is their house specialty. The secret weapon here is their Spicy Lemongrass Vinaigrette (vinaigrette = mixture of vinegar and oil + other ingredients) which is unique and appetising.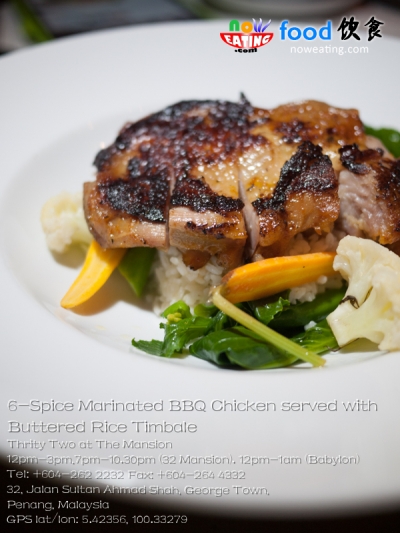 As for the chicken dishes, we were recommended with their house specialty – 6-Spice Marinated BBQ Chicken served with Buttered Rice Timbale (RM38). The chicken was so tender like Prime Roast in Ayamas, except this one was more natural and tastier. I liked their baby carrots which still came with carrot green.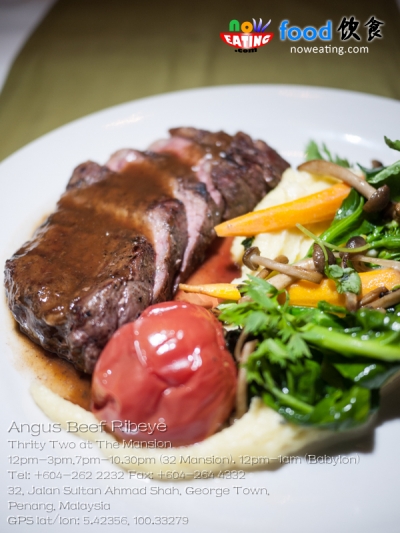 Beef lover should find themselves at advantage position in 32 Mansion as they are specialised in steak, not to mention that they are currently having Angus Beef promotion. Angus beef is originated from Scotland with high degree of marbling (intramuscular fat) and thus improving flavour, tenderness, and keep the beef moist while cooking. With price tag starting from RM85++, Sirloin/Ribeye/Tenderloin is served with potato and thyme puree, bouquetiere of vegetables with choice of black pepper/perigeaux/mushroom sauce. Picture above shows Angus Beef Ribeye (RM128) with perigeaux sauce (a French truffle sauce). This is also the highlight of the evening.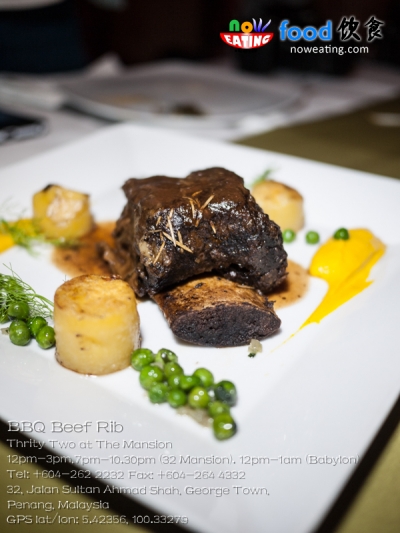 Expensive? No problem. Try their all-time-flavour BBQ Beef Rib (RM56) served with slow cooked potato, carrot and gingerbud puree, braised pea and Vietnamese mint.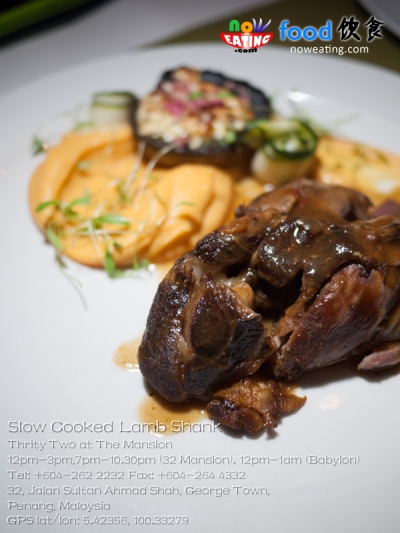 Not a beef lover? Takda masalah. Try their Slow Cooked Lamb Shank (RM58) served with sweet potato & roasted garlic puree, braised portobello with goat feta cheese, preserved zucchini and torch ginger.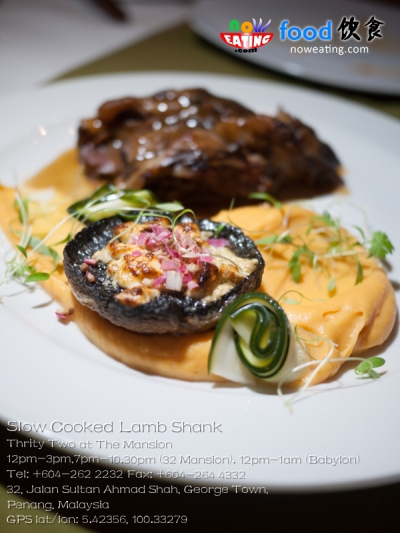 The selling point here is not the lamb shank, but its side dish which you hardly find in any other restaurants. The sweet potato and roasted garlic puree is so smooth and tasty that you can eat it on its own. The braised portobello mushroom is so juicy that this side dish should be sold separately as ala-carte. With the addition of ginger torch, we could see that the chef – Mathijs Nanne from Holland, is trying to infuse some local touch to already perfect western food, yet not to alter the overall taste.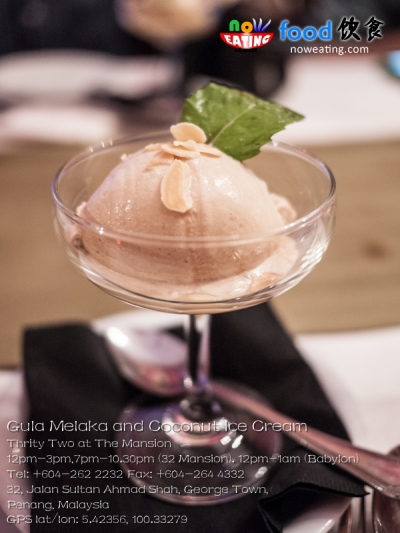 32 Mansion not only good at western cuisine, but dessert as well. They do have their own homemade ice cream, such as this Gula Melaka and Coconut Ice Cream (RM6 for single scope, RM11 for double scope). It tasted like cendol, except without green jelly noodles. One of the best ice creams I ever tried.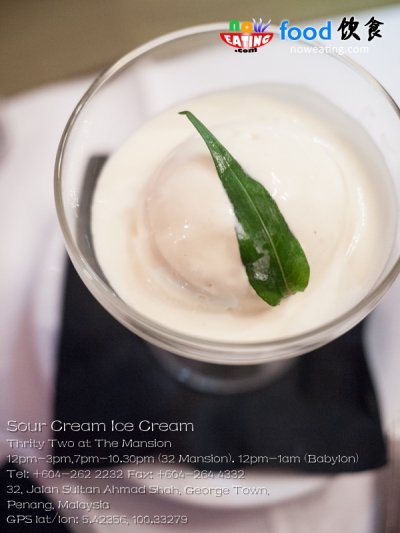 Too sweet for your liking? Try the sour cream ice cream. Pricing-wise remained the same.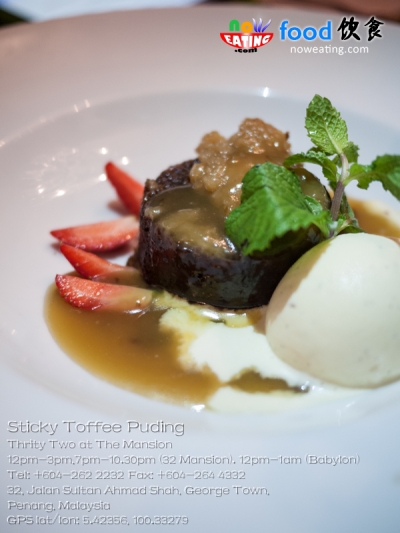 Perhaps the best dessert goes to Sticky Toffee Pudding (RM22) which comes with macerated strawberries served with vanilla bean ice cream. Texture-wise, it was like chocolate brownie topped with vanilla ice cream. Soaked with toffee, the pudding becomes soft and will just melt in your mouth.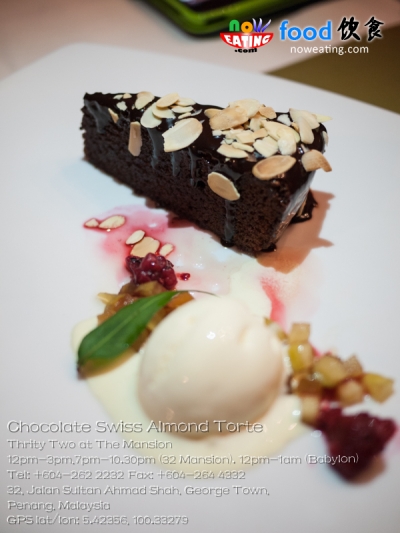 Speaking of chocolate brownie, here comes Chocolate Swiss Almond Torte (RM14) served with vanilla bean ice cream. Torte means sweet cake or tart. The chocolate is rich but still, I prefer Sticky Toffee Pudding.
Despite of its premium price tags, 32 Mansion/Beach Blanket Babylon is worth a try especially on their red meat and dessert menu. It is a great place for special occasion or just to enjoy sea breeze with friends.
You may download a copy of their menu for reference. For latest menu and pricing, always refer to the actual copy in restaurant. Thanks.
| | |
| --- | --- |
| Place Name: | 32 at the Mansion |
| Cuisine: | Western |
| Address: | 32, Jalan Sultan Ahmad Shah, George Town, Penang, Malaysia |
| Tel: | +604-262 2232, Fax: +604-264 4332 |
| Working Hour: | 12pm-3pm, 7pm-10.30pm (32 Mansion), 12pm-1am (Beach Blanket Babylon) |
| Last Visit: | 20130826 |