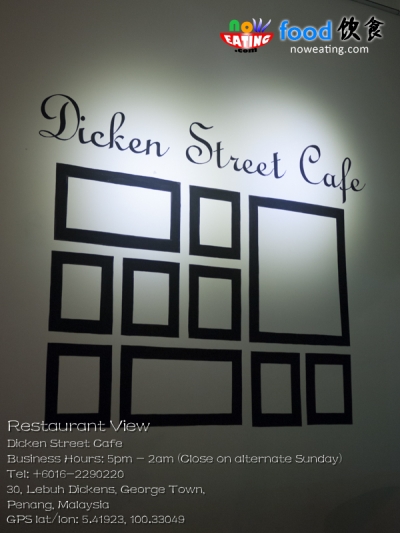 Recently, Penang has quite a number of new western food restaurants opened in George Town area. Dicken Street Cafe, for example, is another western cafe at Lebuh Dickens, George Town so new that it does not have a signboard when we visited it at the end of August 2013. The cafe opened since May 2013.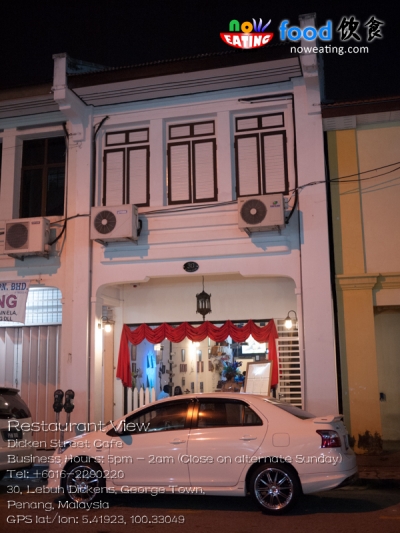 Lebuh Dickens is located next to Penang Road. It is a one-way street right before the police station. Dicken Street Cafe is located towards the end of the street. Parking space is limited and you should park your car the moment you see one parking space at that one-way street. An easier and safer approach is to drive a police car and park inside the police station.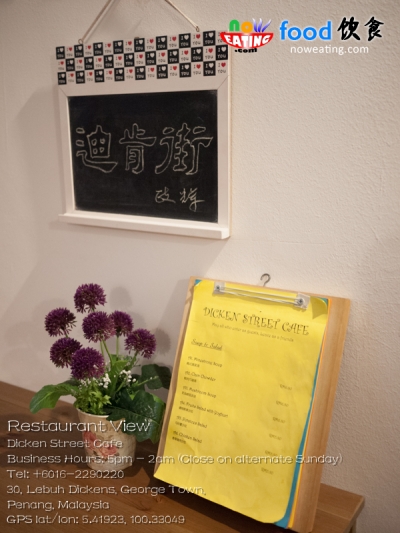 The cafe opens from 5pm til 2am daily. It close on alternate Sunday. During our first visit, we were having difficult in understanding some items in their menu printed on colour A4 papers without any images. For two persons, the host recommended us "Dating Set" at the price of RM78.80. You can select the following items from its menu:
1 x Casual Antipasto (Appetiser)
2 x Soup & Salad
2 x Risotto/Pasta/Pizza
2 x Dessert & Dolce
2 x Drinks
The problem here is that if you select the most expensive item in the menu, you need to add extra money (about RM3). We ended up selecting food with mid-range price. Is RM78.80 worth the value? Let's find out.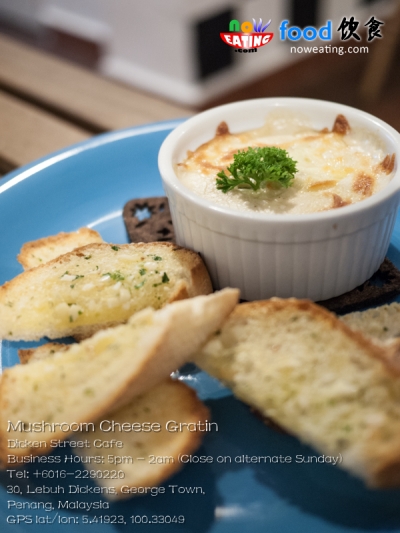 First is the Casual Antipasto (antipasto = before the meal). We selected Mushroom Cheese Gratin (RM9.80). If you are bored of watery mushroom soup, you should try this one. It comes with generous amount of garlic bread for you to dip with the thick mushroom cream.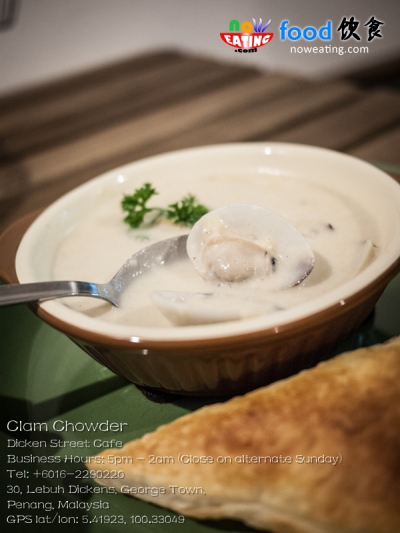 As for the soup and salad, the first item was Clam Chowder (RM6.80) as I missed it quite much. Again, it was creamy and came with a crispy puff for you to dip with.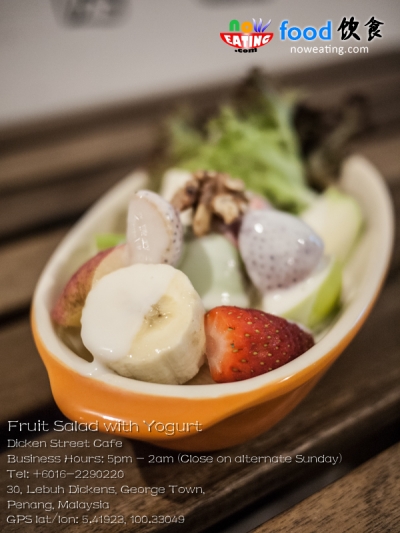 For something healthy and not-so-creamy, we ordered Fruit Salad with Yogurt (RM5.80) as second item for soup and salad. The fruits consisted of strawberry, banana, apple, kiwi, and walnut to name a few.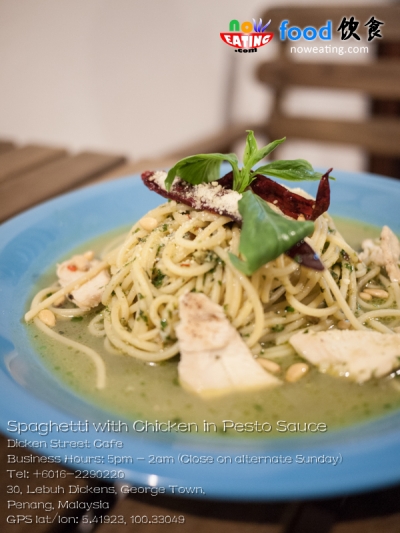 As for the main course, Spaghetti with Chicken in Pesto Sauce (RM12.80) was one of them. Pesto is a sauce of crushed basil leaves, pine nuts, garlic, Parmesan cheese, and olive oil, typically served with pasta. If great basil taste is not an issue for you, this is a healthy main course to consider.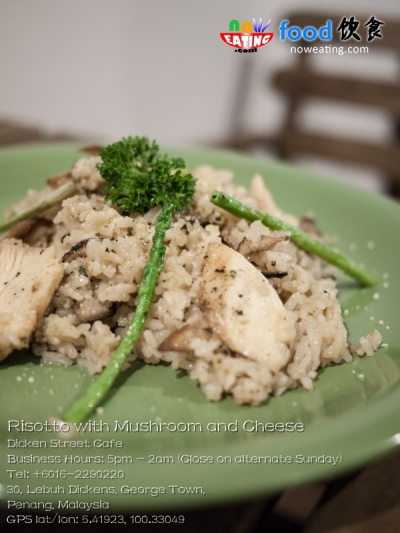 Second main course was Risotto with Mushroom & Cheese (RM15.80). Risotto is an Italian dish of rice cooked in stock with other ingredients such as meat and vegetables. It tasted unique and was a bit like butter rice. It came with asparagus and chicken breast cutlet. Another healthy main course.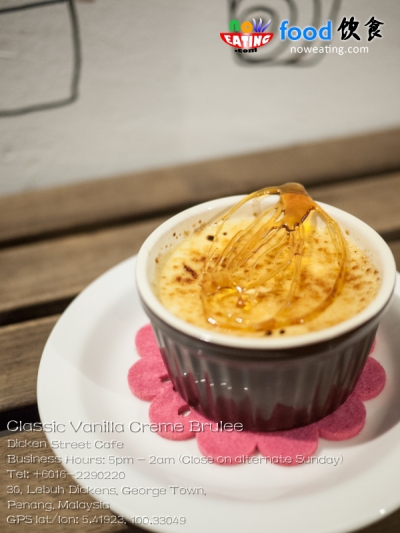 As you can see so far, Dicken Street Cafe served mainly on Italian cuisine, including this Classic Vanilla Creme Brulee (RM6.80). Creme Brulee is a dessert consisting of a rich custard base topped with a contrasting layer of hard caramel. It tasted rich and was like Ipoh's egg custard.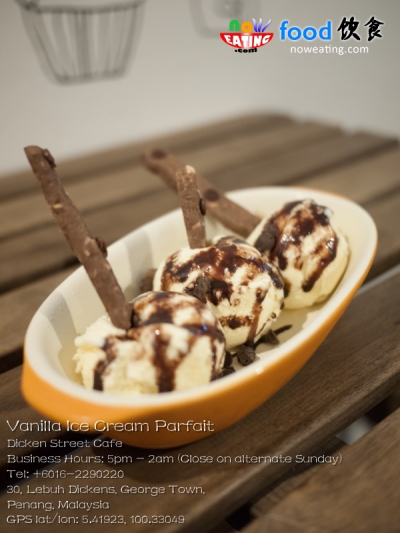 Second dessert was Vanilla Ice cream Parfait (RM6.80). Nothing special here.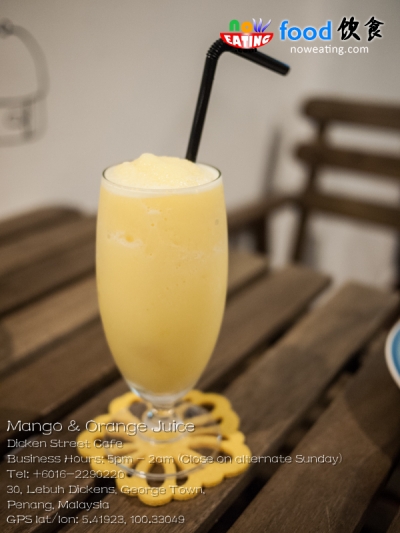 As for the drinks, we opted for Mango & Orange Juice (RM6.80). It was actually ice-blended so that the fruit juice was not diluted with ice cubes.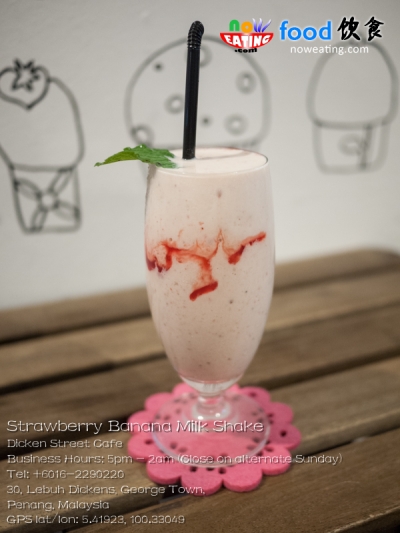 The Strawberry Banana Milk Shake (RM7.80) tasted even better.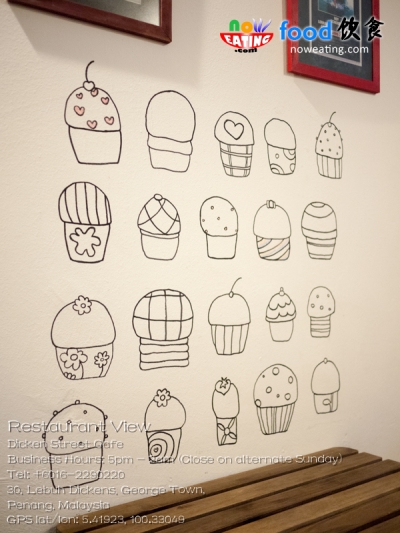 At the end of the day, we moved our butts back to our car, took out our phone and calculate price for each item we selected. We ended up only saved RM0.40 for our meal (Total: RM79.20, Set Price: RM78.80)…
:shock2:
If we selected cheaper items, we may end up paying more by choosing "Dating Set". So ladies and gentlemen, just stick to their ala-carte, order whatever you like. Don't be like us… selected 9 items for set, suffering and yet still at the risk of paying more.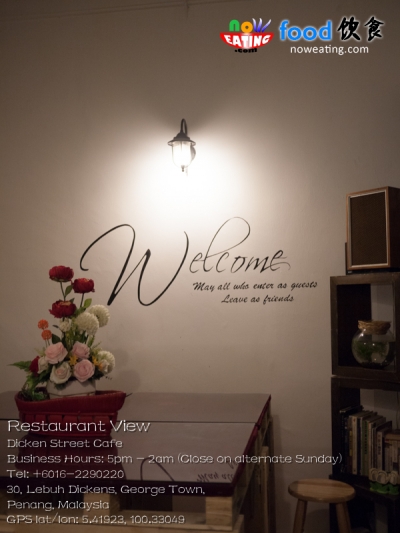 Putting this minor dinner set issue aside, the new Dicken Street Cafe at Lebuh Dickens, George Town has a potential to become a famous western cafe thanks to its unique selection of Italian cuisine, making it stand out from those "Chicken Chop & Fish-and-Chips" cafe. Opens from 5pm – 2am, it can be a new late night supper place as well.
You may download a copy of Dicken Street Cafe menu below. For latest pricing and update, always refers to the actual menu in the cafe. Thanks.
| | |
| --- | --- |
| Place Name: | Dicken Street Cafe |
| Cuisine: | Western |
| Address: | 30, Lebuh Dickens, George Town, 10000, Penang, Malaysia |
| Tel: | +6016-2290220 |
| Email: | [email protected] |
| Working Hour: | 5pm-2am (Close on alternate Sunday) |
| Last Visit: | 20130827 |