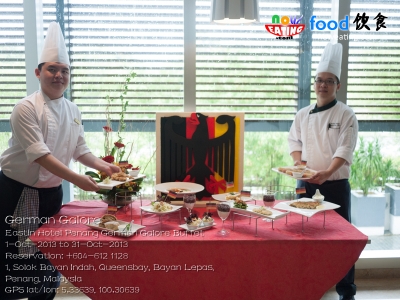 In conjunction with October promotion, Eastin Hotel Penang is pleased to offer you a variety of German cuisine. Come and savour their exquisite German dishes that will tantalise your taste buds.
Among the distinctive dishes to look for are:
Appertizers and soup 开胃菜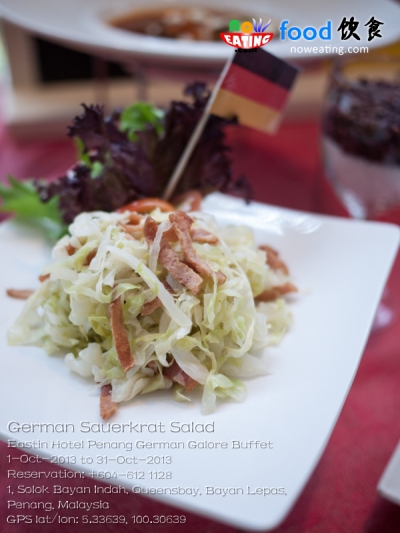 German Sauerkrat Salad 德式酸菜沙拉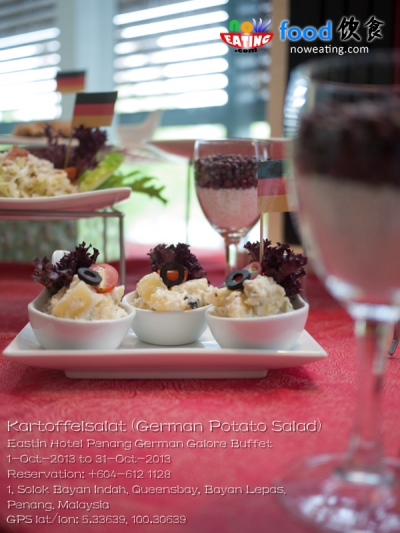 Kartoffelsalat (German Potato Salad) 德式马铃薯沙拉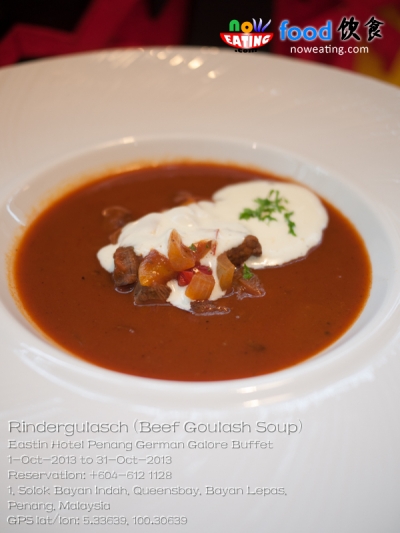 Rindergulasch (Beef Goulash Soup) 德式烩牛肉汤
Main Course 主菜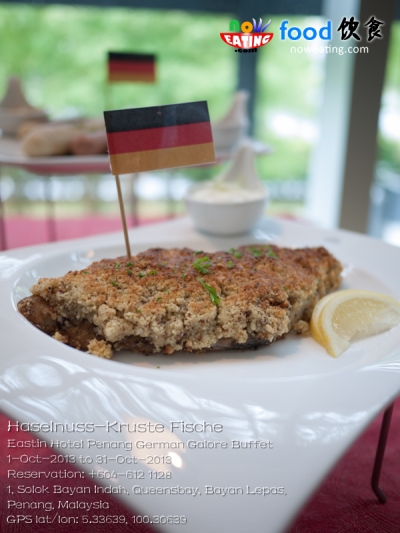 Haselnuss-Kruste Fische (Hazelnut Crusted Fish) 榛子脆皮鱼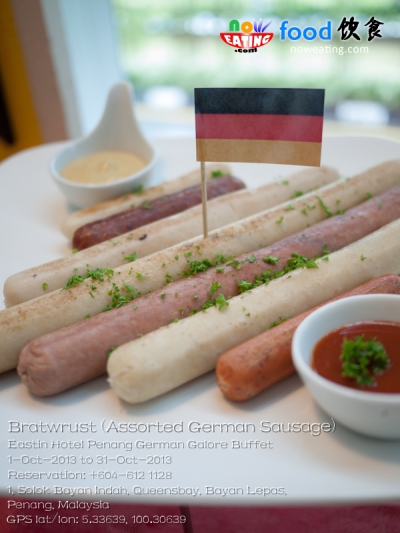 Bratwurst (Assorted German Sausage) 各式德国香肠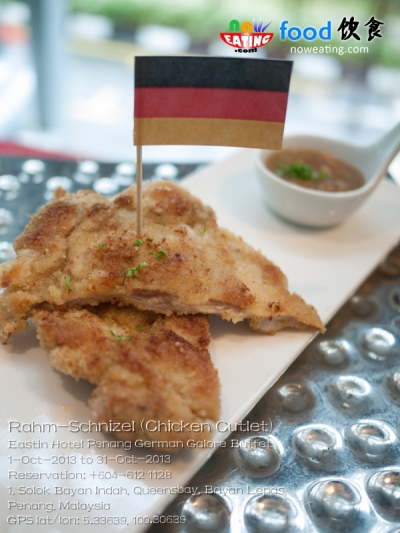 Rahm-Schnizel (Chicken Cutlet) 德式鸡排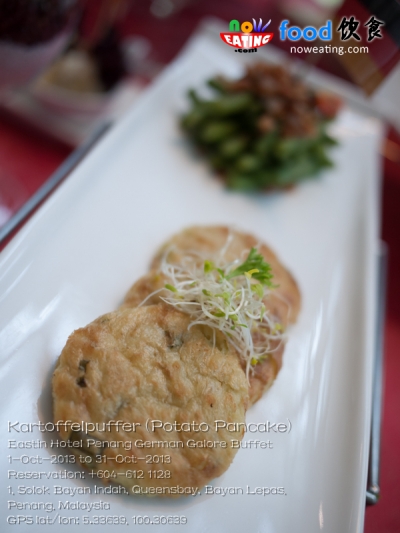 Kartoffelpuffer (Potato Pancake) 马铃薯煎饼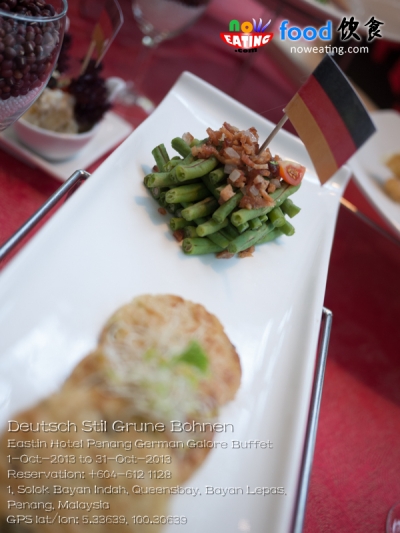 Deutsch Stil Grune Bohnen (German Style Green Beans) 德式青豆
Desserts 甜点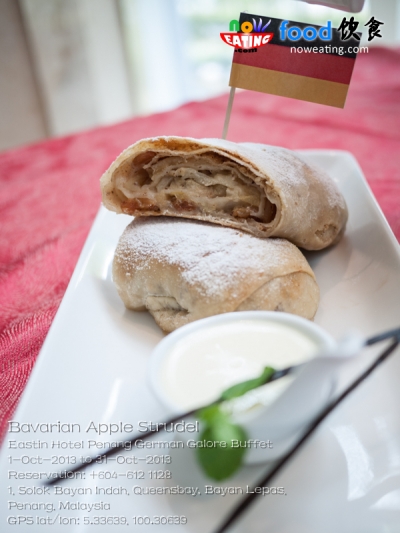 Bavarian Apple Strudel 巴伐利亚苹果馅饼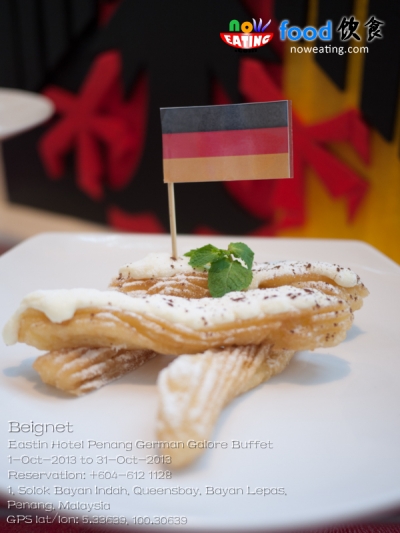 Beignet (German Deep-Fried Choux Pastry) 德式香脆香子馅饼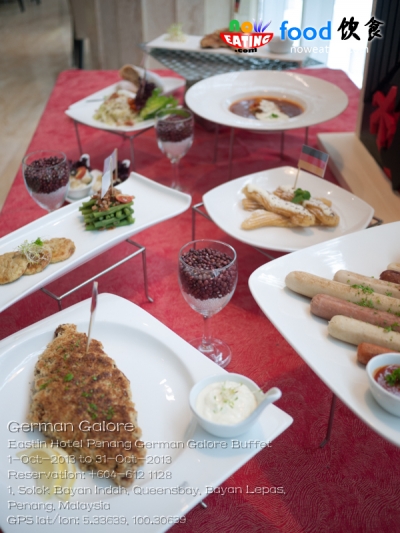 German Galore is available during lunch, hi-tea and dinner at Swez Brasserie from 1-31 October 2013.
Lunch: Monday-Friday
12.00pm-2.30pm
RM48++ (adult) RM24++ (child)
Hi-Tea: Saturday and Sunday
12.00pm-3.00pm
RM55++ (adult) RM28++ (child)
Semi Buffet Dinner: Sunday-Thursday
6.30pm-10.00pm
From RM48++ per person
October Credit Card Promotions
MAYBANKARD, Standard Chartered Bank, OCBC Bank, CIMB Bank and Citibank card members, guests can enjoy 15% discount for German Galore Semi Buffet Dinner (Monday to Thursday) and Weekend Buffet Dinner (Friday & Saturday) from 6.30pm-10.00pm.
For inquiries or reservation, please call Eastin Hotel Penang, Swez Brasserie at: +604-612 1128.
Refer to the link below for semi-buffet menu: