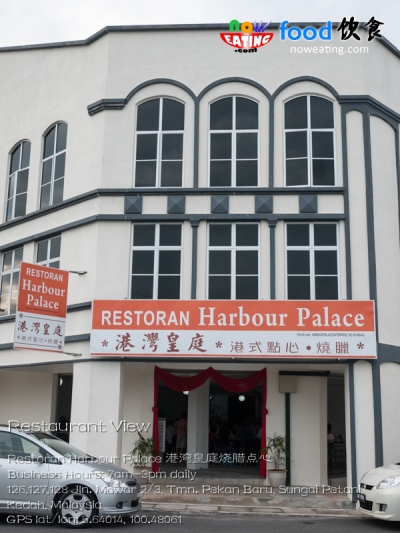 Dim Sum – a breakfast I like to enjoy. Recently, I was told that there is a new Dim Sum restaurant at Sungai Petani with new "order then cook" concept – Harbour Palace 港湾皇庭. Without further adieu, we gave this new restaurant a try.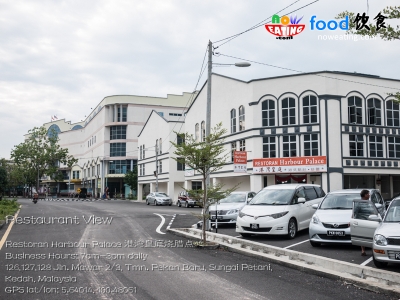 The new restaurant is located near Billion hypermarket at Taman Pekan Baru. At first, we thought it was one of the shops behind Billion. To our surprise, there was a new commercial area with many shops remained unopened. Harbour Palace is one of shops there.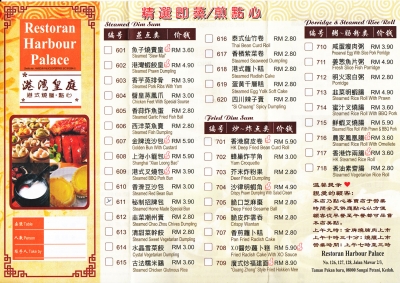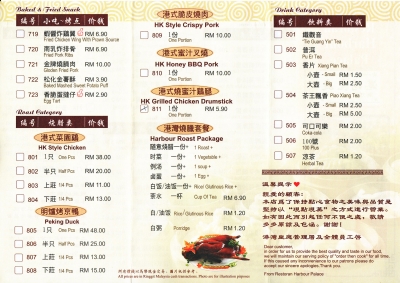 Instead of serving you precooked dim sum on a trolley, Harbour Palace requires you to place order on order chit available on each table. They also serve roasted  product but is only available from 10.30am onward. The restaurant opens from 7am til 3pm daily.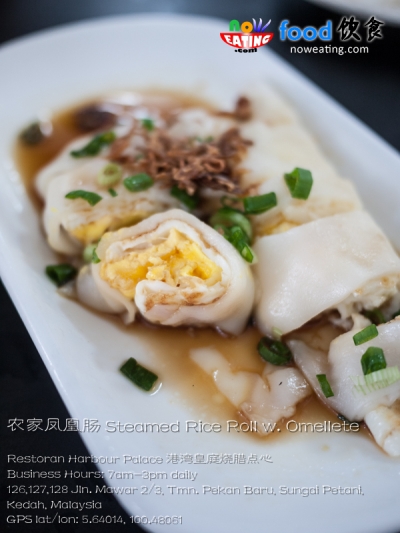 We arrived earlier than 10.30am so did not have a chance to try their roasted product but instead ordered some recommended and interesting items as shown in the menu. Steamed Rice Roll with Omelette 农家凤凰肠 (RM3.60) is a HK style Chee Cheong Fun stuffed with egg.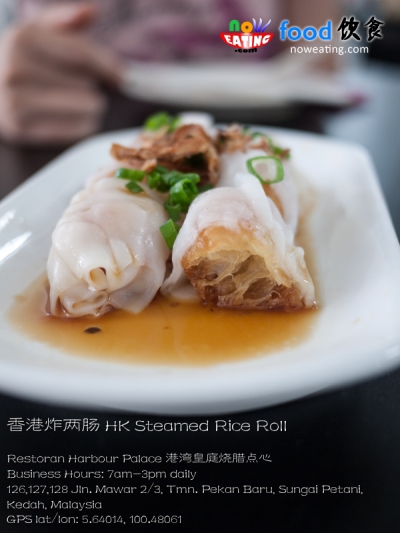 We noticed this 炸两肠 when we were in Ipoh and still wondering what is this, until we saw the same item in Harbour Palace. HK Steamed Rice Roll 香港炸两肠 (RM3.60) is stuffed with Youtiao 油条 soaked with soy sauce. A new experience.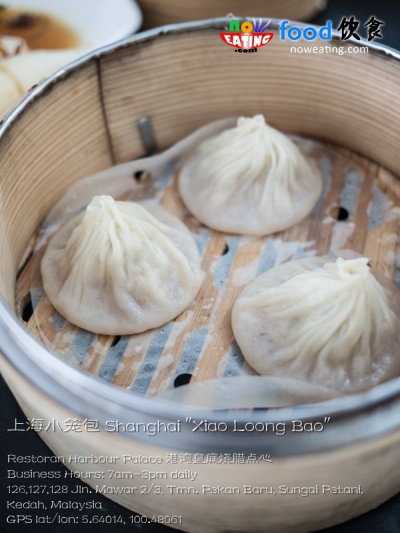 Perhaps the highlight of the day was this Shanghai "Xiao Loong Bao" 上海小笼包 (RM5.90). This item is not new in Penang and in fact some taste pretty good. Harbour Palace, however, is perhaps the first Dim Sum restaurant in Sungai Petani offering Xiao Loong Bao which still has soup filled when serving. Most restaurants have the skin torn apart when arriving on our table. Pricing-wise is also acceptable. Note that this item must be consumed immediately. Basically here is the instruction:
Carefully lift the dumpling using chopstick.
Put it on a soup spoon.
Bite a hole on top.
Suck out the soup in it (beware of hot soup).
Put some sliced ginger and vinegar provided into the hole.
Eat the whole dumpling.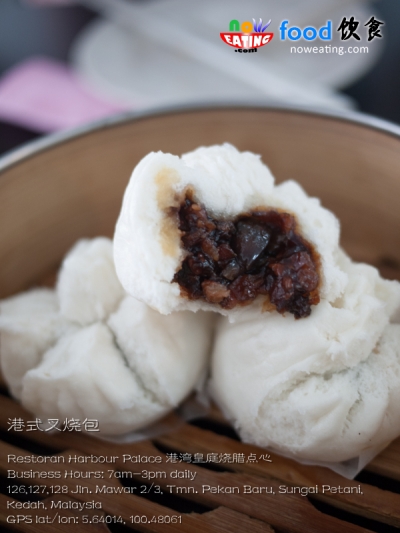 Steamed BBQ Pork Bun 港式叉烧包 (RM3.90). It was juicy but I still prefer the one at Dai You Bin.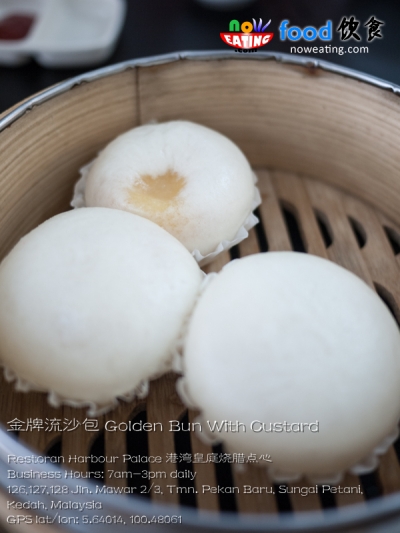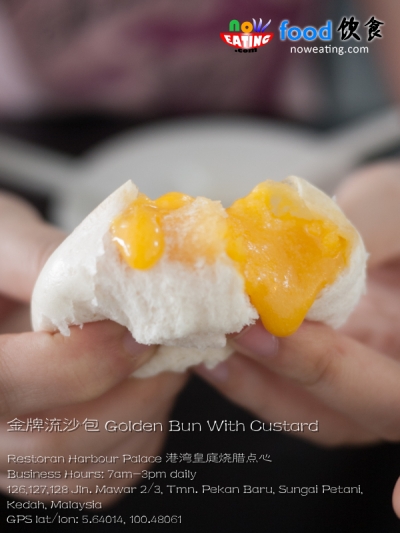 Golden Bun with Custard 金牌流沙包 (RM5.90) is also a rare item in Sungai Petani and is best consumed immediately. Of course, if you are looking for better version, you have to go to better dining restaurant.
Since Egg Tart 香脆蛋挞仔 (RM2.90) was also "order then cook", it tasted nicer compared to those served in trolley.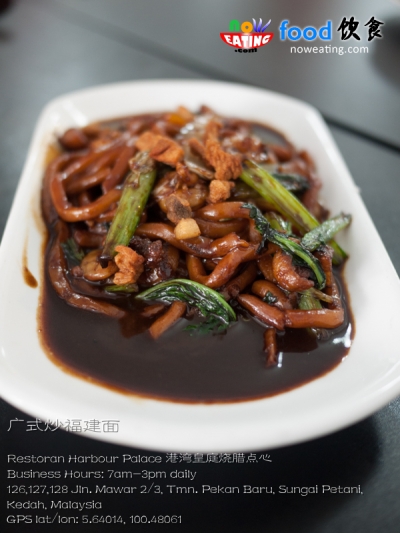 At first, when I saw this item – "Guang Zhong" Style Fried Hokkien Mee 广式炒福建面 (RM8.90), I thought it was the Hokkien Char usually found in north region of Malaysia. It was in fact the KL version of Fried Hokkien Mee (a.k.a Dai Lok Mee 大碌面). Tasted good except it could be a bit salty for some.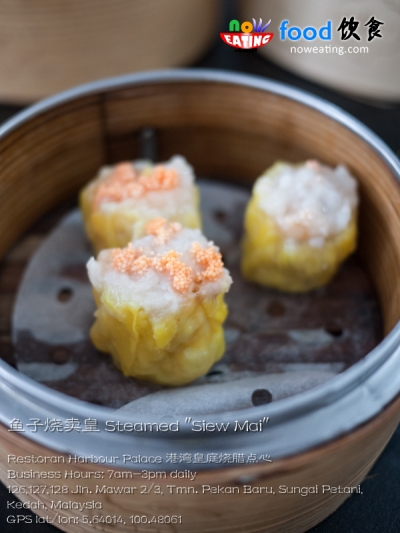 The rest were pretty standard, including Steamed "Siew Mai" 鱼子烧卖皇 (RM3.60)…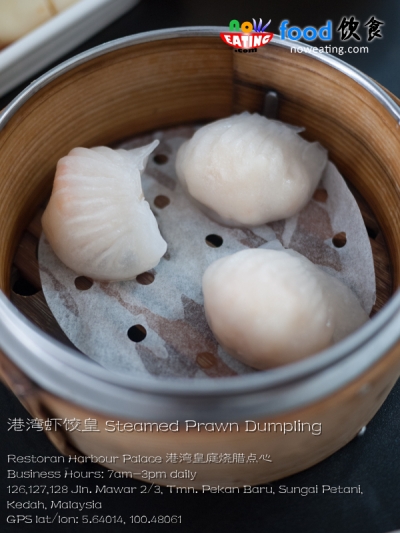 … Steamed Prawn Dumpling 港湾虾饺皇 (RM4.90) …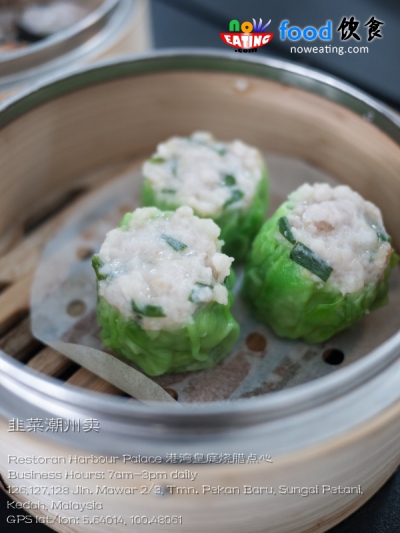 … Steamed Chao Zhou Chives Dumpling 韭菜潮州卖 (RM2.80) …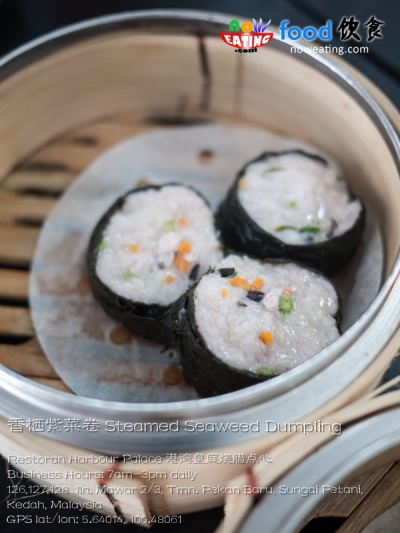 … and Steamed Seaweed Dumpling 香栖紫菜卷 (RM2.80).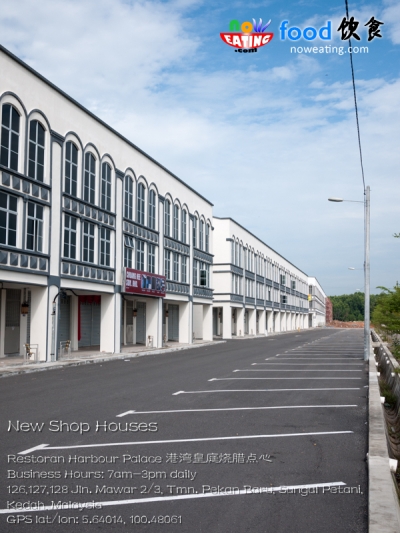 No doubt, this restaurant quickly becomes new attraction for locals. Our first visit was satisfactory except we found out that the hot water at water refill station had some sort chemical taste (perhaps no water filter there) and some food had a little trace of "new cabine/baskett" taste (maybe their kitchen was too new). The wait time was acceptable. Hope that more new shops will be opened at that area to bring in more businesses.
| | |
| --- | --- |
| Place Name: | Restoran Harbour Palace 港湾皇庭烧腊 |
| Cuisine: | Chinese |
| Address: | 126,127,128 Jln. Mawar 2/3, Tmn. Pekan Baru, Sungai Petani, 08000, Kedah, Malaysia |
| Working Hour: | 7am-3pm daily |
| Tax: | No |
| Last Visit: | 20130915 |