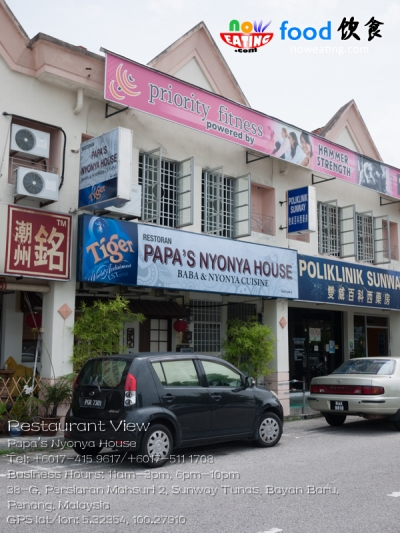 Updated 05-Nov-2013: This restaurant is closed.
If there is one word to describe Nyonya restaurant in Penang, it is – "expensive". The portion is usually small but charged at premium rate. Papa's Nyonya House at Sunway Tunas is no exception with price starting from RM10 (Menu available at the end of this post). Fortunately,  there is a set lunch menu which worth considering.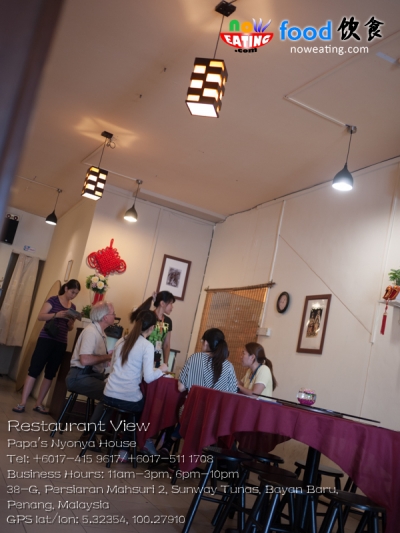 If the location above looks familiar, Papa's Nyonya House previously housed a Japanese restaurant called Chikuma, which was moved from Gembira Parade to Sunway Tunas. The interior still looks familiar after taking over by Papa's Nyonya House.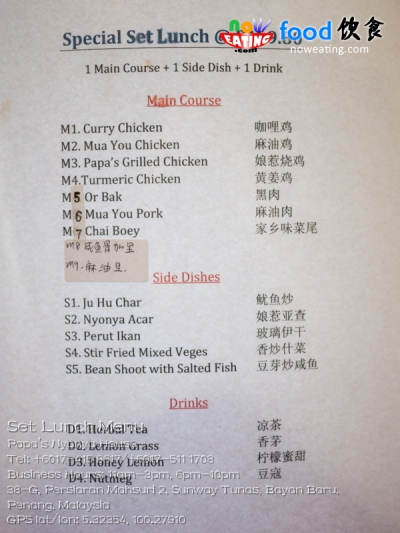 This is their set lunch menu. Priced at RM9.80, you can choose one main dish, one side dish, and one drink. A bowl of rice will be given as well. Additional rice is price at RM1.50 each.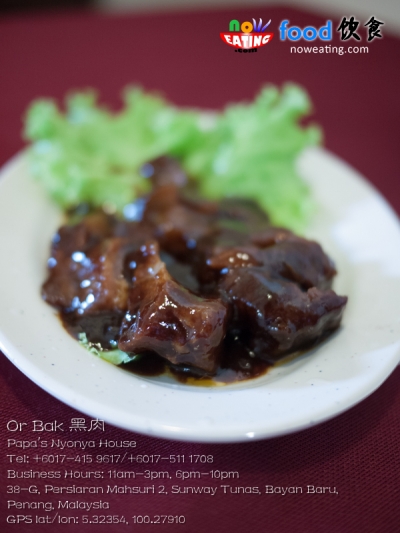 Or Bak 黑肉 is a main dish to recommend. The marinated pork belly is grilled with sweet dark sauce.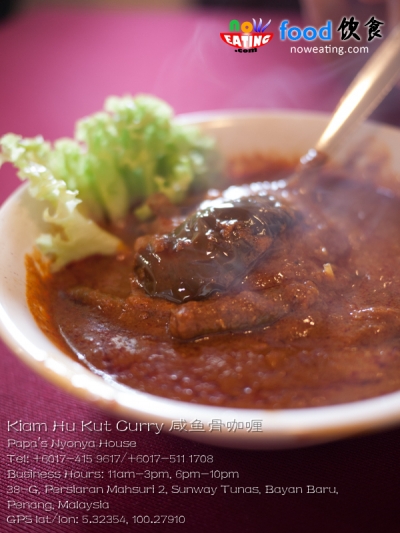 Kiam Hu Kut Curry 咸鱼骨咖喱 is another recommended dish thanks to its thick curry gravy. You can easily go for second bowl of rice with this one.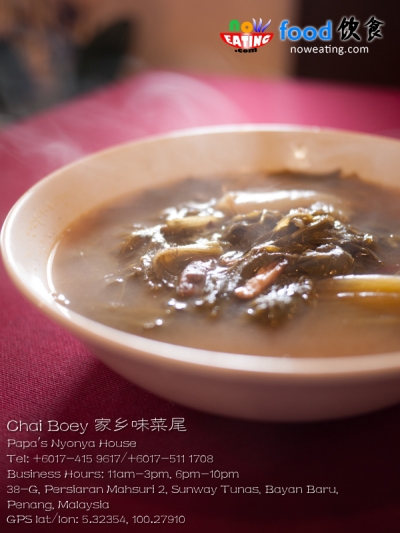 One thing to praise about this restaurant is that, most food are served hot with beautiful cloud of steam like they are prepared in home kitchen. It is a must-have (to serve hot food) as long as Chinese cuisine is concerned but too bad some restaurants do not emphasis on it. Chai Boey, for example, is best served hot.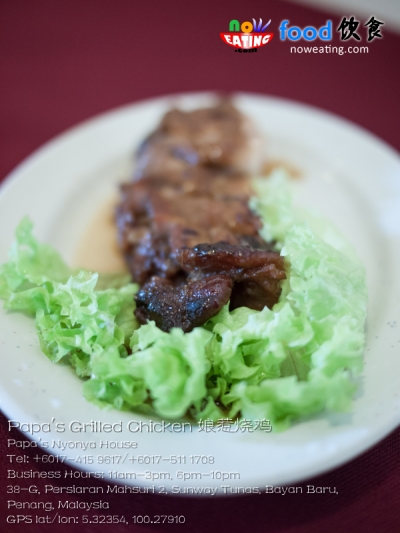 Papa's Grilled Chicken 娘惹烧鸡 is one of the restaurant's specialties in which the tender chicken thigh is honey grilled, like Prime Roast in Ayamas. Tasted good even though the portion was small.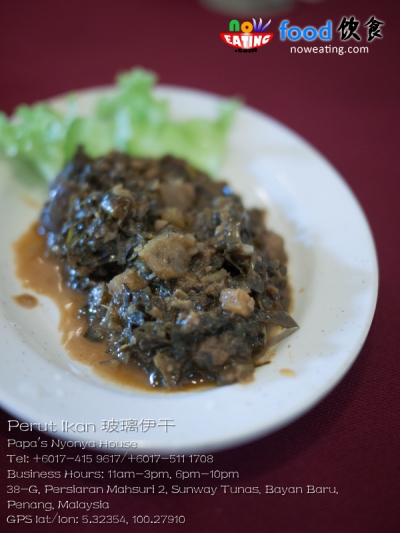 As for the side dish, Perut Ikan 玻璃伊干 was a bit special compared to other Nyonya restaurants. My expectation was that it should be cook with an adequate amount of sweet, sour, and spicy soup with long bean, pineapple, egg plant, and small shrimps. It turned out that this is "dry" version.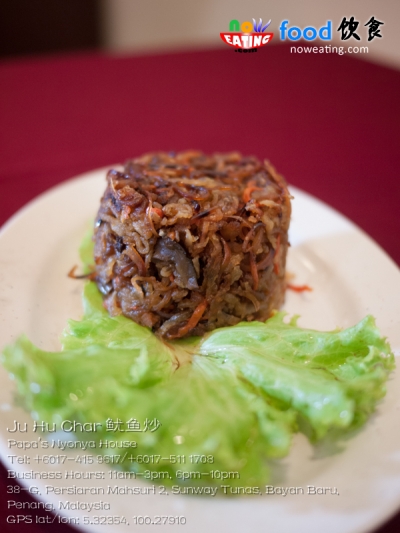 Ju Hu Char 鱿鱼炒, however, was a bit dry to our liking. It would be better if some fresh lettuce leaves were provided to wrap the Ju Hu Char.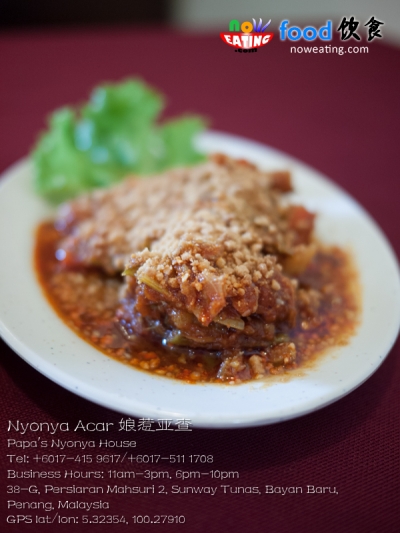 Nyonya Acar 娘惹亚查 – the amount can be considered generous.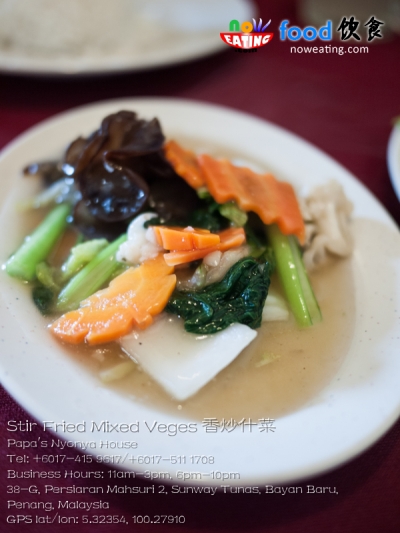 Stir Fried Mixed Veges 香炒什菜. A dish commonly found in most restaurants.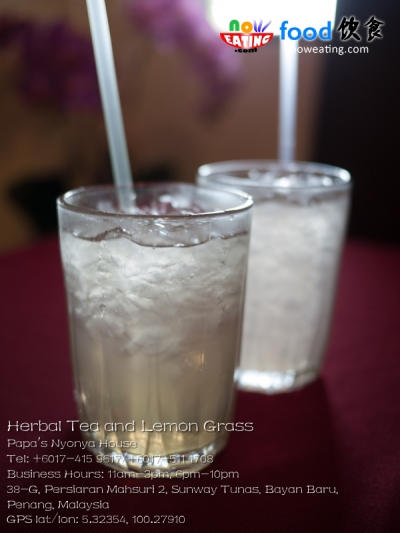 Last but not least, we liked their lemon grass drink.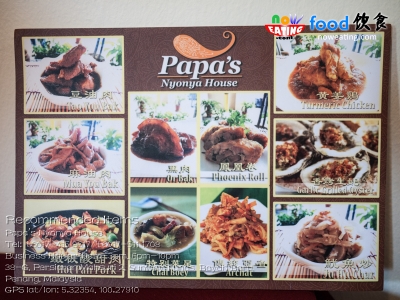 Thanks to Papa's Nyonya House Set Lunch menu, Bayan Baru workers now have an option to enjoy authentic Peranakan cuisine without creating a hole in their pocket. Refer to link below for their simple menu. For latest menu and pricing, always refer to actual menu in restaurant. Thanks 🙂
| | |
| --- | --- |
| Place Name: | Papa's Nyonya House |
| Cuisine: | Nyonya |
| Address: | 38-G, Persiaran Mahsuri 2, Sunway Tunas, Bayan Lepas, 11900, Penang, Malaysia |
| Tel: | +6017-415 9617, +6017-511 1708, +6016-443 8543 |
| Email: | [email protected] |
| Tax: | No |
| Last Visit: | 20130708 |