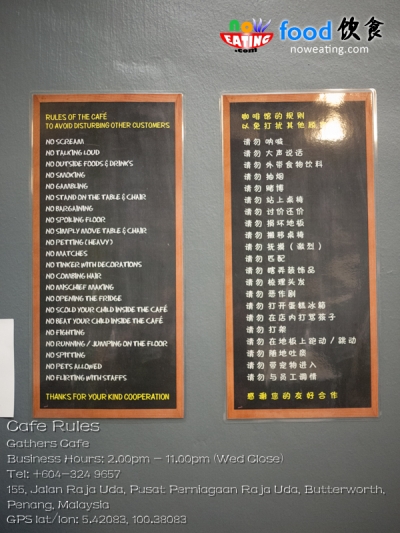 We have many rules in our daily life. For restaurants, the most common one are "no smoking" and "no outside food". Have you ever seen a cafe with 22 rules including "no combing hair", "no petting (heavy)", "no beat your child inside the cafe" and "no flirting with staffs"? These rules quickly turned Gathers Cafe at Raja Uda into a famous cafe full of restrictions.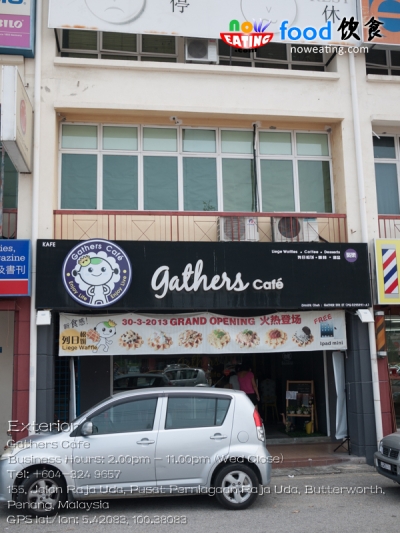 Gathers Cafe is located near to 100 Yen and has its grand opening on 30-March-2013. I stumbled upon it back in June 2013 when I was having food hunt at Raja Uda.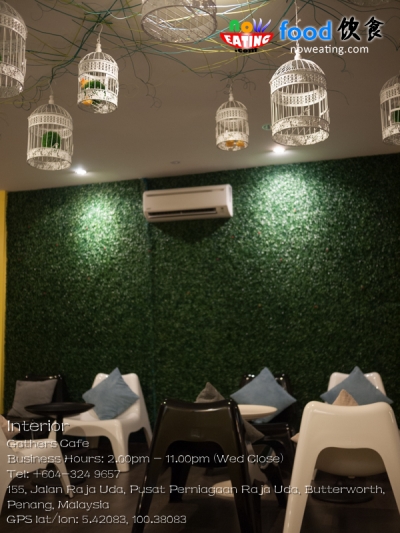 No doubt, Gathers Cafe has very nice interior with comfy chairs/sofas and soft background music, making you feel sleepy especially when sitting on their sofa. Thanks to "No Talking Loud" rule, most customers including uncles and aunties only talk softly. Most of the time, the noisiest thing is my camera's shutter sound.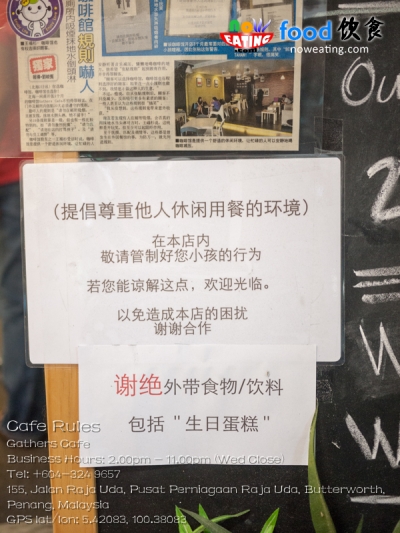 There are many other rules, including "no smoking in toilet or else water on your head" and "no birthday cake from outside". We believe the owner's intention is not to create disturbance among customers.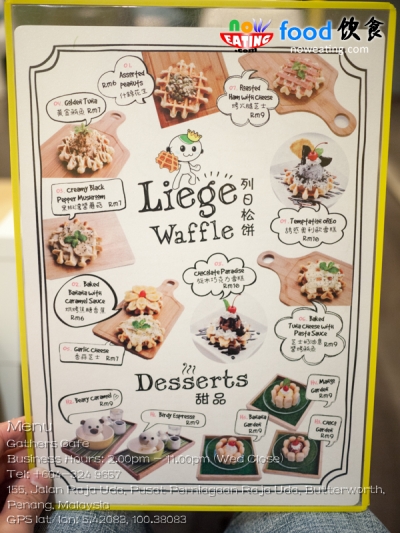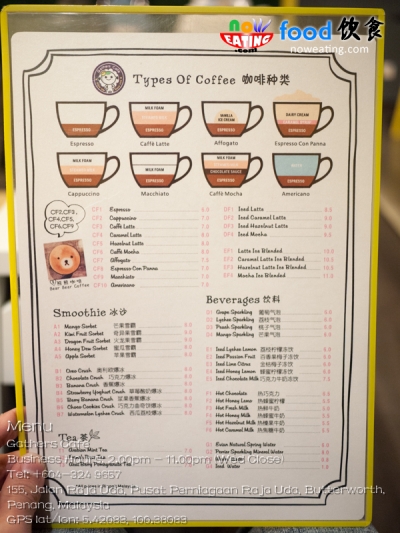 They recently updated their menu. Some have price increased a bit. Gathers Cafe basically serves some coffees and desserts. To order with minimum noise, an order chit with "soundproof" pencil are provided. Just write down the item number and pass the order chit to the waitress (make sure no flirting with staffs).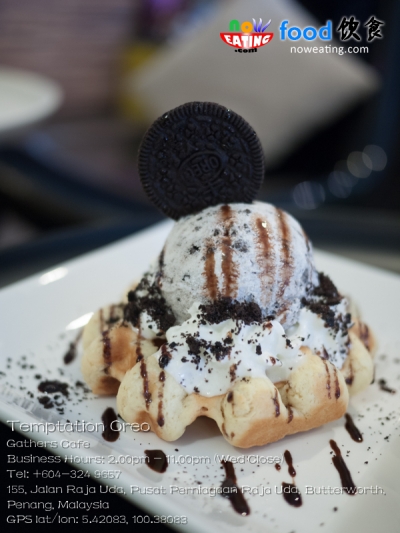 We like their Temptation Oreo (RM10) made of Liege Waffle originated from Belgium. Its special ingredient includes pearl sugar which is caramelised on the waffle, making the waffle sweet enough to eat on its own. The dough preparation is time-consuming as well. The texture is different from normal waffle we found at snack bar in shopping mall.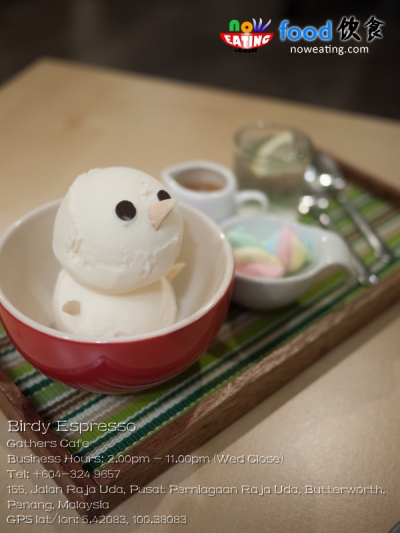 What makes me visit the cafe for second time was this Affogato a.k.a Birdy Espresso (RM9). The presentation will surely attract many teenagers like me.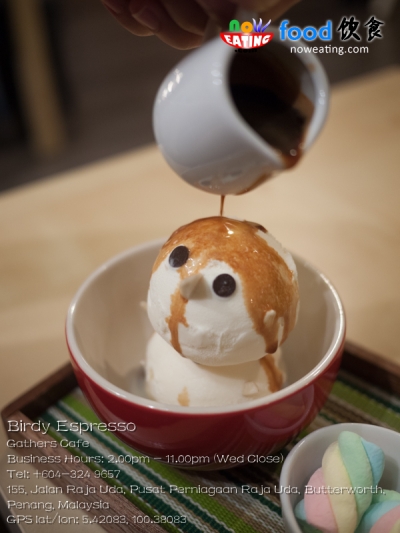 I won't create a video on how to eat it. To eat, simply pour the espresso on the unlucky snowman. Their espresso was very strong by the way. One small cup and you are ready for cross-state marathon.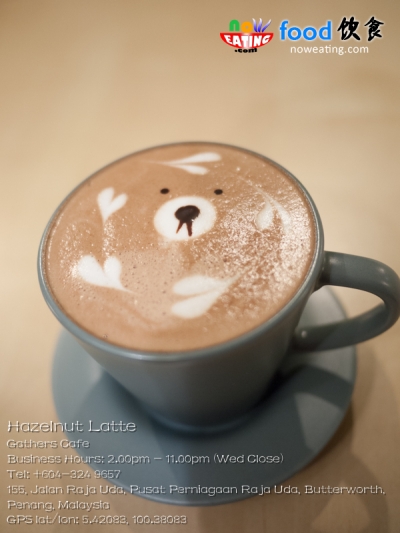 Hazelnut Latte (RM8) – The latte art was so cute that we felt kind of wasted if we just drank it. The hazelnut was not too sweet and less artificial compared to other cafes.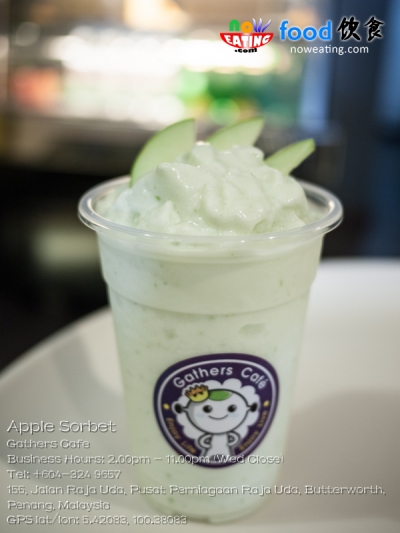 This Apple Sorbet (RM8) made of apple flesh, vanilla yogurt, sorbet and ice even though was special, it also tasted a bit weird at the same time. Perhaps the yogurt had covered the mild taste of apple.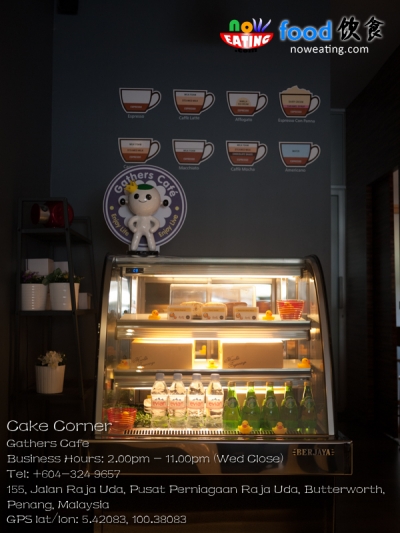 No birthday cake? No problem. Occasionally, they do have crepe cake in their fridge. Make sure you don't act smart and open the fridge yourself.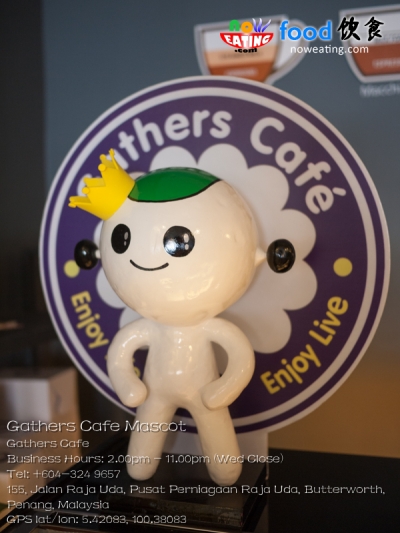 With more than 22 rules to follow, Gathers Cafe is perhaps the strictest cafe in town and "Customer is always right" does not apply here. However, judging on the nice ambient and quality food they provided, it is worth following their rules to avoid disturbing of other customers.
| | |
| --- | --- |
| Place Name: | Gathers Cafe |
| Cuisine: | Other |
| Address: | 155, Jalan Raja Uda, Pusat Perniagaan Raja Uda, Butterworth, 12300, Penang, Malaysia |
| Tel: | +604-324 9657 |
| Working Hour: | 12.30pm - 11pm (Close on Wed) |
| Tax: | 10% Service Charge |
| Last Visit: | 20131019 |