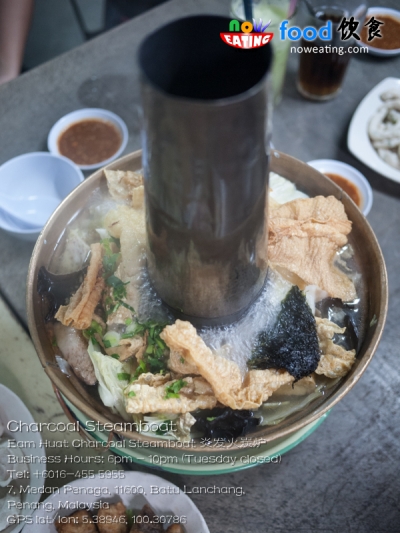 Charcoal steamboat reminded me of my family which like to setup charcoal steamboat during Chinese New Year. It is enjoyable but at the same time a lot of preparation and cleaning job to take care of. Luckily for Penangites, all these hassles will be taken care by Eam Huat Charcoal Steamboat 炎发火炭炉 staffs.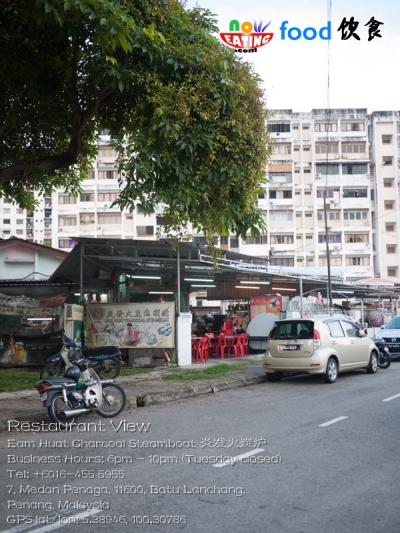 Eam Huat Charcoal Steamboat is located near Batu Lanchang wet market food court. You may park your car at the food court car park and walk across the street. There is a coffee shop called Labu 葫芦小吃 with some hawker stalls in it. Eam Huat Charcoal Steamboat is one of the stalls in it.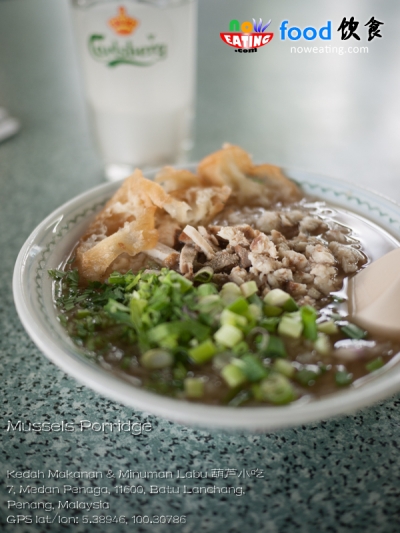 It was a farewell dinner and I arrived earlier. To cure my hunger, I ordered one Mussels Porridge 蚝粥 (RM2.50) from one of the stalls. Not bad.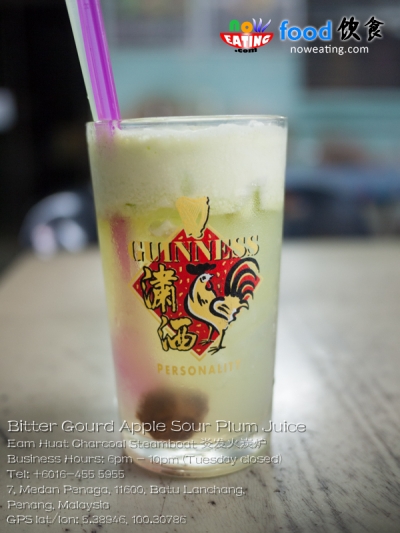 The lady boss of the coffee shop recommended us Bitter Gourd Apple Sour Plum juice. It was not bitter at all and tasted like apple juice with added sour plum.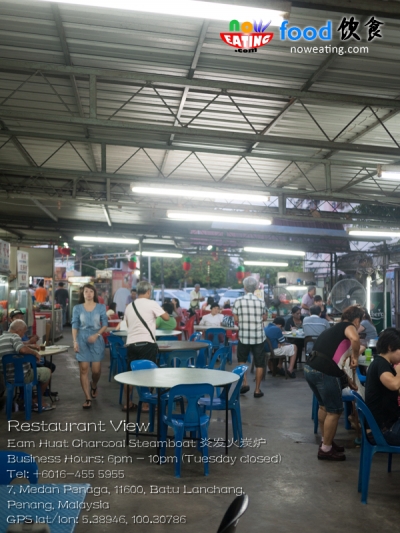 Charcoal steamboat is not new in Penang. Some famous one include Goh Huat Seng at George Town and Raja Uda's Zi Wei Yuan Steamboat. Price for Eam Huat Charcoal Steamboat starts from RM40 to RM200 for each set. Note that It is not buffet style steamboat and bringing in your own ingredients is NOT allowed (so keep your Tupperware at home).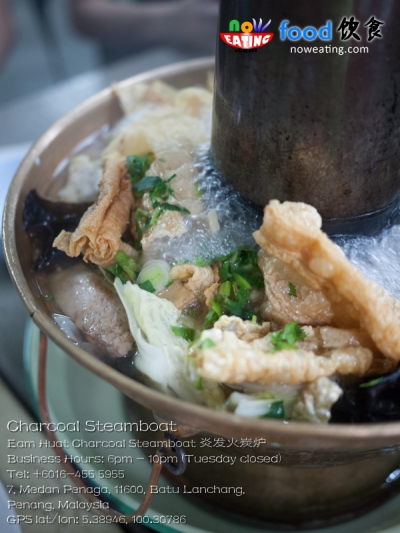 Twelve of us ordered 2 x RM100 steamboats. It took some time for the steamboat to arrive. The steamboat by default already have some ingredients in it. Those ingredients are mainly from RM40 "basic package".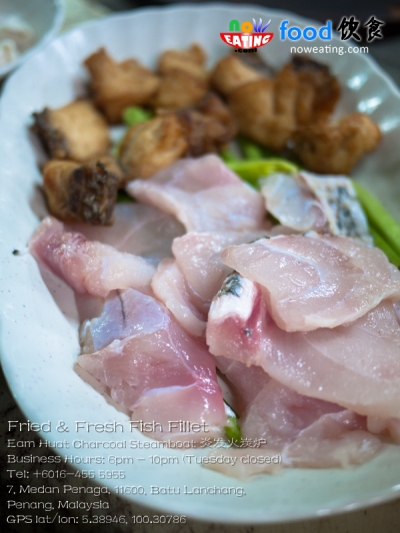 The ingredients for RM100 steamboat included fried and fresh garoupa fish fillet…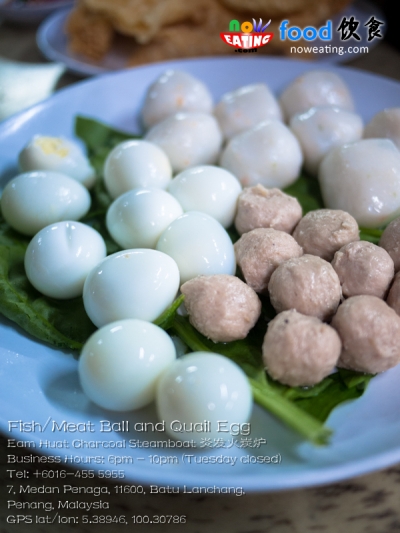 … fish balls, meat balls, and quail eggs..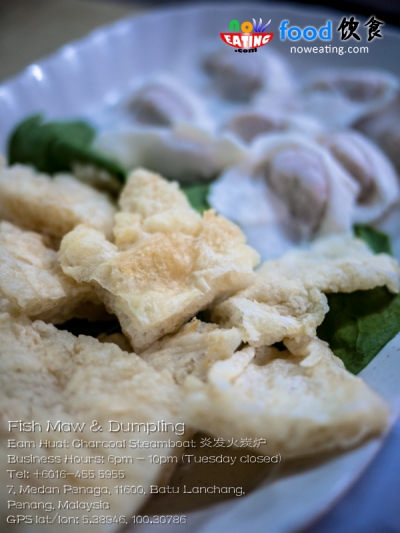 … fish maw and fish dumpling…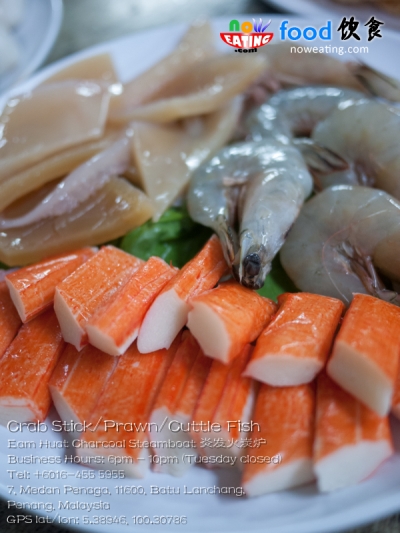 … crab stick, prawn, and cuttle fish.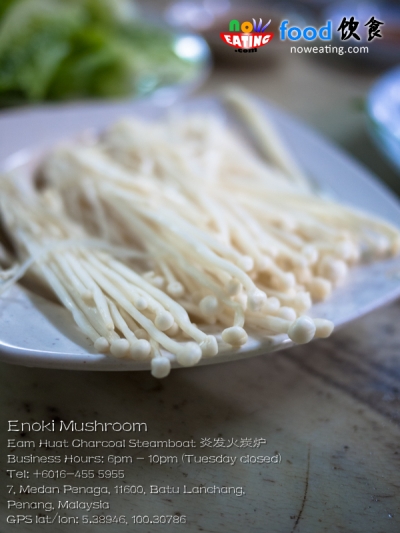 The rest are pretty common, such as Enoki mushroom, beancurd sheets, vegetables, and bee hoon.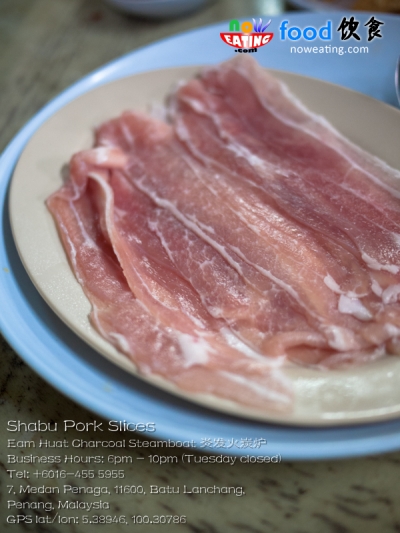 Not enough? No problem. Ala-carte items are available from the menu, such as Shabu Pork Slices (RM6).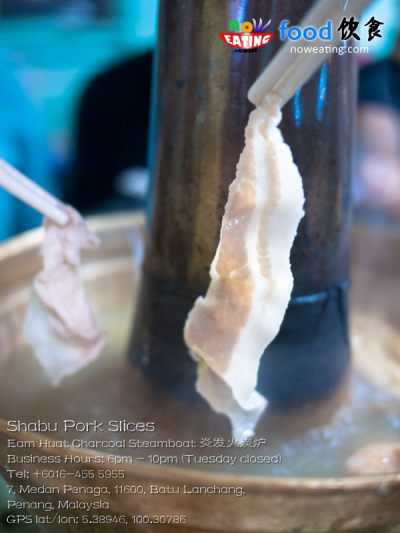 Again, to enjoy it, pick one slice, hold it with chopstick and dunk into boiling steamboat for about 10 seconds. Do not let it swim inside steamboat or else you may have difficulty in finding the dead body later. If you are running out of soup, kindly ask the staff to refill for you. Also, if you are already full and the soup is still boiling, kindly ask the staff to put off the fire.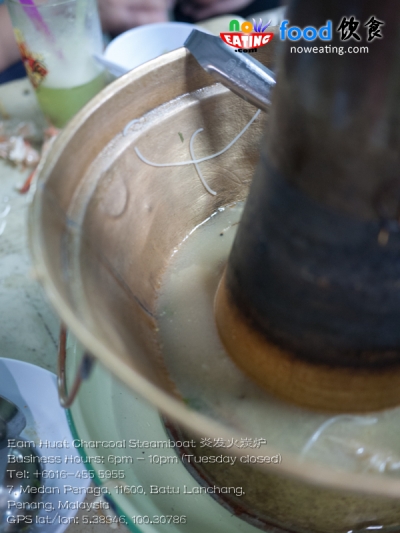 How was the food? Figure above explained all.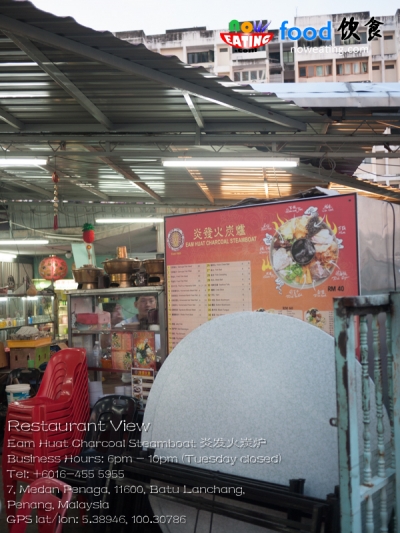 Overall, a healthier and tastier choice compared to gas stove steamboat and the use of less artificial ingredients. Pricing-wise, it could be a bit premium but considering it as part of the cost to prepare and washing your steamboat. Soup-base wise, in my opinion Raja Uda's Zi Wei Yuan was thicker.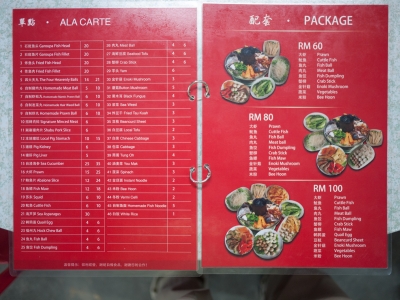 Refer to figures above for menu. For latest pricing, always refer to actual menu.
| | |
| --- | --- |
| Place Name: | Eam Huat Charcoal Steamboat 炎发火炭炉 |
| Cuisine: | Chinese |
| Address: | 7, Medan Penaga, Batu Lanchang, 11600, Penang, Malaysia |
| Tel: | +6016-455 5955 |
| Working Hour: | 6pm - 10pm (Close on Tuesday) |
| Tax: | No |
| Last Visit: | 20130912 |