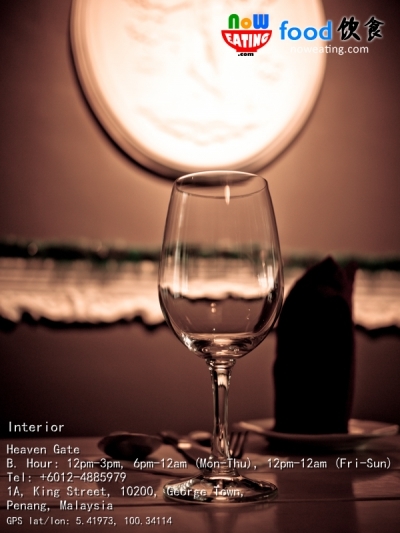 As long as Penang's fine dining is concerned, my experience is mixed. Some really provided quality food and friendly service in which I don't mind paying extra. For some cases, however, the service quality was just substandard and  some old-timers were arrogant especially when serving customers with active kids, casual attire (especially slave like me), or even with skin colour they don't like. Fortunately for Heaven Gate, my experience was positive one.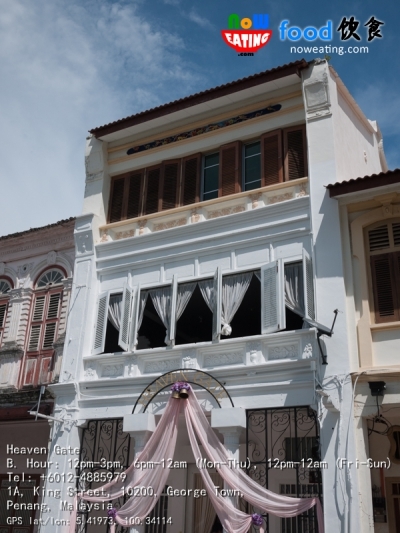 Heaven Gate is located at the one-way King Street of George Town, Penang, same row with the Sire Museum. The restaurant is established since Sep 2009 and opens during lunch and dinner time with different menus. This review is mainly on their dinner menu.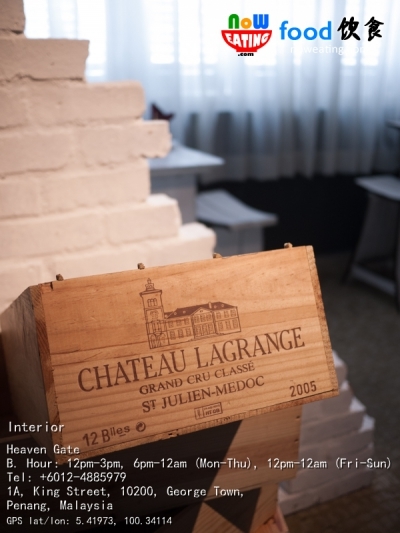 What makes Heaven Gate special is that not only they serve fine dining western food, but also wine pairing dinner. Wine pairing meal is basically a meal in which the host will serve you different kind of wine based on the food. For example, red wine is best matched with red meat and sweet wine is best for appetisers/desserts. I will share with you more in next post.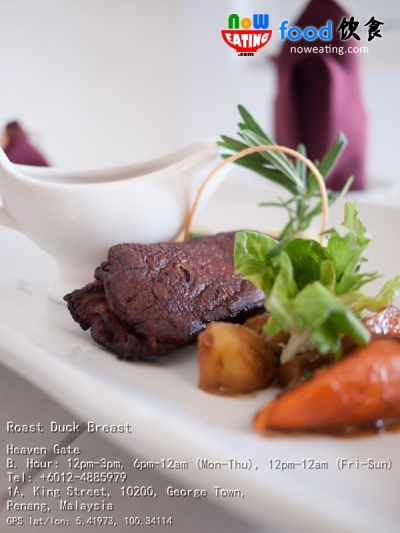 Heaven Gate uses passion classic cooking combined together with modern creativity style. The heritage building presents a very ancient romantic environment with creative rainbow bar for wine and dining. Nowadays, people cooking style always go for instant ingredients but for Heaven Gate, this is not the case. They know that instant ingredients have a very easy way to cook which mean less time, less job, less passion, and less connection between the food and the cook. So they go for classic cooking way with passion and new creativity idea combination foods.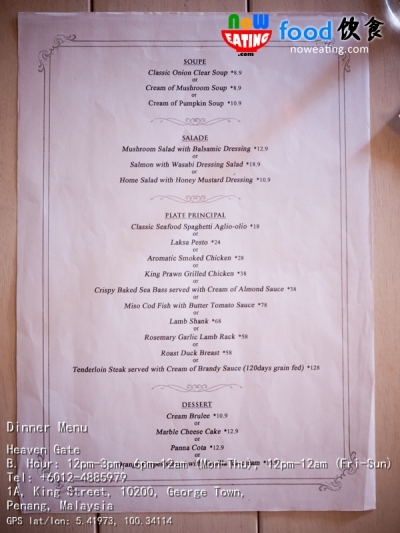 Similar to most fine dining restaurants, instead of gigantic menu with more than 100 items, Heaven Gate menu is only a single side A4 paper consisting of 20 items.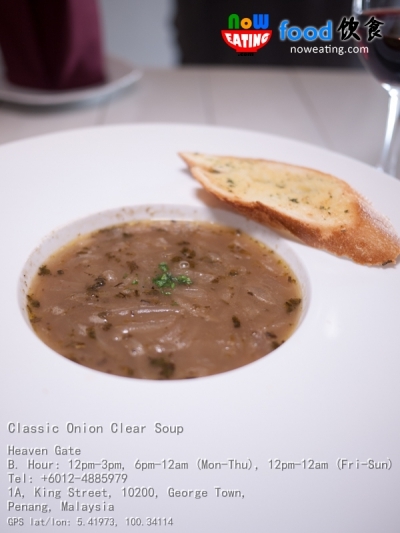 Let's start with their appetisers – classic onion soup and cream of pumpkin soup. If you would like to have classic clear soup, then maybe you can have a try for their new soupe menu classic onion clear soup (RM8.90++). The classic sauté onion is done with brandy mix herbs soup which is a very good start for meal.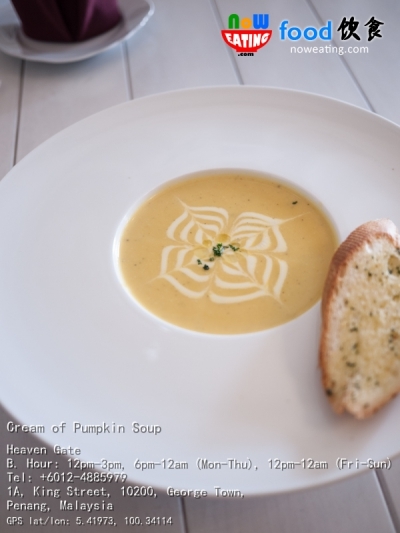 If you would like to go for something cream & slightly sweet to raised up your appetite then you may can try their cream of pumpkin soup (RM10.90++).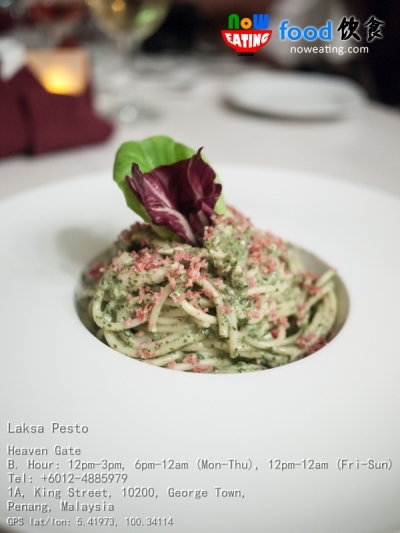 As for their main dish, Laksa Pesto (RM24++) is a very creative pesto dish made of laksa leaf, coconut milk, laksa flower and chopped fine fish.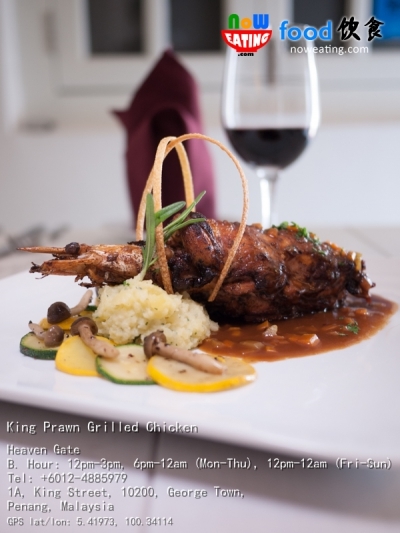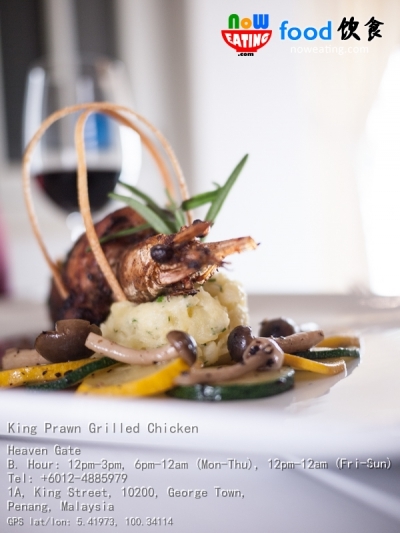 If you are bored of traditional classic grilled chicken which normal people will go for, why not have a try on their new combination of poultry and seafood – King Prawn Grilled Chicken (RM38++). A king prawn is stuffed inside a pan-seared grilled juicy chicken tight roll. The seafood is baked in the oven in a very classical home baked way, on a very creativity modern dish.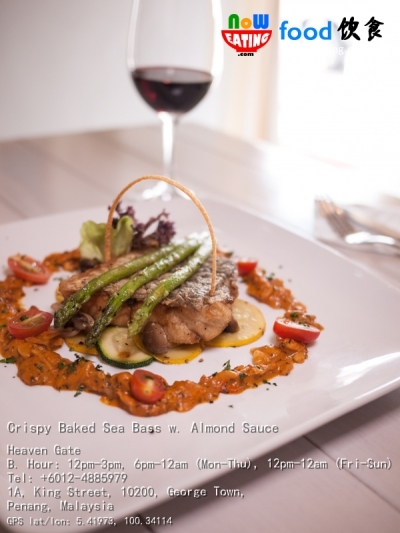 Crispy Baked Sea Bass (RM38++) is done with almond cream sauce. Again, the dish is prepared in a very classical way with sauté almond, onion, garlic and parsley together with truffle oil. The sauce is together with tomato white wine & cream. A good baked sea bass ensure a crispy skin while retaining signature soft texture of sea bass.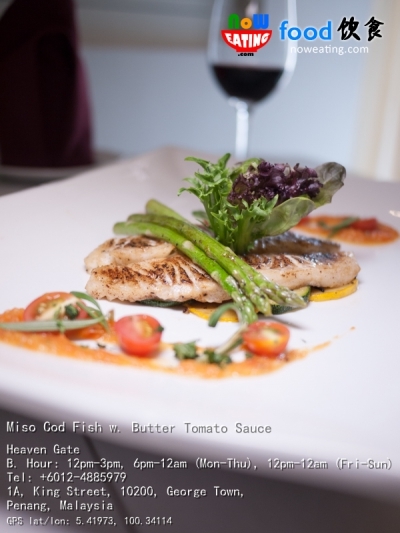 Miso Cod Fish with Butter Tomato Sauce (RM78++) is a special cod fish marinated together with Sake, Miso paste and Mirin. Mirin is an essential condiment used in Japanese cuisine. It is a kind of rice wine similar to sake, but with a lower alcohol content and higher sugar content. Both Miso paste and Mirin blend in well with the fat cod fish. Together with unique Butter Tomato Sauce, it is quite appetising.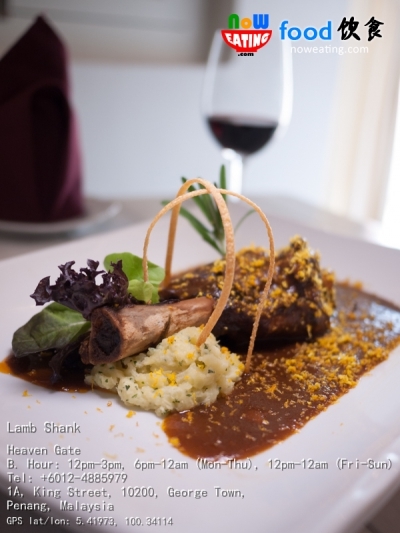 Lamb Shank (RM68++) is prepared using a very classical mother sauce made of vegetable stock and beef stock. The beef stock is made of roasted beef bones and is braised with vegetable and mix herbs for more than four hours in order to produce a very classical way mother sauce. The lamb shank is then braised for another four hours to have the softness texture of lamb shank.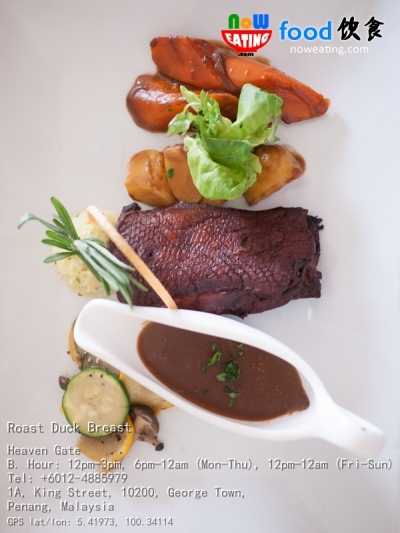 Roast Duck Breast (RM58++) is another classical cooking by Heaven Gate. The duck breast is roasted to medium rare to ensure its tenderness. I like the sweet brown sauce.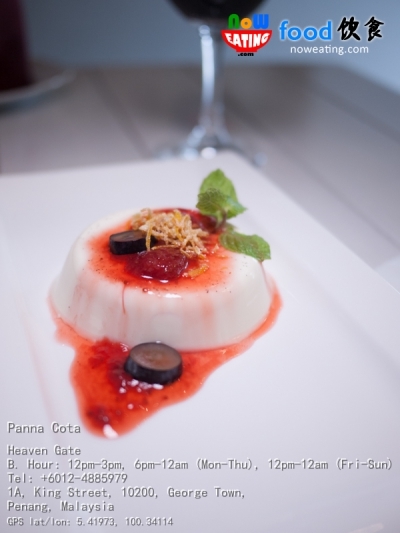 As for the dessert, we have Panna Cota, Orange Crepes served with Vanilla Ice Cream, and Marble Cheese Cake. Panna Cota/Cotta (RM12.90++) is an Italian dessert made by simmering together cream, milk and sugar, mixing this with gelatin, and letting it cool until set. Texture-wise, it is like pudding topped with some strawberry jam and squeezed orange.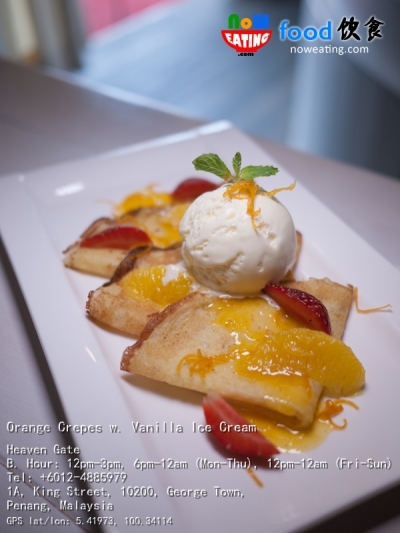 Orange Crepes (RM16.90++) is served with homemade Vanilla Ice Cream.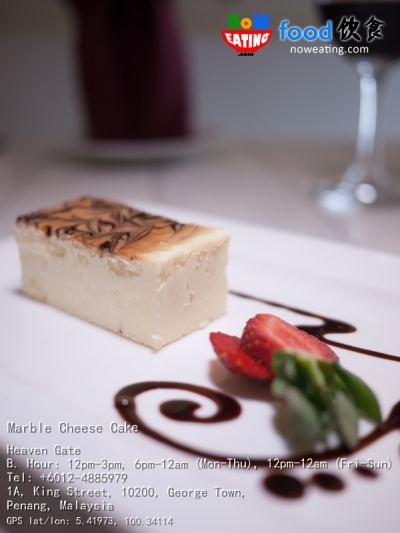 Marble Cheese Cake (RM12.90++). Their Cheese Cake tastes not bad at all.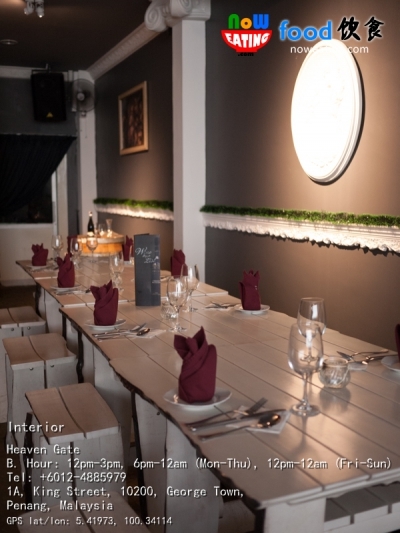 What makes Heaven Gate stands out from other fine dining restaurants in Penang is the friendly service by the staffs and manager himself. Towards the end of our meals, the manager also a chef himself actually approached us for comments, explaining on food they served, and friendly chat. Due to some kitchen issues, some of the items were slightly out of quality (seriously, slave like me never noticed that until he told us) and the manager did apologise and redo the problematic dishes all over again. Personally I feel that this should be the attitude of any restaurant – take comments with open heart and improve from mistakes.
| | |
| --- | --- |
| Place Name: | Heaven Gate |
| Cuisine: | Western |
| Address: | 1A, King Street, George Town, 10220, Penang, Malaysia |
| Tel: | +6012-4885979 |
| Email: | [email protected] |
| Working Hour: | 12pm - 3pm, 6pm-12pm (Mon-Thu), 12pm - 12am (Fri-Sun) |
| Tax: | 10% Service Tax |
| Last Visit: | 20131013 |