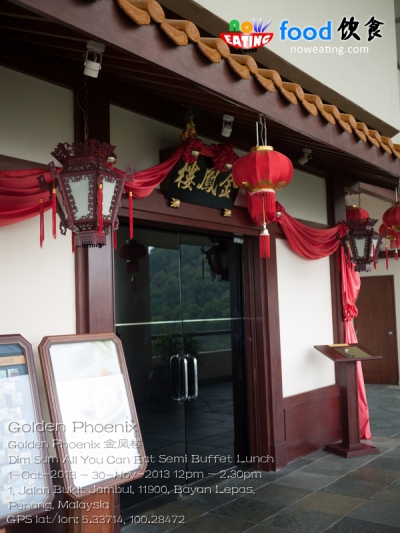 If you are like me, always wake up late and do not have time to enjoy dim sum breakfast, now you have a chance to enjoy it during lunch hour. From 1-Oct-2013 until 30-Nov-2013, Golden Phoenix 金凤楼 at Equatorial Hotel Penang is pleased to offer you dim sum lunch from 12pm – 2.30pm. Did I mention that it is semi buffet lunch?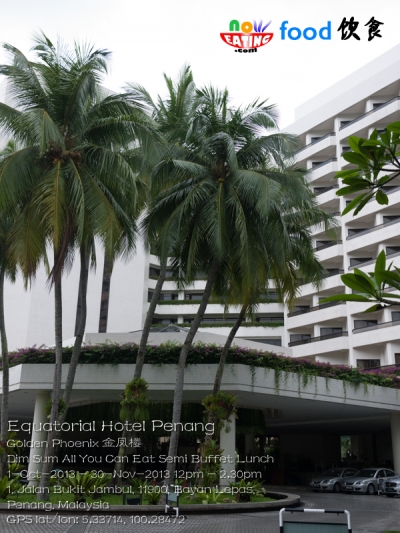 Equatorial Hotel Penang should not be a stranger for those living at Bukit Jambul, Bayan Lepas, Bayan Baru, and Relau area. The hotel building actually consists of some restaurants and offices as well. Golden Phoenix is located at one corner of the building, after the swimming pool if you coming from the lobby area. You can reimburse your parking ticket if you park your car at the basement and dine in Golden Phoenix with valid receipt.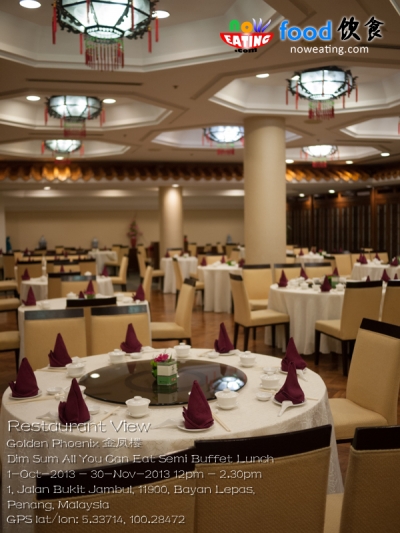 Do not judge a restaurant based on its entrance. The dining area is actually quite spacious with private rooms.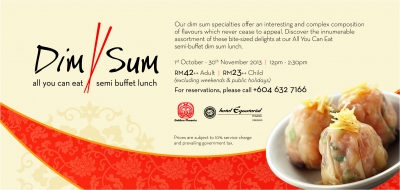 The semi buffet lunch is available daily during lunch hour except weekends and public holidays. Pricing-wise, it is RM42++ for adult and RM23++ for child (subject to 10% service charge and prevailing government tax). "Semi buffet" means that some items are served at buffet counter, whereas dim sum uses "Order Then Cook" system.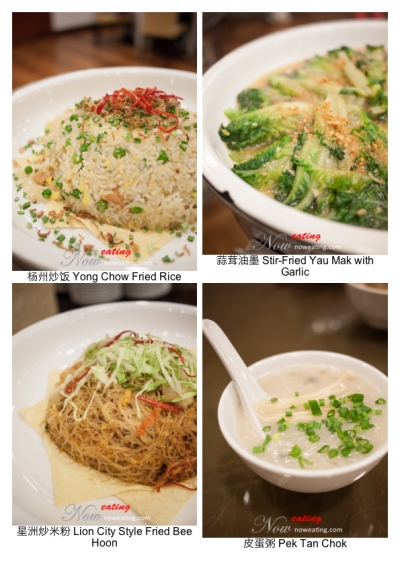 Let's begin with items at the buffet counter. The small buffet corner consists of some desserts and rice/noodle/vegetable dishes such as fried rice, porridge, fried bee hoon, and stir-fried Yau Mak.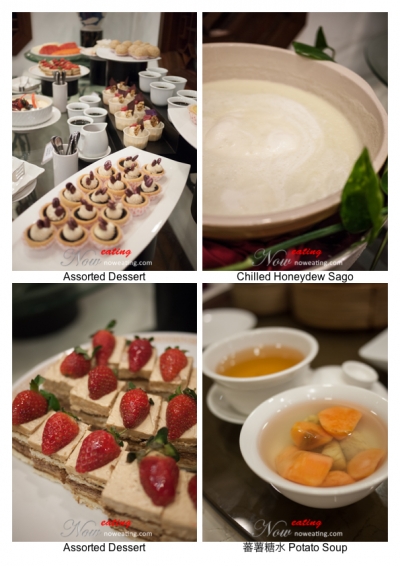 As for the dessert corner, assorted desserts such as cakes, tarts, fruits and soup are provided. Personally I liked the Chilled Honeydew Sago which consists of generous amount of vanilla ice cream.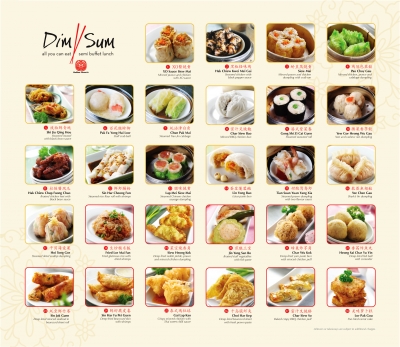 Each table will be given a dim sum menu consisting of 28 items to order. Note that this is a pork-free restaurant. We found out that even though it is pork-free, the dim sum tasted as delicious as the pork version. To place order, simply call the waitress and mention the number next to each dim sum. Since food preparation is required, it will take some times for the dim sum to arrive.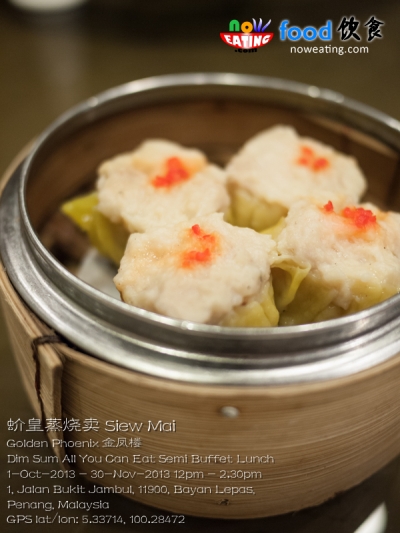 Out of 28 dim sum, I liked 蚧皇蒸烧卖 Siew Mai most as it consisted of generous amount of minced prawn and chicken with crab roe. A quality dim sum you will find in fine dining restaurants.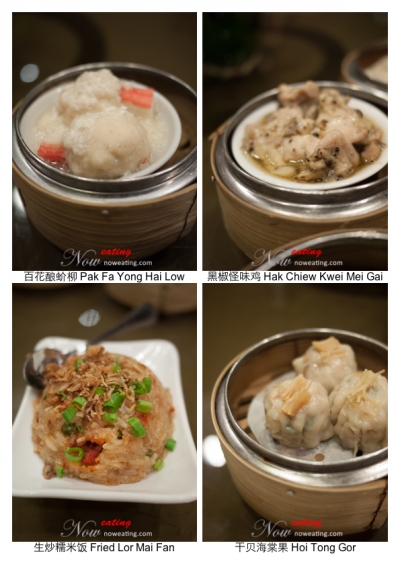 Another item we liked most was 黑椒怪味鸡 Hak Chiew Kwei Mei Gai, which looked like steamed pork rib but was actually steamed chicken with black pepper sauce.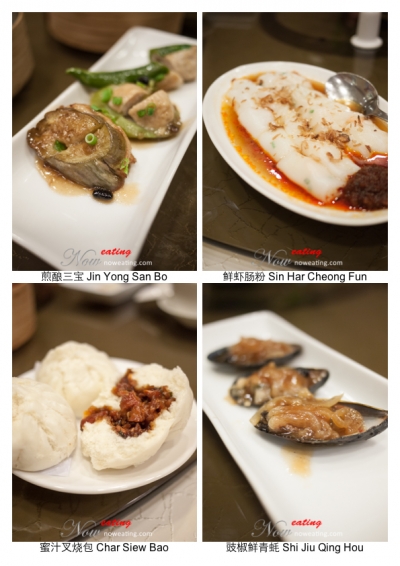 煎酿三宝 Jin Yong San Bo (braised stuff vegetables with fish paste) by default comes with egg plant, bitter gourd and chilli. Since this is pork-free restaurant, the content of 蜜汁叉烧包 Char Siew Bao is replaced with minced BBQ chicken but still taste good. 豉椒鲜青蚝 Shi Jiu Qing Hou is something special in which the steamed mussels are topped with black bean sauce.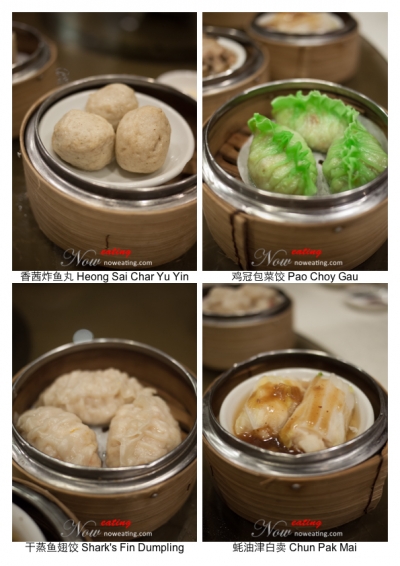 Other steamed dim sum included:
香茜炸鱼丸 Heong Sai Char Yu Yin
鸡冠包菜饺 Pao Choy Gau
干蒸鱼翅饺 Shark's Fin Dumpling
蚝油津白卖 Chun Pak Mai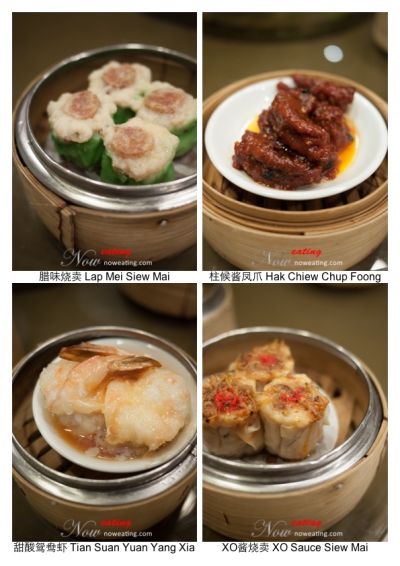 腊味烧卖 Lap Mei Siew Mai
柱候酱凤爪 Hak Chiew Chup Foong Chao
甜酸鸳鸯虾 Tian Suan Yuan Yang Xia
XO酱烧卖 XO Sauce Siew Mai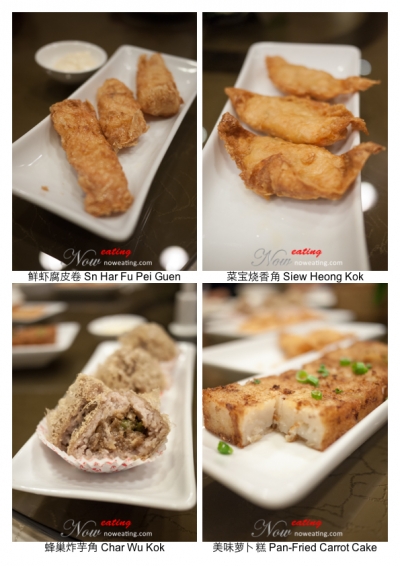 As for the fried dim sum, 鲜虾腐皮卷 Sn Har Fu Pei Guen is an item to recommend thanks to its generous amount of minced shrimps (again). The content of 蜂巢炸芋角 Char Wu Kok is replaced with minced chicken. It tasted mild compared to pork version. Note that all fried dim sum are "Order Then Fry" (only fried after placing order).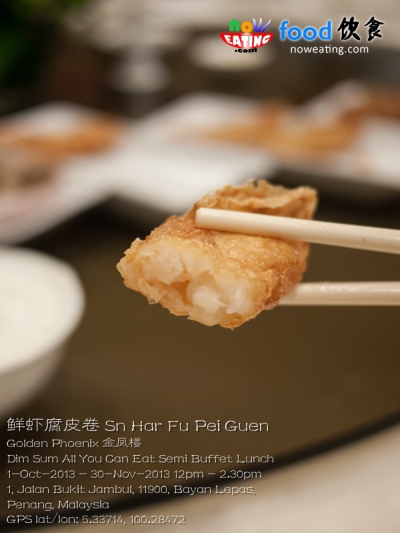 Notice the shrimp? No bluffing.
With 8 of us, we were too full to try all the dim sum available on the menu. With 28 types of pork-free dim sum to order without limit, white-collar at Bayan Lepas now have another reason to go back office late (make sure you bring your boss along). Dim Sum All-You-Can-Eat Semi Buffet Lunch at Golden Phoenix, Equatorial Hotel Penang is definitely worth a try if you are dim sum lover. Promotion period is from 1-Oct-2013 until 30-Nov-2013, 12pm – 2.30pm during weekdays.