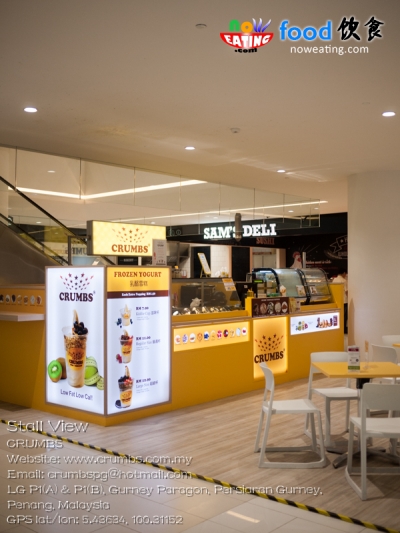 CRUMBS at Gurney Paragon is located next to escalator near Sam's Groceries at lower ground floor. The stall can easily be missed but once you tried their frozen yogurt, scones or mousse, you will always come back for more. CRUMBS is a franchise from Hong Kong and the one at Gurney Paragon is the first one in Penang.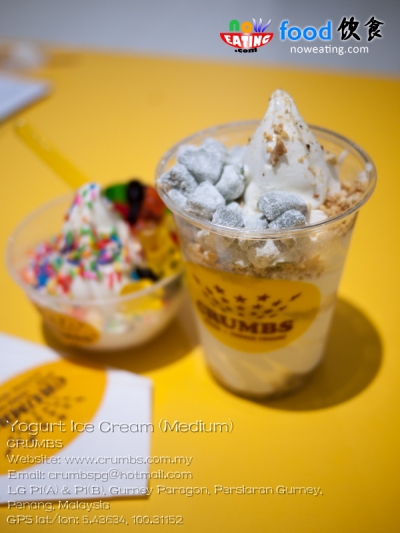 CRUMBS basically serves three items – frozen yogurt, scones, and mousse. CRUMBS frozen yogurt (FROYO) is famous for its superb smooth and creamy texture thanks to the use of premium Italian yogurt powder. It is low-fat, low-calorie and freshly made without adding any preservative, ice or water. CRUMBS boasts unique homemade toppings that can't be found anywhere else. Their FROYO is also not as sourly compared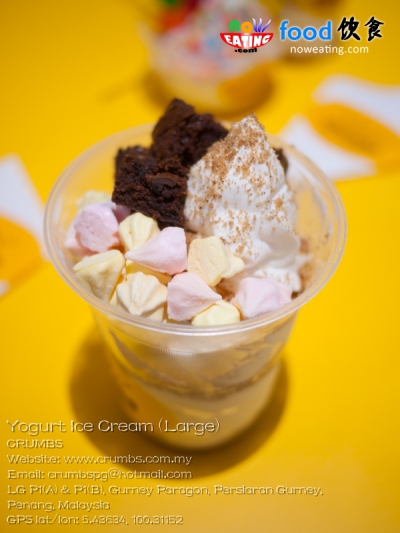 There are five homemade topping by CRUMBS:
House Crumbs – concept originated from Apple Crumble. Crunchy and perfect match with any other topping. Note that it contains cinnamon powder in which some like it and some another way around.
Mini Meringue – concept originated from Macaroon Sweet. A popular choice of young ladies.
Mochi & Green Tea Mochi – Chewy and moderate in taste. It adds a special experience to your taste of FROYO.
Double Chocolate Brownie – An irresistible choice for all chocolate lovers.
Roasted Peanut Mix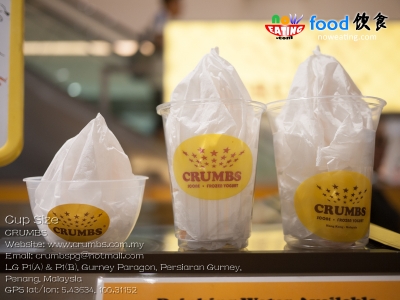 There are three sizes of frozen yogurt to select:
Kiddie Cup (RM7.90) – Comes with 1 topping. Average weight: 120g
Regular Size (RM11.00) – Come with 1 topping. Average weight: 180g
Large Size (RM12.90) – Comes with 2 toppings. Average weight: 250g
Of course, you can add extra topping of 1 or 2 toppings is not enough for you. Each extra topping is RM1.50. Personally, I like this fixed price approach instead of "sold-by-weight" FROYO found in other stalls, in which usually I will get "bill shock" after mixing the items.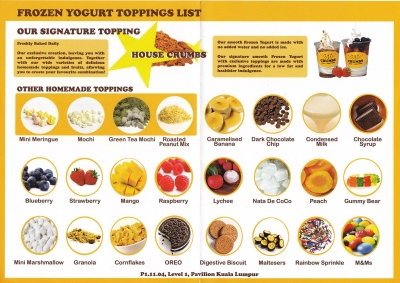 Other than those homemade topping, "third party" toppings are also available. Many customers like to go for blueberry as it is the most expensive topping.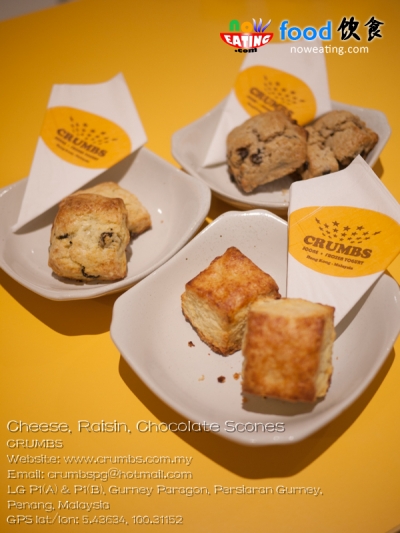 Scone is a single-serving cake made of wheat, barley or oatmeal with baking powder as leavening agent. Following their home recipes, the scones from CRUMBS are freshly made and baked everyday. Ingredients used include plump raisins, Australian Parmesan Cheese, Belgium Chocolate Bean, Van Houten Choco Powder and Anchor butter.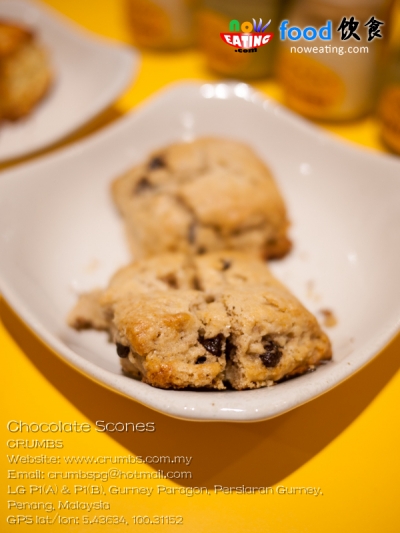 There are three type of scones – raisin, chocolate, and cheese. Each priced at RM2.90 (3 for RM7.90 and 6 for RM14.90). Texture-wise, it is between cookies and muffin. Personally, I like both raisin and chocolate scones.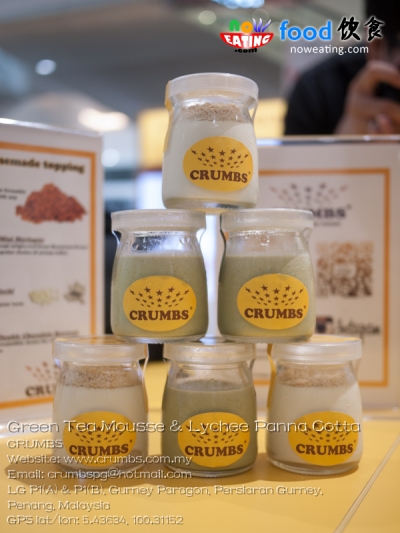 Mousse is origin from French. It is a sweetened dessert with whipped cream as base, often stabilised with gelatin. Currently there are two flavours: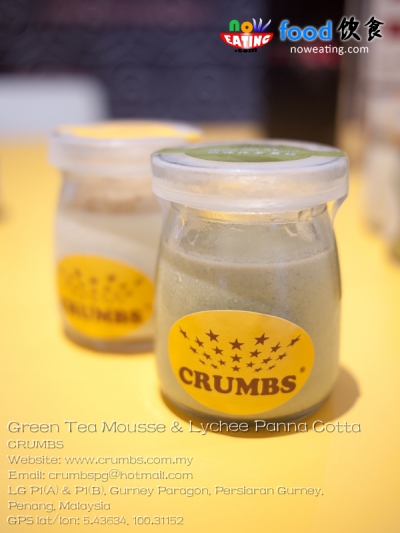 Green Tea Mousse (RM5.50) is made of supreme quality Japan green tea powder. A must have dessert for green tea lovers.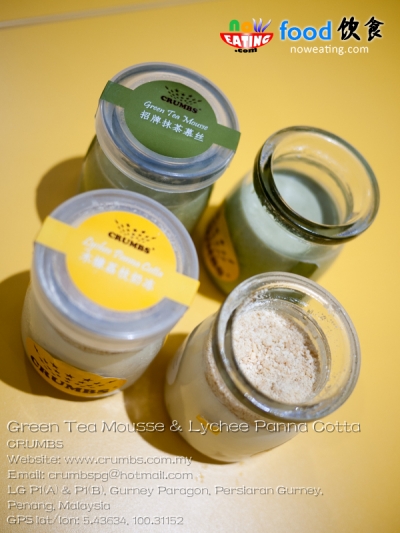 Panna cotta is an Italian dessert made by simmering together cream, milk and sugar, mixing with gelatn and letting it cool until set. CRUMBS Lychee Panna Cotta (RM5.50) is incredibly smooth and filled with lychee. Both Green Tea Mousse and Lychee Panna Cotta can last for one week in refrigerator. Of course, you can take away the glasses. Each item is sold at RM5.50, 3 for RM14.90, and 6 for RM27.90.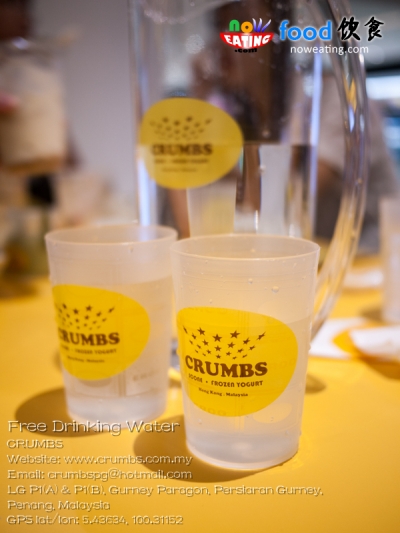 Sugar overdose? Just ask the staff there for a free glass of water.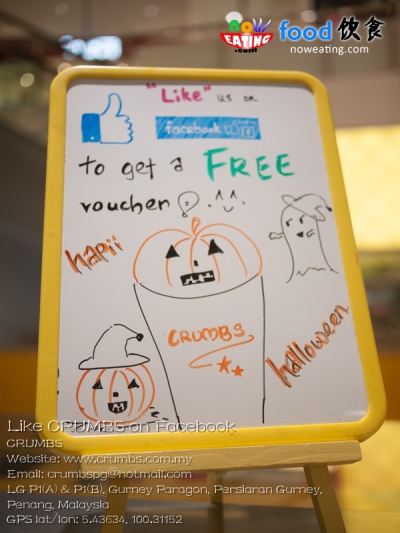 Also, for limited time, like them in Facebook to get a voucher.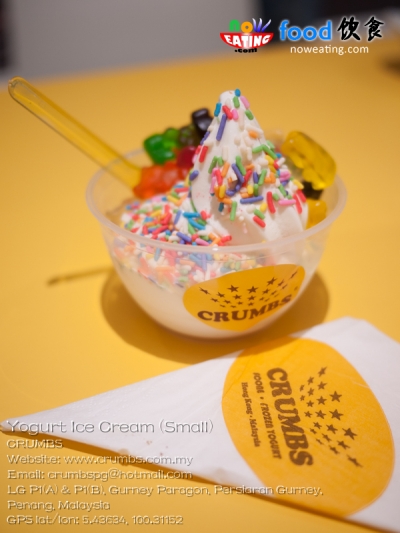 As a whole, a good place to stop by for a cup of frozen yogurt, mousse, or scones after a hearty meal.
| | |
| --- | --- |
| Place Name: | Crumbs |
| Cuisine: | Other |
| Address: | LG P1(A) & P1(B), Gurney Paragon, Persiaran Gurney, Penang, Malaysia |
| Email: | [email protected] |
| Website: | www.crumbs.com.my |
| Working Hour: | 10.30am - 10.00pm |
| Tax: | No |
| Last Visit: | 20131028 |