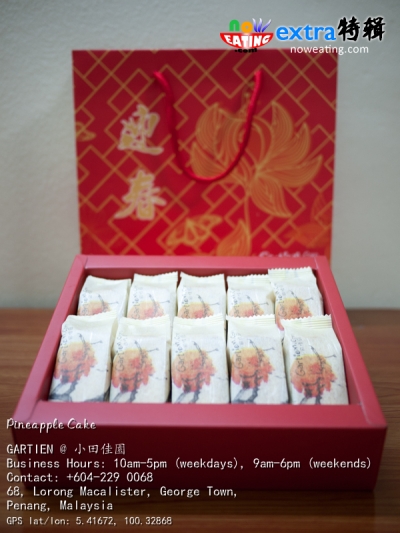 From now until 31-Dec-2013, pre-order Gartien's limited elegant looking red & gold gift box set and get a discount of RM38 per box if you pre-order it before 31-Dec-2013. What's more, buy 10 boxes and get 1 box for free or free delivery*
The limited edition has Chinese ink painting of 'mudan flowers' on its individual packing. In ancient time, Chinese symbolize Mudan 牡丹 Flower as a symbol of peaceful, happiness, flourishing, and prosperity. It is not only good for display, but also has high medical value.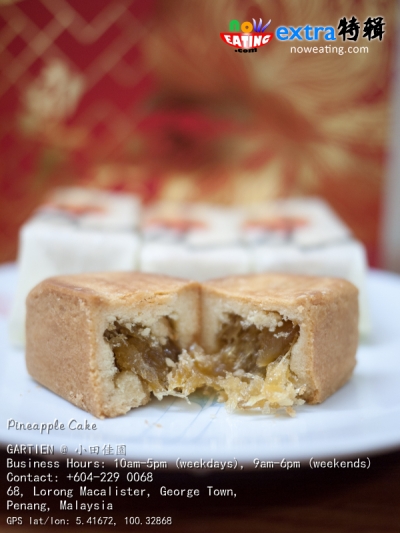 Personally, I like their pineapple cake, which is high in fiber minus artificial coloring and flavoring. Since there is no preservative, the pineapple cake can only last for 1 month. So hurry! Only 250 sets are available weekly (Total 4 weeks):
Week 1: 30th Dec 2013 – 5th Jan 2014
Week 2: 6th Jan 2014 – 12th Jan 2014
Week 3: 13th Jan 2014 – 19th Jan 2014
Week 4: 20th Jan 2014 – 26th Jan 2014
* For every 10 boxes ordered, you can either opt for another box of pineapple cakes FREE if you collect them yourself or get your postage WAIVED if you are residing within Peninsular Malaysia.
Name: GARTIEN @ 小田佳園
Address: 68, Lorong Macalister, 10400 Penang, Malaysia.
Contact: 604-229 0068
Website: www.gartien.com
Email: [email protected]
FaceBook: www.fb.gartien.com/
Business Hours: 10.00am-5.00pm (weekdays), 9.00am-6.00pm (weekends)
GPS: 5.416195, 100.328433