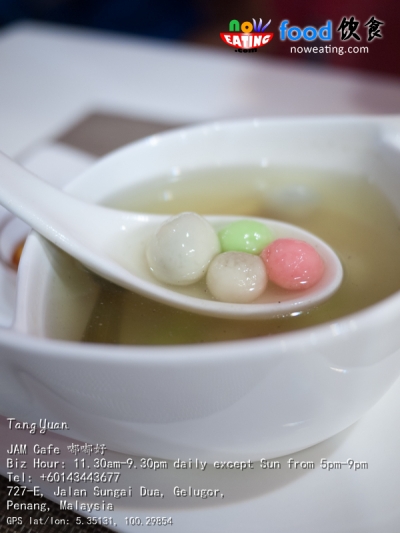 Winter Solstice 冬至 (22-Dec) is coming. How about a bowl of Tong Yuan 菊花姜蜜汤圆 (RM5.90). It comes with plain and stuffed sesame Tang Yuen. It also comes with small cup of honey for sweet tooth. Now I can save some fuel by having a bowl of Tang Yuen at JAM Cafe 嘟嘟好 near USM instead of traveling to George Town for the famous Magazine Road's Tang Yuen.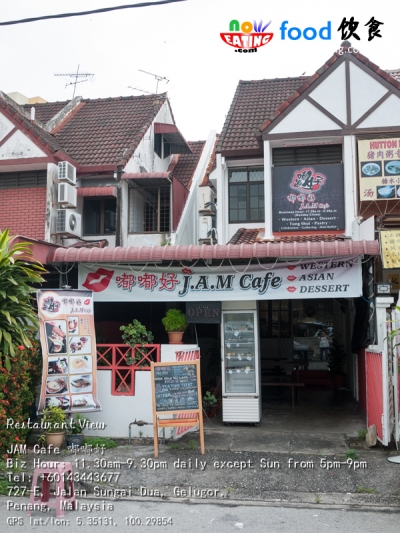 JAM Cafe is located opposite of Tesco Extra of Sungai Dua, Penang (beside Yellow House). It opens since Mar-2013 and is operated by a lovely couple. It serves western and local cuisine.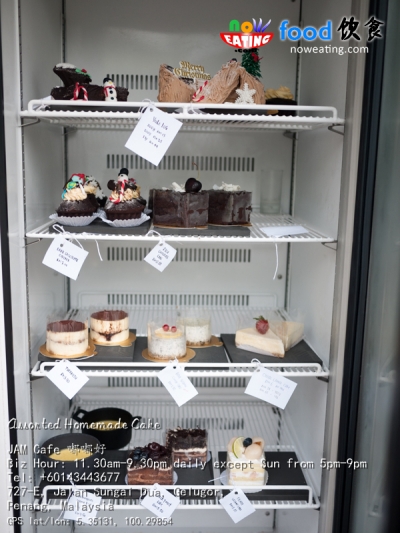 Other than that, the owner also has homemade cakes and is displayed in front of their cafe. You may purchase on the spot or pre-order it by calling them at 0143443677.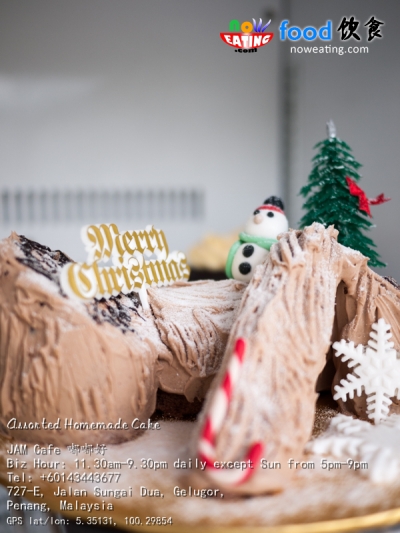 Pricing and favourite varies depend on requirement but expect the price to be around RM70 for 1kg of Tiramisu cake.
The owner, Mr. Ooi, is a young chap previously working in Park Royal Hotel at Batu Ferringhi and then moved to Singapore before returning to his hometown, Penang to start up his own business – JAM Cafe. From our conversation, I found out that he is not only passion on food, but also a humble person. To save cost and provide reasonable price to customers, the cafe is operated only by the couple, from taking order to cooking, so expect some delay in food serving during peak hour. According to Mr. Ooi, JAM is not some sort of acronym. The reason they choose Du Du Ho 嘟嘟好 as their Chinese restaurant name is because it is their mantra, like everything is just perfect.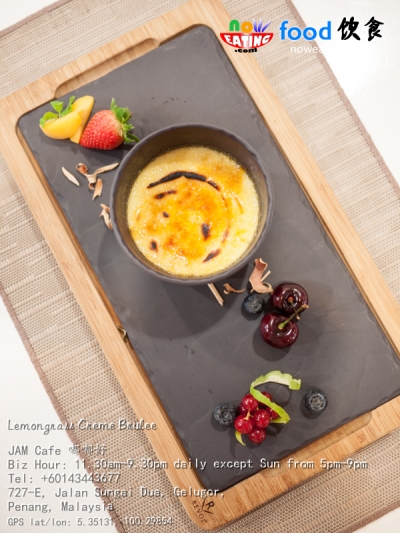 When snapping photos, I couldn't help myself noticing their stylish plates made of marbles and ceramic, which usually being used by hotel restaurants. Some food is also nicely decorated with fresh fruits. Lemongrass Creme Brûlée (RM7.90), for instance, is decorated with fresh strawberry and cherries. Sweetness-wise, it is just perfect (e.g. not too sweet). The added lemongrass makes the Creme Brûlée more delightful and not stuffy toward the end.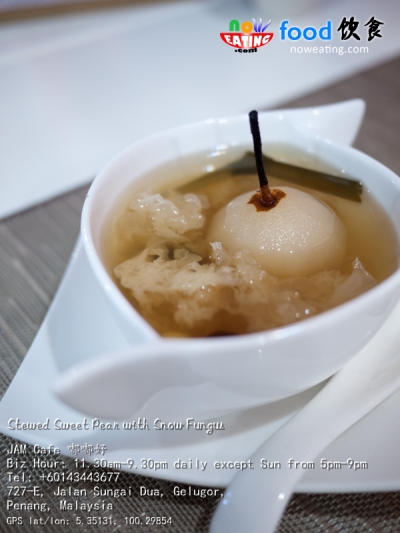 Another local cuisine we tried is Stewed Sweet Pear with Snow Fungus 银耳雪梨 (RM5.90). Sweetness, again, is just perfect for conscious customers. This reminded me of famous Sweet-i dessert previously operated next door (now opposite of Super Tanker Food Court at Lip Sin Park).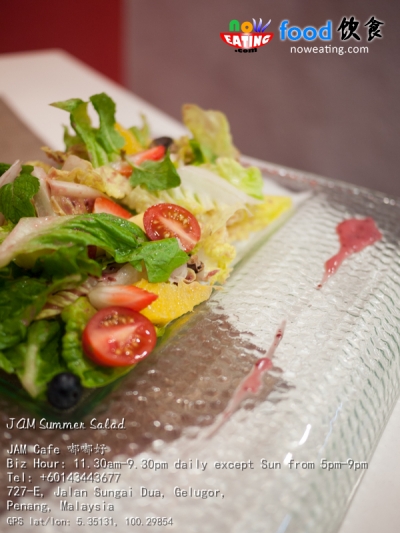 As for the appetiser, the owner strongly recommend J.A.M. Summer Salad (RM8.50). For salad lover, there is no much special about this dish except its homemade berry dressing. With added real strawberry, this is a healthy and delicious appetiser to start your meal.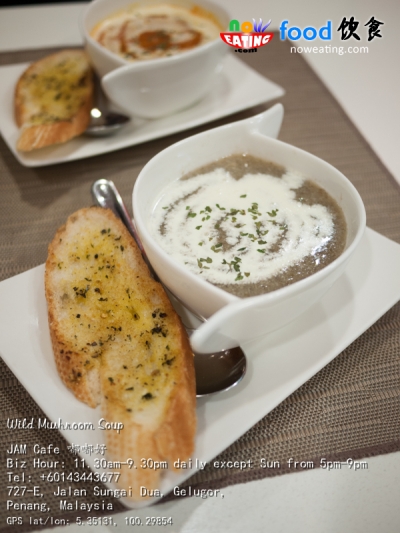 Wild Mushroom Soup (RM4.90) is 100% homemade with assorted mushrooms and is fresh.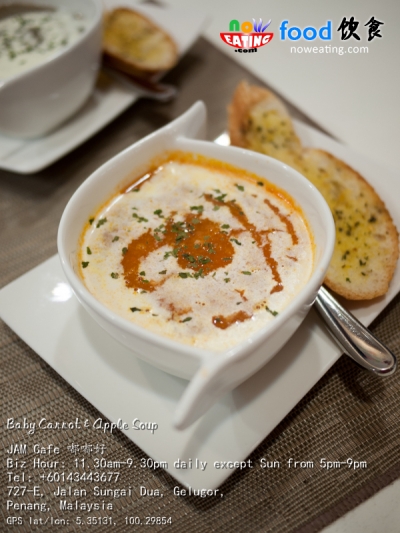 Tired of mushroom soup? Try their Baby Carrot & Apple soup (RM4.90). Overall, it tastes like carrot soup except with added apple which makes the soup more delighted.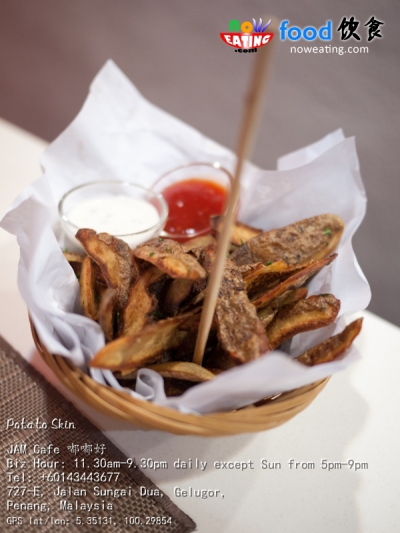 We couldn't stop eating this crunchy Potato Skin (RM4.90). This is a new item not available in the menu but is available daily.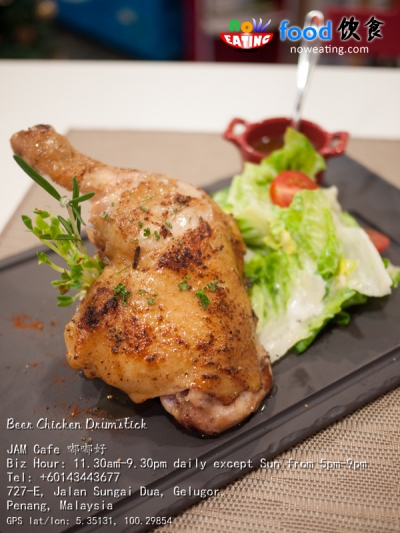 Beer Chicken Drumstick (RM12.90) is marinated with beer for 2 days before serving.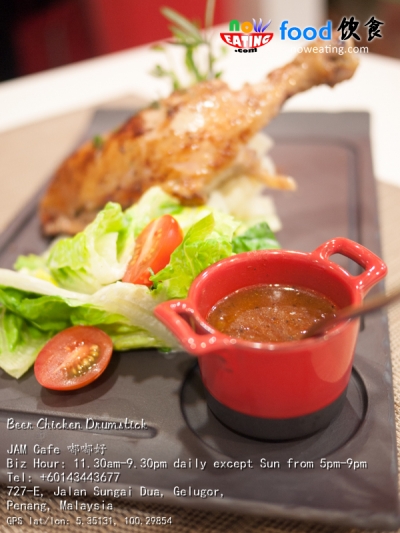 The chicken is best dip with homemade BBQ sauce. It also comes with mashed potato.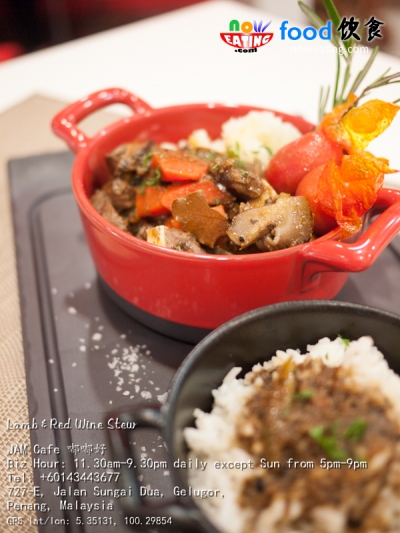 Lamb & Red Wine Stew (RM15.90) comes with a small bowl of rice. The lamb is cooked with mixed herbs, mushroom, and carrot.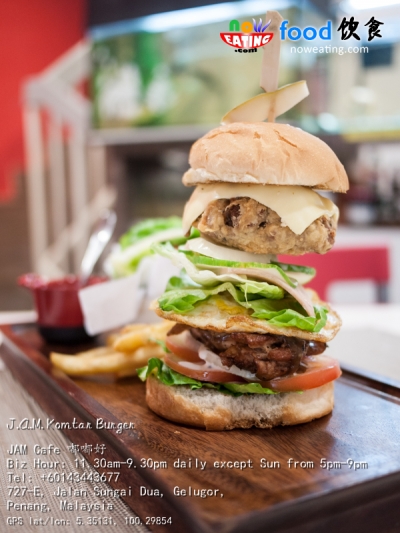 Perhaps the highlight among the main dishes is this J.A.M. Komtar Burger (RM12.80). It is extremely tall and thus is called Komtar – the tallest building in George Town, Penang. It comes with two patties and you can select among pork, chicken, and beef. We had chicken and pork patties. The chiken patty is grilled, cushioned with tomato and lettuce, and topped with a fried egg. What I like most is their thick and juicy pork patty, which is seared and fried with flour and yet not oily at all.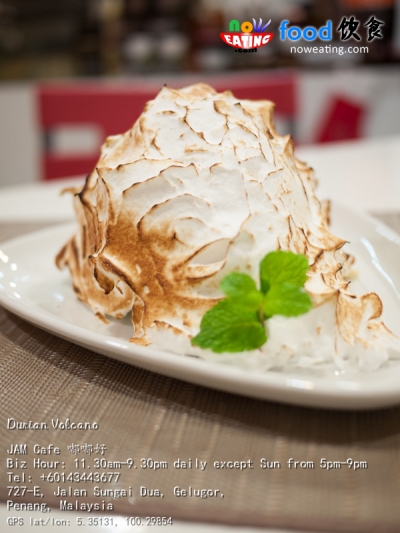 At the end of our meal, we were served with Durian Volcano (RM9.90). It is similar to Alaska Bomb which using egg white and sugar as their topping, and stuffed with ice cream and fruits.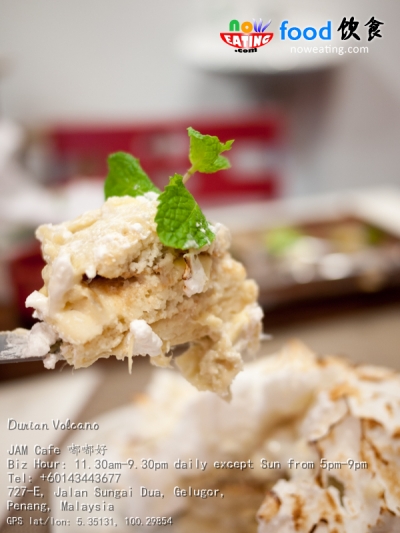 This time, it is stuffed with real durian flesh and durian ice cream. Tasted like real durian and best for 2 persons or more.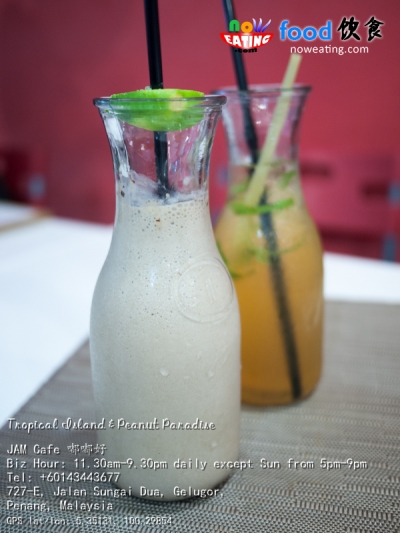 Last but not least, we had their homemade drinks – Tropical Island (RM5.90) and Peanut Paradise (Rm7.90). Tropical Island is mixture of lemongrass with pineapple and mint. Peanut Paradise is a smoothie made of peanut and banana.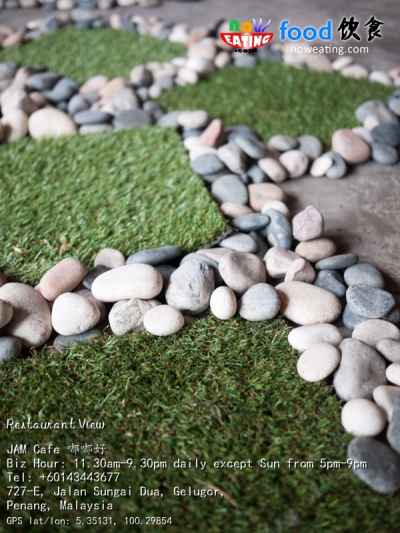 It is hard to believe that I can find a decent cafe near USM area with hotel quality food at street price. The low profile JAM Cafe is definitely worth multiple visits thanks to the  young chap who worked in hotel industry before and is passion on food. Food-wise, it is more toward mild side and may not suitable for Penangites who like spicy food.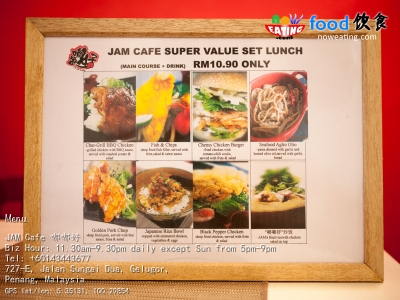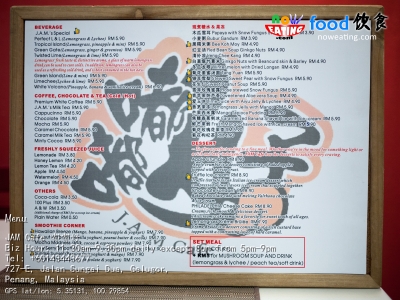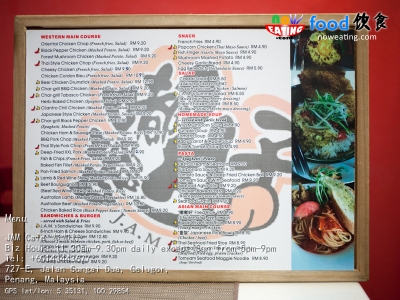 | | |
| --- | --- |
| Place Name: | JAM Cafe 嘟嘟好 |
| Cuisine: | Western, Chinese |
| Address: | 727-E, Jalan Sungai Dua, Gelugor, 11700, Penang, Malaysia |
| Tel: | +6014-344 3677 |
| Working Hour: | 11.30am-9.30pm. Sunday 5pm-9pm. |
| Last Visit: | 20131207 |