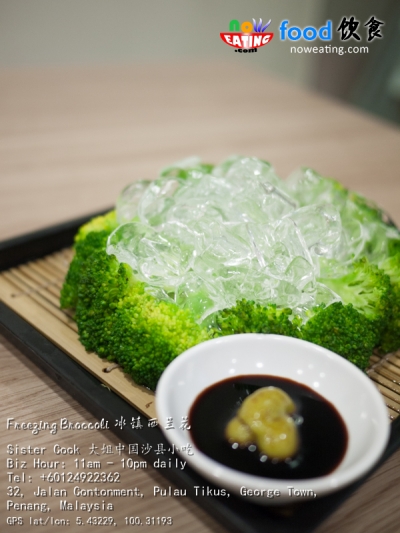 Each day, we are scraping our head in preparing our dinner. Little did we know that a delicious meal can be as simple as dipping freezing broccoli with wasabi and soy sauce.  This is one of the specialty in Sister Cook restaurant operated by sisters from Sha-county 沙县 of China.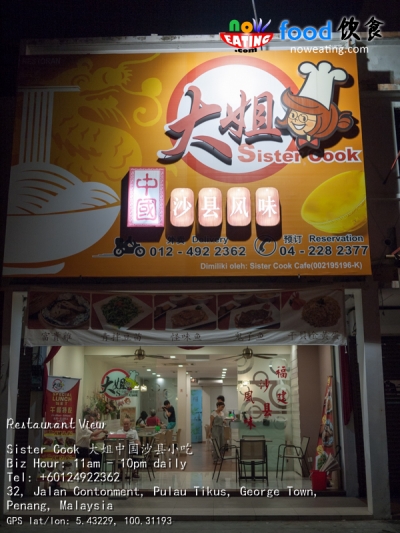 The restaurant is located at Cantonment Road, Pulau Tikus, Penang. Sha-county is located at Fujian province of China and is famous with its snacks such as award-winning Wonton. Due to geographical location close to Taiwan, you will find some similar cuisines such as braised products 卤味, fried sauce noodle 炸酱面, and rice with braised minced pork 鲁肉饭.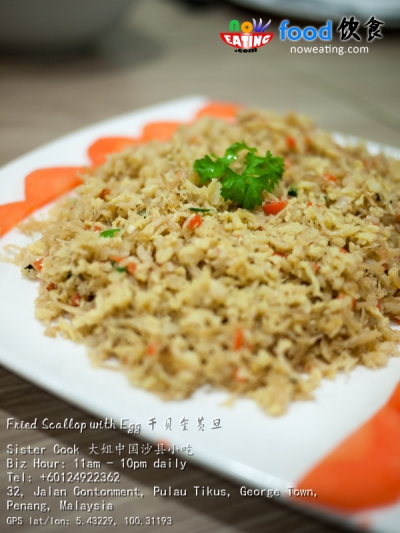 We were first welcomed with Fried Scallop with Egg 干贝金黄旦 (RM16.90). If you used to attend Chinese wedding dinner, you should be very famiilar with the first dish – cold platter 冷盘/五福临门, in which one of the items is fried egg with shark fin. Taste and texture-wise both are quite similar except Sister Cook version tastes much better.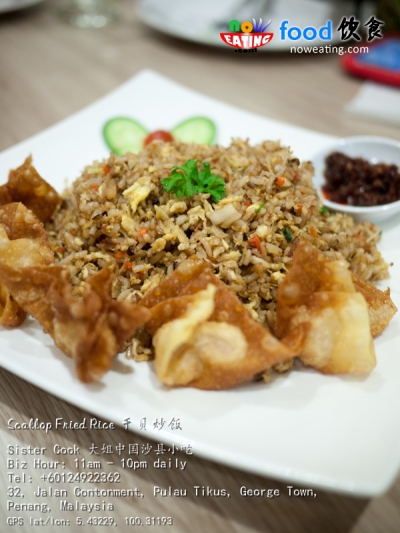 Rice lover? Try their Scallop Fried Rice 干贝炒饭 (RM12.90). It comes with fried Wonton, big portion, and with Wok Hey. Unlike local fried rice, this fried rice tastes a bit sweet.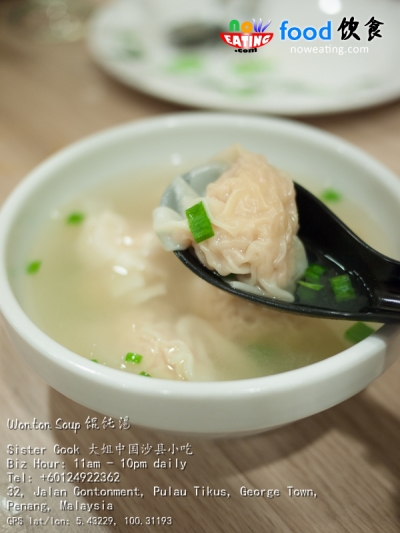 Speaking of Wonton, Sha county is famous with Wonton. Their Wonton is different from us and is made of thinner skin and pork paste with springy  texture. You may try a bowl of Wonton Soup 馄饨汤 there (RM3.90) (yeah, they called it 馄饨 hun2 tun2, not 云吞).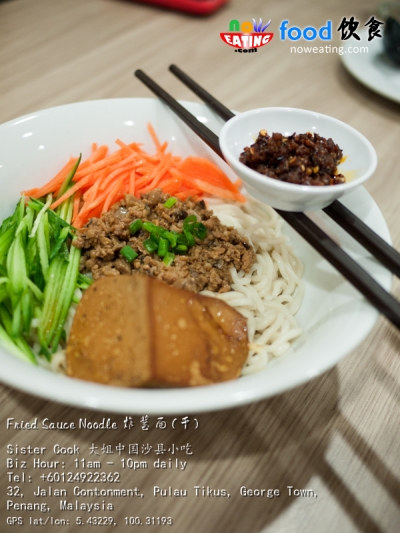 Let's see some items we familiar with. Fried Sauce Noodle 炸酱面 (RM6.90) has springy noodle comes with homemade chili flakes. Simple and enjoyable.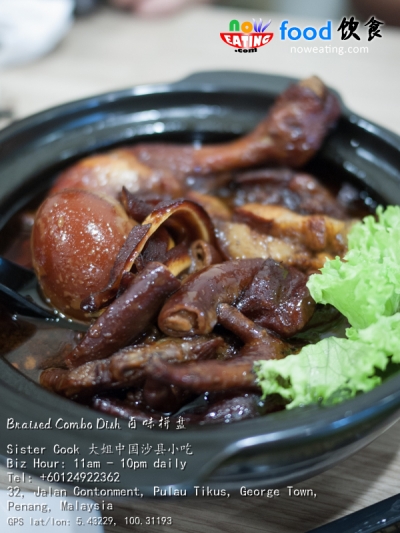 This Braised Combo Dish 卤味拼盘 (RM15.90) consists of braised chicken drumstick, pork intestine, pork leg, belly, ear (!!) and chicken leg. Unlike the local version, the chef uses herbs for preparation and no soy sauce is added. With so many sinful items, expect a thick layer of oil on top of it.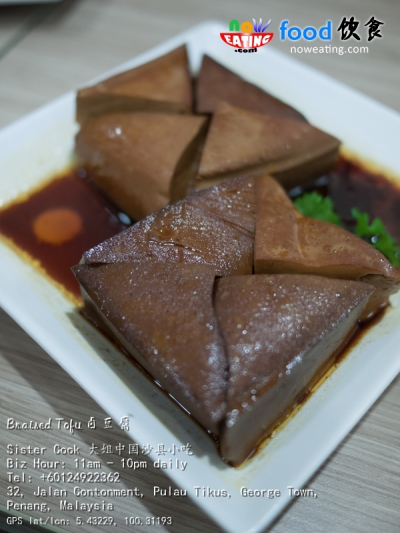 If the above item is too much for you. Try their Braised Tofu 卤豆腐 (RM3.00 for 2 pieces). The long hour of marination makes it not only tasty outside, but inside as well.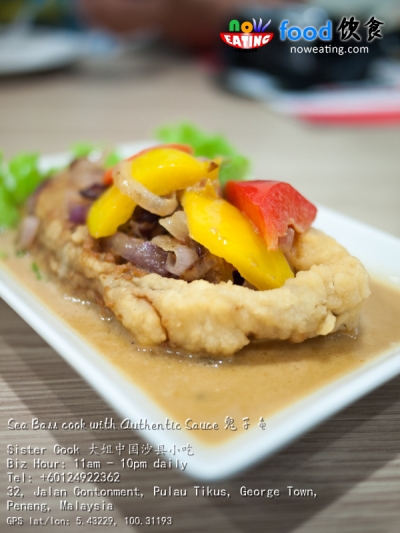 Here are some unique dishes hardly found in any Chinese restaurant here. The first one is Sea Bass (Siakap) cook with Authentic Sauce 鬼子鱼 (RM13.90). The fish fillet is pre-fried with flour and topped with capsicum. The unique sauce tastes like mixture of Douchi and fermented bean curd.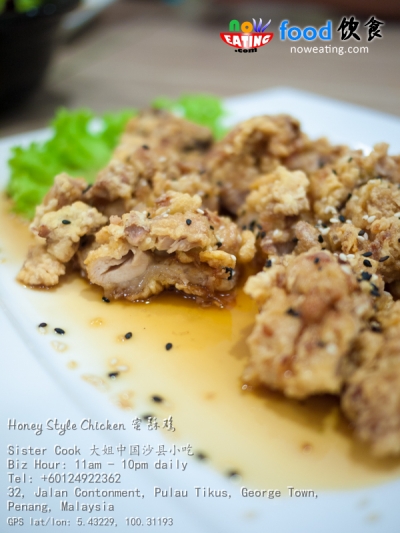 Another appertizing dish is Honey Style Chicken 蜜酥鸡 (RM12.90). Again, the honey sauce is rather unique.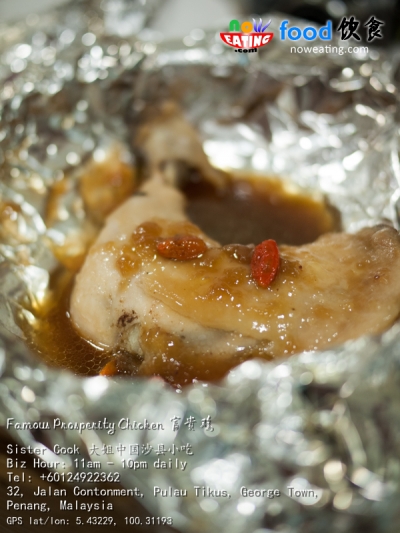 Famous Prosperity Chicken 富贵鸡 (RM12.90) consisted of whole chicken leg and  is stuffed with herbs before steaming in aluminium foil. It is like a mini version of herbal chicken usually served during Chinese wedding dinner. All fish and chicken dishes mentioned above are best enjoyed with a bowl of rice and are available in set meal menu.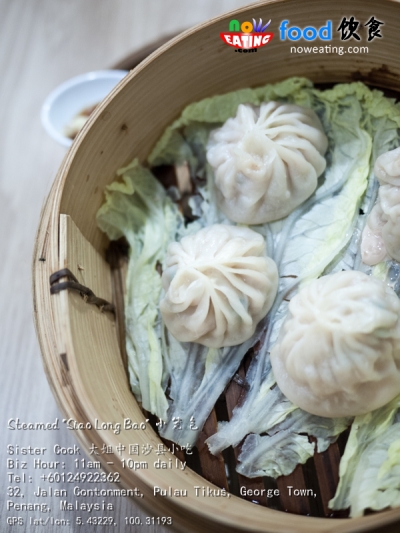 Last but not least, the famous Xiao Long Bao 小笼包 (RM8.80). Note that these are just few items in Sister Cook. More items are available in their menu, which can be downloaded at the end of this post.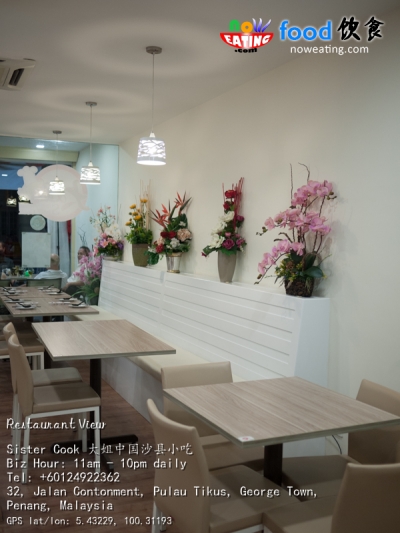 Opened since 31-March-2013, Sister Cook is definitely worth a visit to find out how many recipe you missed from your daily cooking. Pricing-wise it is reasonable as well. Refer to link below for Sister Cook menu. For latest pricing and menu, always refers to the actual copy. Thank you 🙂
| | |
| --- | --- |
| Place Name: | Sister Cook 大姐中国沙县小吃 |
| Cuisine: | Chinese |
| Address: | 37, Jalan Cantonment, Pulau Tikus, 10350, Penang, Malaysia |
| Tel: | +6012-492 2362 王巧清 QQ |
| Working Hour: | 11am-10pm daily |
| Last Visit: | 20131203 |