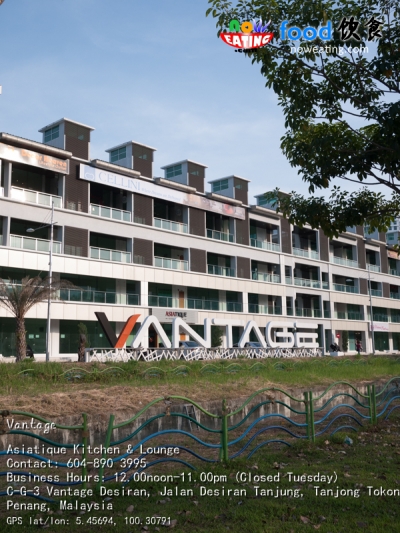 Vantage is a new shop lot near to Straits Quay, Tanjung Tokong, Penang. At this moment, only few shops are opened, with one of them is Asiatique, a new semi fine dining restaurant specialized in fusion cuisine. Good news is that ample parking space is available for free (at least for now), which is very rare in Penang island.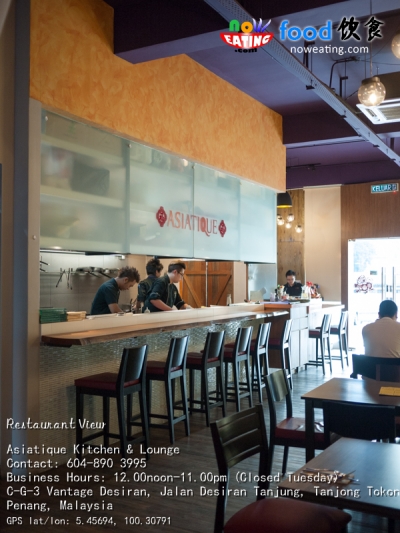 Asiatique is named after direct translation of the word "ASIAN"  from English to French. It was established in 11-Sep-2013. They managed to recruit a group of young talent chefs. For them, Asiatique is like a R&D lab, in which they keep on inventing new recipe to put into their menu, to an extend that customers will lose track on food they eat previously. Having said that, those dishes you see in this blog post may not be available in next couple of months. This post basically give you a general idea on the food they serve.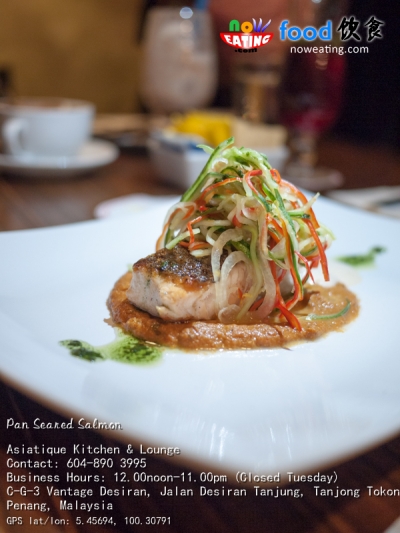 Fusion cuisine is a style of cooking difficult to master, especially when West meeting East. Fortunately for Asiatique, our experience was positive. In general, they are "majoring" in modern Australian cuisine and "minoring" in French cuisine and Asian ingredients. Pan Seared Salmon (RM30) is a very good example to started with. The fresh and tender salmon cutlet is topped with laksa cream, pickled cucumber and mint salad, and fermented prawn foam. What makes this dish stands out is that the laksa taste is well controlled thus not covering the sweetness of the main ingredient (in this case, salmon).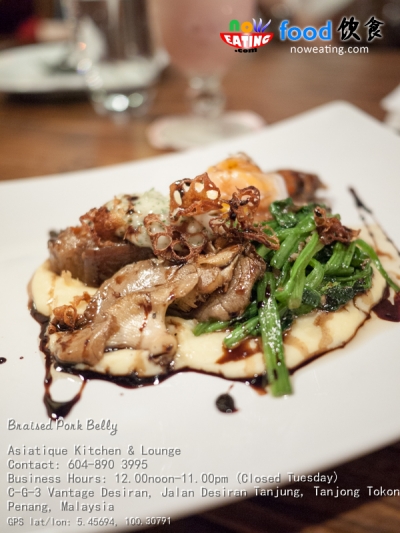 Note that Asiatique is a non-halal restaurant as it serves some delicious pork dishes as well. Braised Pork Belly (RM28) is cooked in western way with grilled abalone mushroom, garlic spinach aioli, confit potatoes, and poached duck eggs. With such combination, you probably will not notice that you are eating pork belly usually serve in Chinese restaurant.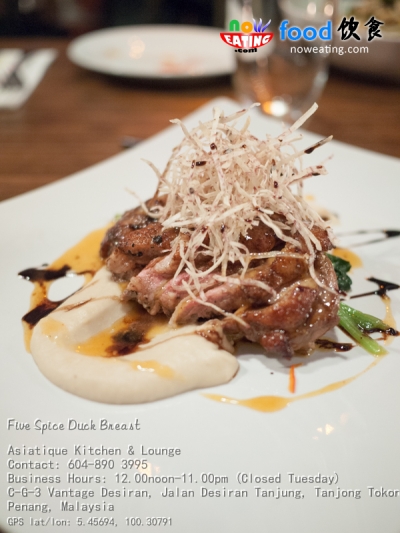 Another great dish is Five Spice Duck Breast (RM34) with yam puree, sautéed chilli spinach, kushiyaki quail eggs, and orange plum reduction. For some reasons, duck breast becomes a premium item in fine dining restaurant recently. The duck breast, again, is tender and the orange plum reduction makes the whole dish more delightful.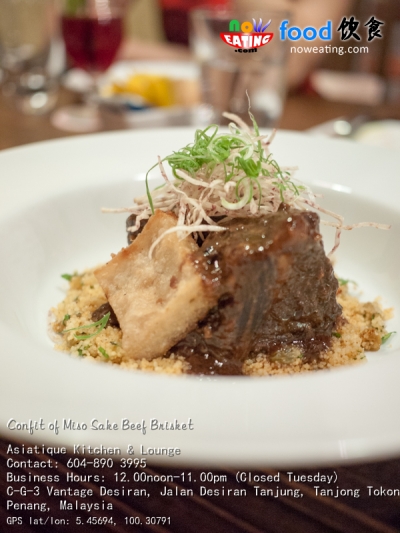 Also available is Confit of Miso Sake Beef Brisket (RM32) made of shrimp and radish cake, coriander and raisin cous cous, and miso glaze. I take no beef but according to those who tried it, it was good.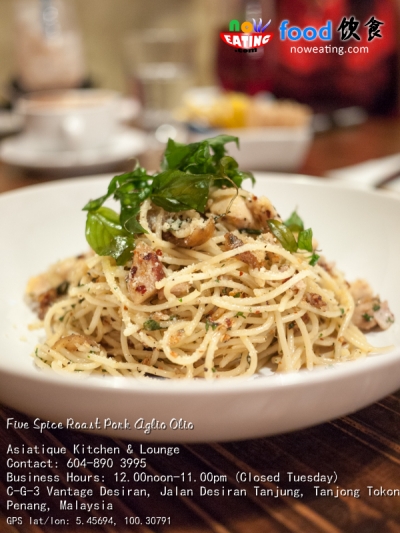 Five Spice Roast Pork Aglio Olio (RM22) is stir-fried with crispy roast pork, Thai basil and chilli flakes is a bit oily and a bit too many black pepper to my liking.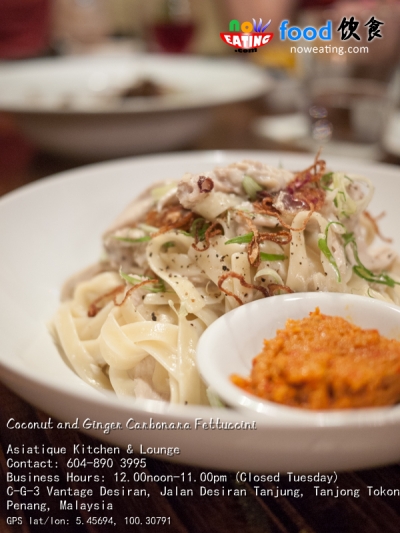 However, their Coconut and Ginger Carbonara Fettuccini (RM24) is perhaps the best pasta if you are a coconut-milk taker. The Fettuccine pasta is coated with fresh and rich coconut milk and flakes. The accompanied sambal is not too spicy and best mixed with the pasta.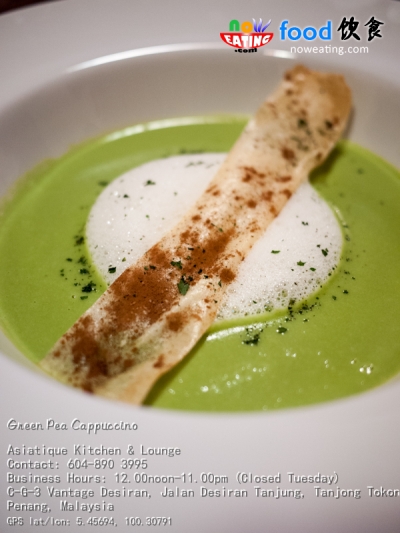 Asiatique also serves some great appetizers. Green Pea Cappuccino (RM11) is perhaps the best starters for that evening. It consists of Parmesan nutmeg foam and cinnamon lavash. Texture-wise, it is like a thick cream of "green pea".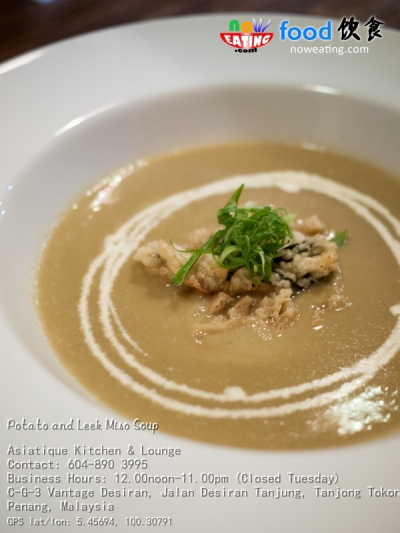 Potato and Leek Miso Soup (RM11) is another thick homemade soup. It consists of crispy tofu puffs and Nori Crackers even though personally I didn't notice them.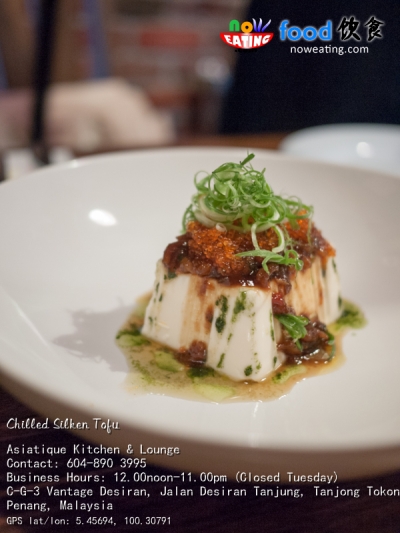 Chilled Silken Tofu (RM12), as the name applies, is as smooth as silk. It consists of caviar(pickled fish roes), dried shrimp, Haisin Jam (海鲜酱), and chives.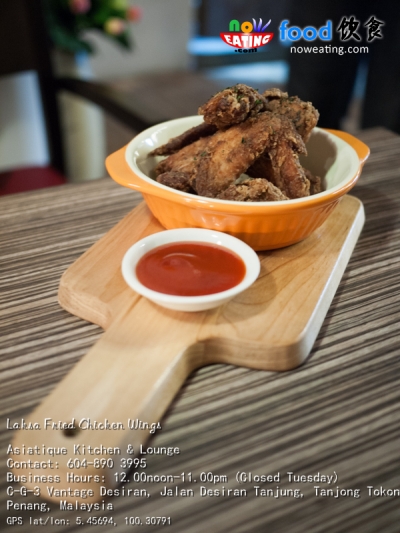 Laksa Fried Chicken Wings (RM13) consist of 4 pieces of chicken wings marinated with laksa paste, chilli and lime sauce. It was like a normal chicken wings. Perhaps the laksa paste was a bit too mild.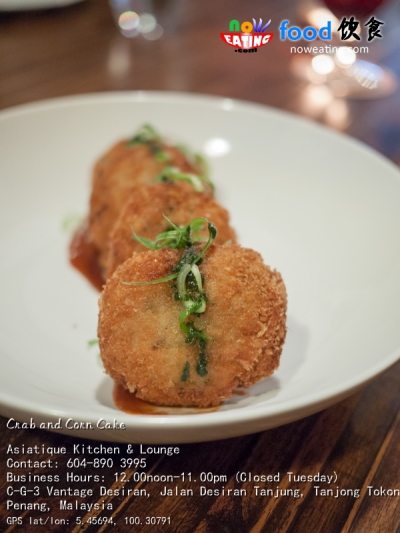 The last starter was Crab and Corn Cakes (RM16 for 3 pieces) made of Singapore spicy chilli sauce and arugula salad. Despite being deep-fried, the cakes are still soft inside.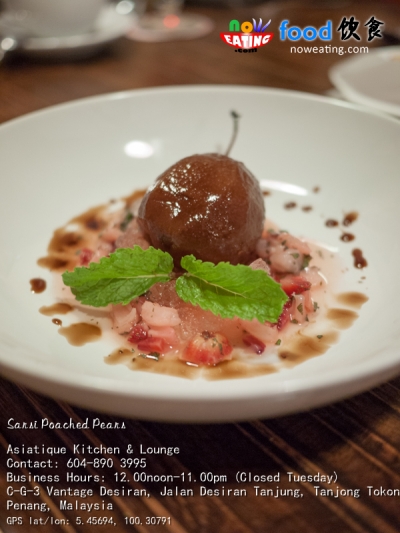 They do have some desserts as well including this Sarsi Pouched Pears with rambutan salsa and nutmeg granita. Unfortunately I don't have time to try it out as it was late at night and I had to rush back home.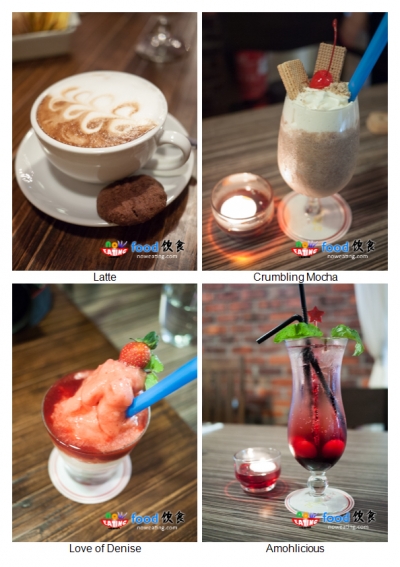 As for the drink, Asiatique did provide some special mocktails, including Amohlicious (Ribena, Lychee Fruit, Lychee Syrup, and Soda Water) and Love of Denise (Pineapple Juice, Orange Juice, Cranberry Juice, and Grenadine Syrup). Each priced at RM15. Kinder lover? Try their Crumbling Mocha which tasted like liquid version of Kinder chocolate.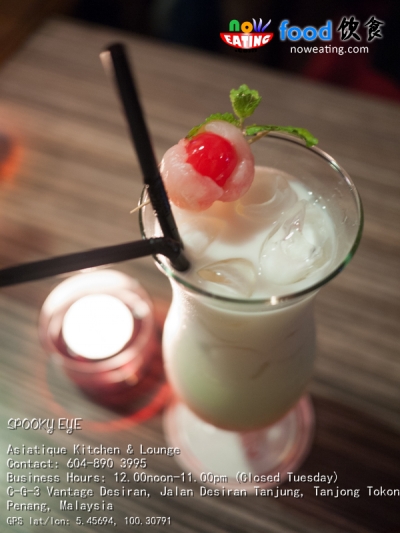 Looking for something extraordinary? Try their SPOOKY EYE (RM20), one of Vecter's Special Mocktails. Be warned that it is mixed with alcoholic drink such as Malibu with Midori Melon, lychee fruit, cherry fruit and milk. Let me know if you are able to finish the whole glass.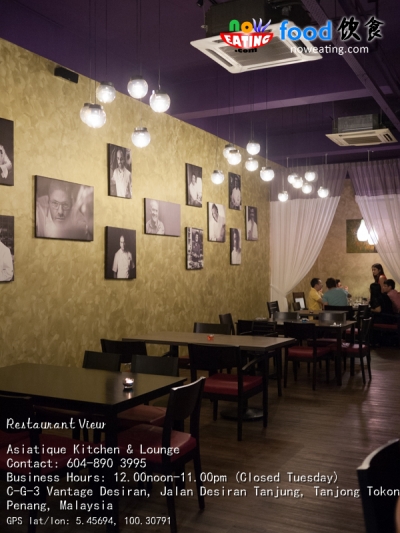 Asiatique is a new fusion cuisine restaurant worth trying thanks to its MSG-less food made by young talent chefs and well-positioned price. Their wall is full of master chef photos looking at them working in their kitchen (and hence the motivation to come out with delicious food). Perhaps the only drawback is long wait time as all food items are made at premise.
Download their menu here. For latest menu, always refer to the actual copy in Asiatique. Thank you.
| | |
| --- | --- |
| Place Name: | Asiatique |
| Cuisine: | Fusion |
| Address: | C-G-3 Vantage Desiran, Jalan Desiran Tanjung, Tanjong Tokong, 10470, Penang, Malaysia |
| Tel: | +6048903995 |
| Email: | [email protected] |
| Website: | http://www.asiatique-penang.com.my/ |
| Working Hour: | 12.00noon-11.00pm (Closed Tuesday) |
| Last Visit: | 20140209 |