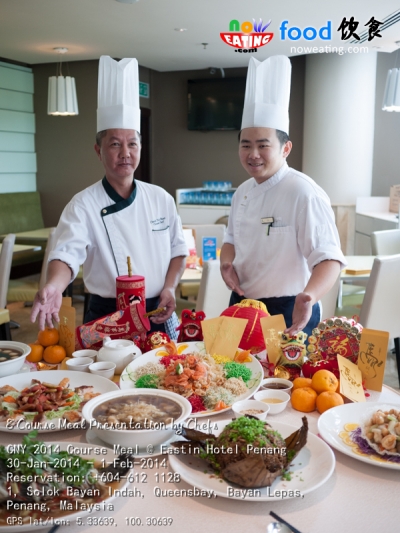 After the Saturday's Pirate Seafood Night, Eastin Hotel Penang once again surprised us with its Chinese New Year 8 Course Meal, which easily outperforms some 5-star hotels and is available for CNY eve (30/1), 1st (31/1) and 2nd day (1/2) of CNY.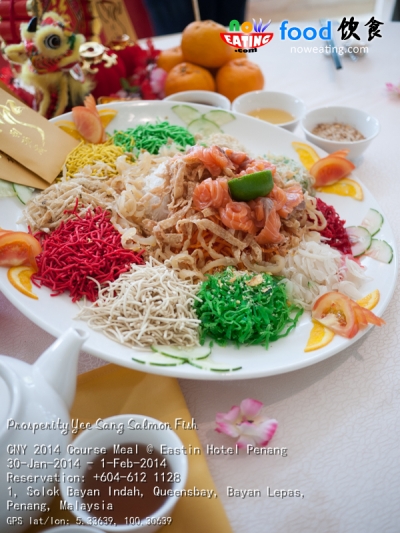 As long as Chinese cuisine is concerned, most hotels in Malaysia face a difficulty – to have Halal certified and at the same time to have their food tastes as good as those non-halal version. Eastin Hotel Penang, however, is able to overcome this thanks to their experienced chefs. Our lunch was welcomed with Prosperity Yee Sang with Salmon Fish 鸿运七彩鱼生, which has generous amount of freshly made ingredients. Raw salmon fish seems to be a standard premium topping for Yee Sang nowadays.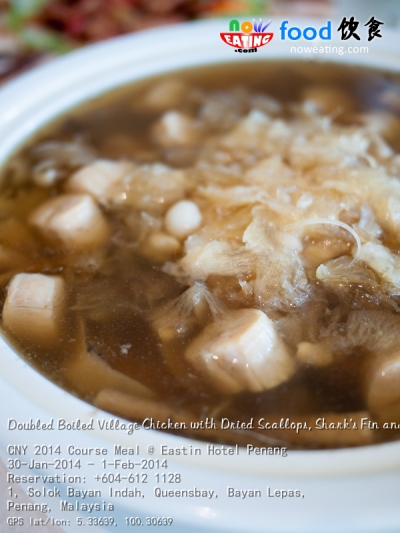 Doubled Boiled Village Chicken with Dried Scallops, Shark's Fin and Ginseng 大展宏图翅 – Eastin Hotel Penang does not hesitate to use premium quality ingredients, including 100% real shark fin and dried scallops. It tastes like traditional chicken herbal soup with added scallops and shark fin and is much better than those starchy version.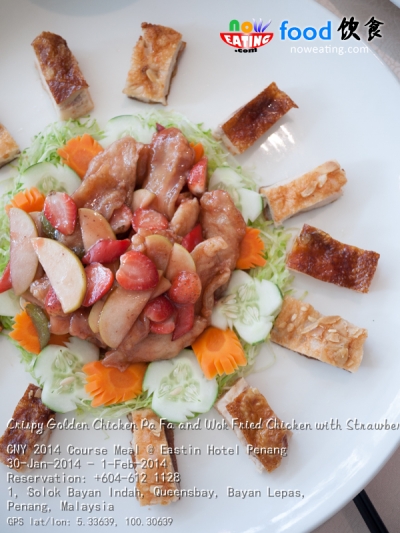 Crispy Golden Chicken Pa Fa and Wok Fried Chicken with Strawberry Sauce 金鸡来报喜 – Commonly known as Pa Fa Chicken 百花鸡. However, the best part is on the chicken breast coated with sweet and sour strawberry sauce. It comes with real strawberry and apple chunks. Strawberry lovers definitely will fall in love with this dish.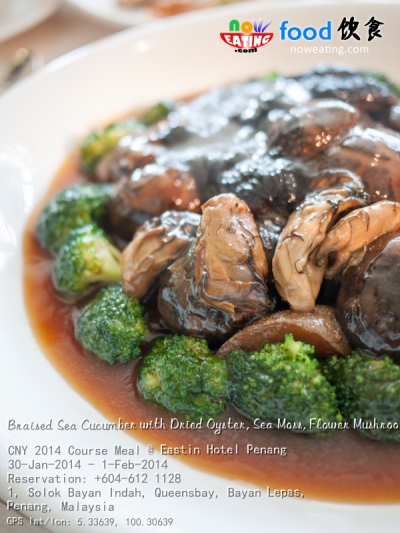 Braised Sea Cucumber with Dried Oyster, Sea Moss, Flower Mushroom and Broccoli 好市定发财 – Again, Eastin Hotel Penang is generous enough to add dried oyster and sea cucumber in it. The gravy is not starchy as well.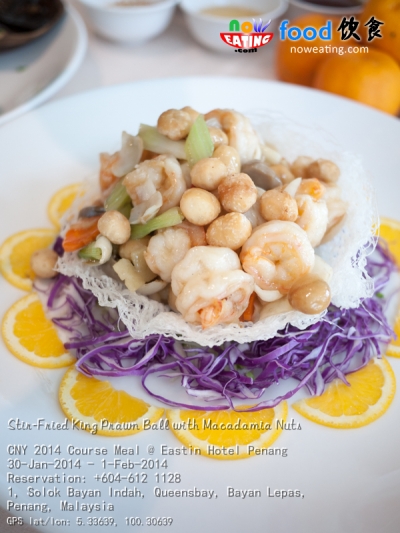 Stir-Fried King Prawn Ball with Macadamia Nuts 彩龙喜迎春 – Another variant of the famous Yam Ring 鸟窝. Instead of using cashew nuts, Eastin Hotel Penang uses the more expensive Macadamia Nuts. The peeled king prawn is fresh as well.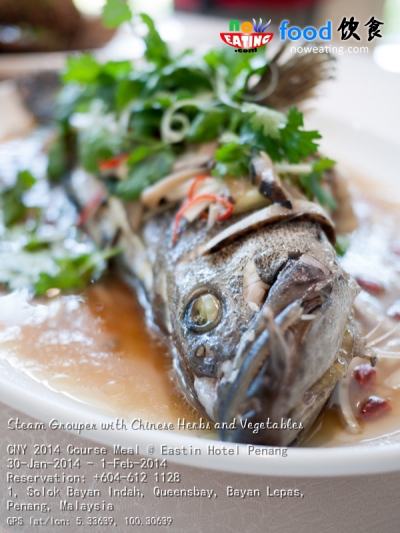 Steam Grouper with Chinese Herbs and Vegetables 年年庆有余 – The fresh grouper steamed in Cantonese style is topped with gingers, coriander, spring onion, chill, mushroom and etc. When it says "with vegetables", it really means a lot of vegetable.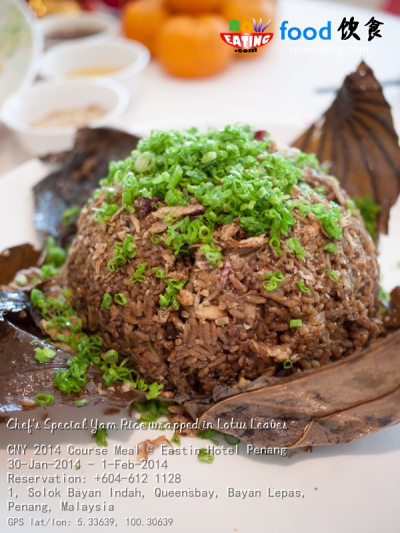 Chef's Special Yam Rice wrapped in Lotus Leaves 八仙齐报喜 – Still not full? Have their yam rice. The only thing missing here is some Chinese sausage :p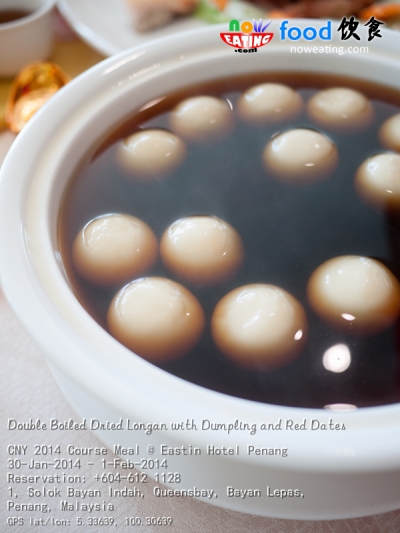 Double Boiled Dried Longan with Dumpling and Red Dates 家家庆团圆 – Instead of normal canned longan dessert, Eastin Hotel Penang takes effort to serve you with homemade longan dessert with glutinous ball stuffed with black sesame.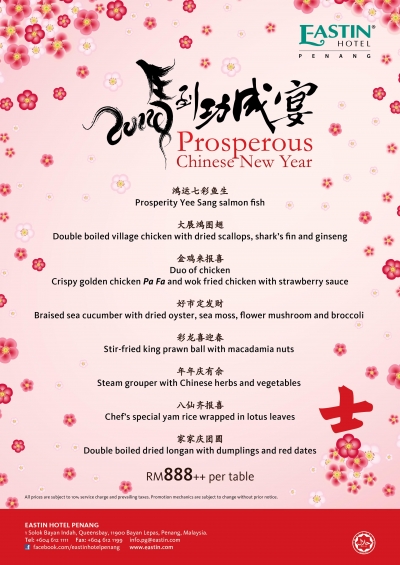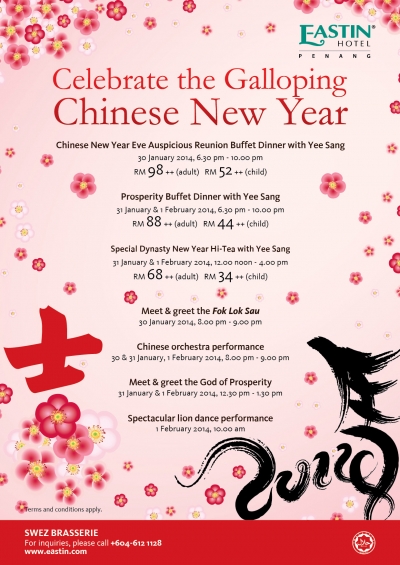 The course meal turned out to be one of the best hotel course meals we tried this year. It  is available at RM888++. In bigger cites such as Kuala Lumpur, the similar course meal can easily hit 4-digit figures. Pre-booking is required.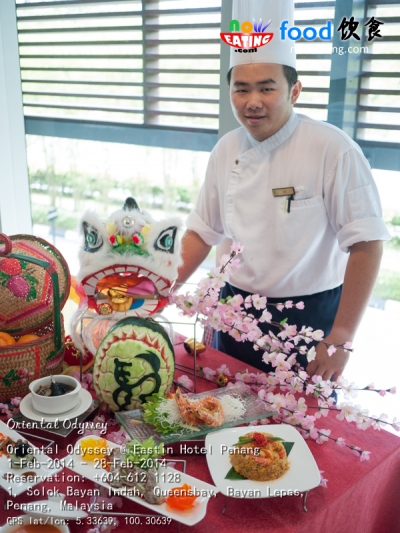 Throughout February, Eastin Hotel Penang offers you a variety of Eastern cuisine.  Among the savory dishes to look for are:
Appetizers and soup开胃菜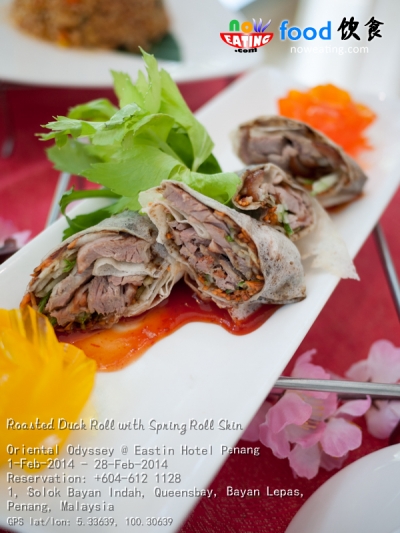 Roasted Duck Roll with Spring Roll Skin 烤鸭春卷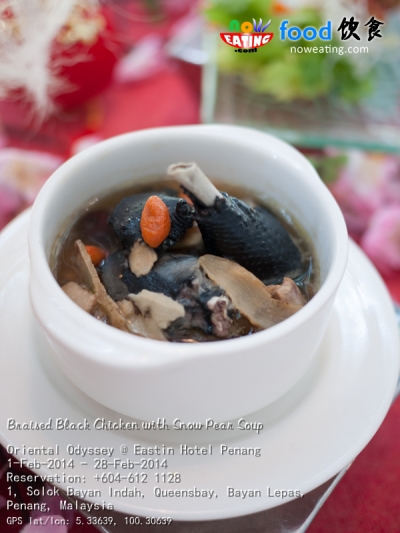 Braised Black Chicken with Snow Pear Soup 上补雪梨乌鸡汤
Main Course主菜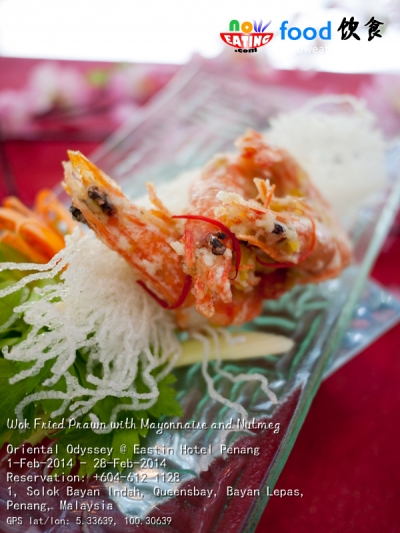 Wok Fried Prawn with Mayonnaise and Nutmeg 豆蔻虾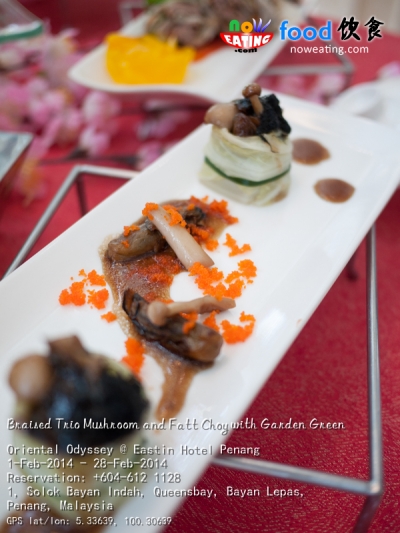 Braised Trio Mushroom and Fatt Choywith Garden Green 发菜好旺市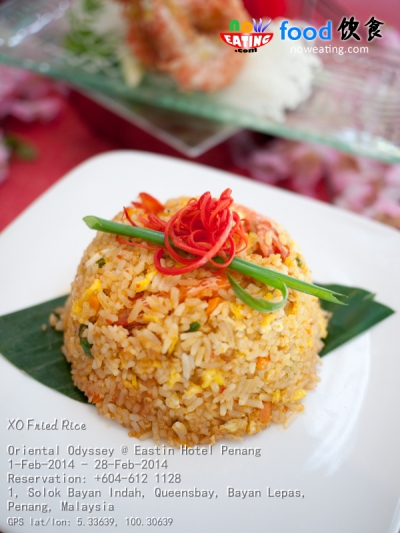 XO Fried Rice 顶级XO炒饭
Desserts甜点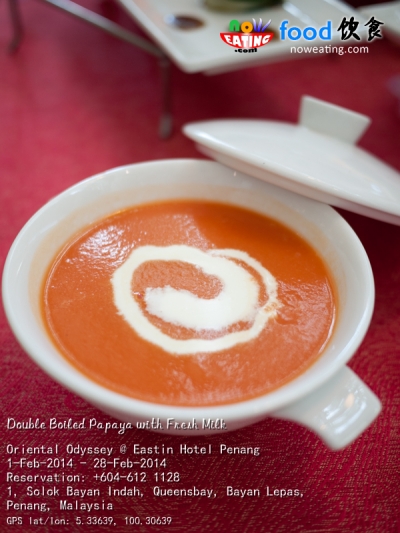 Double Boiled Papaya with Fresh Milk 木瓜炖奶
Oriental Odysseys available during lunch, hi-tea and dinner at Swez Brasserie from 1-28 February 2014:
Lunch: Monday – Friday
12.00 noon – 2.30 pm
RM 50 ++ (adult) RM 25++ (Child)
Hi-Tea: Saturday and Sunday (except 1 February 2014)
12.00 noon – 4.00 pm
RM 68++ (adult) RM 34++ (Child)
Semi Buffet Dinner: Sunday – Tuesday, Thursday
6.30 pm – 10.00 pm
From RM 50++ per person
February Credit Card Promotions
Standard Chartered Bank, CIMB Bank, Citibank and MasterCard Worldwide card members, guests can enjoy 15% discount for Semi Buffet Dinner (Monday - Thursday) and Weekend Buffet Dinner (Friday & Saturday) from 6.30pm – 10.00pm.
 For inquiries or reservations, please call Eastin Hotel Penang, Swez Brasserie at +04 612 1128
| | |
| --- | --- |
| Place Name: | Eastin Hotel Penang |
| Cuisine: | Chinese |
| Address: | 1, Solok Bayan Indah, Queensbay, Bayan Lepas, 11900, Penang, Malaysia |
| Tel: | +604-612 1111 |
| Email: | [email protected] |
| Website: | www.eastin.com |
| Tax: | 10% Service Tax, 6% Government Tax |
| Last Visit: | 20140120 |