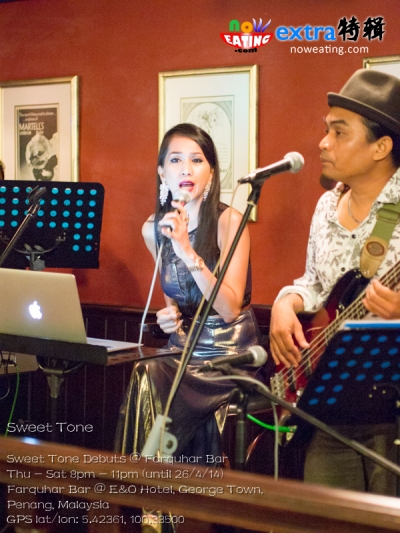 Ulala~ Most guys probably did not notice the guitarist (and the Macbook), and only found out that this is a live band performance after the show. She is Haidee Lim, a Philippines based in Penang. The band is called Sweet Tone and you can find them in Farquhar's Bar of Eastern & Oriental (E&O) Hotel from Thursday to Saturdays between 8pm to 11pm from now until 26 April 2014.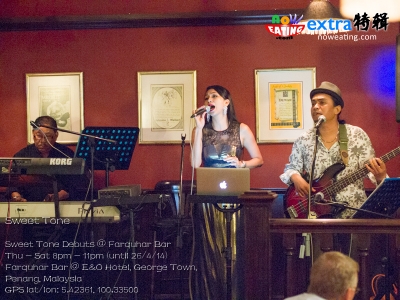 The 3 piece band comprises of Mahazan Jalaluddin, Mohd Akhir bin Abdul Rashid and Haidee Lim.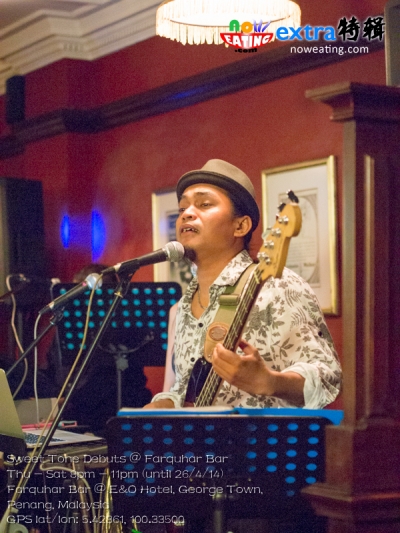 Mahazan Jalaluddin, a former member of the Malaysian People Band famous in the 90's is on backup vocals and plays both the guitar and bass in Sweet Tone. He has also backed up several local and international artistes like Siti Nurhaliza and Kris Dayanti.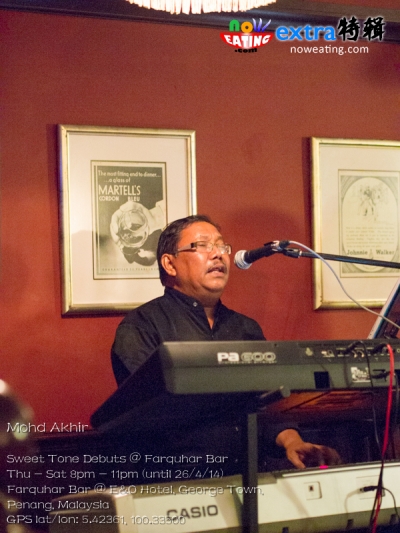 Mohd Akhir, also on backup vocals, is the keyboardist for Sweet Tone. He was also a former member of the Malaysian People Band and has worked with local artistes like Rahim Maarof and Amy Mastura.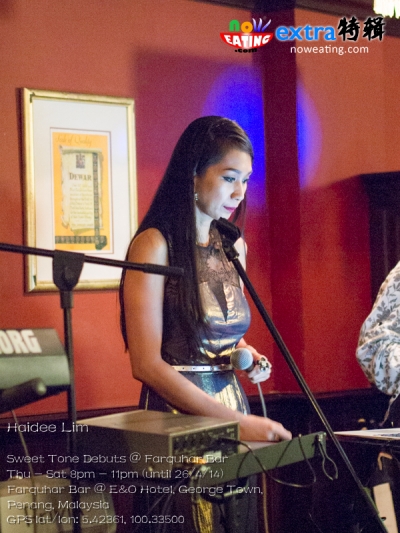 Haidee Lim from the Philippines is the lead vocalist of the band. She is a professional performer based in Penang since the year 1989 and has been entertaining guests in top hotels and private functions. She is able to sing a wide array of musical genres.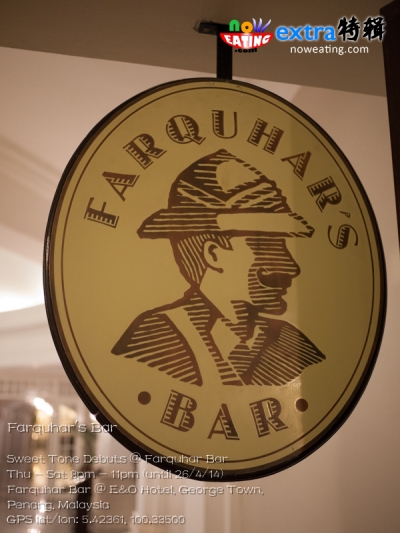 It was my first time visiting Farquhar's Bar which is located at old wing (Heritage Wing) of E&O Hotel. You may park your car at multi-storey car park at the new wing and walk to the old wing. I am not an alcoholic and bar for me is a place with loud music, lousy food, and hazy place thanks to inconsiderate smokers. After visiting Farquhar's Bar, I am pretty impressed with the ambient and the food there.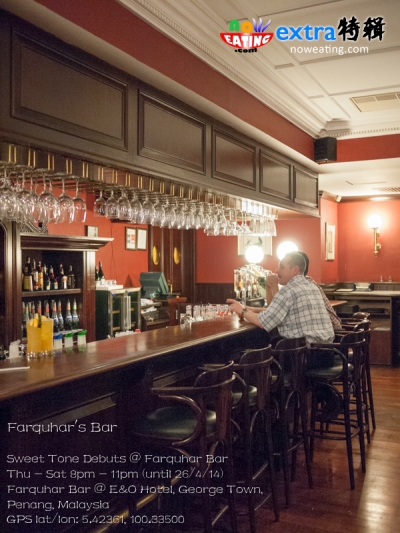 Farquhar's Bar consists of a… bar counter in which you can order various kind of beer, wine, liquor and non-alcoholic drinks. During my first visit, I noticed that many foreigners were there enjoying music with a glass of drink. In case you have a plan to marry rich foreigners and drive your car at opposite direction, this can be the place.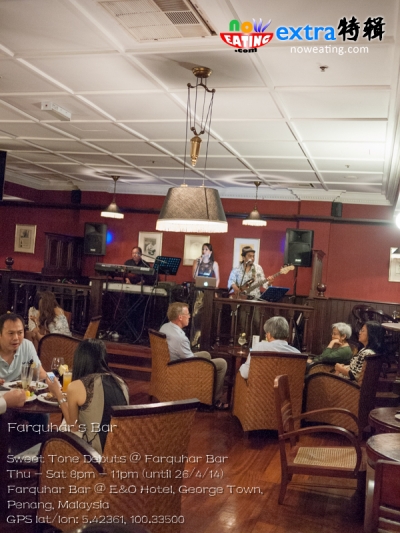 Of course, tables are also provided. The ambient is quite bright and clean without smoke stains. Too bad few customers still smoking cigars inside the air-conditioned bar.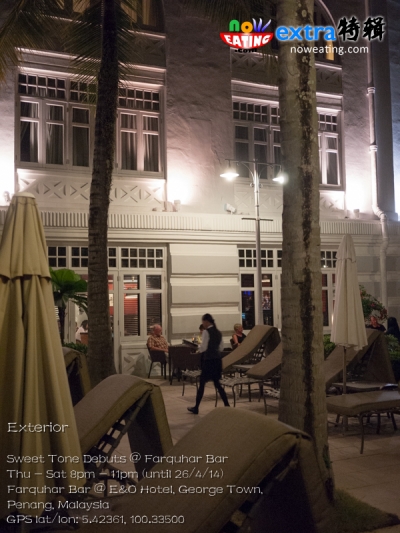 Personally, I prefer sitting next to the pool provided the sky is clear. The pool is closed at night but a few tables are provided for customers to order drinks/food from inside.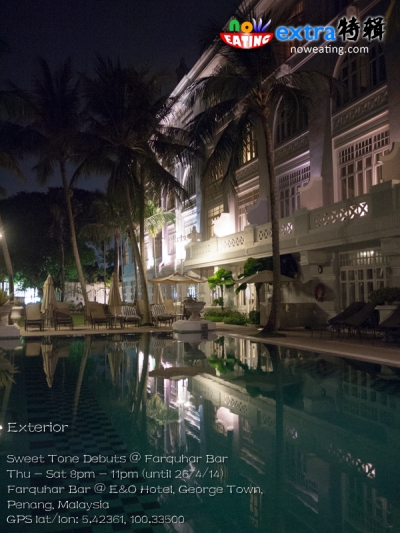 It is quiet and you can enjoy sea breeze outside. A good place for chit chat without shouting like porn star due to loud music.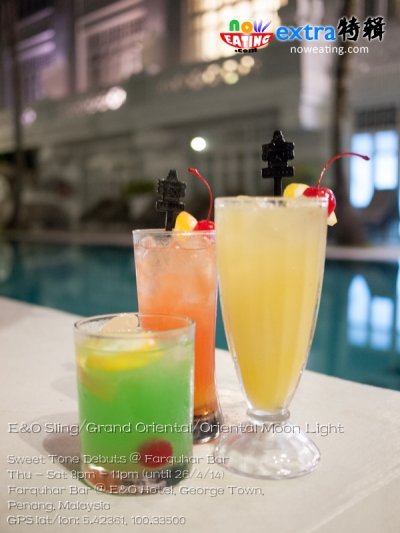 Farquhar's Bar has more than 30 cocktails and 6 mocktails for you to try out. I had myself a glass of E&O Sling (RM29++) cocktail which was recommended by a waitress. It is a cocktail made of Bombay Gin, Grand Marnier (orange-flavoured cognac liqueur), Creme de menthe (sweet, mint-flavoured alcoholic beverage) and Sprite. I like this one as it was like fruit juice with added liquor. My friend had Grand Oriental mocktail (Monin Peach + Cranberry Juice + Orange Juice + Sprite) and Oriental Moon Light (Mango Juice, Guava Juice, Lemon Juice, Ginger Ale). Both are non-alcohol and priced at RM19++.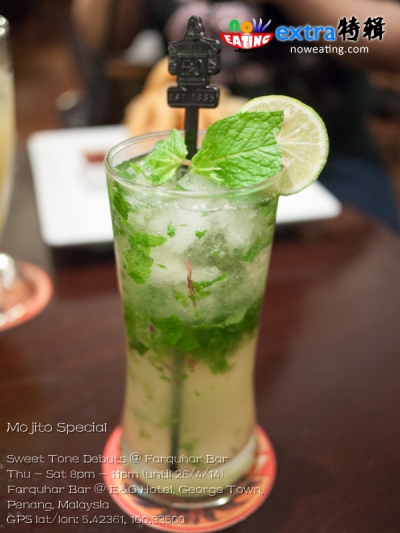 Mojito Special (RM42++) is another cocktail my friend ordered. It consists of Bacardi Oro, Havana Blanco, Cruzan Dark Rum, Mint, Lime, Sugar Syrup, and Soda. For me, it tasted like mint drink with added alcohol. In conjunction with the debut of Sweet Tone, Farquhar Bar is offering a special promotion on selected drinks. Guests can enjoy selected beverages ranging from house pouring brands, house wine, draught beers, cocktails, mocktails, soft drinks and juices for just RM12.00++ per glass.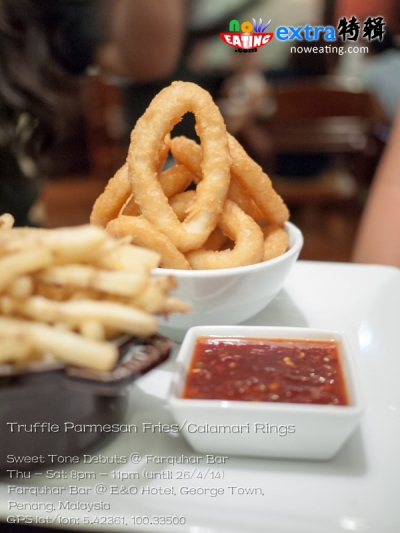 Farquhar's Bar also has some finger food for you enjoy while watching the show. We ordered Calamari Rings and Truffle Parmesan Fries. Unlike normal French fries, the fries have added truffle and Parmesan cheese powder "poisoning" you so that you will non-stop eating them. A single bowl of finger food is priced at RM12++. Duo bowl at RM23++, Trio bowl at RM33++ and Quartet bowl at RM42++.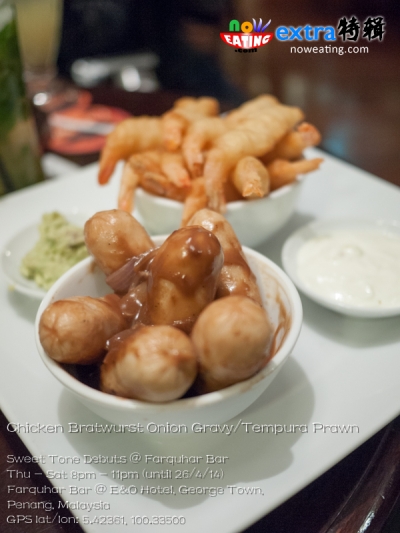 Another platter we tried was Chicken Bratwurst with Onion Gravy and Tempura Prawn. The tempura prawns were fresh. The avocado and mayonnaise sauces provided, however, were a bit bitter. I still prefer the normal chilli sauce.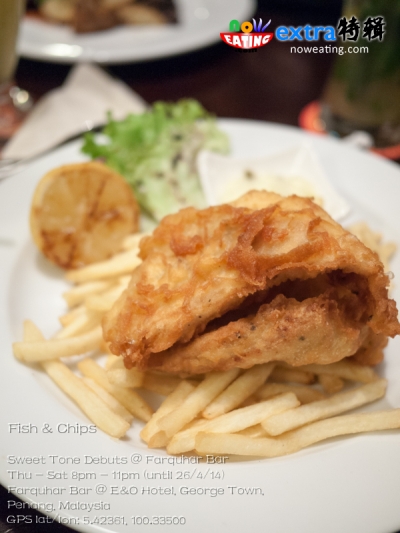 Menu for ala-carte is also available. We ordered Fish and Chips (RM35) came with grilled lemon, Remoulade Sauce, and Toasted Petit Salad. The portion was quite big and we had difficulty in finishing all the French fries. However, the portion should be just perfect for foreigners who used to have bigger meal compared to Asian.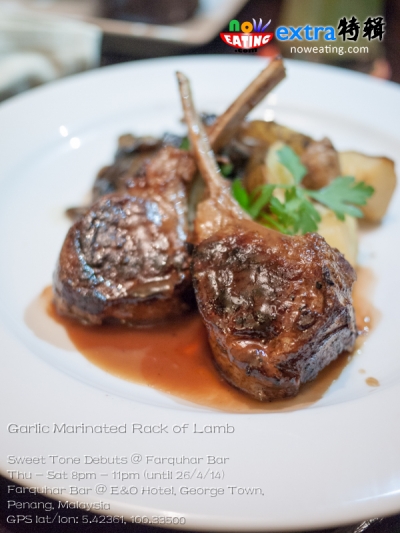 The more we ordered, the more we feel like we are eating in a western restaurant. The only drawback is that the table is too small for us to put all the dishes. Garlic Marinated Rack of Lamb (RM45++), for instance, was well-presented with herb roasted potato, wild mushroom ragout, and Shallot Sauce. You have an option to make it into medium rare or well done. I liked their wild mushroom very much.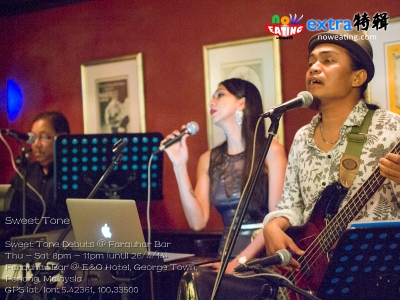 As a whole, I am pretty impressed with Farquhar's Bar food quality and environment. Do visit it from Thursday to Saturdays between 8pm to 11pm from now until 26 April 2014 to enjoy Sweet Tone live band performance.
Click here to download Sweet Tone brochure.