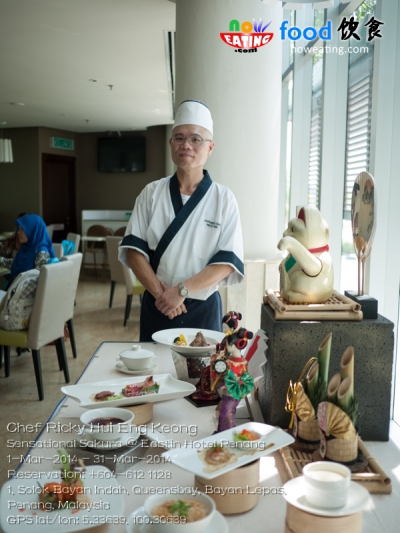 For the first time, Eastin Hotel Penang is inviting Chef Ricky from Eastin Hotel Petaling Jaya (PJ) to the premise to serve you the freshnest and most mouth-watering Japanese buffet Eastin Hotel can offer.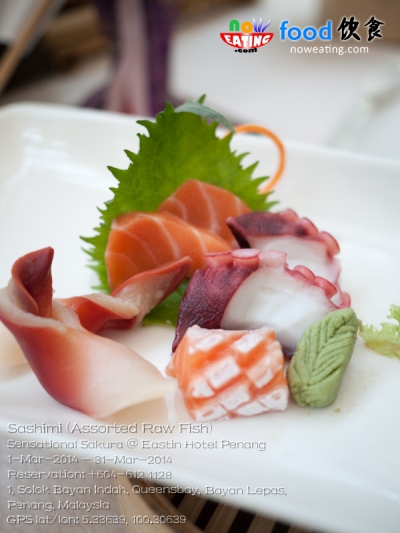 Chef Ricky has been with Eastin Hotel PJ since August 2004. He had opportunity to cook and serve dignitaries, Prime Ministers, royal families, ministers, foreign ambassador and VVIPs. He specializes in the art of Japanese cuisine and won man awards including the recent Hospitality Asia Platinum Awards (HAPA) Masterchef (Asian) – Master of Authenticity.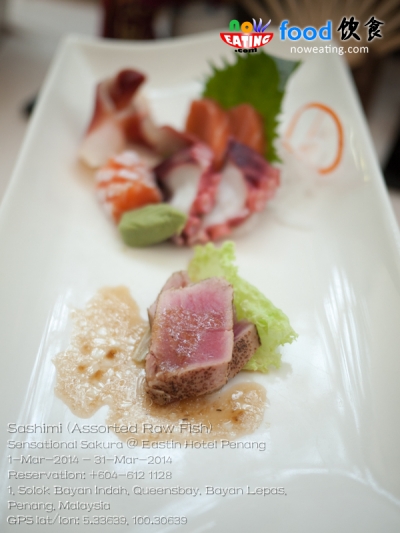 This is perhaps the first time Eastin Hotel Penang is having Japanese buffet month. Previously, Japanese food such as sashimi and assorted maki were served as part of Saturday's seafood buffet. This time, you will still find the same items, except that they will be prepared/supervised by Chef Ricky himself.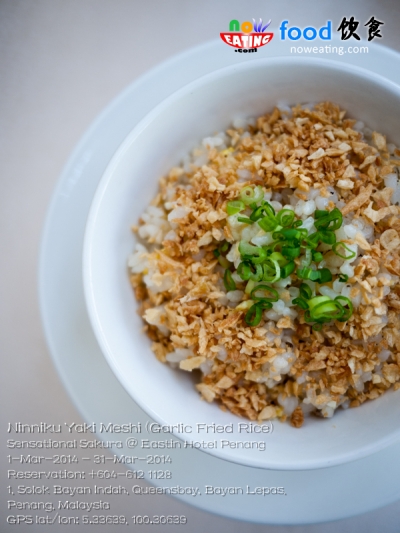 Even though Swez Brasserie cafe in Eastin Hotel Penang does not look like a Japanese restaurant at all, Chef Ricky will try to cover as many Japanese food as possible, from the garlic fried rice (Ninniku Yaki Meshi)…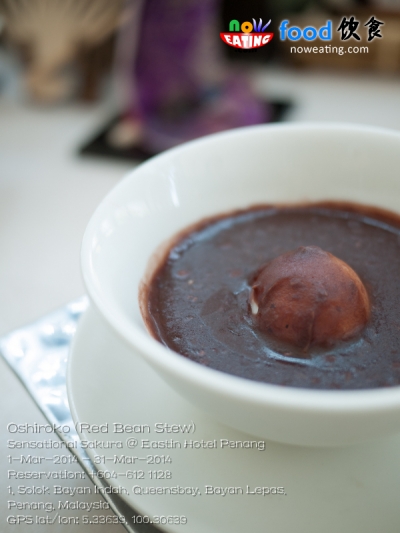 … to red bean stew (Oshiroko) which tastes like Chinese red bean soup with stuffed glutinous rice ball.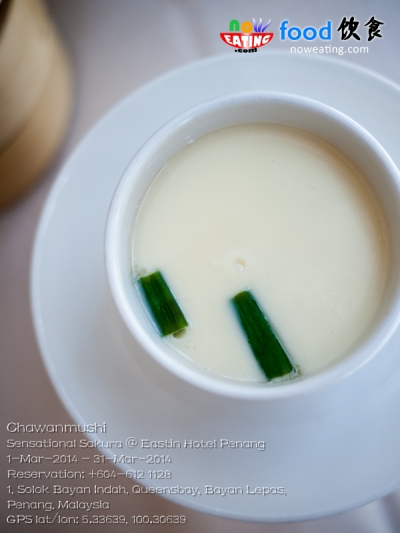 Their chawanmushi is perhaps the "softest" chawanmushi I ever tried. It melts in your month the moment you put it in. It consists of crab meat stick, ginko, and peeled shrimps.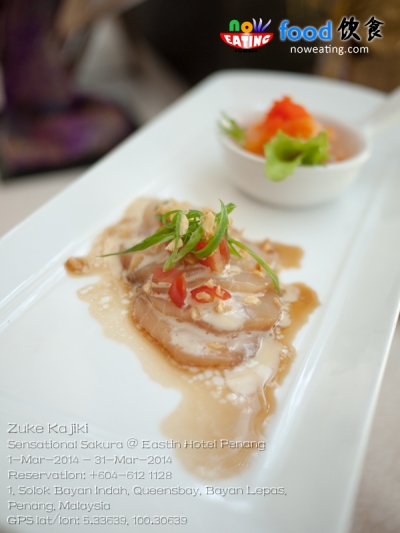 Personally I like their Zuke Kajiki (Marinated white tuna with wasabi-maiyo sauce). Unlike the raw white tuna I usually tried, the marinated white tuna tasted like garlic butter. Looks like Chef Ricky put a lot of efforts into even a small little items.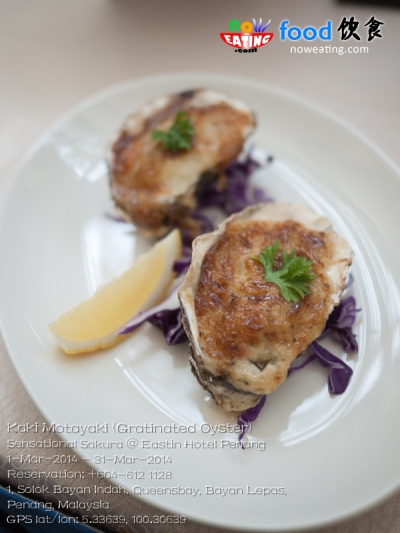 Kaki Motayaki (Gartinated Oyster) are fresh and baked with soft mayonnaise topping. It does not taste as stuffy as those Parmesan cheese version so you probably can go for many pieces and is a good alternative if you can't take raw oyster.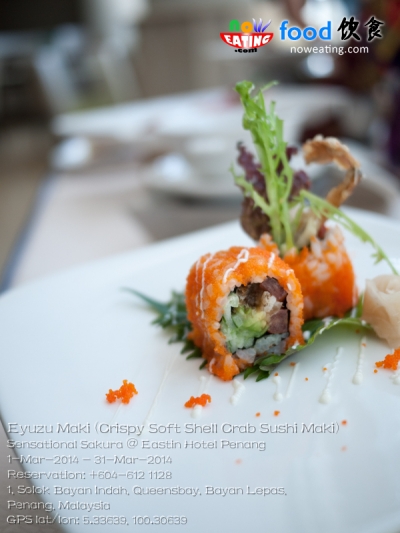 Similar to Saturday's seafood buffet, assorted maki will be provided, including this Eyuzu Maki (Crispy Soft Shell Crab Sushi Maki) stuffed with avocado.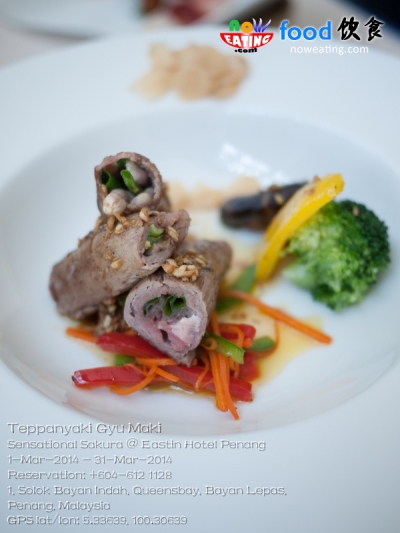 Last but not least, Teppanyaki Gyu Maki (Teppanyaki Grilled Beef Striploin Roll with Enoki Mushroom and Green Onion). Again, I am not a beef-taker so no further comment on this one except it looks unique and effort has been put into it as well.
Overall, the food preview is satisfactory and we do hope to see more Japanese buffet in future with different way of cooking, including teppanyaki, tempura, ramen, and even Japanese ice cream. Sensational Sakura is available during lunch, hi-tea and dinner at Swez Brasserie from 1-31 March 2014:
Lunch: Monday – Friday
12.00 noon – 2.30 pm
RM 50 ++ (adult) RM 25++ (Child)
Hi-Tea: Saturday and Sunday
12.00 noon – 4.00 pm
RM 68++ (adult) RM 34++ (Child)
Semi Buffet Dinner: Sunday – Tuesday, Thursday
6.30 pm – 10.00 pm
From RM 50++ per person
March Credit Card Promotions
Standard Chartered Bank, CIMB Bank, Citibank, OCBC Bank, MasterCard Worldwide and UOB Bank card members, guests can enjoy 15% discount for Semi Buffet Dinner (Monday - Thursday) and Weekend Buffet Dinner (Friday & Saturday) from 6.30pm – 10.00pm.
 For inquiries or reservations, please call Eastin Hotel Penang, Swez Brasserie at +04 612 1128
| | |
| --- | --- |
| Place Name: | Eastin Hotel Penang |
| Cuisine: | Japanese |
| Address: | 1, Solok Bayan Indah, Queensbay, Bayan Lepas, 11900, Penang, Malaysia |
| Tel: | +604-612 1128 |
| Email: | [email protected] |
| Website: | www.eastin.com |
| Tax: | 10% Service Tax, 6% Government Tax |
| Last Visit: | 20140228 |