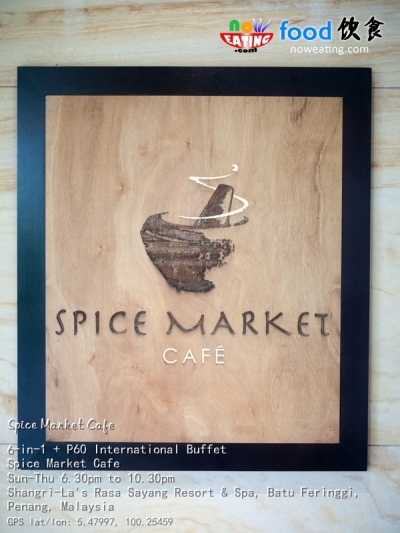 Shangri-La's Rasa Sayang Resort and Spa is pleased to offer you 6-in-1 International Buffet every Sunday to Thursday. Best of all, pay only 60% (P60) on every Monday and Tuesday.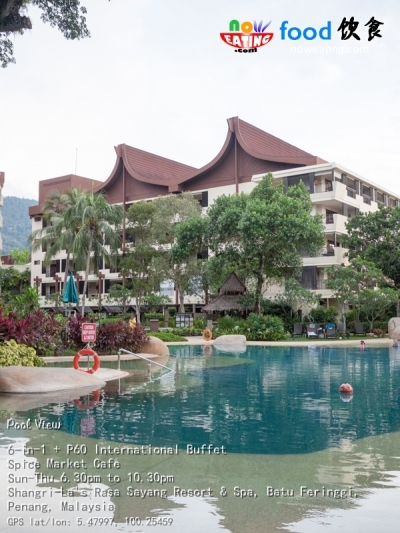 Since few years ago, I had heard of many people traveling from as far as main land, all the way to Batu Feringgi to have buffet at Rasa Sayang Resort for its "Buy 1 Free 1" (or 50% off) buffet promotion. I actually did try to make a reservation but they were fully booked throughout the promotion period. Fortunately, the promotion is now back with "Pay 60%" offer, and it is ongoing until further notice.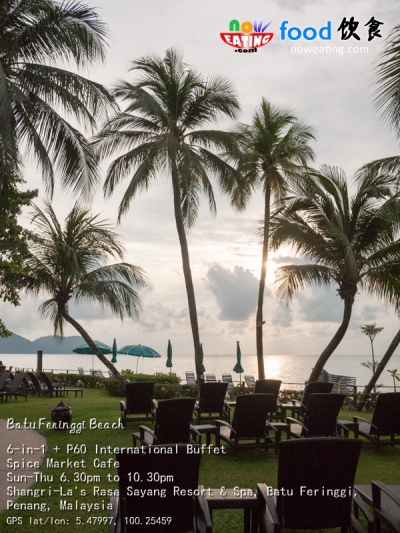 The 6-in-1 buffet is available at Spice Market Cafe from 6.30pm until 10.30pm. My suggestion is, reach there earlier so that you can have a walk and stretch out along the beach. After all, you drive all the way to Baru Feringgi (unless you are staying nearby). It takes about one hour driving from Penang Bridge to Batu Feringgi and provided the traffic is good. Free parking is available and try to park your car towards the right wing of Rasa Sayang Resort as the Spice Market Cafe is there.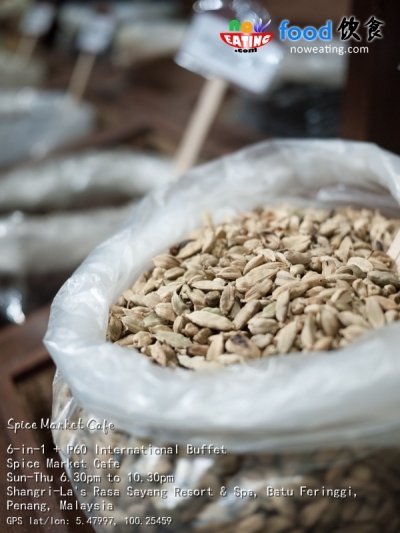 As the name applies, Spice Market Cafe is in fact selling some spices in front of the cafe (This reminds me of Spice Garden nearby). Each spice has its own strength and weakness. The staff is friendly enough to explain its usage should you have any question.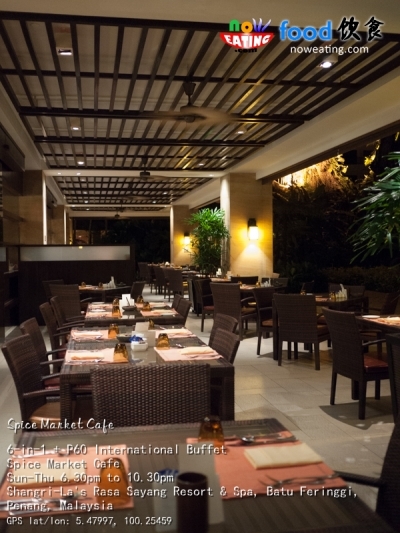 Anyway, we were here for the buffet so after taking few photos, we quickly walked into the cafe. The cafe is able to accommodate 108 persons indoor and 162 persons outdoor.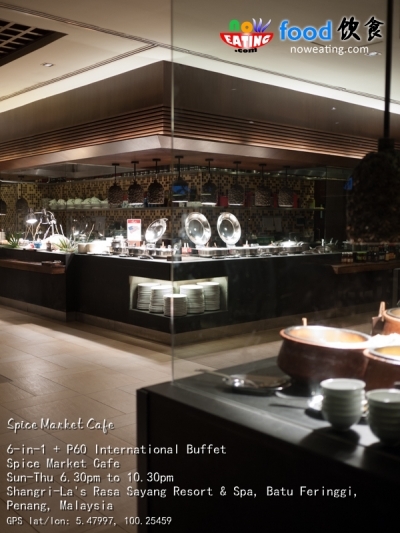 6-in-1 buffet means that the buffet consists of six types of different cuisines: Japanese, Western, Chinese, Indian, Malay Indian, and Desserts. Each has its own station with some signature dishes which will change every two weeks.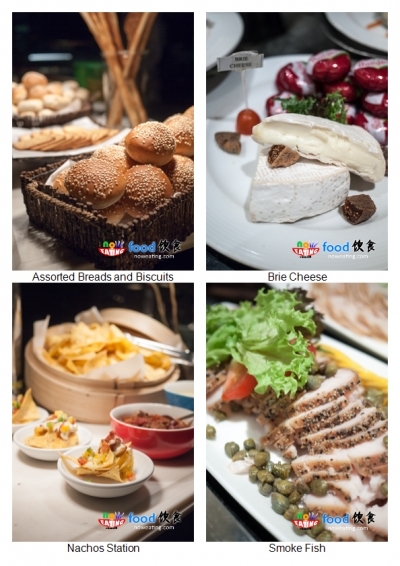 Let's begin with some appetisers. One appetiser caught my attention is the wide selection of cheese. Cheese is a staple food for many Middle Eastern countries. This is further proven after seeing a table of Middle East guests took away whole plate of cheese from buffet line to their table.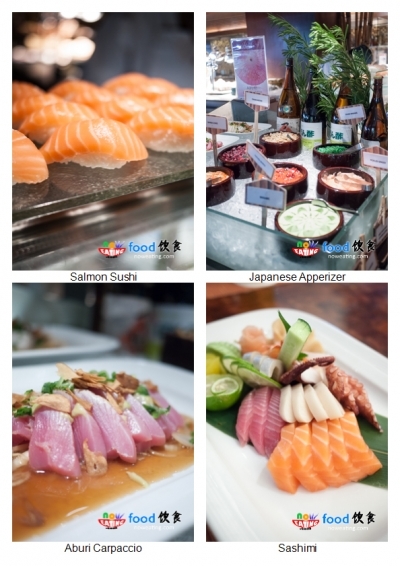 Japanese station always has a staff standing by to serve you fresh sashimi. Sushi, maki, and some Japanese appetizers are also available. I found my favorite Chuka Idako (Baby Octopus) here.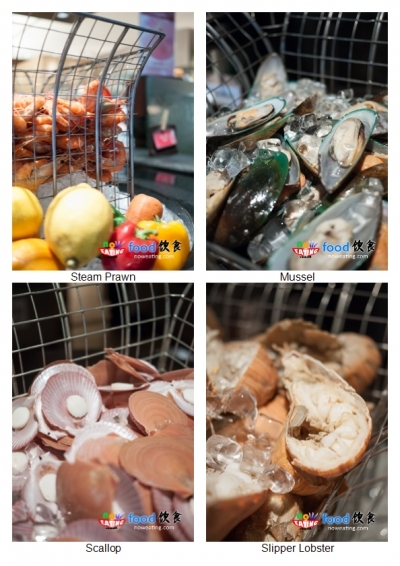 On the left of the Japanese counter is fresh seafood corner. My suggestion is go for both Japanese and seafood corners first to maximize your ROI (Return of Investment). The seafood are fresh as well. The only item missing that evening was fresh oyster but honestly, the buffet items are far more than enough for average Asians unless you have four stomachs like cow.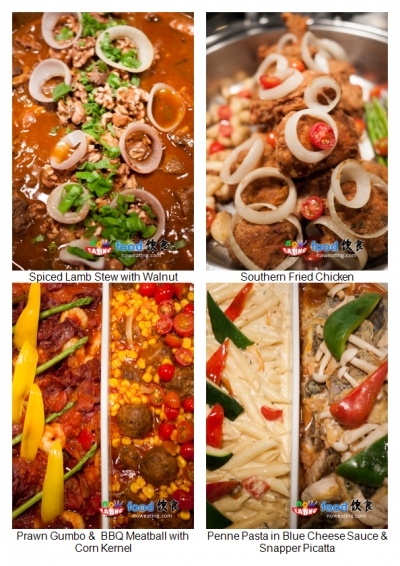 Western corner is located at the right hand side of Japanese corner. The food looks delicious and at the same time can be heavy as well. I myself took some Southern Fried Chicken.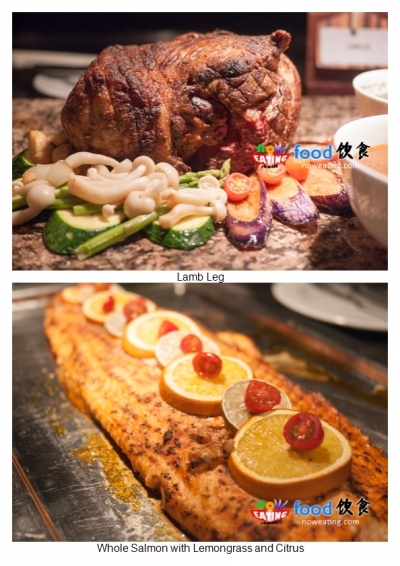 Behind western corner hold two "luxury items" served by crews – Lamb Leg and Whole Salmon with Citrus and Lemongrass. Make sure to try their special homemade sauce.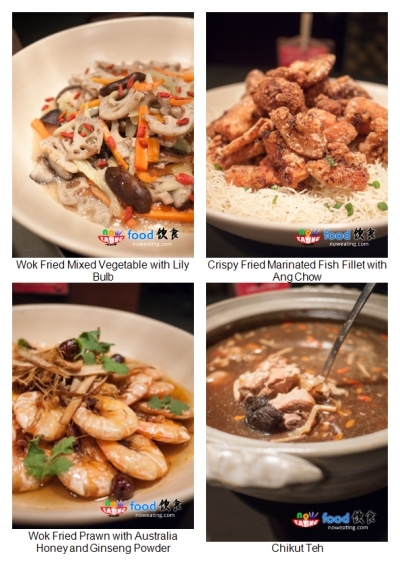 The Chinese cuisine is perhaps one of the best hotel Chinese pork-free food I tried. The way of cooking is rather unique. For instance, fish fillet is fried with Ang Chow (red yeast). Prawn is fried with honey and ginseng powder. They are also generous in the use of ingredients and is proven in their ChiKut Teh which taste rich in herbals.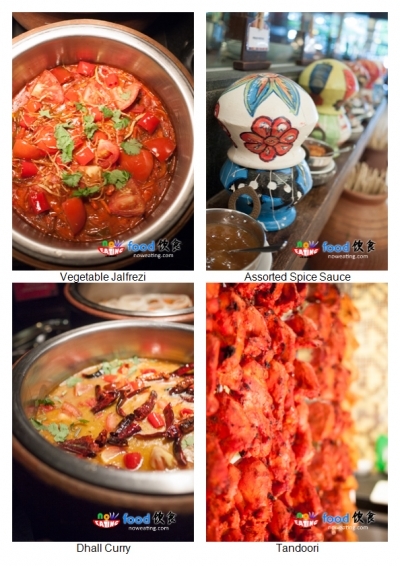 Spice Market Cafe is perhaps one of the cafe serving best Indian buffet thanks to the easy access to various spices from the cafe itself. Try their Tandoori which is best accompany with their homemade spice salad/sauce, such as Mango Chutney, Pickled Vegetable, Pickled Onion, Plain Yogurt, Mint Chutney, and Raita.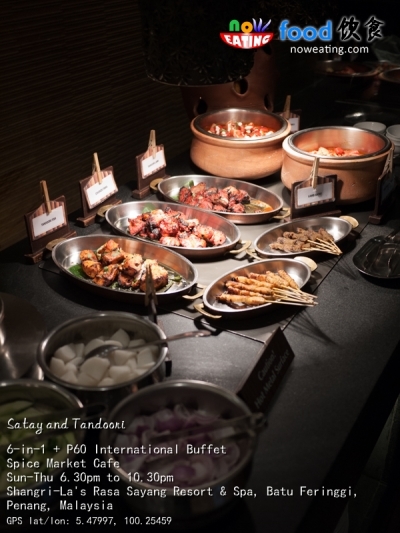 As for the Malay Indian cuisine, I couldn't help myself but kept on visiting their Satay corner to grab some pre-grilled chicken and lamb satays. Best dip with peanut sauce. Other items worth trying are Mee Goreng Keling and Sotong Masak Kicap.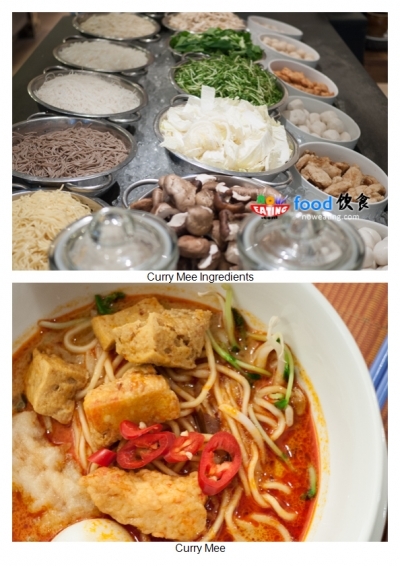 A noodle station is also available in which the crew will serve you hot noodle on the spot. About 18 ingredients including various noodle type, vegetables, and meat ball products are available for customers to pick-and-match. Our noodle of the day is curry mee – one of Penang's famous noodles. I hadn't try it but according to my friend, it tasted as delicious as those selling outside.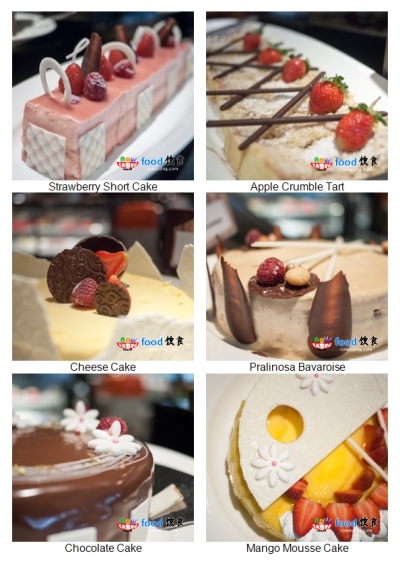 If you still have space in your stomach, their desserts are worth trying. Some tempting desserts include assorted cakes, fruits, and ice cream. They do have staff standing by to serve you pancakes and ice creams on the spot.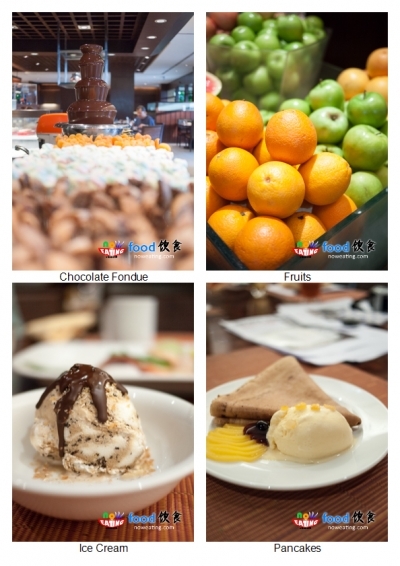 Sweet tooth? Try their chocolate fondue with various dippables.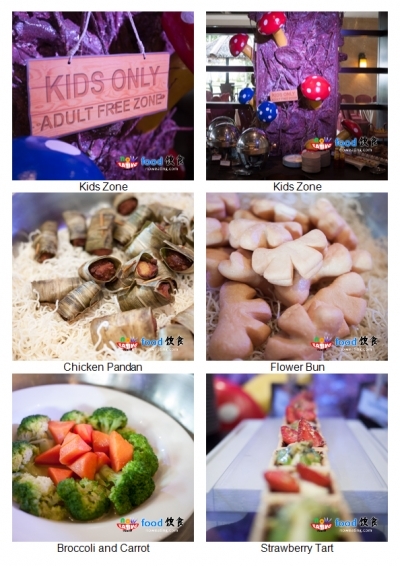 Last but not least, they do have a section dedicated for kids with some finger food such as flower bun, chicken pandan, strawberry tart, and broccoli with carrot. The kid zone is designed in such a way that the food trays are easily accessible by kids.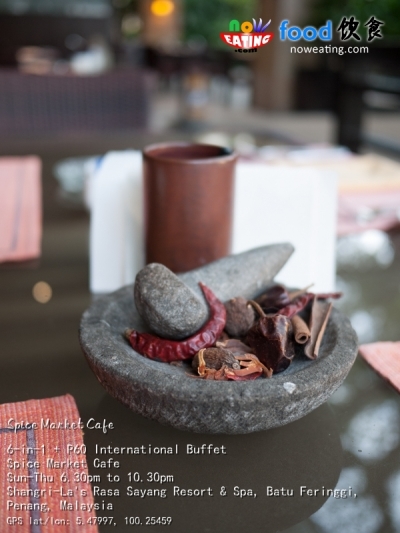 As a whole, the 6-in-1 + P60 International Buffet by the good ol' Rasa Sayang Resort and Spa is proven hard-to-beat in term of food quality and quantity. As part of continuous improvement, occasionally they do invite guest chef to share their recipe in Spice Market Cafe. For instance, award-winning Chef Seth Shantanu from Shangri-La's Rasa Ria Resort Sabah will be visiting from 25-May to 29-May-2014 to bring you the best of traditional Indian cuisine.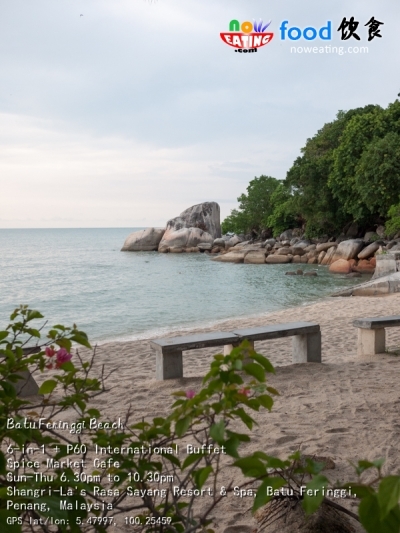 Perhaps the only drawback for this buffet is that we do not have four stomaches to cater for all the food. Pricing-wise, the original price is RM128++ for adult and RM64++ for children. Some may find the price a bit premium but after 40% discounts (only applicable for Monday and Tuesday), the price is only RM76.80++ for adult. It definitely worth the value considering most 5-star hotels in Penang island are offering buffet dinner not less than RM80 with less varieties. The promotion is ongoing until further notice. Be sure to call for reservation first to avoid disappointment.
| | |
| --- | --- |
| Place Name: | Shangri-La's Rasa Sayang Resort and Spa |
| Cuisine: | Buffet |
| Address: | Batu Feringgi Beach, Batu Feringgi, 11100, Penang, Malaysia |
| Tel: | +604-888 8788 |
| Website: | http://www.shangri-la.com/penang/rasasayangresort/ |
| Working Hour: | 6.30pm - 10.30pm (Sun-Thu) |
| Tax: | 10% Service Tax, 6% Government Tax |
| Last Visit: | 20140424 |