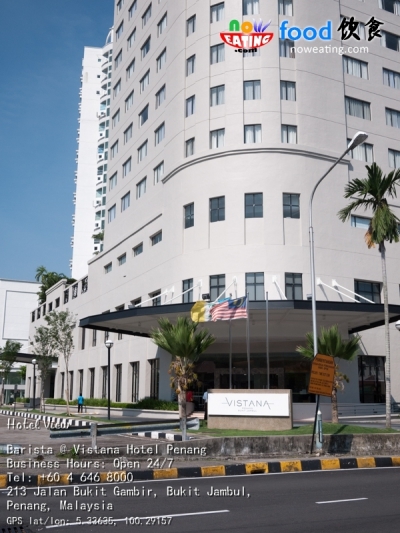 Located at Bukit Jambul, Vistana Hotel recently went through a major revamp to attract more guests. Many people, including locals, missed this business hotel probably due to location issue. Some even thought that it is an office or apartment when passing by. For me, I had been there for few times such as wedding dinner and the recent Barista coffee bar review.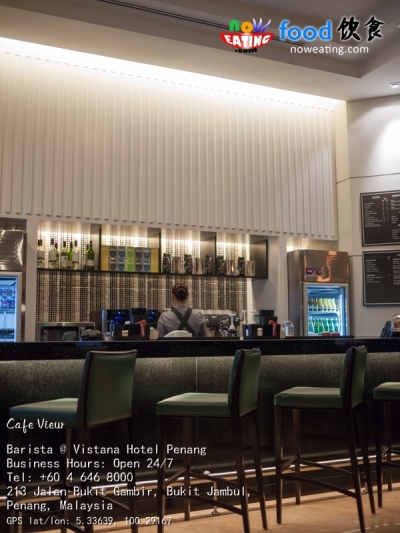 Barista is located in front of the hotel lobby. Before visiting it, my first thought was: What to review in this "kiosk" station? Yes, it is just a coffee bar with about five bar stools. Right behind it are two small cubicles called Hub 247. Sofa, computers with Internet access and printer are readily available for business guests and customers. Also available are two big LCD TVs and a big table for eight so that you can have a sip of coffee while watching football matches.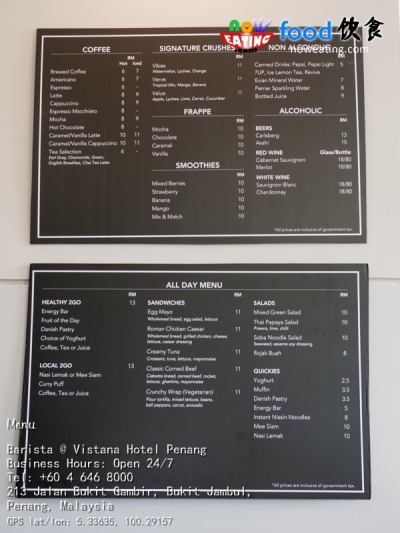 About 50 items are available on their menu hanging on a pillar.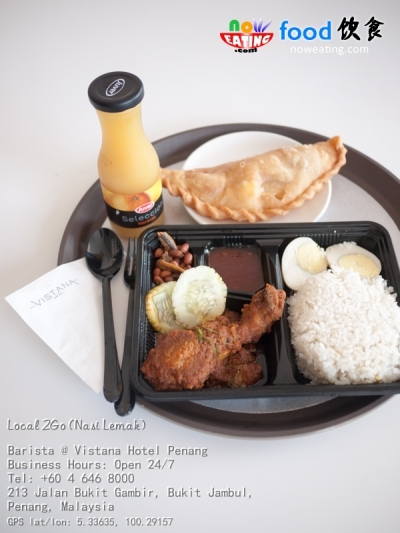 At first I thought it is just a coffee bar providing sandwiches and beverages for hotel guests but turned out that I was wrong. Barista did serve some local breakfast such as nasi lemak and curry puff. Each nasi lemak is priced at RM10 but I recommend you to go for "set meal" called Local 2Go which consist of Nasi Lemak/Mee Siam, Curry Puff, Coffee/Tea/Juice for only RM13.  The Nasi Lemak comes with a chicken drumstick with rendang gravy and tastes as good as those sold in coffee shops, and yes, it does come with cucumber, anchovy and peanuts.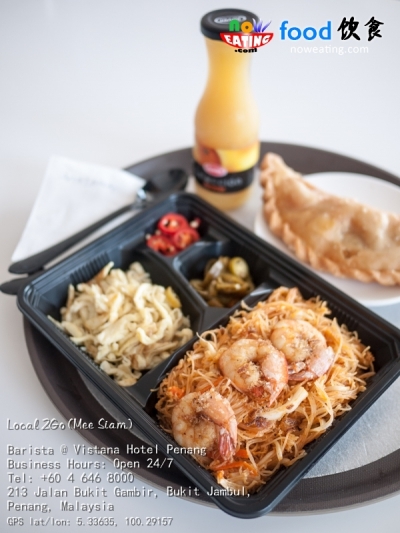 Even though the packaging looks like airline food (it is designed for takeaway), the quality and taste do not. Mee Siam, for example, comes with medium size shrimps and shredded egg with mild spiciness.  The curry puff is lovely as well.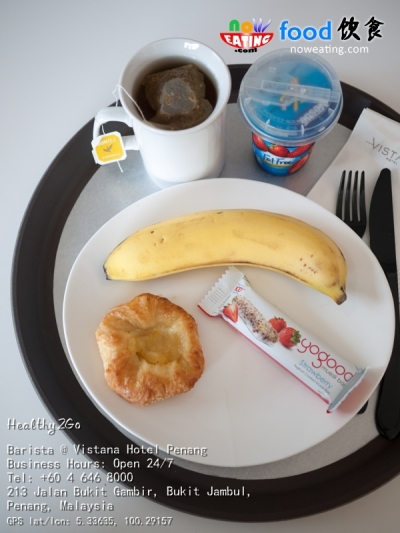 Looking for something healthy? Try their Healthy 2Go (RM13) comes with energy bar, fruit of the day, danish pastry, choice of yogurt, coffee/tea/juice.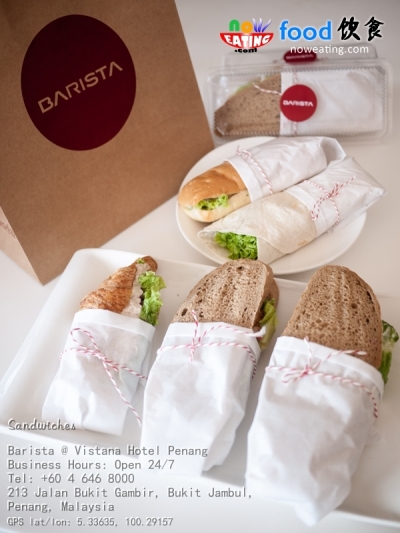 As for the sandwiches, they come in five pre-configured varieties with each priced at RM11, including:
Egg Mayo – wholemeal bread, egg salad, lettuce
Roman Chicken Caesar – wholemeal bread, grilled chicken, cheese, lettuce, caesar dressing
Creamy Tuna – croissant, tuna, lettuce, mayonnaise
Classic Corned Beef – Ciabatta bread, corned beef, rocket, lettuce, gherkins, mayonnaise
Crunchy Wrap (Vegetarian) – Flour tortilla, mixed lettuce, beans, bell peppers, carrot, avocado
My favorite? Creamy Tuna as I like the combination of croissant with tuna.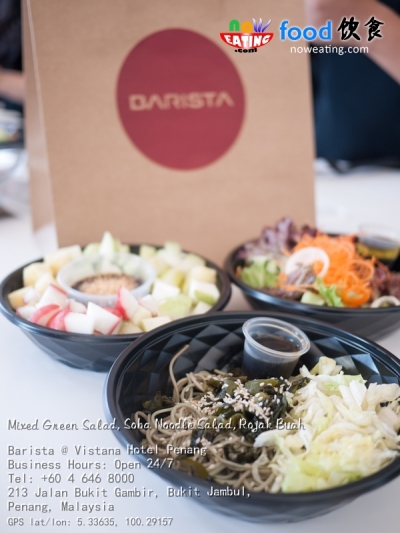 Barista does have four types of salads to order, including:
Mixed Green Salad
Thai Papaya Salad – Prawns, lime, chilli
Soba Noodle Salad – Seaweed, sesame soy dressing
Rojak Buah
I particulary like their rojak as the fruits (starfruit, guava, water guava, pineapple) are fresh like they are prepared daily. Instead of pre-mixing with the shrimp paste, the thick shrimp paste comes separately in a small container and it is up to you to either dip it with the fruits or enjoy the whole bowl in original way.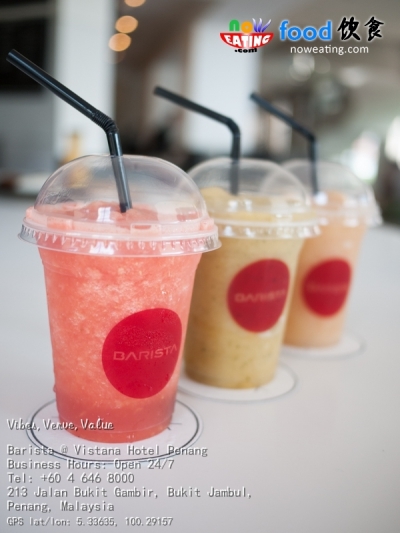 We were welcomed with three signature crushes – Vibes, Verve, and Value which appear to be their new ethos as well. Vibes is blended with watermelon, lychee and orange. Verve is blended with tropical mix, mango, and banana. Value is blended with apple, lychee, carrot and cucumber. Each priced at RM11.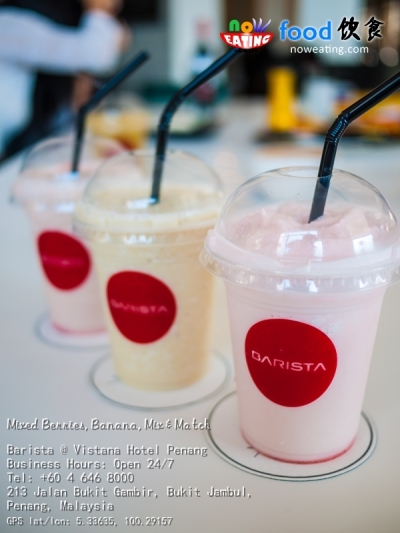 Also available are some smoothies, such as mixed berries, banana, and mix & match. Each priced at RM10. I was given with Mix and Match in which you can customize fruits of your own. In my case, it was banana mixed with berries. Tasted rich, creamy and not something diluted in water.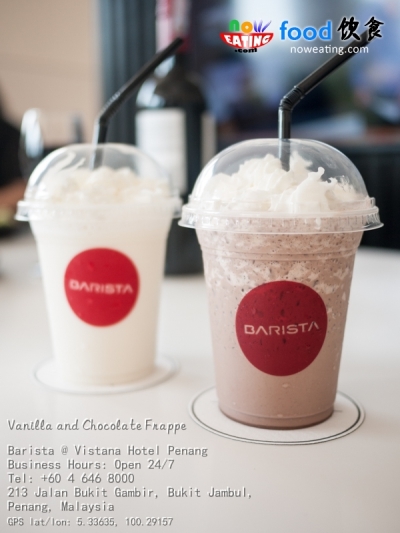 In general, the price is acceptable considering it is a hotel food. Their frappe, for example, is even cheaper than Starbuck with each being priced at RM10. We had ourselves a chocolate frappe and a vanilla frappe that afternoon.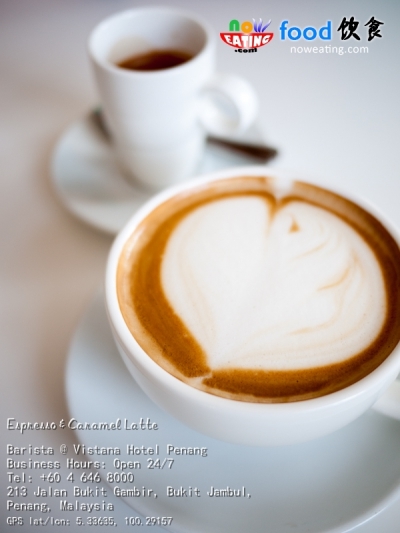 Of course, also available are coffees brewed using coffee machine. We had Espresso (RM6) and Caramel Latte (RM10) that afternoon. The only thing missing is the latte art 😉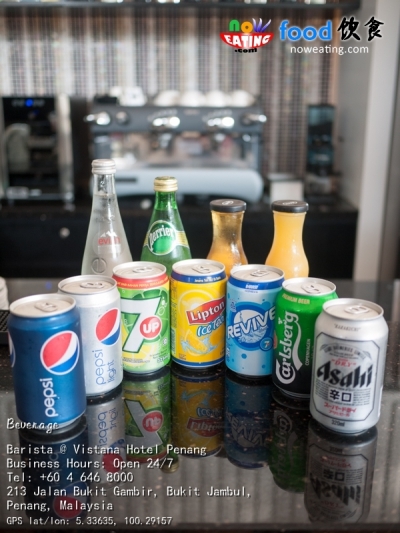 Canned and bottled drinks are also available. Personally, I would suggest just walk to 7-11 nearby if you are looking for canned drink.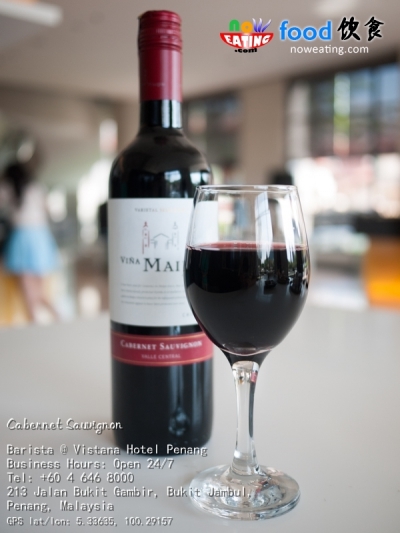 Last but not least, they do serve some beers (e.g. Carlsber, Asahi), red wine and white wine. Each glass of red/white wine is priced at RM18 while whole bottle is RM80. We had a glass of Cabernet Sauvignon from Chile that afternoon.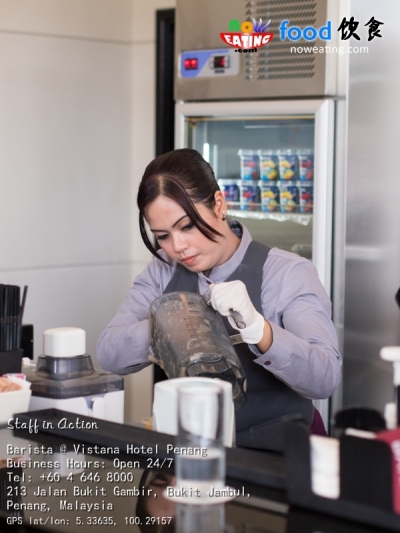 Barista at Vistana Hotel Penang has changed the way people looking for food during odd hours. Hotel guests now can grab some quality quick meal anytime they wanted. For locals, instead of going to mamak stall or fast food restaurants, they can stop by Barista coffee bar as well for some affordable supper or breakfast. Did I mention that it opens 24/7?
| | |
| --- | --- |
| Place Name: | Vistana Hotel Penang |
| Cuisine: | Western |
| Address: | 213, Jalan Bukit Gambir, Bukit Jambul, Penang, Malaysia |
| Tel: | +604-646 8000 |
| Website: | http://www.vistanahotels.com/ |
| Working Hour: | Open 24/7 |
| Last Visit: | 20140524 |