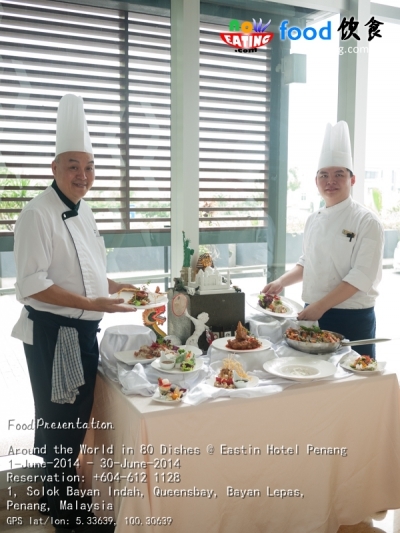 This June, instead of offering buffet of a particular cuisine, Eastin Hotel Penang is pleased to offer you "Around the World in 80 Dishes" International cuisine for their buffet line.
"80 Dishes" does not mean that you will have 80 main courses for buffet in one day. Instead, for each week in June, about 14 main course will be provided for buffet lunch, and the menu will change for coming weeks. In total, you will have around 4 x 14 = 56 main course + appetizer + dessert for the month of June, which will be around 80 dishes in total.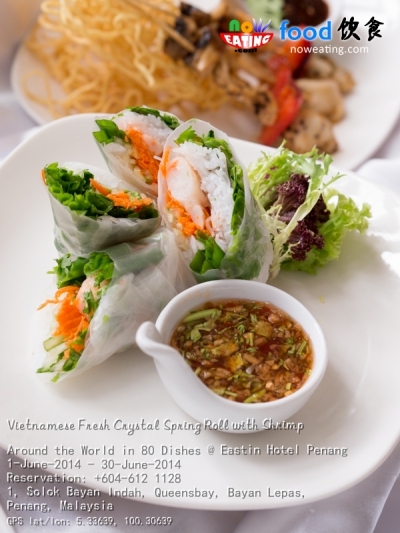 We were presented with four appetizers from German, Mexico, Vietnam, and French respectively. Out of four items, my favorite was the Vietnamese Fresh Crystal Spring Roll with Shrimp 越南鲜虾水晶春卷 wrapped with various vegetables such as carrot, parsley, glass noodle, and spring onion. Make sure to dip with its homemade sauce.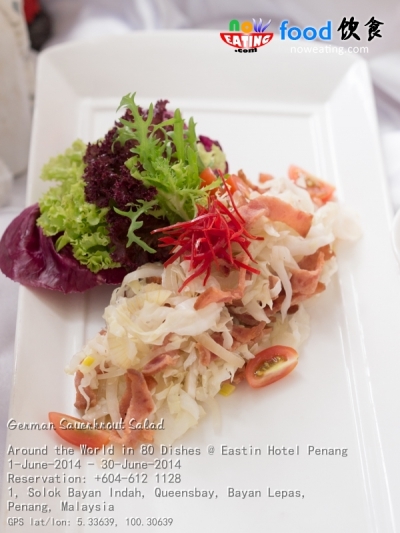 German Sauerkrout Salad 德式酸菜沙拉 is made with turkey bacon, onion, and pickled cabbage. The same item can be found when Eastin was offering German buffet last time. Sauerkrout mean sour cabbage so expect it to be a bit sour but at the same time quite appetizing as well. Best consumed together with the turkey bacon.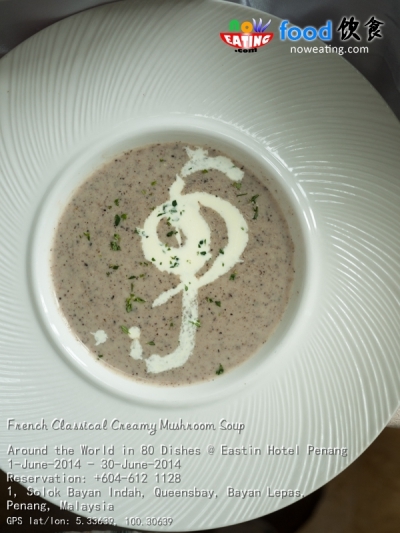 French Classical Creamy Mushroom Soup 法国经典奶油蘑菇汤 tasted rich as the chef used French-style cooking  by cooking mushroom first before adding cream and thus had a stronger mushroom taste. Best sprinkle with some salt.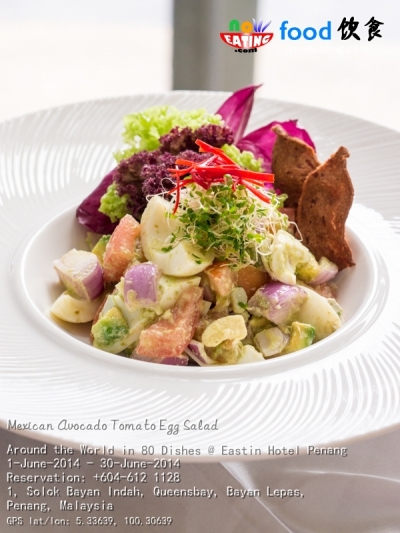 Mexican Avocado Tomato Egg Salad 墨西哥鳄梨番茄蛋沙律 is a typical green salad with added avocado and egg.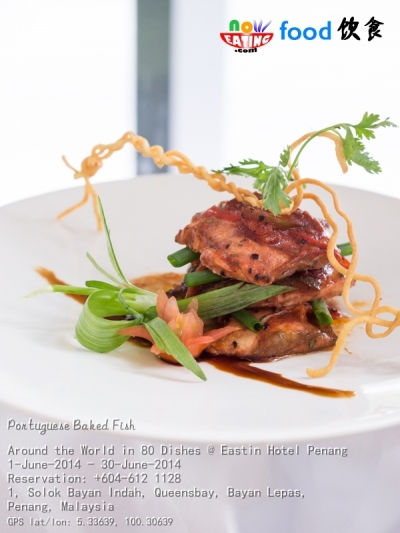 As for the main course, my favorite was Portuguese Baked Fish 葡萄牙式烧鱼. Being used to baked fish at Portuguese settlement in Malacca, the Eastin Hotel version is  not spicy at all. After searching from Internet, it appeared that this is the original recipe from Portuguese in which they used large amount of tomato paste as the gravy as opposed to chili paste.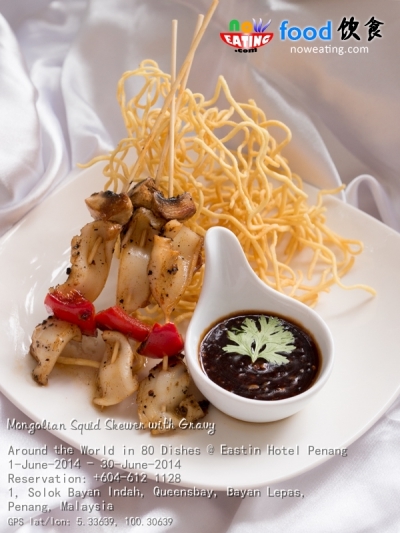 Back in childhood day, a junk food I like is the dried squid skewer which is sold as a pack in shops or grilled separately in night market. Today, Eastin Hotel Penang slightly twisted it and converted it into the luxury Mongolian Squid Skewer with Gravy 蒙古式肉汁鱿鱼串烧. Make sure to dip with their homemade sauce made of sour plum, sesame oil, garlic and onion to name a few.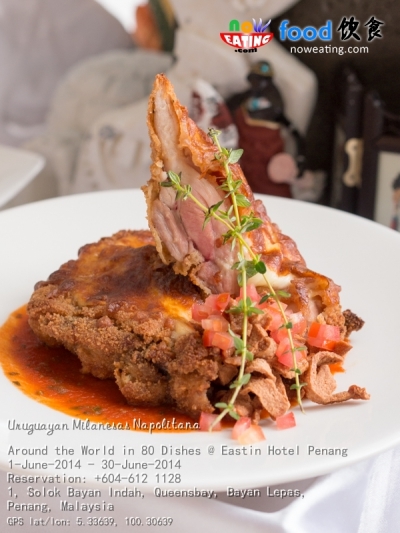 Uruguayan Milanesas Napolitana 乌拉圭式鸡肉番茄芝士面包 is also known as Breaded Chicken with Tomato and Cheese and is similar to Chicken Cordon Bleu except that the cheese is coated outside. The chicken was marinated before breading. Personally I found the chicken a bit oily to my liking.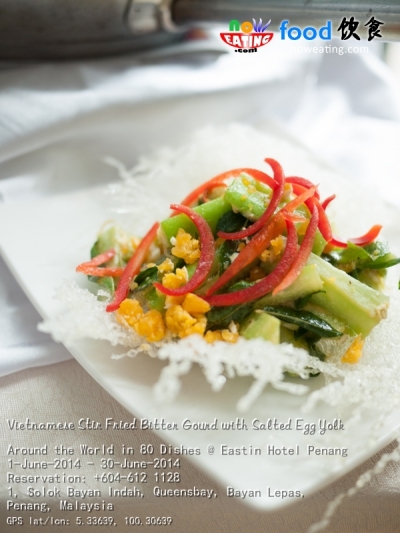 Another main course catching my attention was Vietnamese Stir Fried Bitter Gourd with Salted Egg Yolk 越南式咸蛋黄炒苦瓜. This is an item in which customers will either like it very much or hate it very much as bitter Gourd is an item many people don't like due to its bitterness. For me, it is fairly acceptable. I like the texture of it being coated with a layer of salted egg yolk. At the same time, it was a bit spicy due to added chili.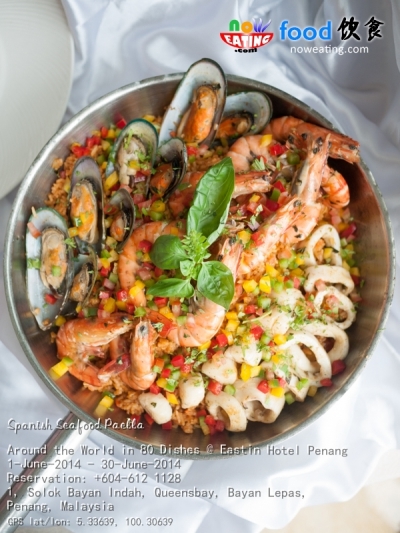 As for the Spanish Seafood Paella 西班牙海鲜饭, the seafood broth was prepared one day before it was used to cook and fry the rice with capsicum, carrot, tomato, basil and other herbs.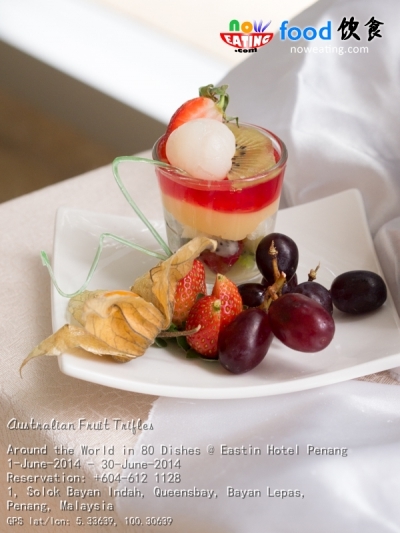 As for the desserts, they are pretty standard except this Australian Fruit Trifles which has fruit, jelly and custard in a small cup. The original version has added alcohol in it but for Eastin version, it was removed as they are Halal certified. Other desserts to be expected are such as American Rich Chocolate Brownies and French Creme Brulee.
Overall, I am pretty satisfied with the June buffet in Eastin Hotel Penang. One good thing about having International buffet is that chef will have more freedom to show off their skill on their favorite dishes instead of sticking to a cuisine he/she is not familiar with. Around the World in 80 Dishes is available during lunch, hi-tea and dinner at Swez Brasserie from 1-30 June 2014:
Lunch: Monday – Friday
12.00 noon – 2.30 pm
RM 50 ++ (adult)            RM 25++ (Child)
Hi-Tea: Saturday and Sunday
12.00 noon – 4.00 pm
RM 68++ (adult)             RM 34++ (Child)
Semi Buffet Dinner: Sunday – Tuesday, Thursday
6.30 pm – 10.00 pm
From RM 50++ per person
June Credit Card Promotions
American Express, CIMB Bank, Citibank, OCBC Bank, Standard Chartered Bank, MasterCard Worldwide, Maybank and UOB Bank card members, guests can enjoy 15% discount for Semi Buffet Dinner (Sunday – Tuesday, Thursday) and Weekend Buffet (Saturday) from 6.30pm – 10.00pm.
| | |
| --- | --- |
| Place Name: | Eastin Hotel Penang |
| Cuisine: | Buffet |
| Address: | 1, Solok Bayan Indah, Queensbay, Bayan Lepas, 11900, Penang, Malaysia |
| Tel: | +604 612 1128 |
| Email: | [email protected] |
| Website: | www.eastin.com |
| Tax: | 10% Service Tax, 6% Government Tax |
| Last Visit: | 20140523 |