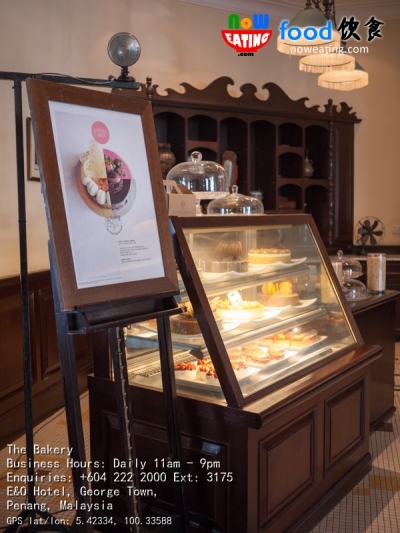 Dessert cafes are mushrooming in  Penang island. Once, I had a slice of cake and a cup of coffee at a new cafe in George Town, and the bill turned out to be RM30+. As a full-time blogger with near-zero income, I told myself, "No way I am going to visit any similar cafe in future!". Until recently, I found a bakery hidden in a five-star hotel providing descent quality cakes fresh from their oven at an affordable price.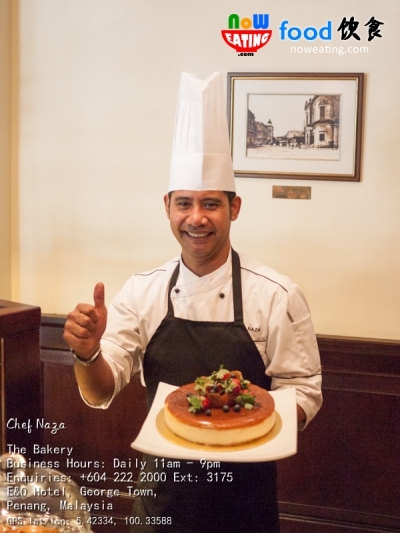 The hotel is nothing more than the Eastern and Oriental (E&O Hotel) at Geroge Town, Penang. It has a bakery called.. uh.. The Bakery in Sarkies Corner at old wing. Sarkies Corner used to be the place for buffet until they moved their buffet to the new wing. It was a pleasure to have Chef Naza to explain his signature cakes to us.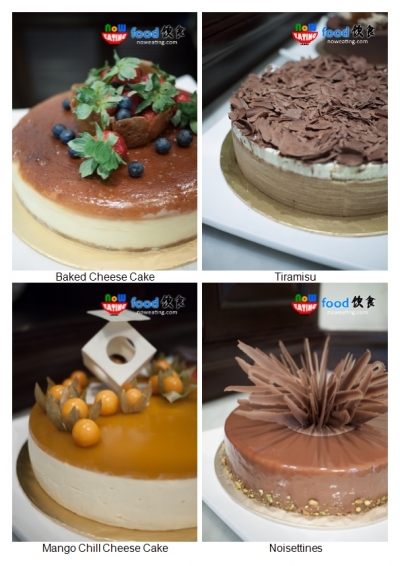 We were being introduced to six types of cakes that day, all using high-quality ingredients and from their hot oven. They basically emphasize on two things – more fruits and less egg white. The objective is simple – to make eating cake an enjoyable moment til the last scope of it and not something for you to suffer at night (e.g. "OMG! Still full! Too stuffy! Need tea!").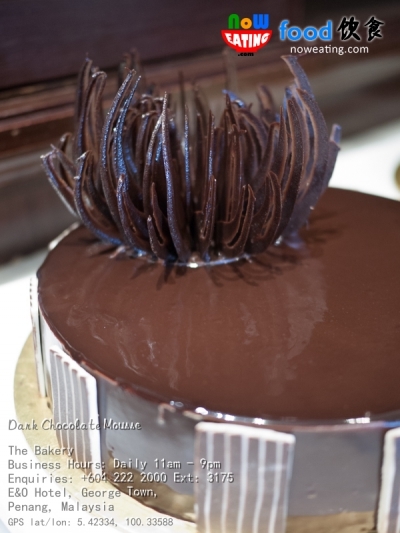 Out of six types of cakes, I brought back a slice of  Dark Chocolate Mousse and Choc Banana Cake. Dark Chocolate Mousse is suitable for chocolate lover as they use high-quality chocolate. It is a bit bitter, not too sweet, and has a bit of liquor taste.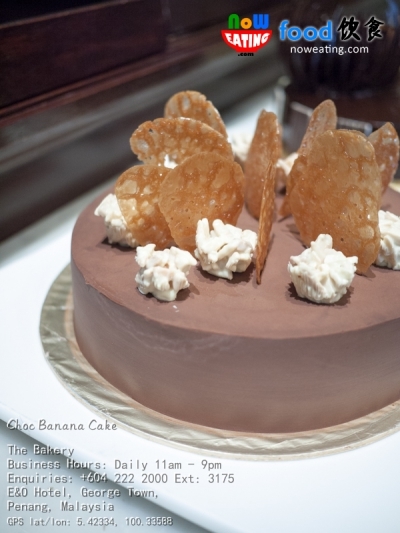 When comes to Chocolate Banana Cake, Secret Recipe still remains the top in my list. Both Secret Recipe and E&O Hotel versions have generous amount of real banana fruit in it but E&O version was a bit dry to my liking.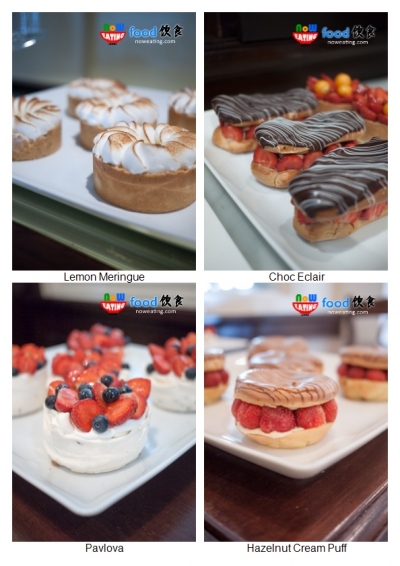 Other than cakes, The Bakery also serve Pavlova, Hazelnut Cream Puff, Choc Eclair, and Lemon Meringue. They look very sweet from outside but actually the sweetness is just OK if you consume together with fruit topping (both strawberry and lemon are sour by nature). Be careful when enjoying Lemon Meringue as you may end up having your eye, nose and mouth merge together due to sourness. They did use generous amount of Lemon puree as the filling.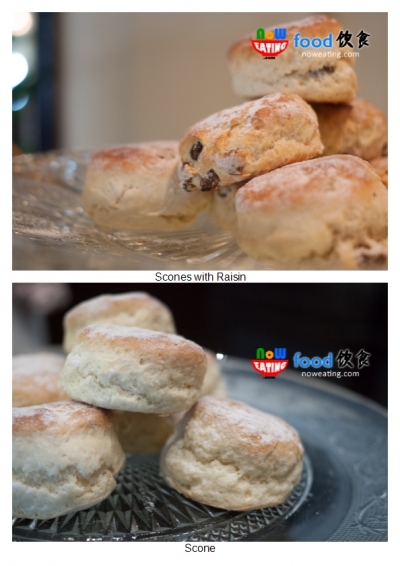 Cakes are available daily from 11am to 9pm at RM12++ per slice. Additionally, add a cup of hot beverage for only RM18++ onward (only available for dining in). Best of all, Happy Hours start from 6pm onward in which you will enjoy 50% off from bakery items. This means that a slice of cake is only priced at RM6++!!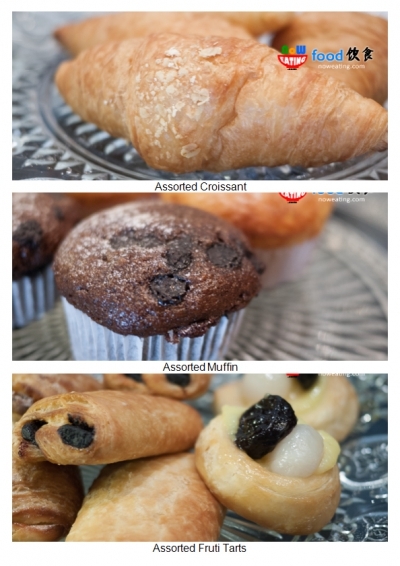 The 50% off includes pastry items such as scones, tarts, muffin, and croissant. Note that their cakes and pastries change daily so those shown in this post may change anytime.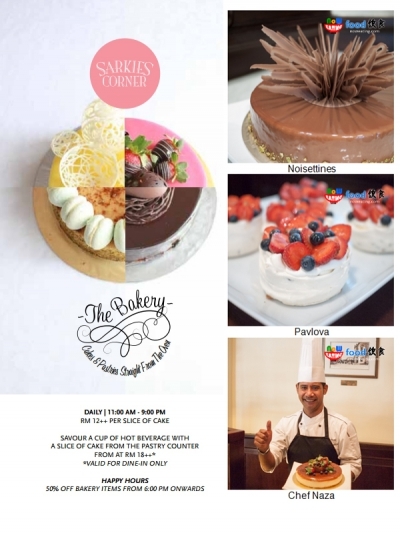 In my opinion, cakes in E&O Hotel can easily beat many new cafes out there thanks to their humble chefs who emphasize on high quality ingredients and to be honest, not all cafes have their own oven. Most of them actually purchased their cakes from third parties such as Humble Beginning and resell them in their premise . Do visit The Bakery if you happened to be in town.
| | |
| --- | --- |
| Place Name: | The Bakery, Sarkies Corner, E&O Hotel |
| Cuisine: | Other |
| Address: | E&O Hotel, George Town, Penang, Malaysia |
| Tel: | +604 222 2000 Ext: 3175 |
| Website: | www.eohotels.com |
| Working Hour: | Daily 11am - 9pm |
| Tax: | 10% Service Tax, 6% Government Tax |
| Last Visit: | 20140601 |