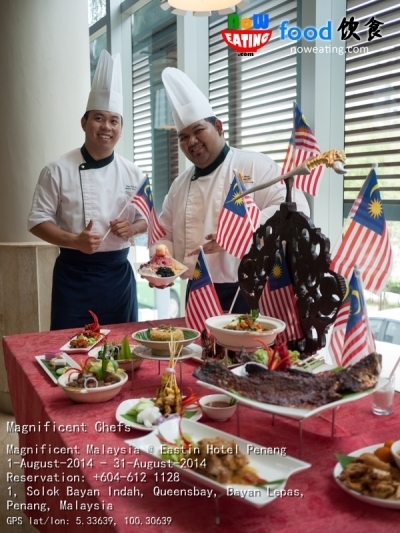 In the month of August, Swez Brasserie at Eastin Hotel Penang is proud to present you flavorsome Malaysian delicacies that reflect the tradition of its multi-cultural cuisine of Malay, Chinese, Indian and Eurasian specialties.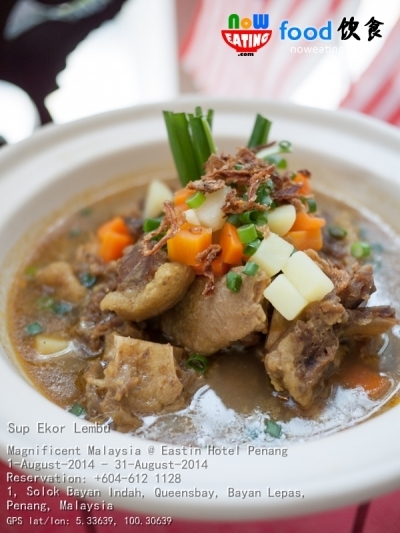 Based on our experience, Malaysian cuisine is usually served in the month of August in conjunction with Malaysia Independent Day (31-August). Our meal begun with appetizers and soup such as Sup Ekor Lembu, Chicken Satay with Condiments, and Pasembur with Peanut Sauce.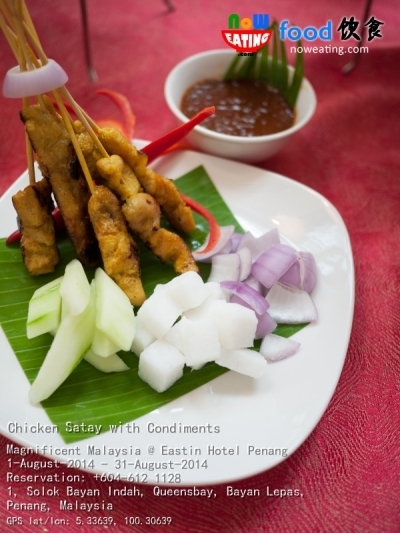 Among appetizers, Chicken Satay with Condiments was our favorite.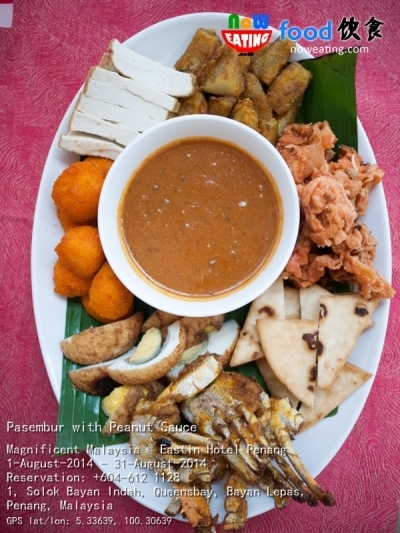 The Pasembur is a "deluxe" edition with added soft-shell crab and fried octopus. Both satay and pasembur are getiing more expensive outside due to increase in cost. It is nice to have both appertizers as part of the buffet items.
Some of the main courses include:
Daging Rendang Tok – spicy beef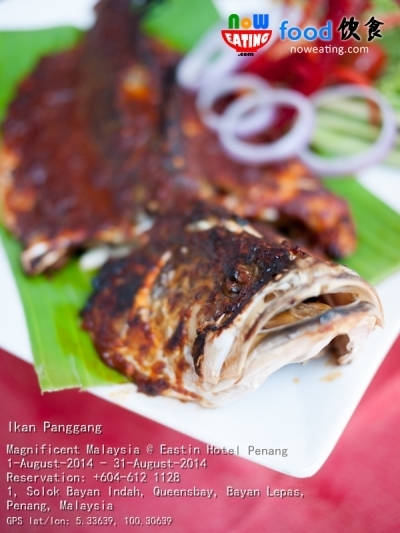 Ikan Panggang – grilled fish with spicy sauce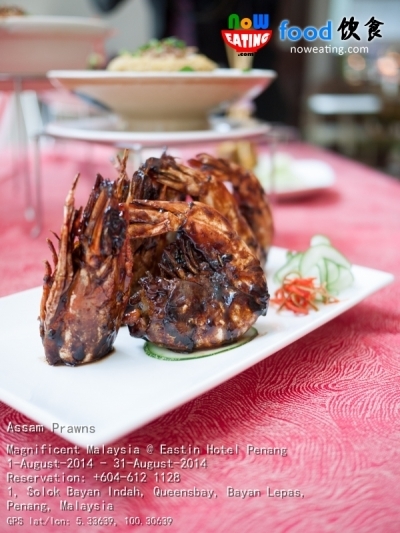 Assam Prawns – prawn sauteed with tamarind sauce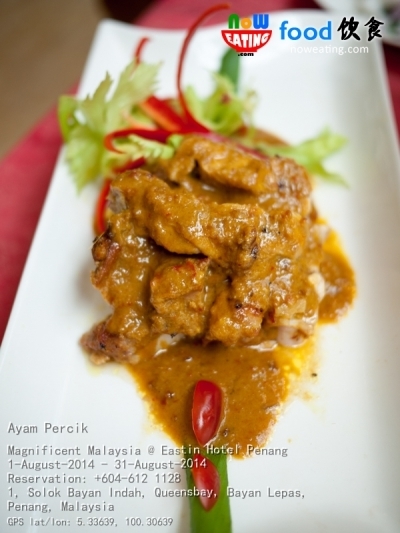 Ayam Percik – grilled chicken famous in Kelantan state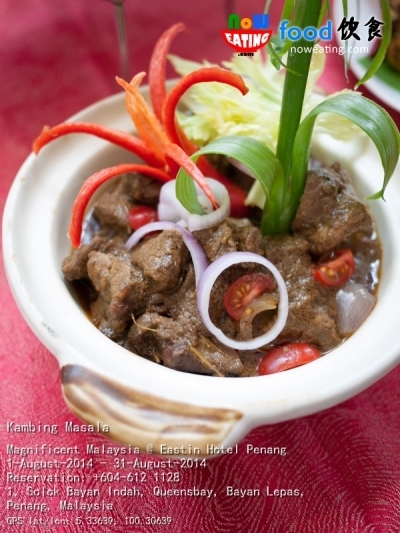 Kambing Masala – stewed lamb with spices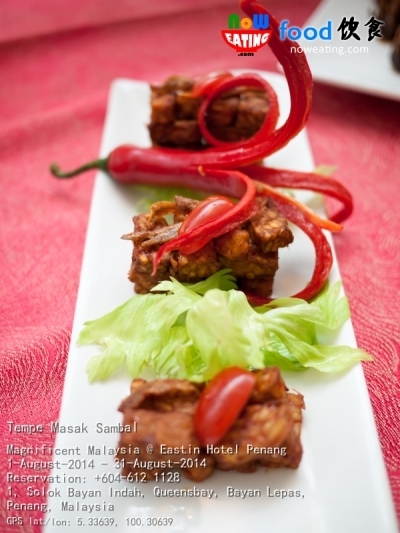 Tempe Masak Sambal – also known as Tempeh. Originated from Indonesia, it is a soy product made of fermented bean.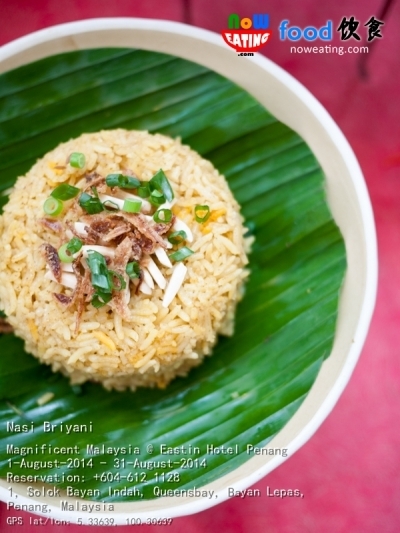 Nasi Briyani – the famous spiced rice with distinctive taste and aromatic flavors.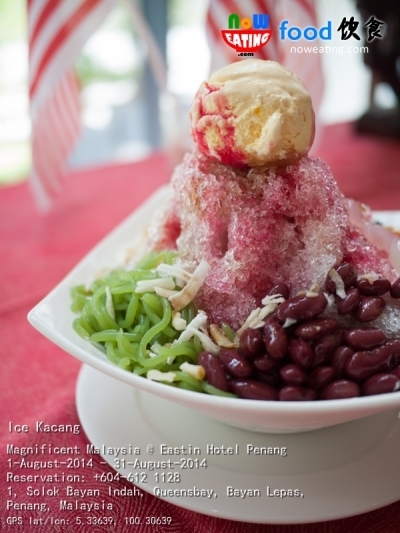 If you follow our Eastin post frequently, you will notice that some dishes are quite similar to July's Ramadhan and peranakan buffet. After all, both are Malaysian cuisine. Last but not least, we had ourselves some desserts such as a bowl of Ice Kacang and some Malay Kuih under this hot and hazy weather.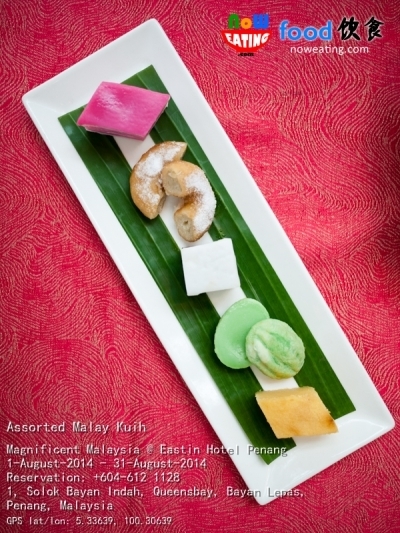 Magnificent Malaysia is available during lunch, hi-tea and dinner at Swez Brasserie from 1-31 August 2014.
Lunch: Monday-Friday
12.00 noon – 2.30pm
RM50++ (adult), RM25++ (Child)
Hi-Tea: Saturday and Sunday
12.00 noon – 4.00pm
RM68++ (adult), RM34++ (Child)
Semi Buffet Dinner: Sunday-Thursday
6.30pm-10.00pm
From RM50++ per person
August Credit Card Promotions
American Express, CIMB Bank, Citibank, OCBC Bank, Standard Chartered Bank, MasterCard Worldwide, Maybank and UOB Bank card members, guests can enjoy 15% discount for Semi Buffet Dinner (Sunday-Thursday) and Weekend (Saturday) from 6.30pm-10.00pm.
For inquiries or reservations, please call Swez Brasserie, Eastin Hotel Penang at +604 612 1128.
| | |
| --- | --- |
| Place Name: | Eastin Hotel Penang |
| Cuisine: | Buffet |
| Address: | 1, Solok Bayan Indah, Queensbay, Bayan Lepas, 11900, Penang, Malaysia |
| Tel: | +604-612 1128 |
| Email: | [email protected] |
| Website: | http://www.eastin.com |
| Tax: | 10% Service Tax, 6% Government Tax |
| Last Visit: | 20140721 |