Note: FREE chicken wing voucher inside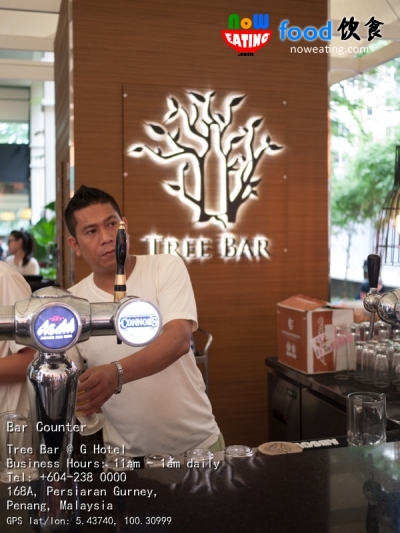 Opened since 19-June-2014, Tree Bar is the new hangout spot in Penang under the management of G Hotel. Our first thought before visiting it was that it might be just a bar with some commercial snacks and beverages but it turned out that we were wrong. Not only they serve one of the best beers in town, but also some homemade bites and buns.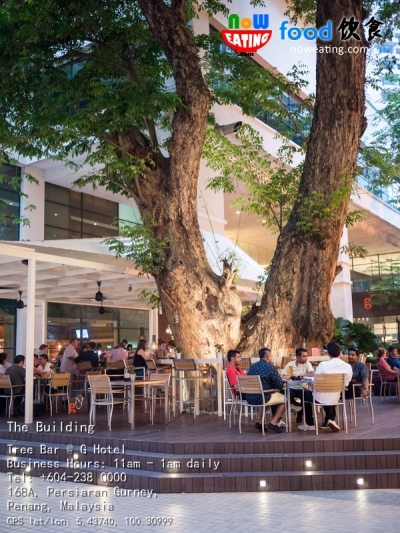 Tree Bar is located at the al fresco area of G Hotel (in front of McD of Gurney Plaza). It is presented by interplay of innovation and tradition. The space offers comfortable bar top seating and also conventional dining tables offering the aesthetics of style and comfort. For those who would like to feel more out in the open, they can sit out at the al fresco area while those who would like to chill in a cozier place or also just in case in rains, there is a shaded section.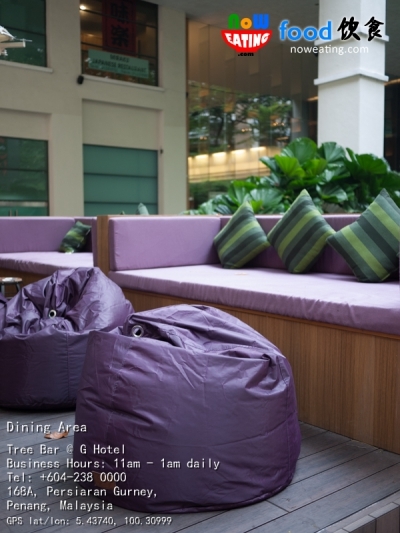 The relaxing environment is exemplified by Tree Bar's upbeat but yet relaxing music (similar to G Hotel lobby) and decor. Bean bag seating area is also available.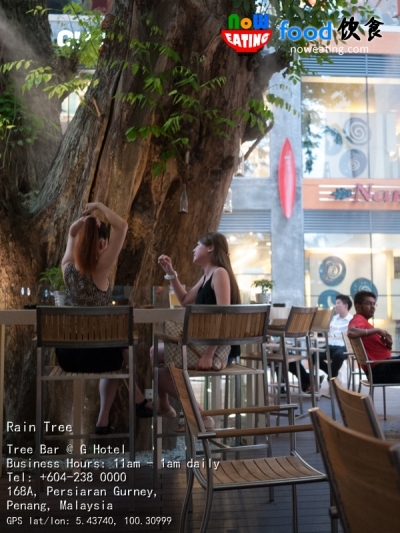 The giant tree in the middle of the bar is called "rain tree" (Albizia Saman) which has been there more than 80 years ago. Its leave folds during the rainy weather and in the evening, hence the name that is known to the locals – "five o'clock" tree". G Hotel makes good use of it by killing two birds with one stone – providing a hangout place for girl…  I mean guests while saving the environment.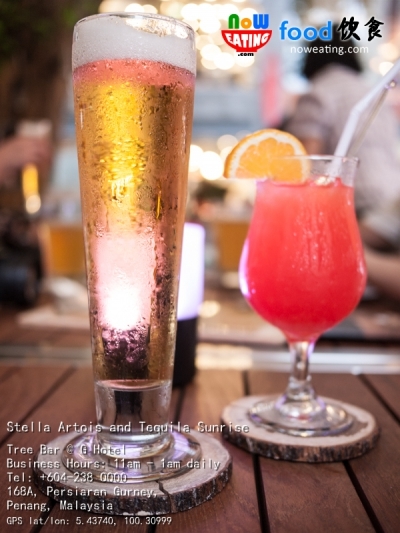 The bar opens daily from 11am until 1am, which is a plus considering that most cafes in shopping malls close at 10pm. Similar to most bars, happy hours are applicable in Tree Bar as well. Before 9.30pm, buy one glass of beer and get two for free. After 9.30pm, buy one and get one free.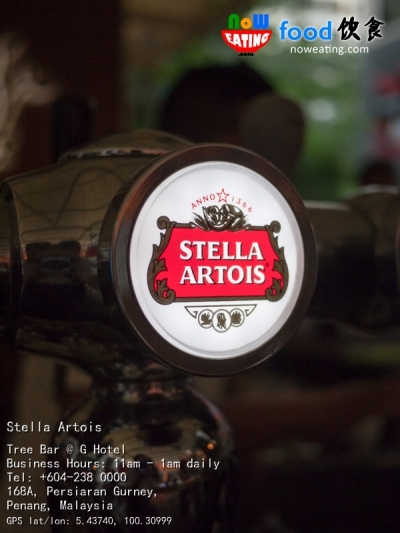 It was our first encounter with Stella Artois (RM43++ per glass) – a pilners beer from Belgium since year 1926. We were quite enjoying it due to it smoothness with little to none bitterness. According to the host, G Hotel is probably the only one serving Steall Artois in Penang as licensing is difficult to come by.  Other drought beers available include Carlsberg, Asahi, Connor's Stout, Lowenbrau, and Hoegaarden. Cocktails, whiskey, liqueurs, and liquor are also available.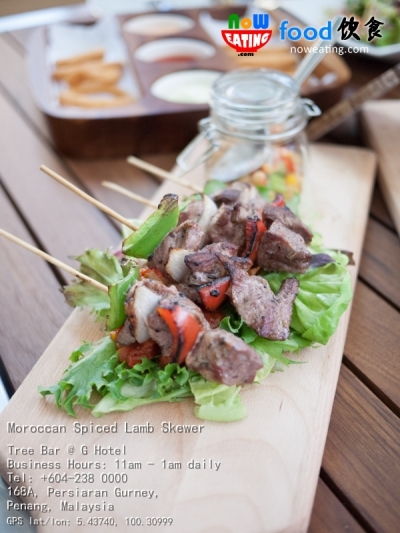 For those who love to munch while having a sip, there are bites such as Moroccan Spiced Lamb Skewer (RM21++) with spiced chickpea salad and eggplant caponata. It is also the best seller in Tree Bar.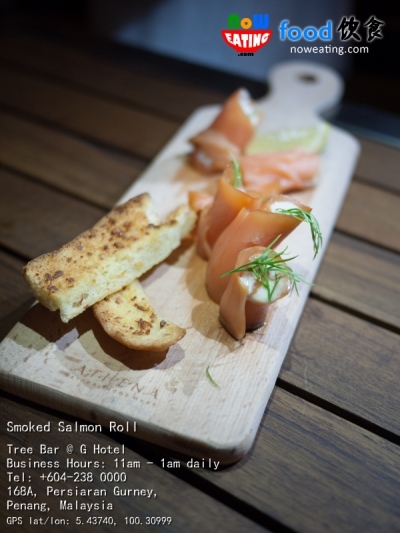 The second bestseller goes to Smoked Salmon Roll (RM28++) which turned out to be our favorite as well.  The salmon slice is rolled with horseradish cream, capers and dill.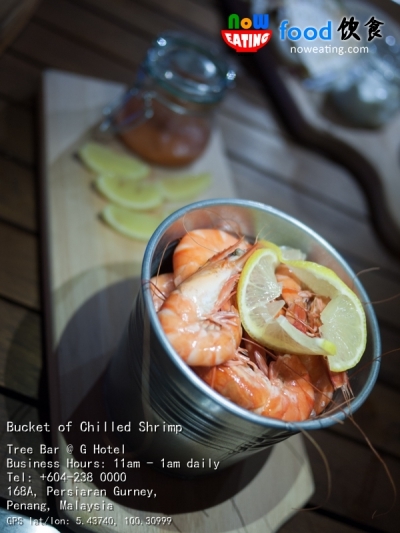 Tree Bar is also perhaps the only place serving Bucket of Chilled Shrimp (RM25 for 250g/RM49 for 500g). Usually, both Smoked Salmon Roll and Chilled Shrimp can only be found in hotels' buffet but after all, this is G Hotel.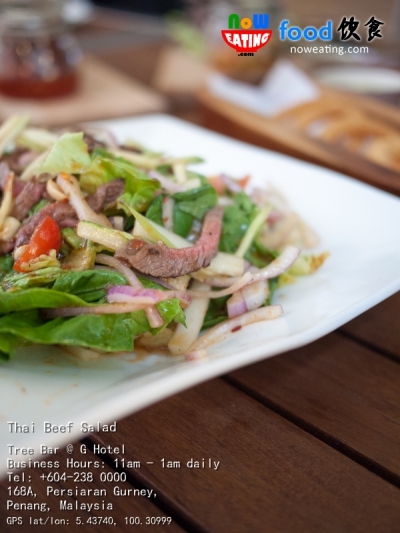 For beef lover, Thai Beef Salad (RM16++) made with Tree Bar's own recipe containing beef slices, mango, lime leaf, Thai basil leaves, onion, and chili marinated in plum mango sauce is a must-try.
Another green item was Nicoise Salad (RM16++) composes of salad of tomatoes, tuna, hard-boiled egg, and olives. If you notice carefully, most of the items come with a lovely small jar. Depend on which item you ordered, the jar may contain dipping or dressing sauce using Tree Bar's own recipe.  We particularly like the dressing sauce inside Nicoise Salad's jar.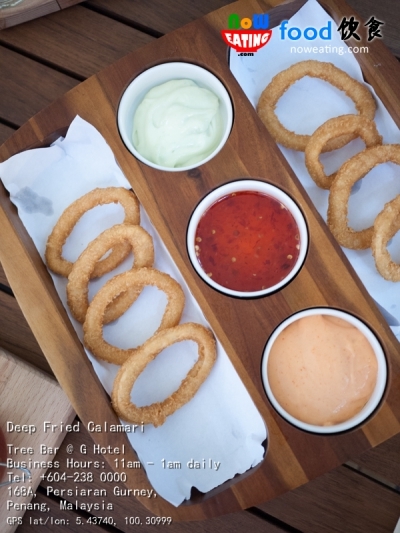 Another uniqueness is their wooden food tray with finger food on both side and dipping sauces in the middle such as Deep Fried Calamari (RM22++). It was custom ordered by G Hotel to fit in their wooden bar concept.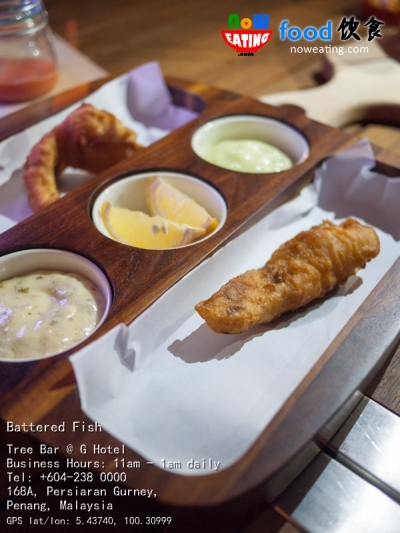 This Battered Fish (RM21++) served with wasabi aioli is a bit lonely in its big tray.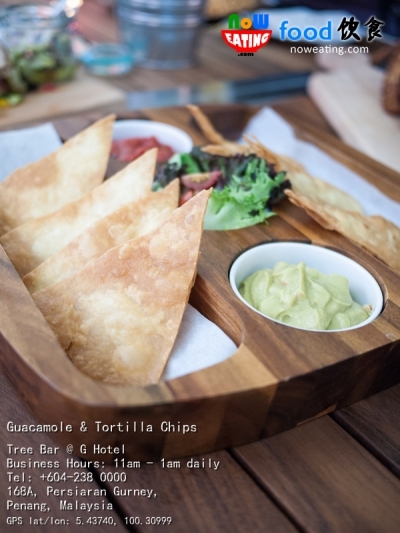 Guacamole & Tortilla Chips (RM15++) served with pico de gallo – Mexican fresh salad made from chopped tomato, white onion, and chilies. Comes with avocado and salsa sauces.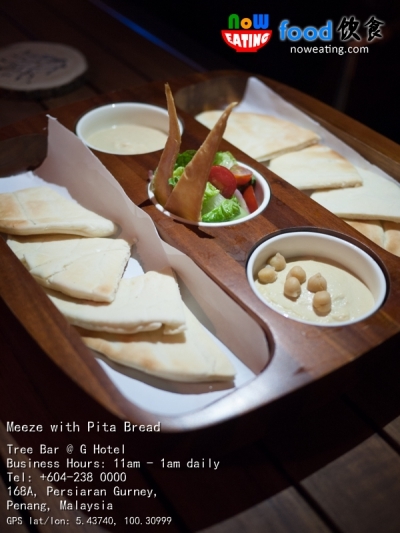 Not a Mexican fan? No problem. Meeze with Pita Bread (RM16++) is an alternative. Comes with Hummus – dipping sauce made with cooked and mashed chickpeas, and baba ganoush – dipping sauce made with cooked eggplant, onion, tomato, olive oil and various seasonings.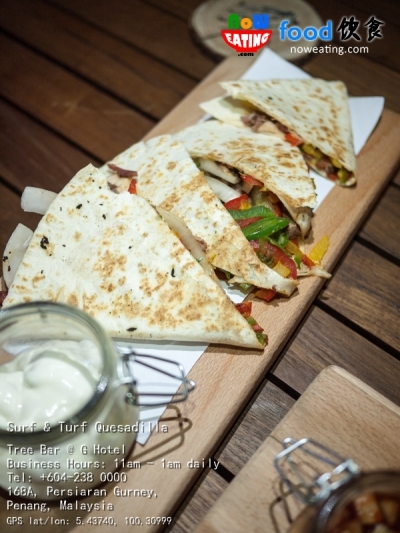 Surf & Turf Quesadilla (RM32++) is made of grilled steak, lobster, mozzarella cheese, tomato, beef bacon lardons with garlic olive aioli.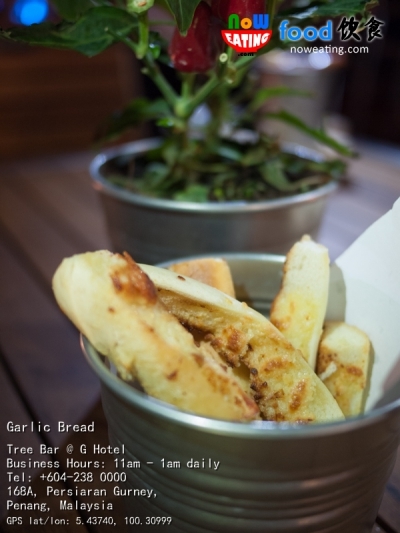 Another finger food is a bucket of Garlic Bread (RM7++). Best dipped with a bowl of Cream of Wild Mushroom (sold separately).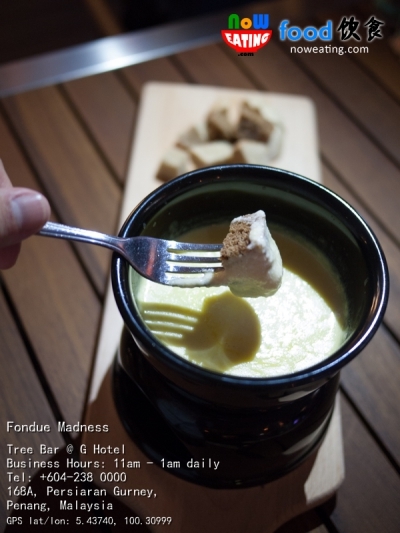 Alternatively, try the "adult" version of chocolate fondue – Fondue Madness (RM25++). Comes with bread cubes and either beef or cheese (gruyere, emmental and swiss cheese) dipping sauce heated in a ceramic bowl.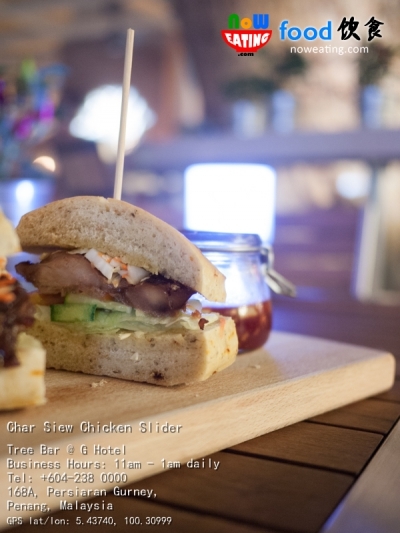 Char Siew Chicken Slider (RM18++) with nice cucumber chili sauce and Asian peanut slaw. Good for sharing. Alternatively, you may go for the big bun series which will be covered next.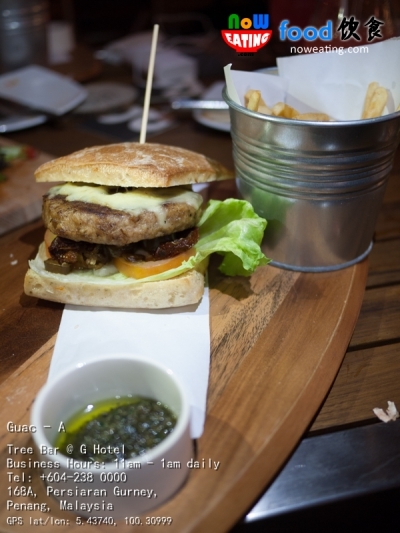 Tree Bar also serves six choices from the section of "Big Buns". Each choice comes with different kind of condiments and a choice of breads. Guests can also select from beef or chicken sausage or burger party. It comes with a big basket of truffle fries, French fries, or spicy wedges in which we had hard time finishing it.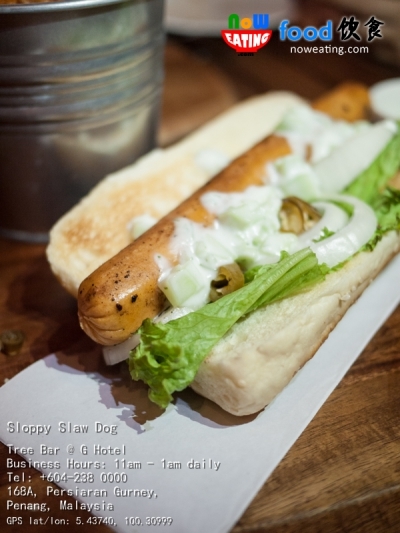 We had ourselves a "premium" hot dog – Sloppy Slaw Dog  (RM18++) with apple horseradish slaw, cheddar cheese, and whole grain mustard. We like the way fresh ingredients are used in their hot dog. Chili sauce is always available in case the bun appears to be too mild for you.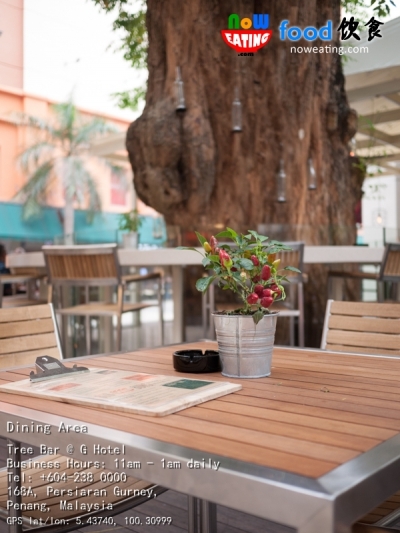 As a whole, Tree Bar is a new and recommended chillax place along Gurney Drive with decent beers and food. Even if you are not an alcohol taker, various coffee, tea, fruit juice and desserts are also available.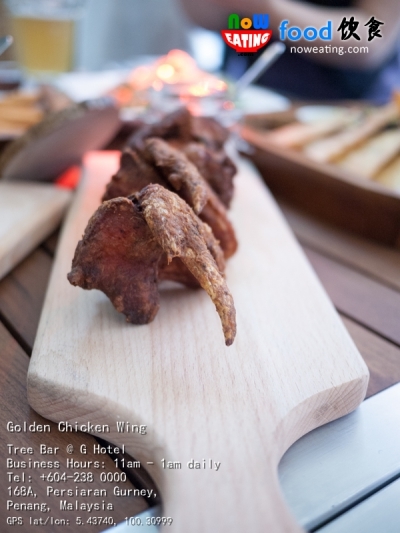 In conjunction with Tree Bar opening and as a token of appreciation to Now Eating, for the first time in history, Tree Bar is giving away free Golden Chicken Wing voucher worth RM21++ to you! Applicable for ANY purchase which means you can even order just a soft drink and have this chicken wings FOC! Just download and print out the voucher below (right-click on it > "Save link as" in Chrome) to enjoy the offer on or before 31-August-2014. Be sure to read the fine print in the voucher.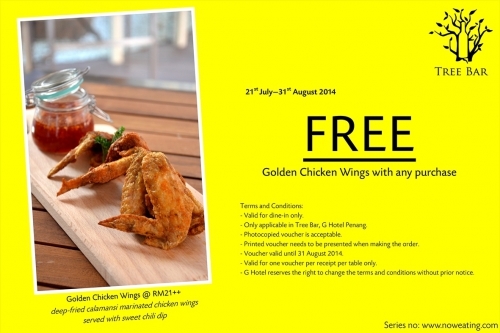 | | |
| --- | --- |
| Place Name: | Tree Bar |
| Cuisine: | Western |
| Address: | G Hotel, Persiaran Gurney, 10250, Penang, Malaysia |
| Tel: | +604-238 0000 |
| Website: | http://www.ghotel.com.my |
| Working Hour: | 11am - 1am daily |
| Tax: | 10% Service Tax, 6% Government Tax |
| Last Visit: | 20140721 |