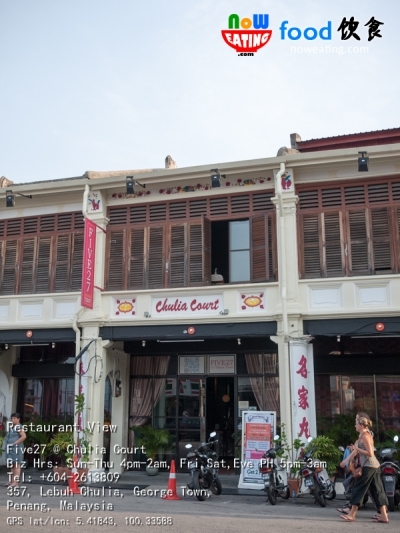 Named after the latitude of Penang (approximately 5.27), Five27 "heritage nightclub" is previously located at Strait Quay, Tanjung Tokong and was moved to Chulia Court at Chulia Street on 27-Jan-2014. We had an opportunity to visit it and try out some of their house specialties this week.
The Building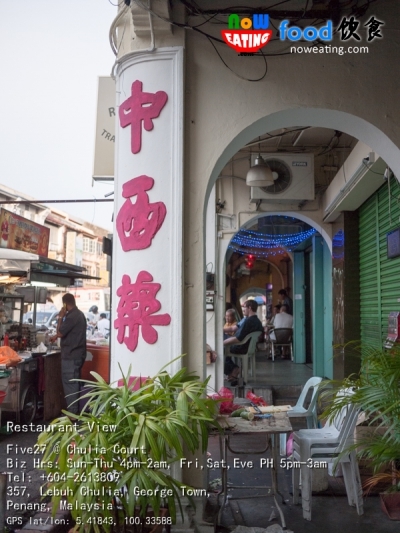 Five27 occupies three heritage buildings in a row. They keep the old structure, such as the pillars, wooden floor and windows intact. Assuming you are coming from the jetty and turn into Chulia Street, the building is just right after Love Lane junction.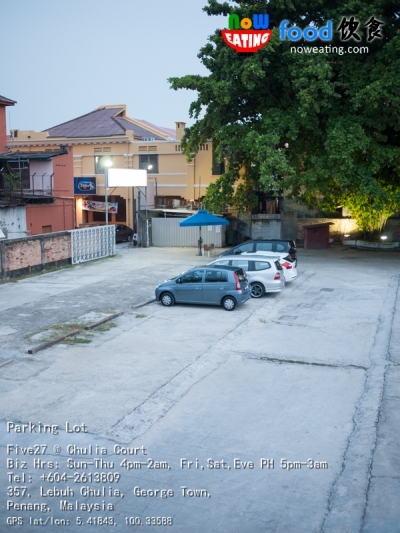 Parking-wise, some customers (including us) do not aware that there is an ample parking lot right behind Five27. The parking lot is owned by Five27 and you can claim back the parking fee of RM3 (RM5 during weekend) when dining in Five27. The entrance, which is a small alley to the car park is just next to Tek Sen Restaurant – the famous Chinese Choo Char restaurant always full of customers for no reason at Lebuh Carnovan.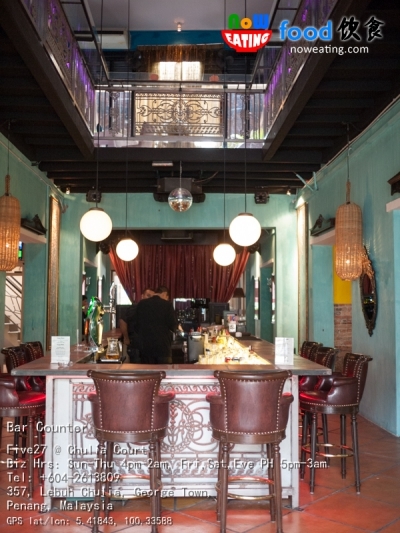 Five27 Facebook page proclaims itself as "heritage nightclub". The "nightclub" keyword may give people a wrong impression that this is a dancing place with loud music and smoke stains. In our personal opinion, it is more like a cafe and a lounge. A bar counter is in front of you the moment you walk into their main entrance. Behind the bar counter is a stage with live performance during weekend and according to the supervisor, they usually do not set the volume too high as this will disturb patrons having dinner there.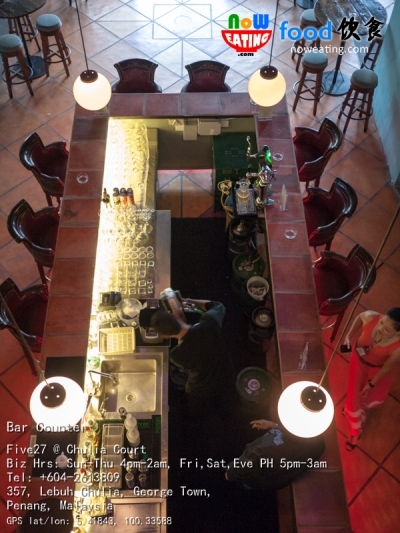 The building consists of two floors with ground floor being a bar and first floor being a dining floor. Effective from 1-Jul-2014, below is their working hours:
Sunday to Thursday 4pm – 2am
Fri-Sat, Even of Public Holiday 4pm-3am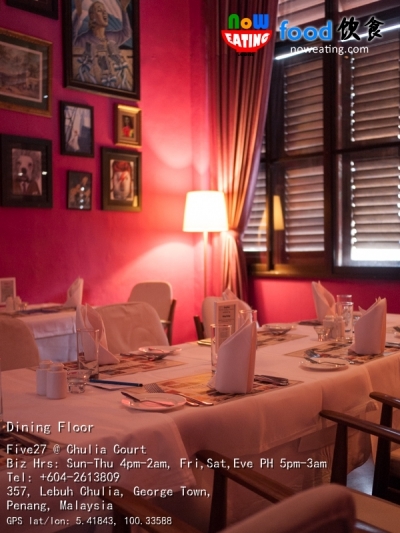 On top of that, the dining floor is only opened from 6.30pm to 11pm. If you happened to arrive between 4pm-6.30pm, you can actually have your early dinner at ground floor. A supper menu will be available from 10pm to 1am.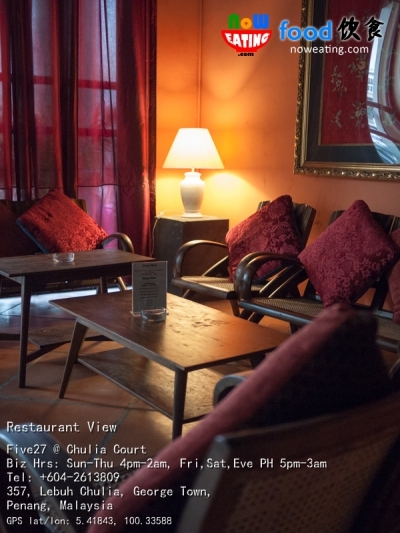 The bar floor is partitioned into three sections based on wall color: yellow room with bar tables and stools, green room with bar counter, and orange room with VIP seating. Some furniture are imported from India.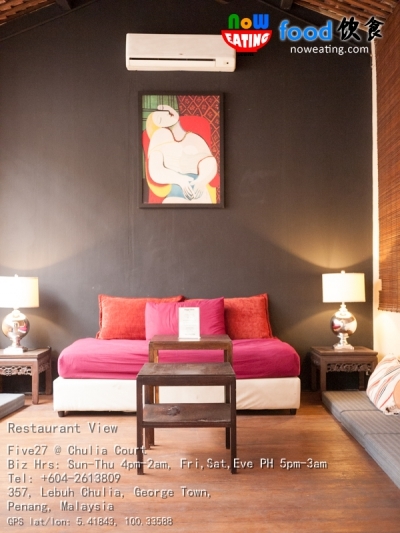 The dining floor has two dining area – private area with sofa and tatami suitable for group event, and air-conditioned dining area with proper dining tables.
The Food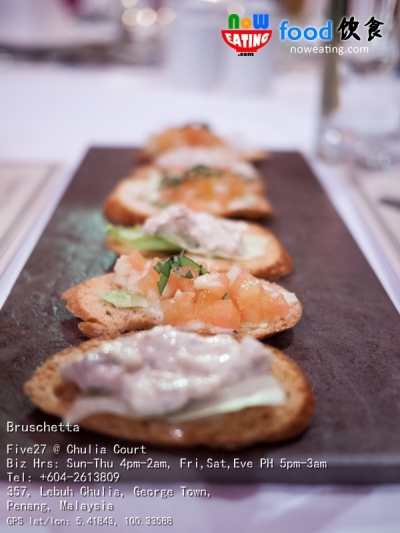 Our dinner begun with in-house Bruschetta – a complimentary item from Five27 for diners.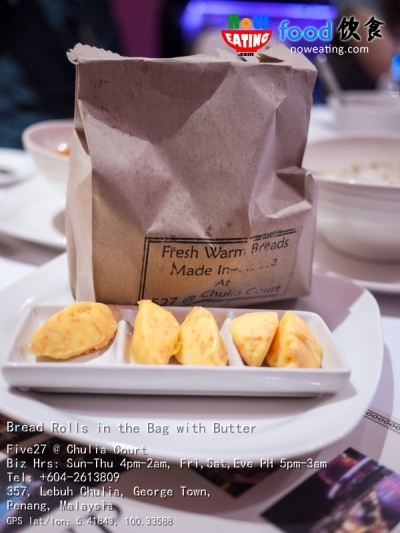 Another complimentary item was homemade Bread Rolls in the Bag with Butter. According to the supervisor, most of their food are actually homemade, including bread itself.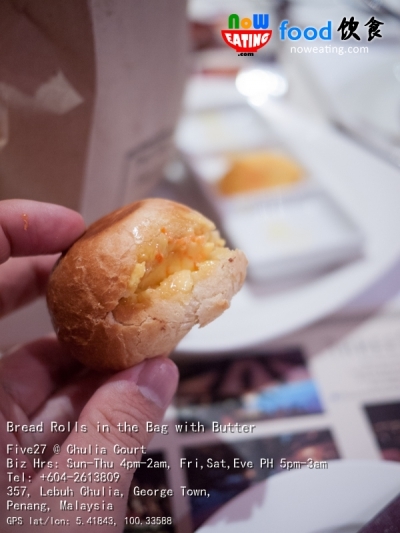 The bread rolls are intentionally put in paper bag to keep warm. The butter is pre-sliced into small cube for easier "insertion" into the bread roll, and it melts immediately due to high temperature. A clever idea.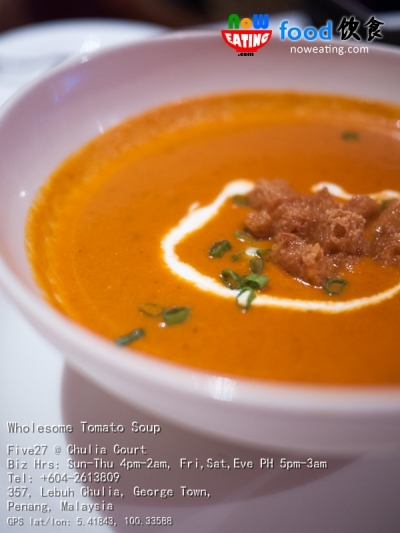 Depend on personal liking, the bread rolls can be dipped with soup such as Wholesome Tomato Soup (RM12++) or Mushroom Soup (RM14++) (ordered separately). For those with acidic taste bud, the tomato soup is a good choice.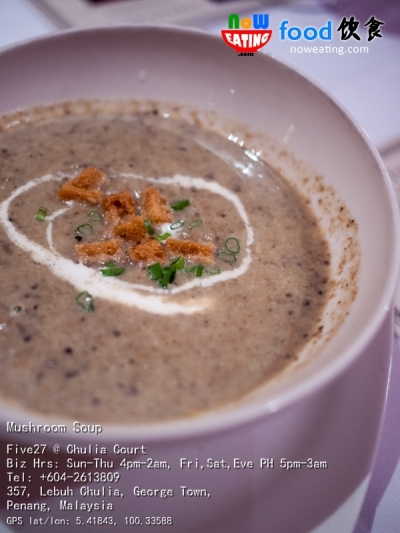 For those prefer creamy soup (including ourselves), Mushroom Soup is the soup to go.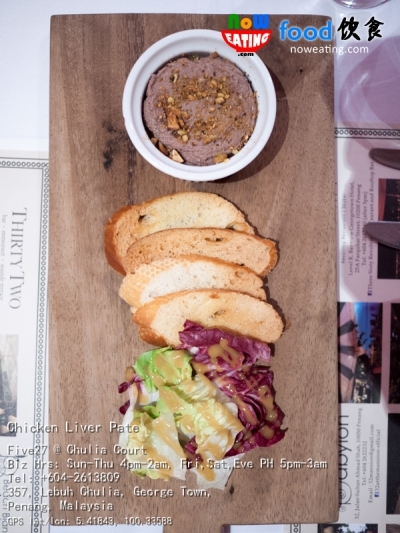 Looking for something exotic? Try the Chicken Liver Pate (RM15) with pistachio on toasted crostino. The chicken liver is ground into paste and all you need to do is to spread it on the crostino just like peanut butter.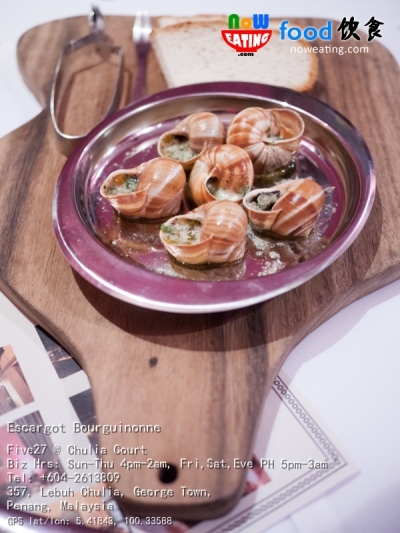 Even "better", Escargot Bourguinonne (RM30++) – snails in parsley & garlic butter. A tiny folk and clamping tool will be provided to folk out the flesh hidden inside the shell. It may take some effort but the outcome is rewarding. Eating snails may sound irritating for some but taste and texture-wise, it is just like eating clams.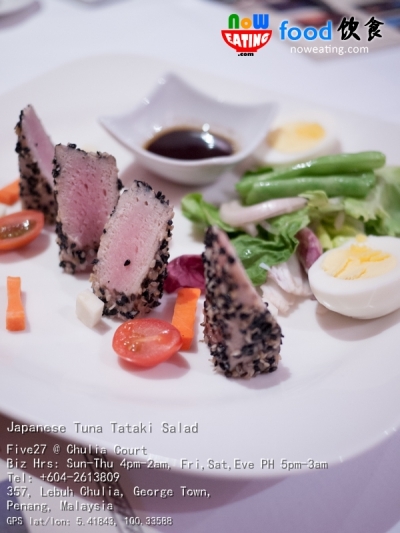 Other starters include Japanese Tuna Tataki Salad (RM30++) – pan seared fresh tuna rolled in sesame seeds with mixed salad leaves, fresh beans, pearls shallots & boiled egg in Japanese style ponzu dressing…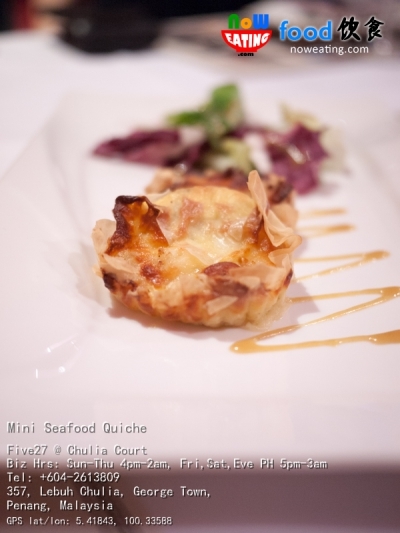 … and Mini Seafood Quiche (RM20++) in filo pastry tartlet. Among these starters, our favorite one was Japanese Tuna Tataki Salad thanks to its unique dipping sauce made of sesame oil and black pepper.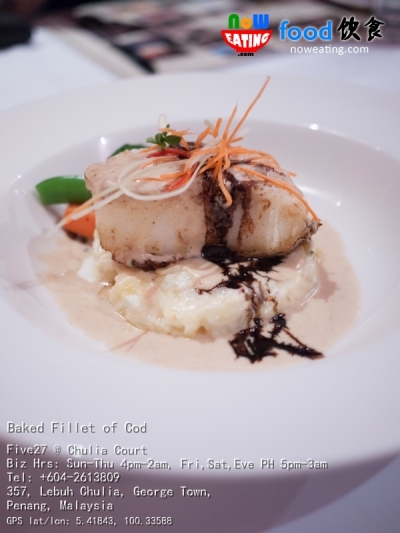 As for the main course, we had Baked Fillet of Cod (RM50++) on a bed of potato salad and peanut butter sauce.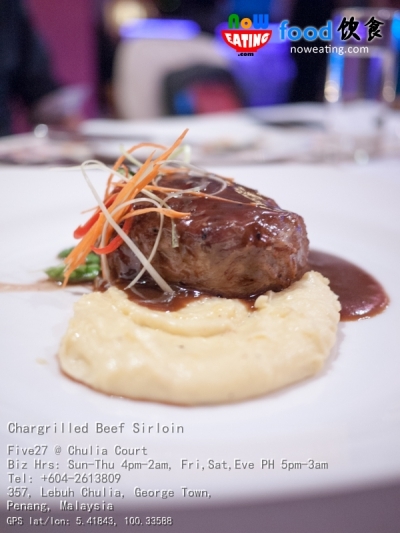 Also available is Chargrilled Beef Sirloin (RM48++) with parsnip mash, thyme sauce and green vegetables.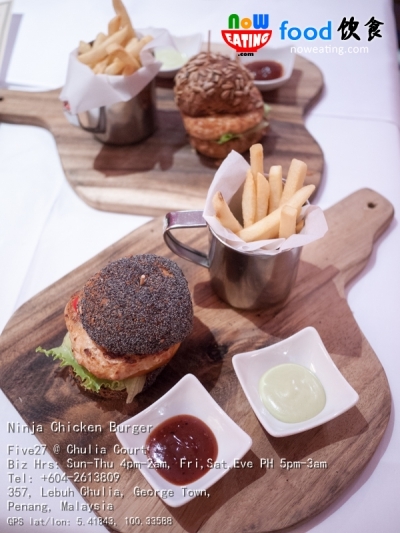 Five27 does serve burger as well, such as Ninja Chicken Burger (RM29++) – a meaty chicken burger zinging with lemongrass, chili and sweet pickled ginger with a stealthy wasabi mayonnaise for the fries. Instead of using de-boned chicken thigh, minced chicken meat is used as patty instead, making this a fusion burger (e.g. Chinese style patty, Japanese ginger and wasabi and Western bun).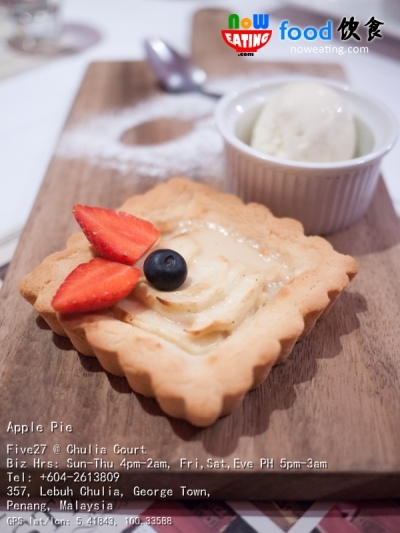 Last but not least, we had some desserts which usually come with set dinner, including:
1) Apple Pie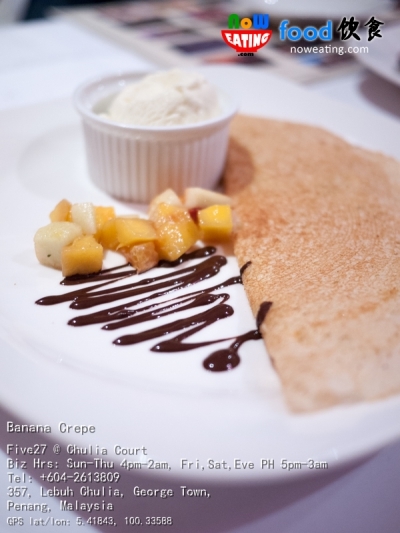 2) Banana Crepe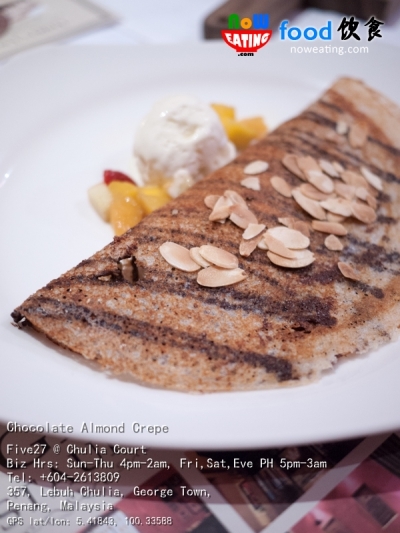 3) Chocolate Almond Crepe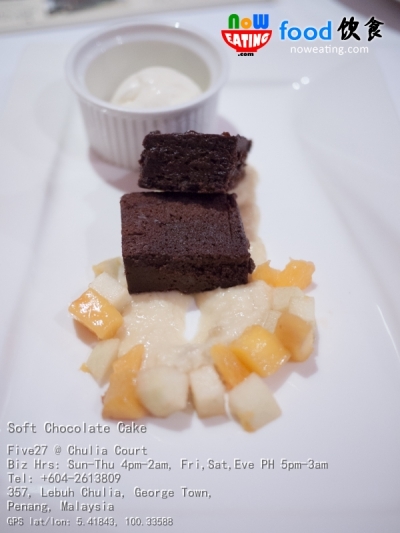 4) Soft Chocolate Cake
All desserts come with a scope of vanilla ice cream. Our top pick was Soft Chocolate Cake.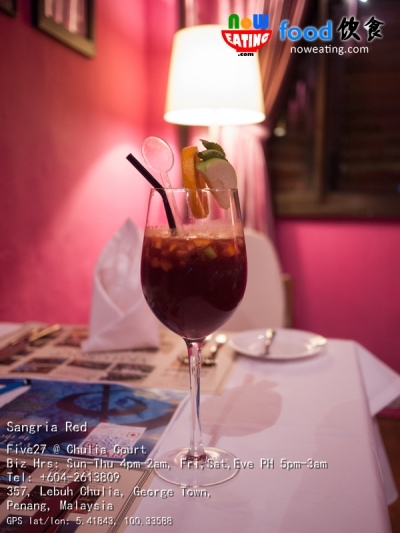 We almost forgot that we were also quite enjoying their house specialty – Sangria Red (RM25++ per glass). Directly extracted from Wiki: Sangria is a typical beverage from Spain and Portugal. It normally consists of wine, chopped fruit, a sweetener, and a small amount of added brandy.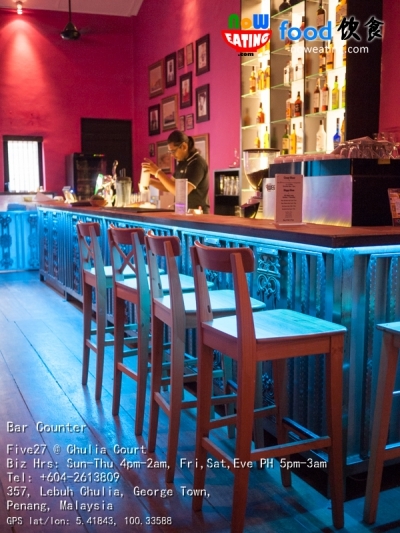 As a whole, Five27 at Chulia Court is a new chillax place in the heart of George Town, Penang with decent food, friendly service and live band performance. Special thanks to Micke for hosting us that evening.
Place Name:
Five27
Cuisine:
Western
Address:
357, Lebuh Chulia, George Town, 10200, Penang, Malaysia
Tel:
+604-2613809
Website:
http://five27.asia/
Working Hour:
Sunday to Thursday 4pm - 2am
Fri-Sat, Even of Public Holiday 4pm-3am
Tax:
10% Service Tax, 6% Government Tax
Last Visit:
20140714