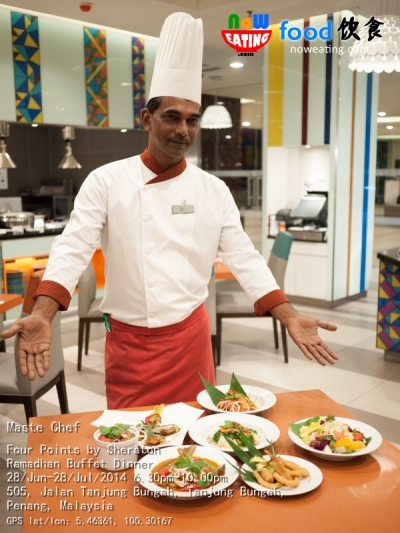 This Ramadhan month, bring your friends and family to The Eatery in Four Points by Sheraton Penang to enjoy special Ramadhan buffet with tantalizing local and international flavors and simple pleasures for the palate.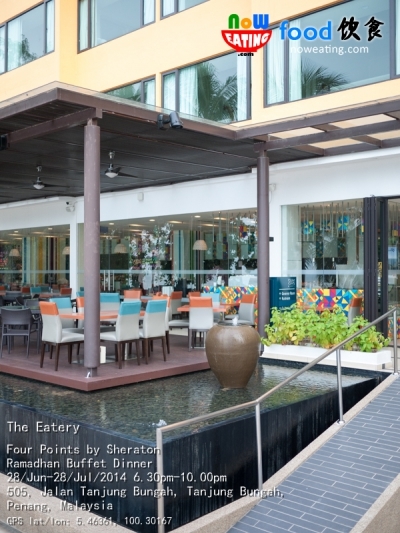 Boasting a capacity of 150 persons, The Eatery is an excellent beachfront relaxation spot for small-get-togethers and coffee connoisseurs. Designed for customer's comfort, The Eatery offers two dining spaces: vibrant dining indoors and scenic alfresco dining outdoors. Food, including this Ramadhan buffet, are usually served indoor but you are always welcomed to bring your food outside to enjoy the sea breeze.
For Ramadhan buffet, diners can select from an array of Traditional Malay, Chinese and Western dishes together with sinfully-delicious desserts to complete dining experience at the hotel. As a starter, have some raw vegetables fresh from market. Best dip with assorted sambal.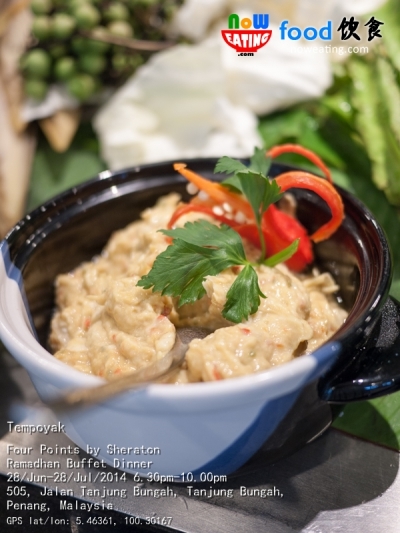 A sambal caught our attention was Tempoyak – fermented durian popular in Perak and Pahang. The durian flesh is usually added with salt and stored for 3 – 5 days for fermentation process before serving. It has moderate durian taste and at the same time, quite sourly as well.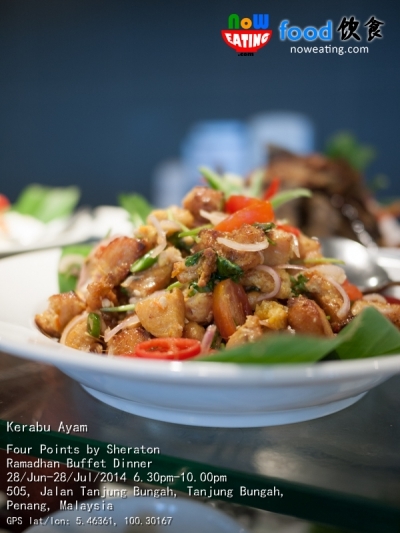 Assorted Kerabu (salad) such as  Kerabu Kacang Botol, Kerabu Su Un, Kerabu Selom, Kerabu Ayam, Kerabu Telur, Acar Buah, and Jelotoh are also available. Our favorite one was Kerabu Ayam.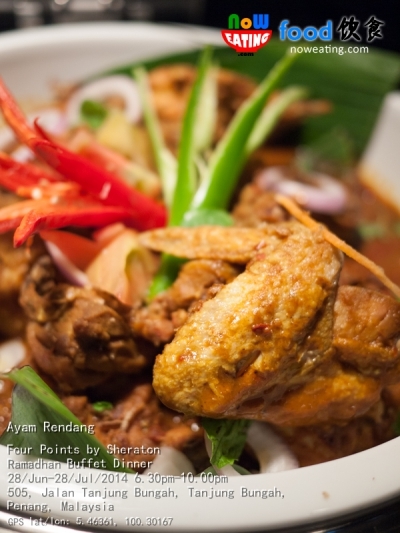 As for the main course, some signatures dishes include Wok Fried Black Pepper Beef, Ayam Rendang, Hainanese Chicken Rice, Wood Fired Pizza, Assorted Dim Sum and Pau and the list goes on.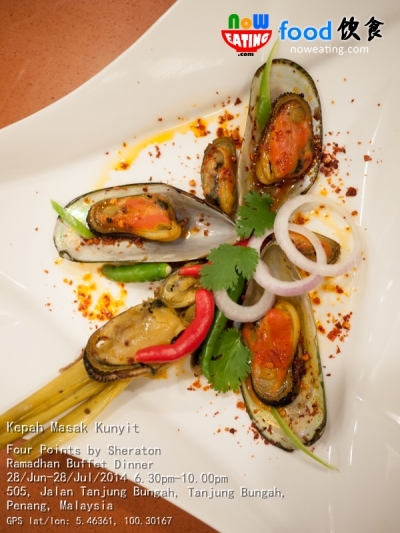 Our favorite hot tray item was Kepah Masak Kunyit (Stir-Fried Mussel with Turmeric).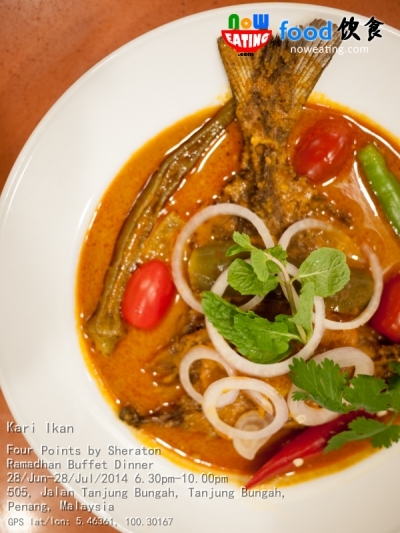 This Ramadhan buffet may not be the buffet with the most varieties but each items are well-prepared using high quality ingredients. Sometimes it is better to have few good quality food than many average food.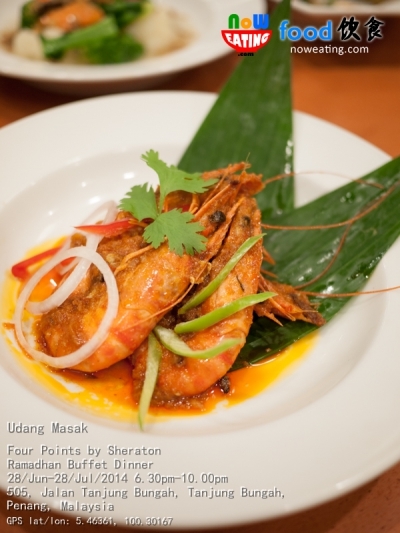 Expect many curry items such as Ayam Masak Gulai, Kari Ikan, Daging Apor, and Udang Masak.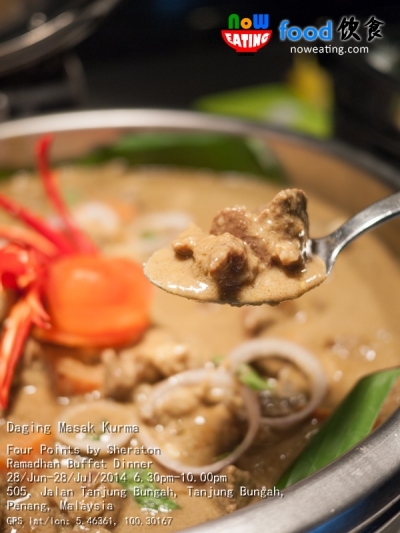 In general, you will find many authentic Malay cuisine here with some Chinese, Indian, and Western cuisine. Total of 3 menus are available on rotating basis to ensure that guests always have new food to try out during their subsequent visit.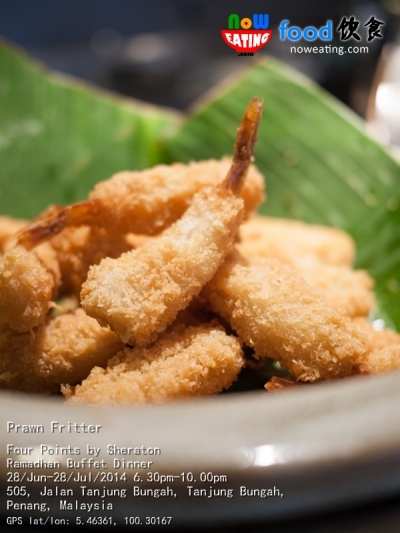 Not a curry lover? No problem. The Eatery also provides some western cuisine such as squid rings and prawn fritters. Both items finished fast during our visit.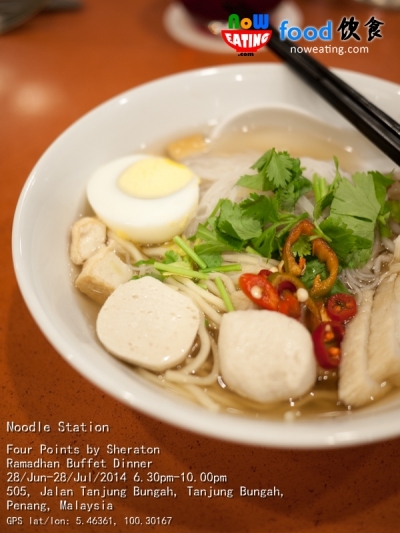 Noodle station will serve Hokkien prawn mee soup, Assam laksa with condiments, and mee rebus on rotating basis.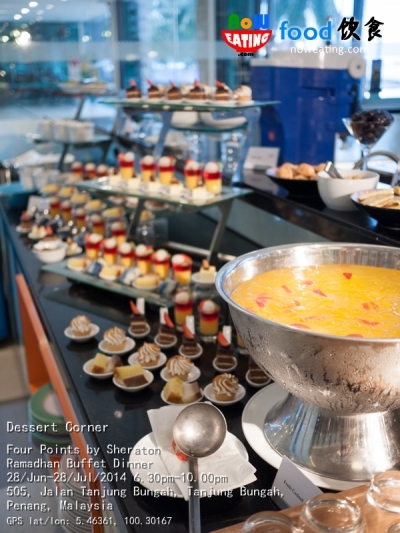 As for the dessert, variety of Malay kuih, layer cake, mango pudding in glass, ice cream with condiments, and etc are available.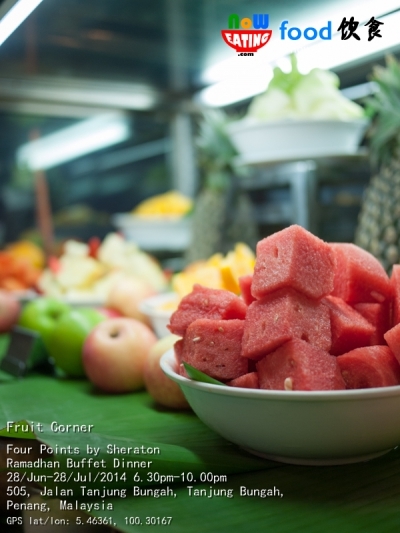 Fruit lovers will sure keep on returning to their fruit station for fresh watermelon, honeydew, papaya, pineapple, rambutan, and etc. Dipping sauces are available and they are hidden right below the fruit tray.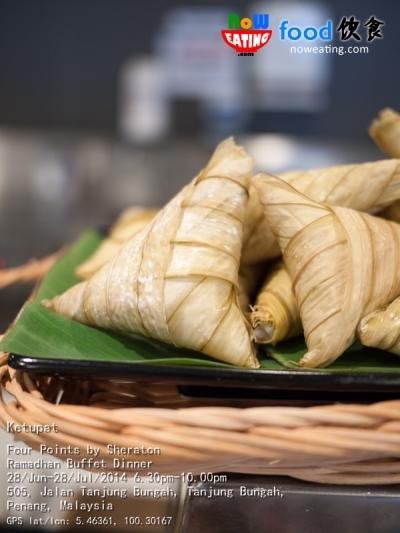 As a whole, Ramadhan buffet at Four Points by Sheraton Penang provides customers with authentic and delicious buffet spread especially on Malay cuisine. Pricing-wise, it is also well-positioned among other hotels nearby. The buffet is available from 6.30pm – 10.00pm from 28-Jun – 28-Jul-2014 and is priced at RM78+. SPG (Starwood Preferred Guest) will entitle for 20% off. Certain credit cards enjoy up to 50% off (that will be only RM39+ for a four-star hotel food!). For more information on dining offers, kindly visit: http://www.fourpointspenang.com/diningoffers.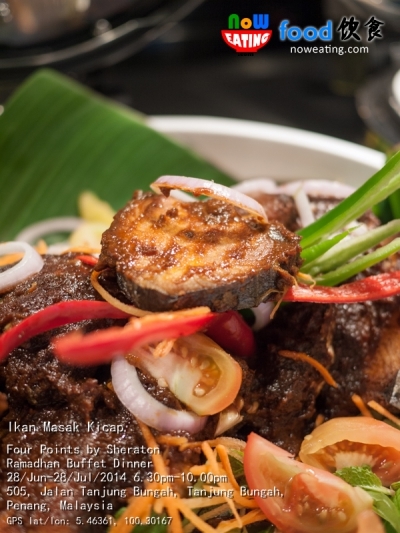 For reservation, kindly call +603-3718888 or reserve online at http://www.fourpointspenang.com/eatery
| | |
| --- | --- |
| Place Name: | Four Points by Sheraton |
| Cuisine: | Buffet |
| Address: | 505, Jalan Tanjung Bungah, Tanjung Bungah, 11200, Penang, Malaysia |
| Tel: | +604-3718888 |
| Email: | [email protected] |
| Website: | http://www.fourpointspenang.com |
| Working Hour: | 6:30pm - 10:00pm |
| Tax: | 10% Service Tax |
| Last Visit: | 20140710 |