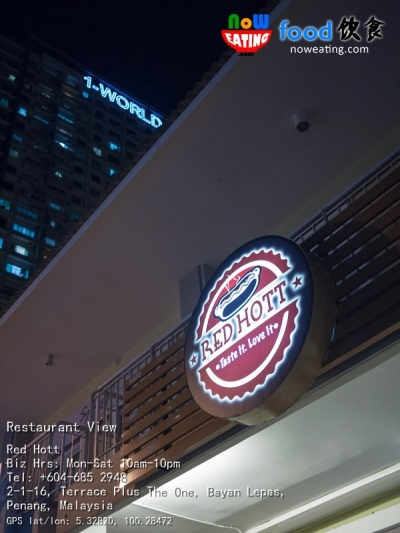 Red Hott (formerly Red Hot) at The One (opposite of Mayang Mall/D'Piazza), Bayan Baru, Penang  is the only hot dog specialist in Penang and perhaps in Malaysia as well. Our first visit was back in April 2013.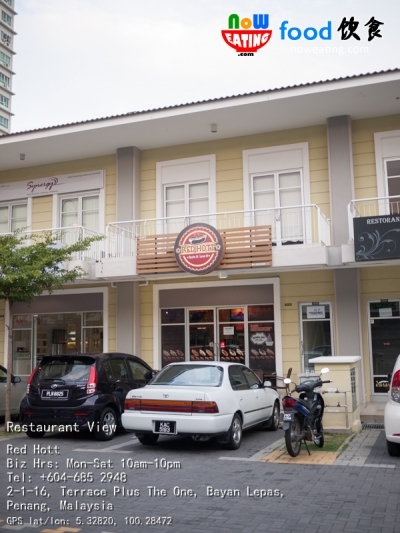 To be frank, we hate visiting The One due to parking issue. Each shop has it own parking space in front of their shop and they are only reserved for their customers. The temporary car park facing toward PDC was bumpy, far and dark at night. Fortunately, according to Red Hott owner, there are actually some parking space available around Red Hott in the evening as some shops are closed.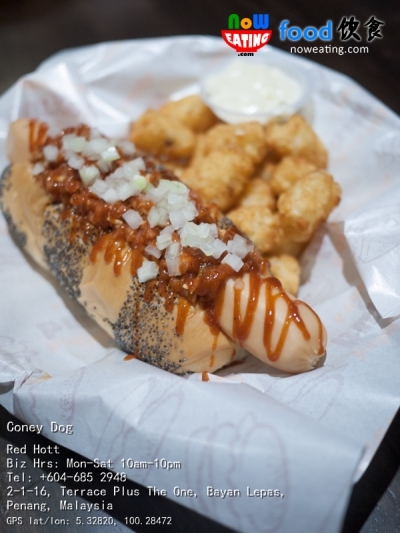 Red Hott currently offers 10 types of Hot Dog, from the classic Coney Dog (Coney Chicken, Onion, BBQ sauce) to the Ultimate Dog (Gherkin, Cheddar Cheese, Pepperoni Chicken, Mustard, BBQ sauce, Onion).  Both sausage and bun can be customized.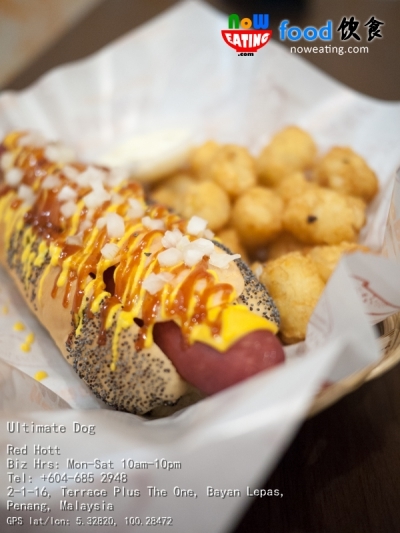 Below are steps when placing order at the counter:
Select type of sausage (chicken, beef, or chicken+beef).
Select sausage size (6 inches or 8 inches).
Select type of bun (poppy seed or Parmesan cheese)
Select desired dressing (e.g. Coney Dog, Ultimate Dog, etc).
Select your drink (for set meal)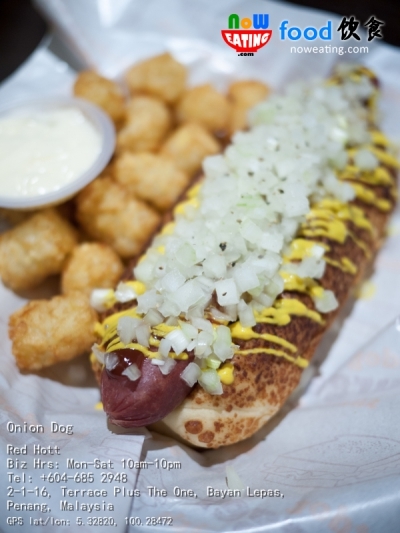 Each Hot Dog set meal comes with Tater Tots – a deep fried and grated potatoes similar to hash browns. We liked this side dish very much. Best dip with Tartar sauce provided. (Figure: Onion Dog – ketchup, mustard, minced onion, pepper).
Red Hott has their own sausage supplier and all the sausages are made of 90% meat and 10% imported spices. For chicken sausage, chicken breast is used. To differentiate between chicken and beef sausages, chicken has brown color whereas beef has purple red color. (Figure: Meat Lover – pepperoni chicken, turkey slice, BBQ sauce)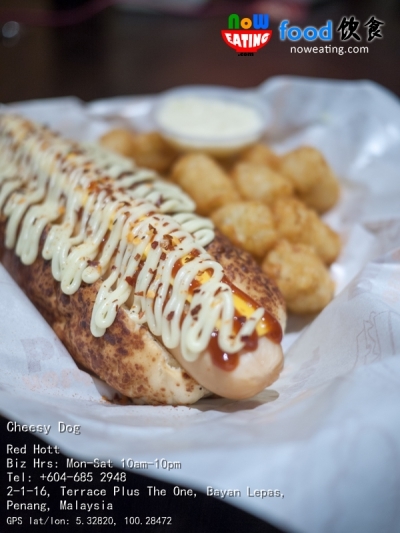 There are two homemade buns to be selected – Poppy Seed or the new Parmesan cheese.  You can easily differentiate them from the surface. Poppy seeds are extracted from opium poppy and are also used in curry as an addictive. For cheese lover, the Parmesan cheese bun is a must-try. (Figure: Cheesy Dog – cheddar cheese, BBQ sauce, cheese sauce, chili flakes)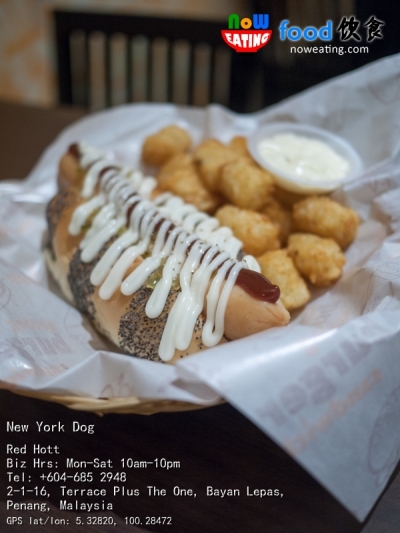 Red Hott provides free delivery to Bayan Lepas area for order of RM50 and above and other areas for RM100 and above. (Figure: New York Dog – relish, ketchup, mayonnaise, pepper)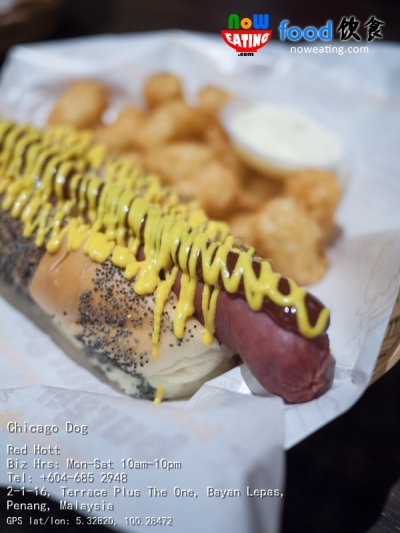 You may also download a mobile app called ChopChop to collect 10 chops (RM10 for 1 chop) at Red Hott in order to redeem one FREE set meal. (Figure: Chicago Dog – relish, ketchup, mustard, pepper)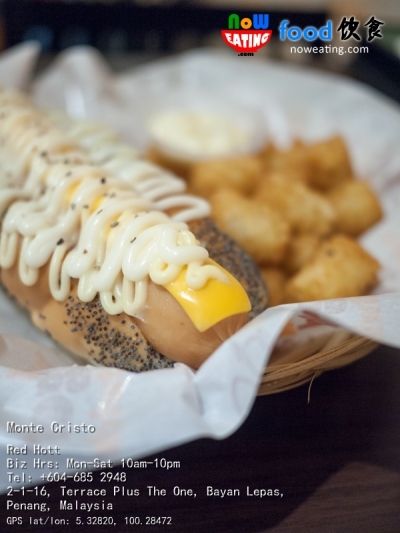 Red Hott is also giving away RM15 cash voucher for customers who follow them on Instagram (Redhottpenang), took a picture with their Hot Dog, hashtag #redhottdog and 50 lucky customers with best pictures will get the cash voucher. (Figure: Monte Cristo – cheddar cheese, mayo, strawberry, cheese sauce)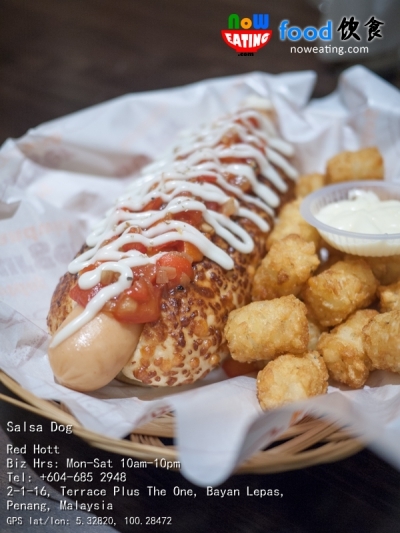 During our recent visit, Ret Hott came out with two new Hot Dog – Salsa Dog and  German Currywurst.  As the name applies, Salsa Dog comes with salsa topping with freshly diced tomato, yellow onion, garlic, and cider.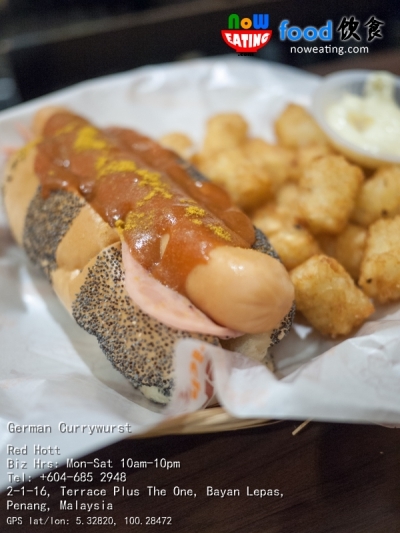 German Currywurst comes with homemade German curry sauce and yellow onion.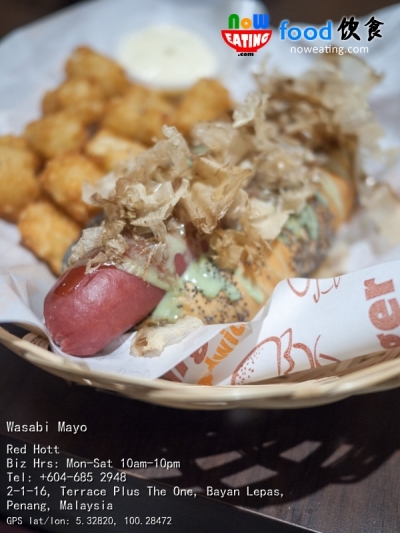 At this stage, you are probably having difficulty in selecting Hot Dog for your next visit to Red Hott. Our recommendation was if you are looking for classic Hot Dog, go for Coney Dog which reminded us of the good-old A&W Coney Hot Dog. If you are looking for something special, go for Wasabimayo Dog consisting of Teriyaki sauce, Wasabimayo, and Bonito flakes.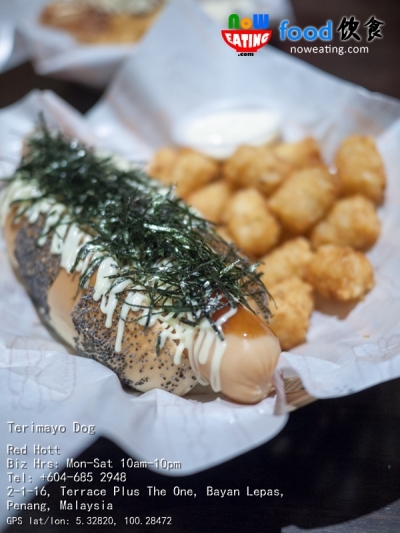 Another Hot Dog receiving good feedback from customers is Terimayo Dog with Teriyaki sauce, seaweed, and Japanese mayonnaise.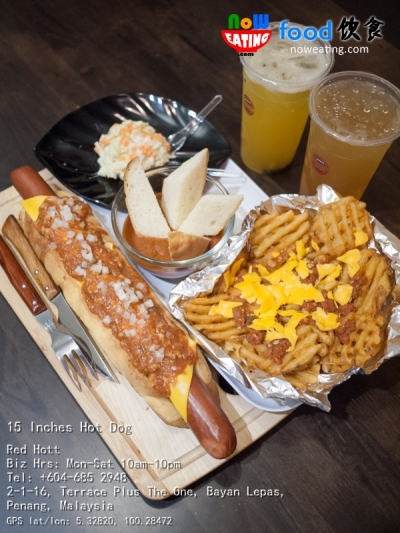 Even more special, order their 15-inches Hot Dog (RM39.90) designed for 2 persons. Comes with pure chicken thigh sausage in customized Mexican bun, topped with Coney sauce and cheddar cheese. Comes with homemade German curry dip, crosshatch topped with cheddar cheese and Coney sauce, and two drinks of your choice. This item is only available in the evening and reservation is required.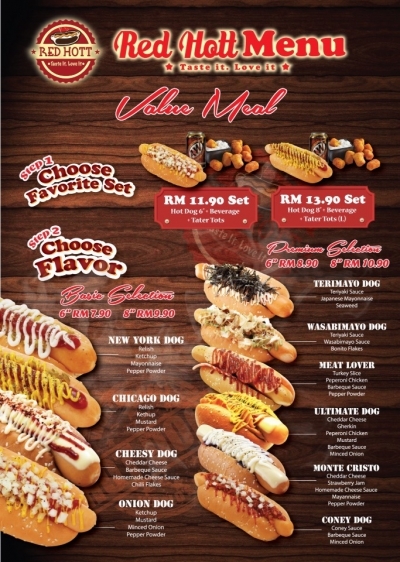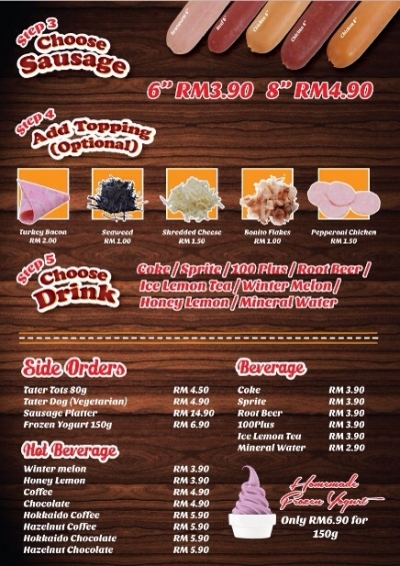 Pricing-wise, a 6-inches set (comes with Tater Tots and beverage) is priced at RM11.90 and 8-inches set is at RM13.90. A single hot dog starts from RM6.90. For more information, refer to the menu above.
| | |
| --- | --- |
| Place Name: | Red Hott |
| Cuisine: | Western |
| Address: | 2-1-16, Terrace Plus The One, Tingkat Mahsuri 5, Bayan Lepas, 11950, Penang, Malaysia |
| Tel: | +604-685 2948 |
| Working Hour: | Mon-Sat 10am-10pm |
| Tax: | No |
| Last Visit: | 20140811 |