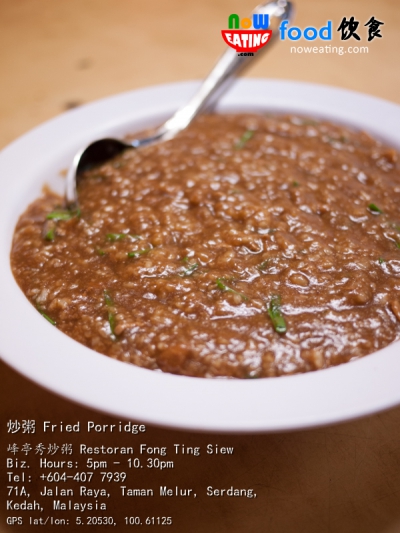 Fried porridge 炒粥 – overnight porridge fried with salted pork belly, Chinese Chive, dried shredded squid, and soy sauce. The smallest size (RM9) serves 2-3 persons. You never know that plain porridge which usually taken when a person is sick can taste so good. It is no longer a stranger for Penangites but if you would like to try the original one, go to Serdang, Kedah, namely Fong Ting Siew 峰亭秀 restaurant.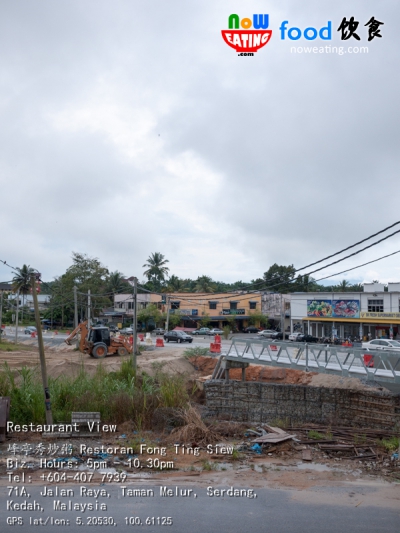 Serdang is a small town northeast of Parit Buntar. The easiest way to get there is through PLUS highway. Exit at Serdang/Bandar Baharu tol and turn right at T-junction with traffic light. Drive about 15 km and you will reach Serdang. Fong Ting Siew is located opposite of the famous Serdang's Prosperity God temple (财神爷庙). During our visit, the road in front of the restaurant was under construction so you may need some driving skill to get to the restaurant (orange building in the figure).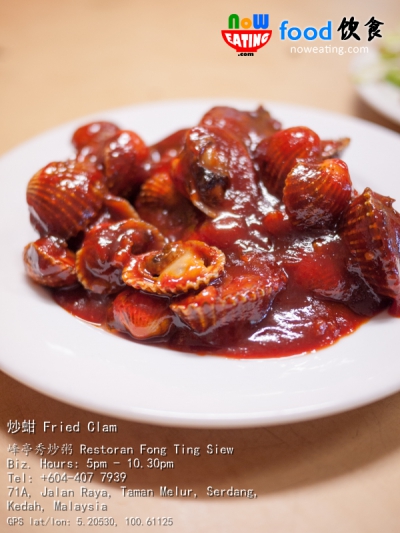 We ordered four of their signature dishes – fried porridge, fried clam, Tomyam, and Kerabu. Both of us underestimated the portion of Fried Porridge and ended up driving back home with only two front wheels. Fried clam (RM8) is also known as half-shell clam 半边蚶 in which half of its shell is removed for easier consumption. Fried with tasty sweet and sour sauce with aromatic pork rind, let's worry about our health later.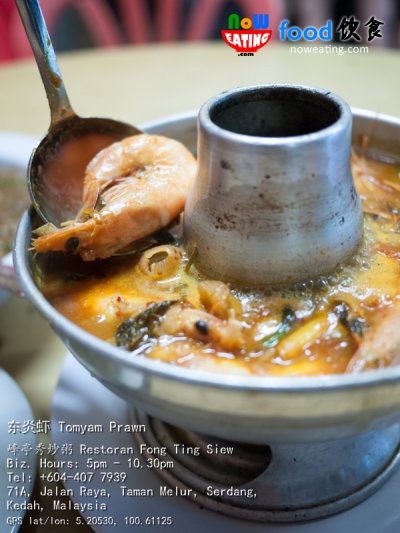 The hot and spicy Tomyam Prawn is so kicking that it will open your taste buds the moment you put the fist sip into your mouth.  The smoothness and sourness is just perfect to enjoy it alone. Heated in a mini steamboat, the longer you boil the soup, the thicker the soup will be. Pricing-wise, it is quite reasonable as well considering you will get approximately 9 fresh big prawns at RM28.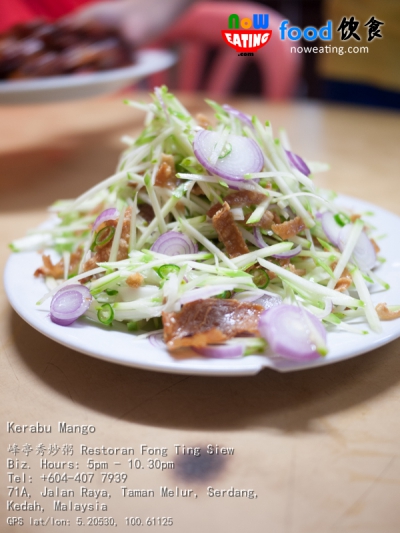 Last but not least, Kerabu (shredded mango) (RM8) is also a must-try. Compared to Thai version which is a bit wet and overly spicy, Fong Ting Siew version is like those being served during Chinese wedding/anniversary dinner with crunchy young mango and chewy shredded squid coated in sweet sauce with mild spiciness. A classic salad hardly found in new restaurants nowadays.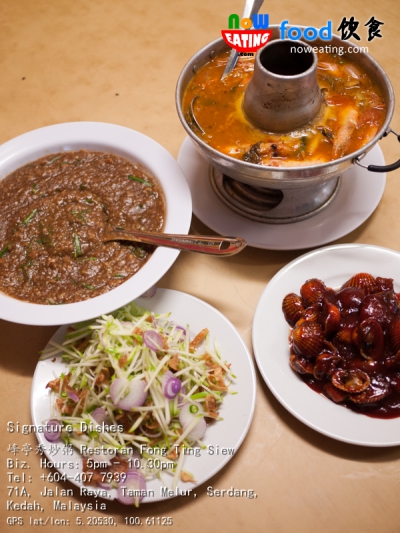 Arriving at Serdang is like arriving at home as most Chinese are speaking Teow Chew here. Similar to Kulim, the humid weather and surrounding estates make Serdang a paradise for flies.  Fong Ting Siew restaurant is not exception so expect to exercise your wrists to chase away flies which love fried porridge very much. Rumor said that Fong Ting Siew spurned out from Aik Kee 易记 restaurant – the first restaurant selling fried porridge in Serdang. Since then, both become enemies having similar menu. As for the taste between both restaurants, it is much depend on personal taste bud. We somehow encountered very slow service at Aik Kee last time so we flavored Fong Ting Siew which provided faster service in general.
| | |
| --- | --- |
| Place Name: | Fong Ting Siew Fried Porridge 峰亭秀炒粥 |
| Cuisine: | Chinese |
| Address: | 71A, Jalan Raya, Taman Melur, Serdang, 09800, Kedah, Malaysia |
| Tel: | +604-4077939 |
| Working Hour: | 5pm - 10.30pm daily |
| Tax: | No |
| Last Visit: | 20140921 |