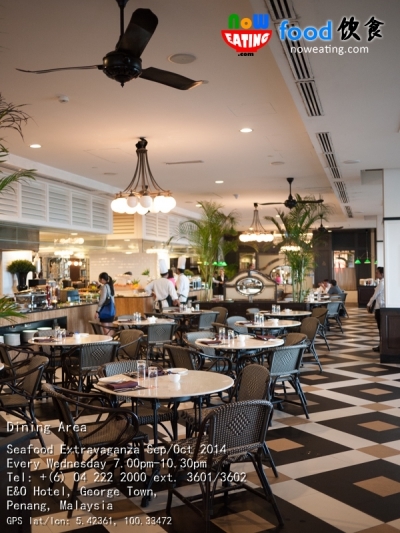 Back in March 2013, we visited E&O Hotel in George Town, Penang for its seafood buffet previously known as Chef Petr's Catch Extravaganza. After 1.5 years, we revisited this Wednesday buffet again at Sarkies of E&O Hotel with new naming – Seafood Extravaganza.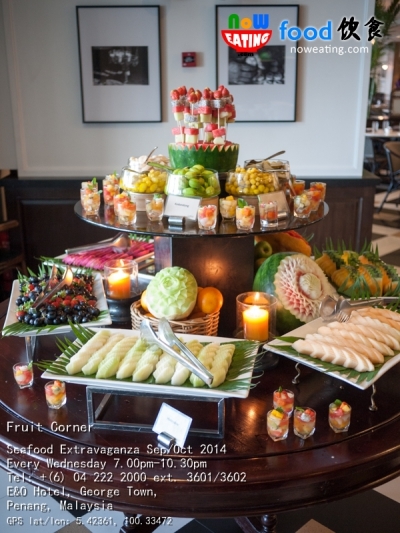 We had covered most items in our previous post so we will only cover some highlights in this review. Compared to our previous visit, definitely there were some changes. The most significant one was the cake corner which was replaced with fruit corner.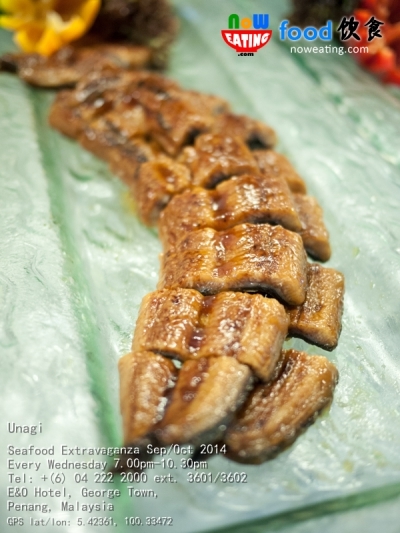 We were also pleased that we found our favorite Unagi (eel) at Cold Cuts corner. Unagi is usually the most expensive item in most Japanese restaurants. Be sure the grab this item if you happened to find one at Cold Cuts corner as it usually finishes fast.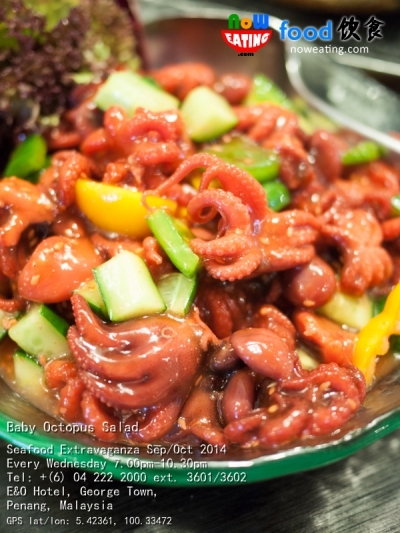 Baby Octopus (Chuka Idako) is our favorite when dining in Japanese restaurants but too bad it is getting more expensive nowadays (about RM9 per small plate). In E&O hotel, you can take it as many as you like (as long as you do not waste the food). A cold platter too hard to resist!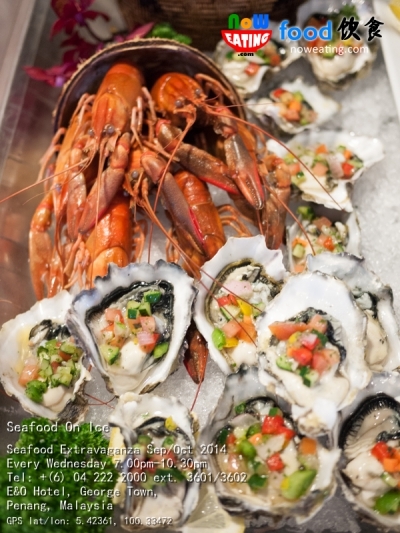 Seafood On Ice corner is the corner not to be missed in Seafood Extravaganza buffet. Fresh seafood to be expected are fresh tiger prawns, scallops, green mussels, black mussels, snow crabs, spanner crabs and etc. During our recent visit, we were lucky to have fresh oysters ready to be eaten with chopped salad.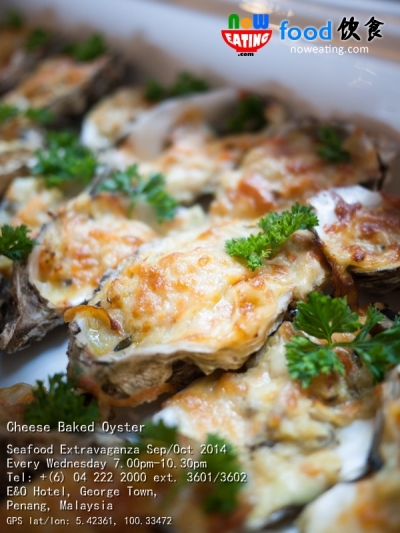 Be sure to walk around for more seafood. Other than fresh oysters, baked cheese oyster is available right in front of BBQ corner.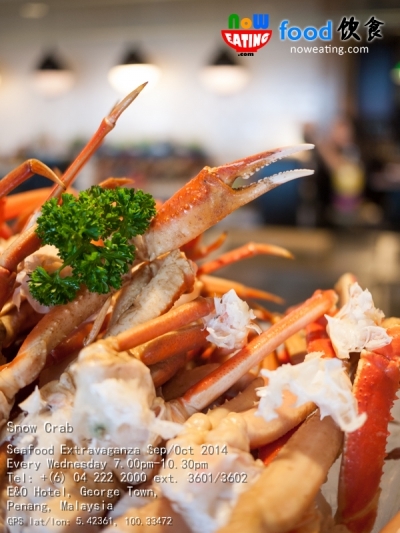 Snow crab from cold northern ocean is a bit difficult to eat without crab cracker but the result is rewarding.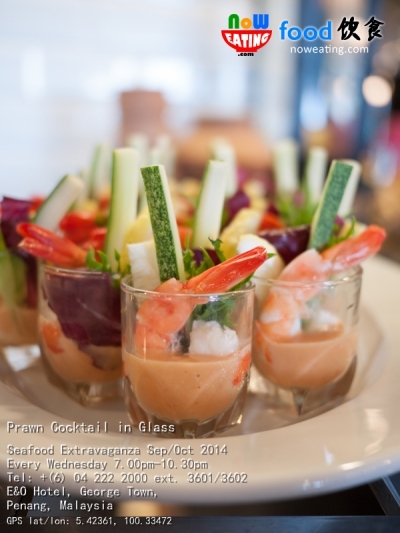 If it takes too much effort to crack open those shell fishes, Sarkies does provide hassle-free peeled prawn/mussel cocktail in a glass with dipping sauce. Another item to recommend.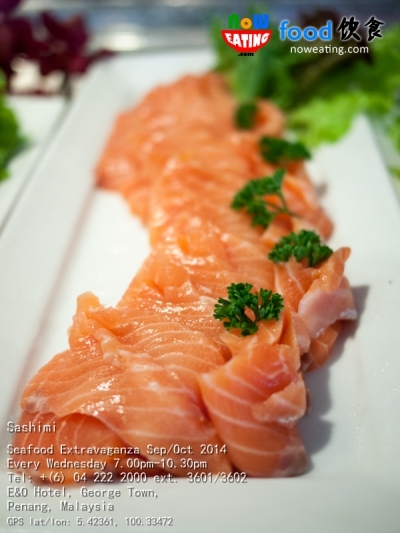 Seafood lovers will definitely benefit from Seafood Extravaganza buffet by visiting their Seafood On Ice and Sashimi corner. Sashimi to be expected include salmon, tuna, and Tilapia both in fresh and smoked version.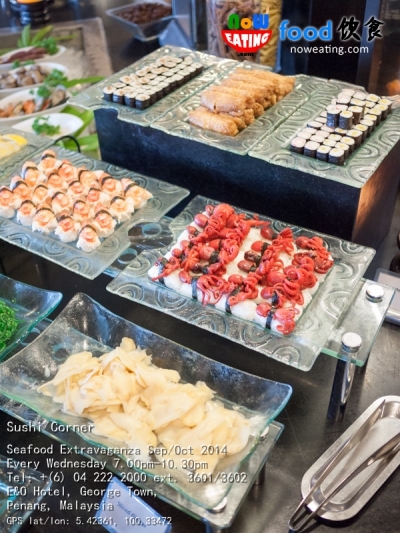 Sushi corner is available as well with assorted sushi.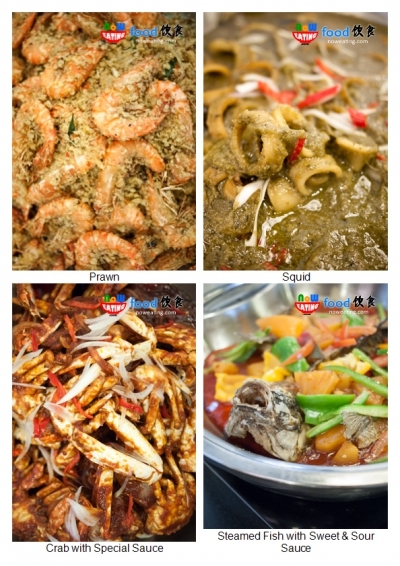 Also, their recipes were improved a lot. Each of their hot tray items was carefully selected and prepared, not just for the sake of filling up the counter.  We pretty much enjoyed the steamed fish, green curry squid, oat butter prawn, and crab with special sauce. These were just few seafood dishes out of total of 10+ hot tray items.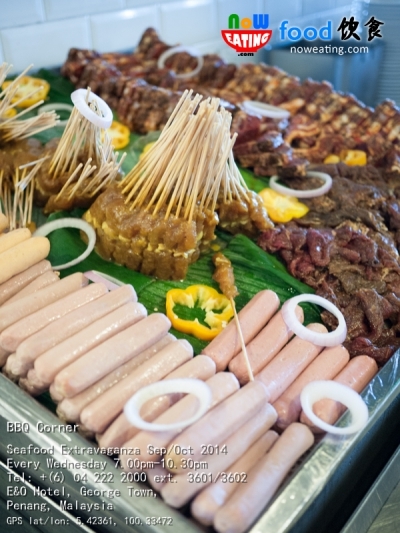 At BBQ corner, chefs were busy grilling steaks, lamb chops, chicken satays, sausages, and seafood to customers. Just place your order here and collect your food later.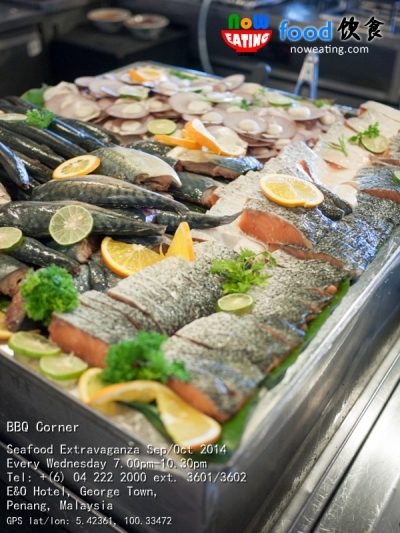 The amount of seafood at BBQ corner makes you feel like you are shopping in wet market. Expect the dining area to be a bit smokey during peak hour due to this live action counter.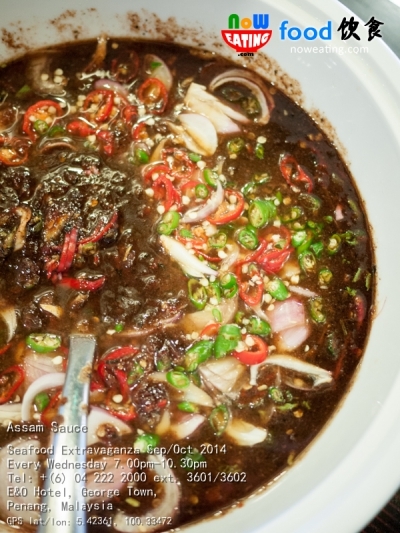 For grilled food, it is best accompanied with E&O's signature Assam sauce – the sweet, sour, and spicy sauce which will tantalize your taste buds.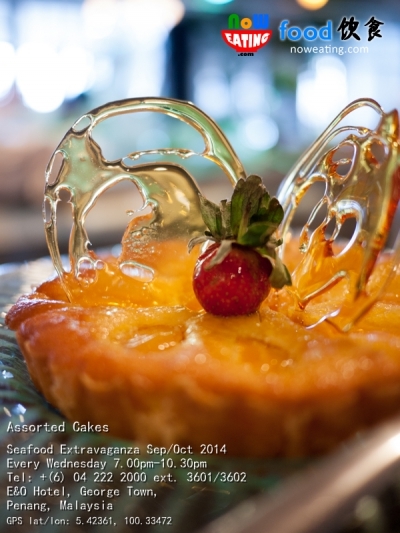 Other corners include cheese corner, soup corner, salad corner, and noodle station providing Penang Char Koay Teow, Chinese oyster omelette, and seafood Hor Fun. Be sure to visit their all-time-favorite roasted duck station as well. Last but not least, end your lovely evening with some desserts such as American carrot cake, chocolate pot cream, cheese pudding, black forest cake, and ice creams.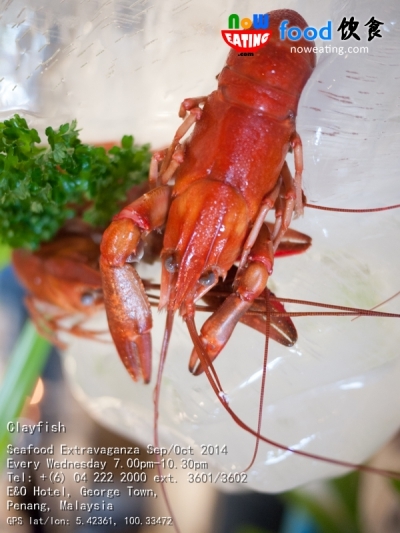 As a whole, Seafood Extravaganza buffet at E&O Hotel has improved in term of choices and recipes. The dinner buffet is available every Wednesday from 7pm until 10.30pm in the month of September and October 2014. Pricing-wise, it is RM110++ for adults and RM48++ for children. For reservation, please call +(6) 04 222 2000 ext. 3601/3602.
| | |
| --- | --- |
| Place Name: | Sarkies @ E&O Hotel |
| Cuisine: | Buffet |
| Address: | 10, Lebuh Farquhar, George Town, 10200, Penang, Malaysia |
| Tel: | +(6) 04 222 2000 ext. 3601/3602 |
| Website: | http://www.eohotels.com |
| Working Hour: | 7.00pm - 10.30pm |
| Tax: | 10% Service Tax, 6% Government Tax |
| Last Visit: | 20140910 |