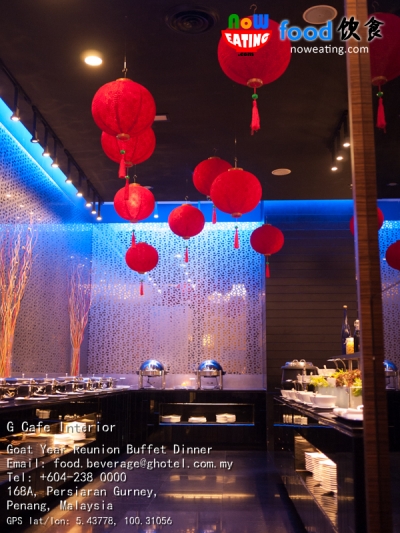 Time flies and it is time for Chinese New Year (CNY) again. This year, CNY Eve falls on 18-Feb (Wed). If you are planning not to have reunion dinner at home for whatever reason, G Hotel Penang is pleased to offer you CNY brunch/dinner buffet at G Cafe. We paid G Cafe a visit recently to bring you some sneak preview.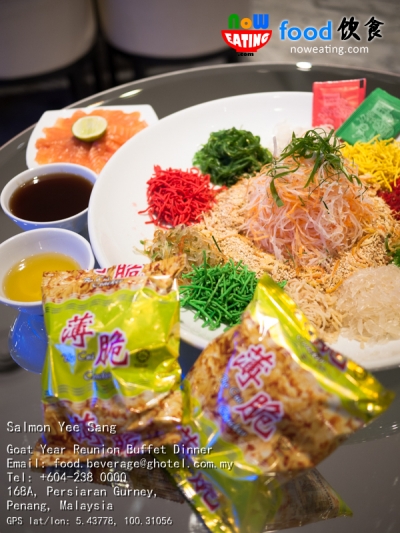 The highlight of the buffet will be the Salmon Yee Sang. Each table will be provided with a big plate of Yee Sang so that families and friends can raise their chopstick and toss the mixture of the raw fish, shredded vegetables, crackers, sesame seeds, and special sauce as high as possible. In Chinese custom, it is said that the higher you toast the Yee Sang, the higher your fortune and luck for the year.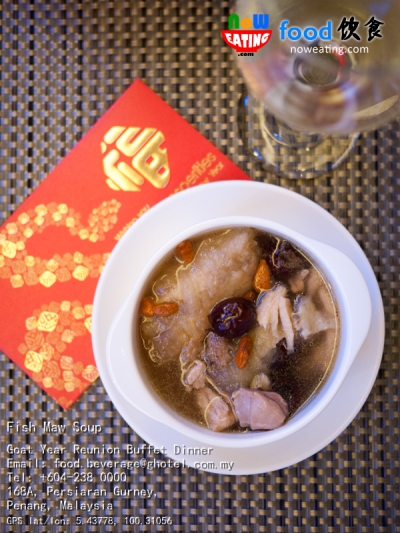 As a starter, G Cafe will be serving Fish Maw Soup along with other choices of hot and cold soup, such as Braised Sea Kingdom Chowder. Fish Maw Soup is a tasty and flavorful dish in which the fish maw is double boiled with Chinese herbs, chicken, dry scallops and red dates. An ideal soup to serve for the whole family during Chinese New Year.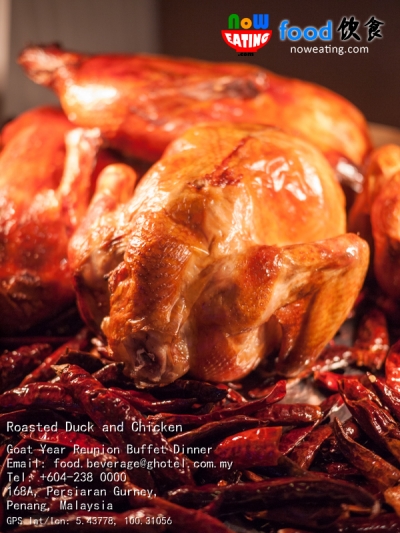 As for the main dishes, Roasted Peking Duck is one of the highlights. The Roasted Peking Duck is a whole duck marinated with spice powder and then roasted to perfection. The sliced duck can also be wrapped in an egg skin with cucumber, leek, spring onions and a dash of Hosin sauce. All being served by experienced chef at a live station.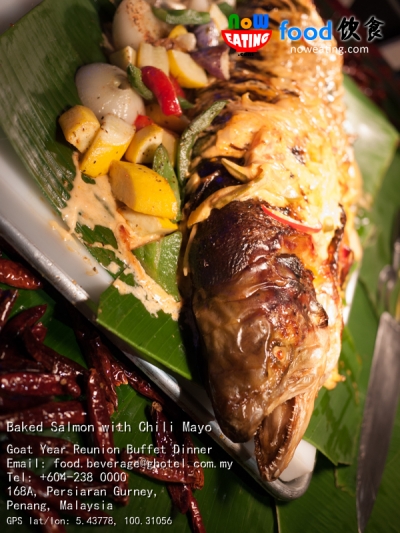 Next to the Peking Duck live station is another station with Baked Whole Salmon Chili Mayo. The salmon is marinated with chili sauce, mayonnaise, onion and capsicum and baked to create a fusion dish that will surprise and delight everyone. Personally, we liked this one as the salmon was baked to perfect tenderness while keeping its juiciness. Most grilled/baked salmon we tried were either too hard or too dry, or both.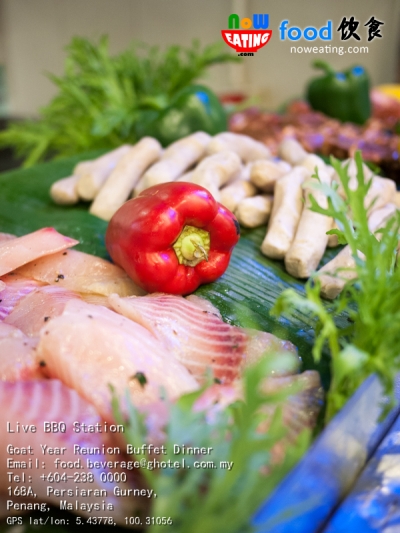 Another station for seafood enthusiast is the Live BBQ counter loaded with Salmon, Cat Fish, Squid, King Prawn, Slipper Lobster and many more fresh seafood and seasonal catch. Just place your order at the station and the kitchen crews will prepare the food for you.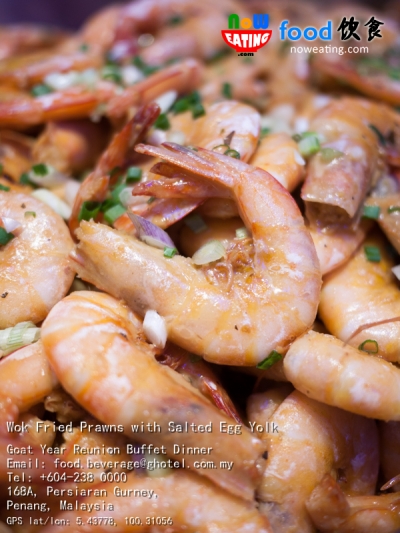 Another highlight is the Fried Prawn Golden Egg with Yolk Sauce. The fresh prawns are deep fried and cooked together with salted egg yolk, chili padi, curry leaves and butter to enhance the aroma. The dish is perfectly eaten on its own or with steamed rice.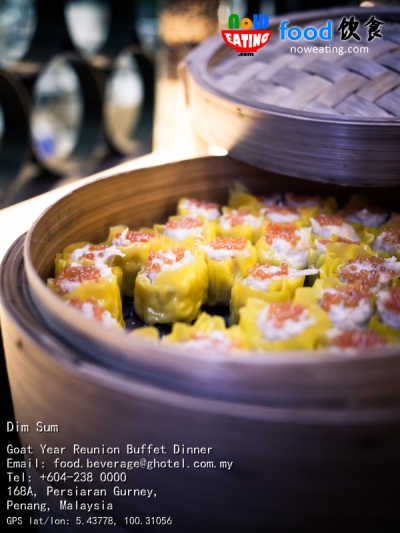 Some local dishes, such as Fried Koay Teow, Hokkien Prawn Noodle Soup, Pasembur, Pau and Dim Sum are also available.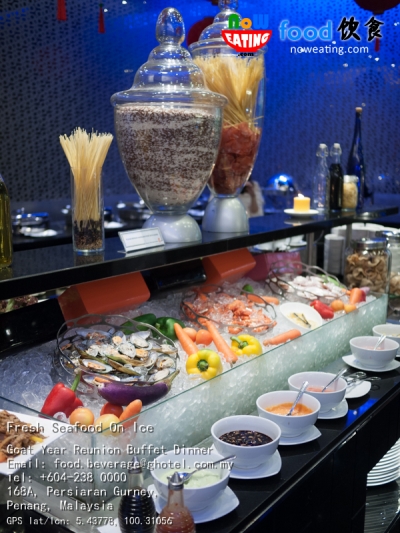 In our personal opinion, you will benefit a lot regardless you are a seafood or meat lover. Baked Salmon, fresh seafood on ice, Japanese sushi bar, live BBQ, and Peking Duck stations are just few stations we recommended. After all, there are more than 100 items in the buffet spread, more than enough for an average person.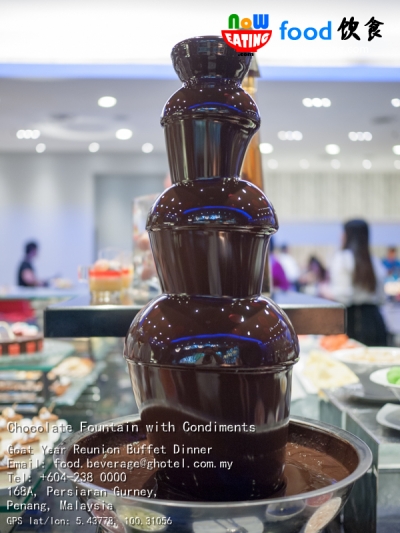 If you still have space in your stomach, try their lovely desserts, including Chocolate Fountain with Condiments and Gelatomio Ice Cream, in which we found that their chocolate and plain yogurt flavor ice creams are one of the best in any buffet.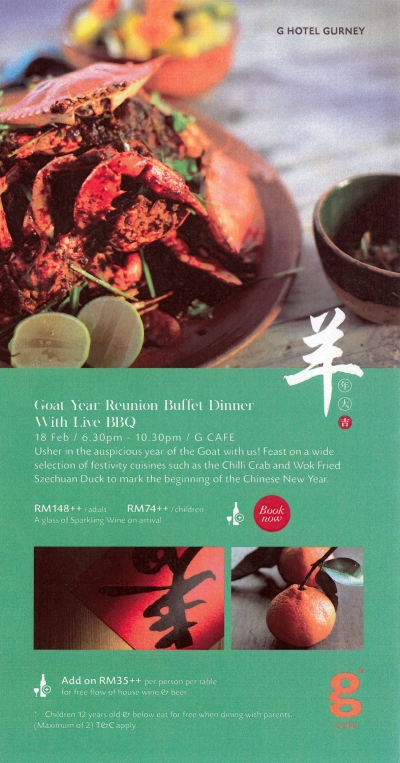 Pricing-wise, CNY Eve Reunion Buffet Dinner (6.30pm – 10.30pm) is RM148++ for adult and RM74++ for children. Children 12 years old and below eat for free when dining with parents (Max. 2). A FREE glass of Sparkling Wine is given on arrival. Add RM35++ per person per table for free flow of house wine and beer. We also provide you a list of CNY Eve Menu below so that you can have a quick glance on food to expect in buffet spread:
Download: CNY Eve Reunion Buffet Dinner Menu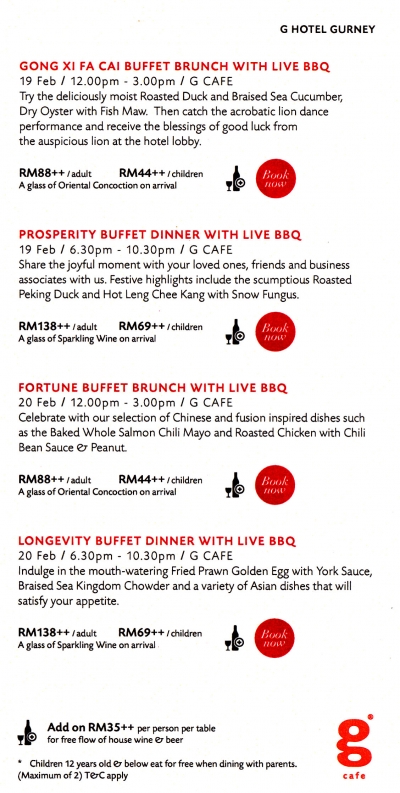 As for the first and second day of CNY, brunch and dinner buffets are available. Brunch buffet starts from 12pm until 3pm and is cheaper (RM88++ per adult) compared to dinner buffet (RM138++ per adult). Refer to figure above for more information (Right-click > "Save link as" to download a copy).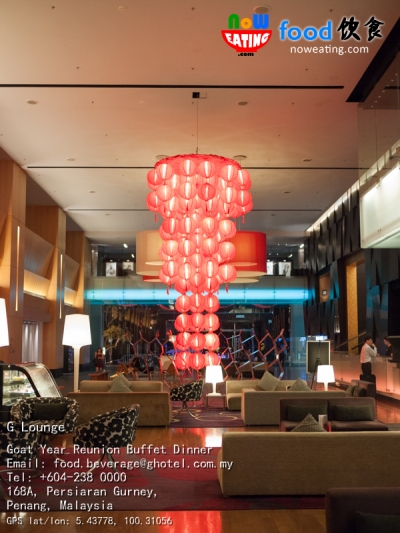 There is more than just buffet. On the first day of CNY, there will be an acrobatic Lion Dance performance at the lobby. Throughout this festive month, G Lounge will be serving Oriental Concoctions with exotic fruits and spices and are priced at RM30++ per glass. Hanging out with friends? Tree Bar will also be serving Salmon Yee Sang at RM38++ for two to three persons.
Place Name:
G Cafe
Cuisine:
Buffet
Address:
G Hotel Gurney, Persiaran Gurney, 10250, Penang, Malaysia
Tel:
+604-238 0000
Email:
[email protected]
Website:
www.ghotel.com.my
Working Hour:
Brunch Buffet: 12.00pm - 3.00pm
Dinner Buffet: 6.30pm - 10.30pm
Tax:
10% Service Tax, 6% Government Tax
Last Visit:
20150126