Updated Apr-2015: Added more photos after re-visiting the place.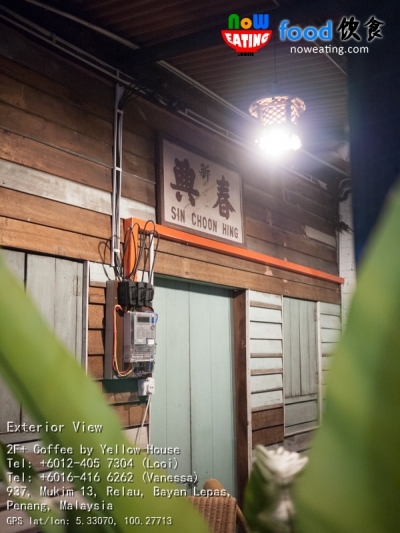 Previously, we introduced Yellow House – a cafe in Relau specialized in coffee. Since Nov-2014, the cafe had moved from Golden Lake Cafe building, to an old house near Relau T-junction, or better known as "Relau traffic light which always jams" few years ago. The new cafe is now called 2F+ Coffee.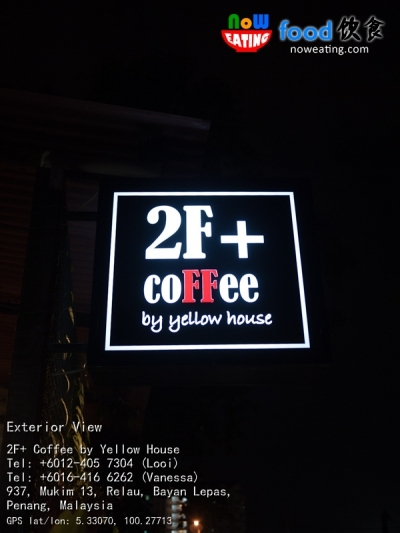 The new cafe can easily be missed. We found this cafe when we were on our way from Relau to Bukit Jambul. It is right before the junction in which you must bear left to PISA Corner. Look for 2F+ Coffee signboard.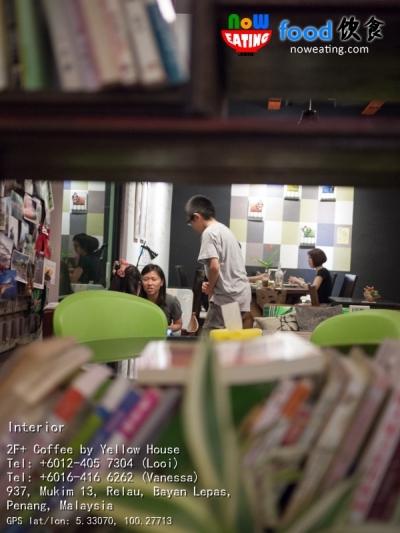 Personally, we prefer this new location than the old one. Firstly, it is easier to find a parking space. You may park your car in front of the cafe or at a new shop lot where Tupperware shop is located and walk to the cafe. Secondly, the new cafe is more spacious with a library of books and outdoor seating. Perhaps the only drawback is that occasionally some mosquitoes are lurking at dark corner.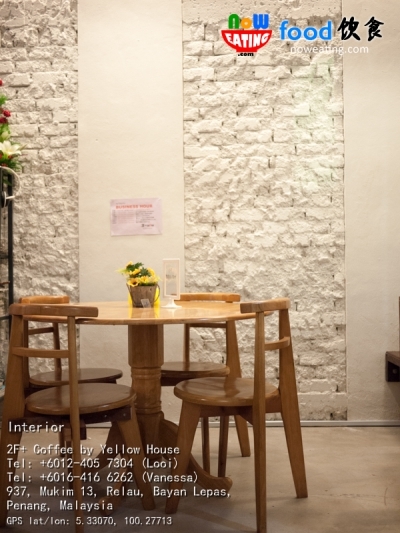 Our first visit to 2F+ Coffee was last day of year 2014 and they opened until 2am for countdown. Of course, we did not stay until that late as more and more customers flocking in and we decided to give our table to other customers. The waitresses were friendly.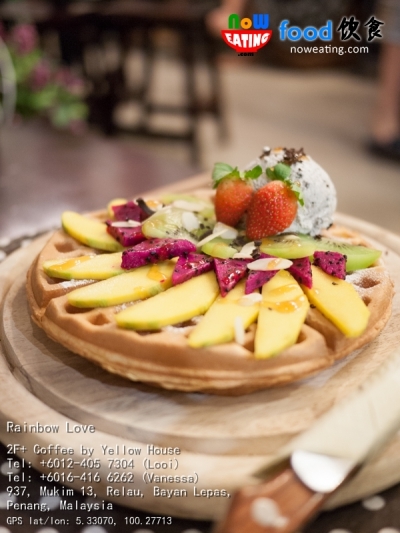 They had improved their menu by adding more items such as waffle, toast, sandwich, bagel, finger food, and home cook delight (e.g. fish n chip, salmon stick, spaghetti, etc). We enjoyed our Rainbow Love (RM14.00) waffle made of fresh fruits, ice cream, and caramelized apple. It took some time to prepare but the result was worth the waiting.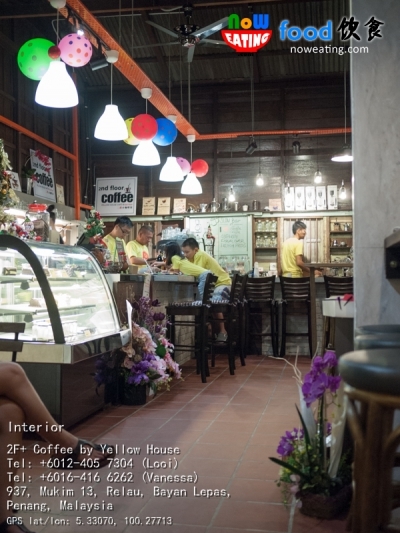 Unlike most cafes which use machine to brew their coffee, 2F+ Coffee offers three types of brewing method:
Syphon Coffee
Famous in Japan
Using complex equipment similar to those in chemistry lab
Produce clean, crisp and smooth coffee
Hand Drip Coffee
Famous in US
Using paper filter
Coffee is light-bodied, oil-free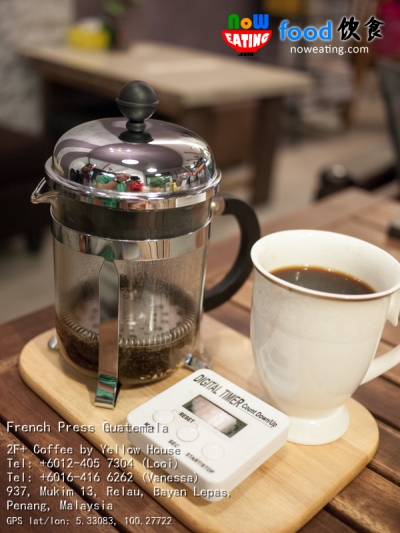 French Press
Famous in Europe
Using a small jar with a "compressor"
Coffee is rich as it squeezes everything out, including oil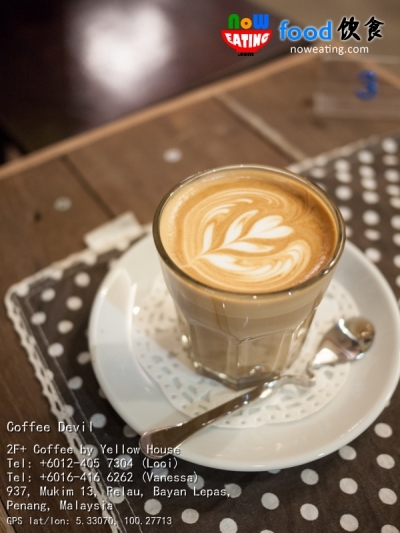 For us, we ordered Coffee Devil (RM11.00) – an espresso made of steamed milk and Bailey's and is perhaps the only coffee with alcohol in the menu. Smooth and lovely. The result? Celebrate year 2015 until 4am.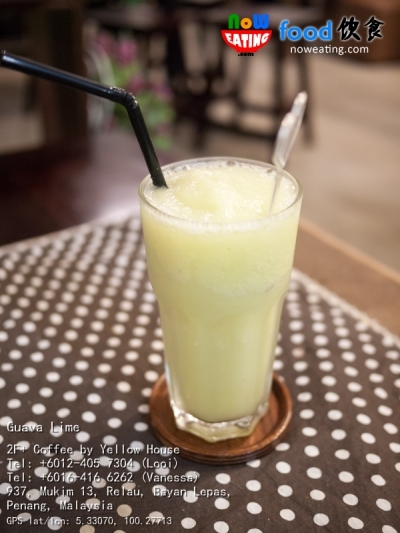 Not a coffee lover? Try their fresh fruit juice series such as this smooth and refreshing Guava Lime (RM10.00).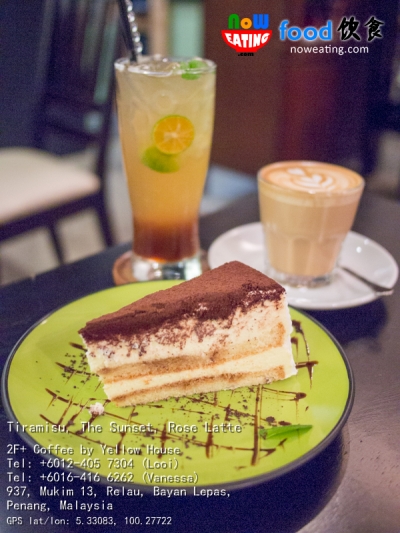 During our recent visit, we ordered their signature mocktail – The Sunset (RM12.90) made of caramelized apple and lime. Also, after few visits, we found out that their cheese cake not bad as well and we ordered a slice of Tiramisu cake (RM10) which was topped with coffee powder yet still delighted to enjoy.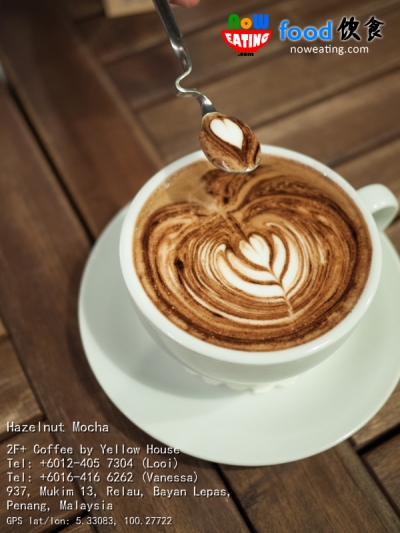 Hazelnut Mocha (RM9) – Espresso with steamed milk, chocolate and hazelnut sauce.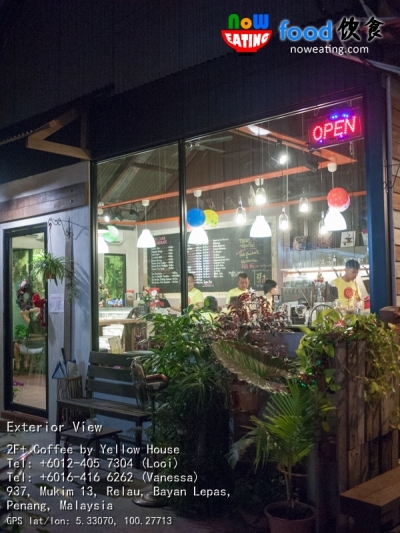 2F+ Coffee is more like a place to hang out with friends and chillax. If you are looking for a proper family dinner, we suggest a Choo Char restaurant behind PISA Corner (in front of Tua Pek Kong temple), and you may walk your way to 2F+ Coffee after the dinner for some desserts and coffee. Be sure to check their business hour as it varies for each day.
Place Name:
2F+ Coffee
Cuisine:
Western
Address:
937, Mukim 13, Relau, Bayan Lepas, 11900, Penang, Malaysia
Tel:
+6012-405 7304 (Looi), +6016-516 6262 (Vanessa)
Working Hour:
Mon - Thu: 3:00 pm - 10:30 pm
Fri: 1:00 pm - 11:30 pm
Sat: 10:00 am - 12:00 am
Sun: 10:00 am - 10:30 pm

Last Visit:
20141231