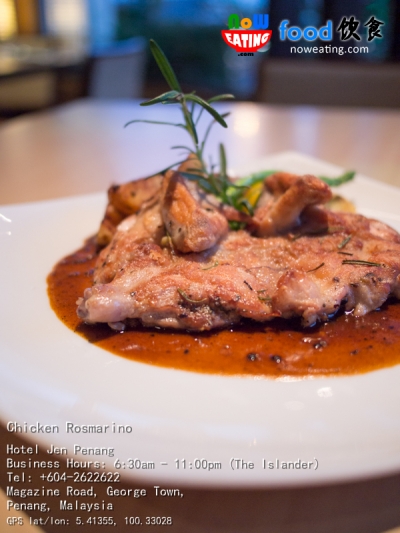 Whole spring chicken marinated with rosemary oil and Balsimic vinegar – a premium Italy vinegar made from white grape juice. According to the chef, chicken and balsamic vinegar is the perfect combination because the vinegar flavors suits the method in making sauces and is perfect as marinade for a chicken dish. This Chicken Rosmarino (RM58) was just one of the main dishes we sampled at the new Hotel Jen Penang, George Town, Penang.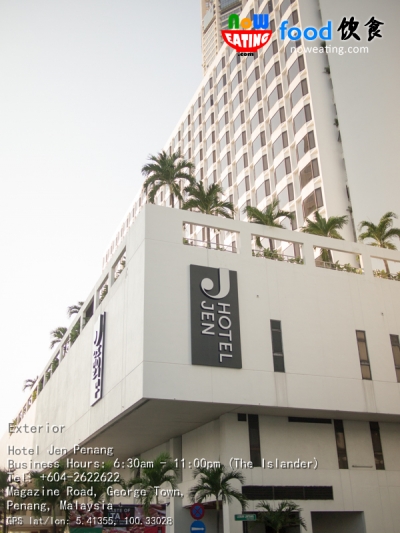 A bit history about Hotel Jen Penang. Hotel Jen Penang is previously known as Traders Hotel and is re-branded on 4-Nov-2014. It is still managed by Shangri-La International Hotel Management Ltd. The hotel offers 443 rooms+suites and has an all-day dining restaurant, business center, health club, and a unique whisky and sports bar.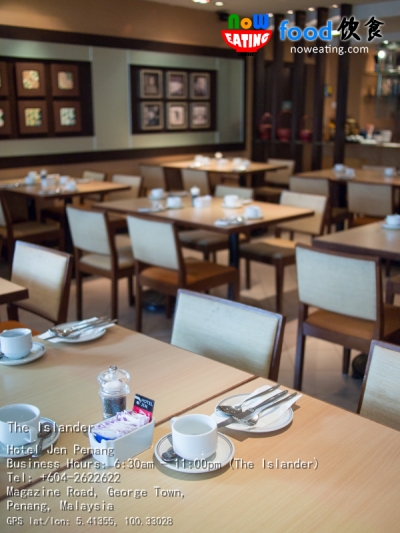 Recently, we visited the restaurant – The Islander to have a preview on its new a la carte menu which will be released in the middle of April 2015.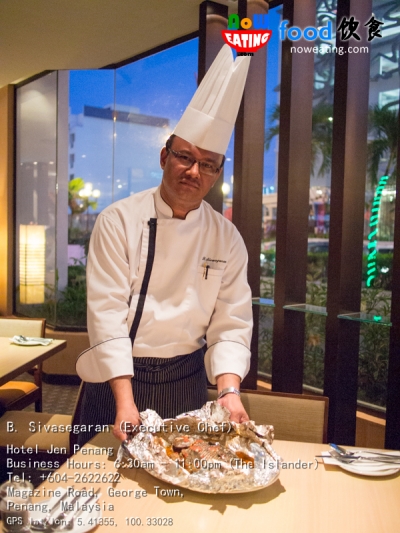 Previously, the restaurant serves mainly on local street food. This time, almost 80% of the food is still maintained with added chef's signature dishes especially on Italian cuisine. Behind the scene, B. Sivasegaran is the Executive Chef of The Islander. He has been in this industry for 31 years and is expert in worldwide cuisine especially on Italian cuisine.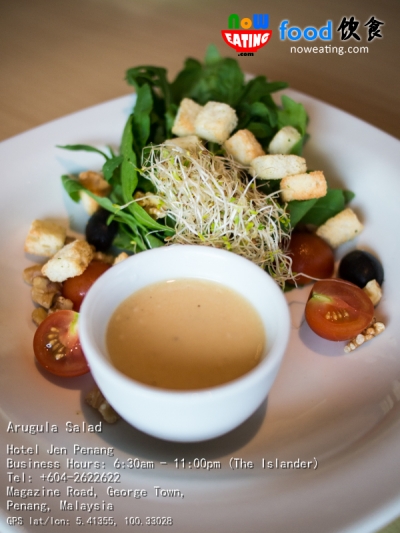 We had a wonderful time sampling Italian dishes prepared by the chef but first, we had two starters – Arugula Salad and Bruschetta. Arugula Salad (RM16 nett) is a salad with pungent, sharp and bitter taste. It goes well with honey sesame dressing which gives the salad a sweet and vinegary taste.  Note on the pricing. Despite of the implementation of GST, The Islander keeps its price simple – nett for all.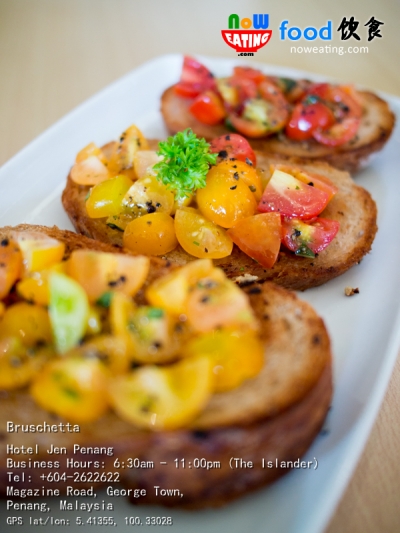 Bruschetta (RM17) actually means gathering. Topped with yellow and red cherry tomatoes, this is a quick snack for those who want a fast bite before a good dinner.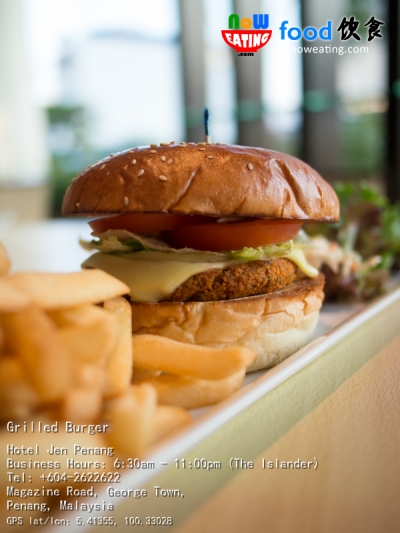 Another burger? Despite of burger stalls mushrooming in Penang, this burger still surprised us. It is not the common chicken/beef/pork burger but a vegetarian burger. This Grilled Burger with Vegetarian Patty (RM20) is made from cous and potatoes seasoned with special seasoning. Taste-wise, it is similar to samosa. Low fat, less calories and healthy!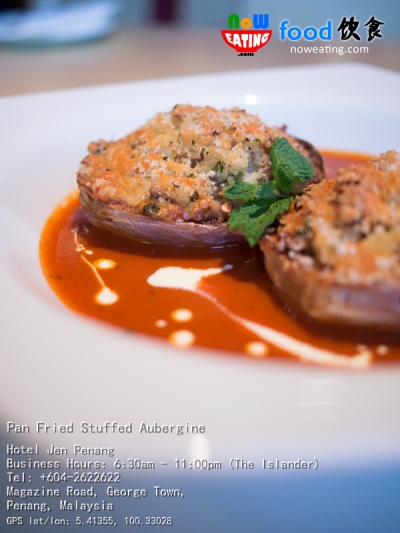 Our top pick is Pan Fried Stuffed Aubergine (RM45) – a stunning dish full of different flavors. Firstly, it is a smoked tomato soup. Secondly, it is a vegetarian dish with eggplant stuffed with cheese and Provencal herbs, baked slowly in an oven. A very unique dishes for vegetarian. Note that for all vegetarian dishes, no onion nor garlic is used.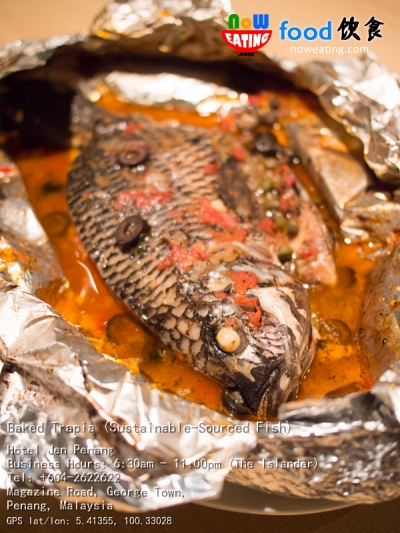 You probably have tried Teow Chew style and Cantonese style steamed fish. How about Italian style? This Baked Whole Trapia (also known as Tilapia/非洲鱼/金凤鱼) (RM48) is sourced from a local fish farm as a part of Hotel Jen Penang responsibilities to sustain the species. The fish is wrapped in aluminium foil and is baked with fresh herbs, tomato coulis, olives and capers that will give the twist to soupy flavors and goes perfectly well with farmed fish. As part of presentations, the chef will cut off the wrapper in front of you. A bowl of rice, anyone?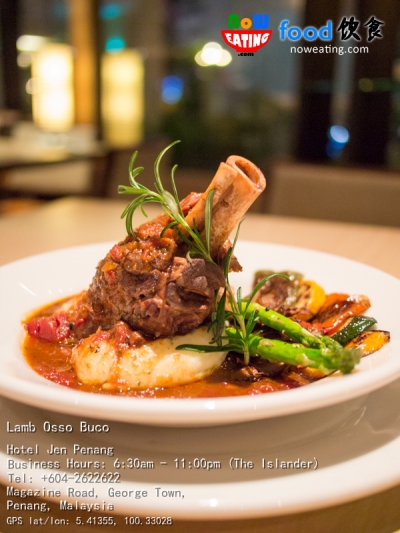 Lamb Osso Buco (RM58) is Milanese specialty cross-cut veal shanks braised with vegetables, white wine and broth. The 400g lamb shank is slow cooked for two hours so that the flesh can be easily removed from the bone. Below the lamb shank is our favorite – the homemade Mashed Potato and is perhaps one of the best mashed potatoes we've ever tried with firm texture and with added fine chunk of onions.
While we already over 90% full, the chef kept on reminding us to reserve some space in our tummy for desserts. When both Jen's Signature and Tiramisu Pancake arrived, we finally understood the reason the chef told us to do so. Tiramisu Pancake (RM20) is a famous Italian dessert but is prepared differently by Hotel Jen Penang using sponge pancake, espresso, mascarpons, egg and cream with a twist of espresso butterscotch sauce.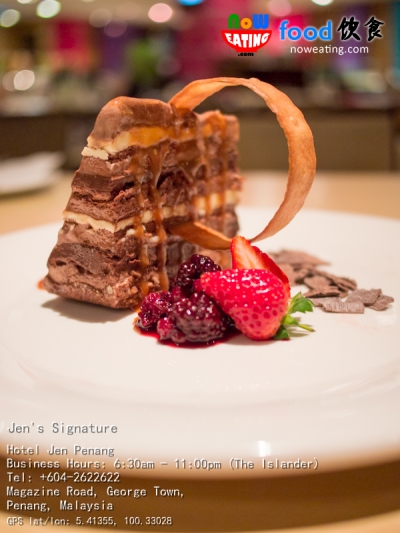 Last but not least, Jen's Signature (RM18) is a traditional mud pie usually made with cake but for Jen, they are creating their own specialty with ice cream, a lot of chocolate, and caramel sauce. Imagine it as ice cream "crepe" with chocolate, dark chocolate and white chocolate.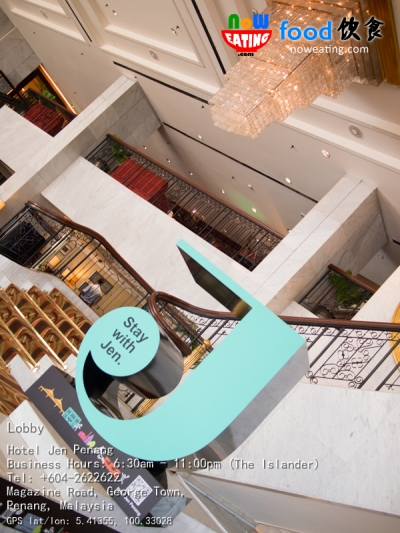 It is still hard to believe that such a fine Italian cuisine can be found in a Penang hotel. Even though most of the dishes have tomato puree in it, each of them still taste differently thanks to unique recipe from the chef. The Islander is open daily from 6am to 11pm. For reservations or more information, kindly call +604-2822622 extension 8010.
| | |
| --- | --- |
| Place Name: | The Islander @ Hotel Jen Penang |
| Cuisine: | Western, Vegetarian |
| Address: | Magazine Road, George Town, Penang, Malaysia |
| Tel: | +604-2622622 |
| Website: | hoteljen.com |
| Working Hour: | Daily 6am - 11pm |
| Last Visit: | 20150318 |