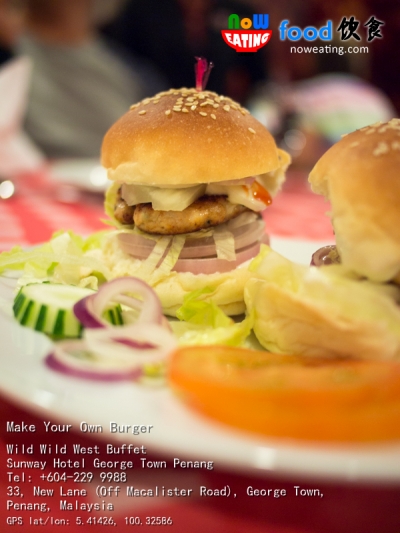 Burger again? Yes, but this is not an ordinary burger stall in your neighborhood, but in a 4-star hotel in George Town – Sunway Hotel George Town. This is one of the hotel's Saturday buffet dinner specialties.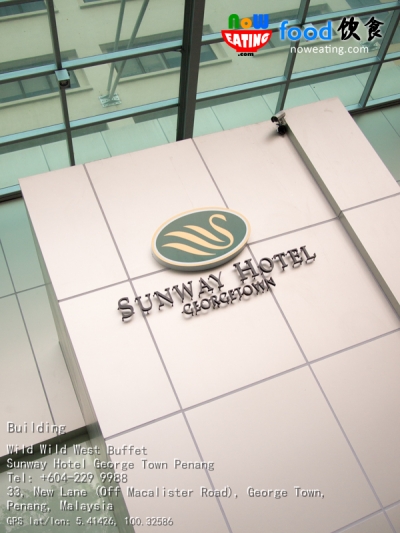 A brief introduction to Sunway Hotel George Town since this is our first visit there. Most people know about Sunway Hotel at Seberang Perai as it is one of the famous seminar and wedding dinner venues in Seberang Perai. Sunway management has overall 12 hotels and resorts in Cambodia, Malaysia and Vietnam. Sunway Hotel George Town is located along New Lane off Macalister Road. Next to the hotel is a famous hawker food spot which is usually crowded with patrons in the evening.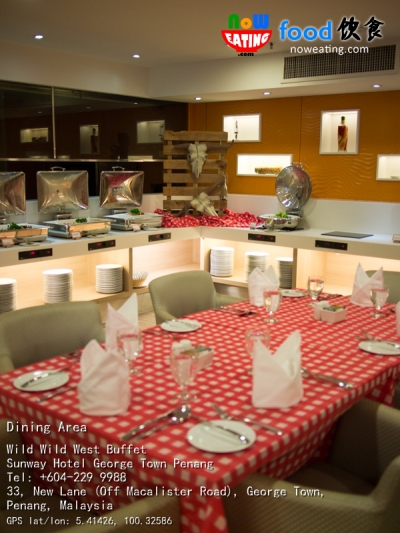 Sunway Hotel George Town is a 4-star hotel for business and leisure travelers. It has 250 rooms and suites, 4 meeting rooms each with up to 1205 sq/f, swimming pool, Jacuzzi, a fitness center and a cafe called Sun Cafe to name a few. If you happen to be there and are looking for a cozy and relaxing place to dine in, Sunway Hotel George Town can be a good place.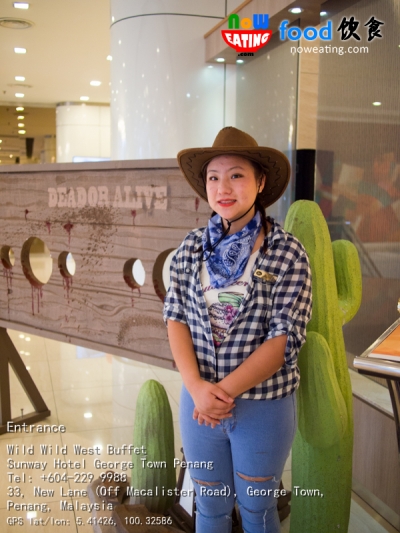 We visited the hotel on Saturday evening for its Wild Wild West Buffet Dinner. The buffet is decorated with an entrance of the old back west with swinging doors while staff get casual and into character for the night equipped with (toy) guns.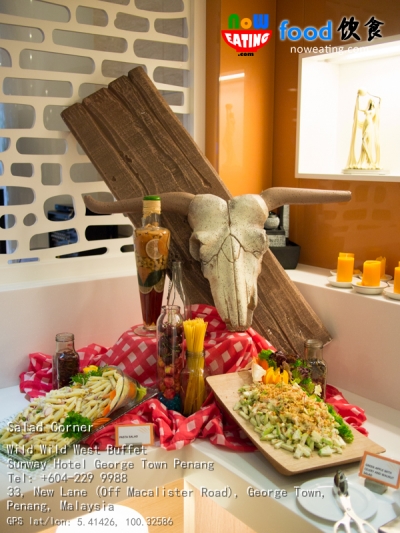 Sun Cafe is located just next to the hotel lobby. You may park your car at the road side, parking lot opposite of the hotel or hotel's own private parking lot. The buffet begins at 7pm and we suggest you to arrive at 7pm to be able to grab the first tray of the food there.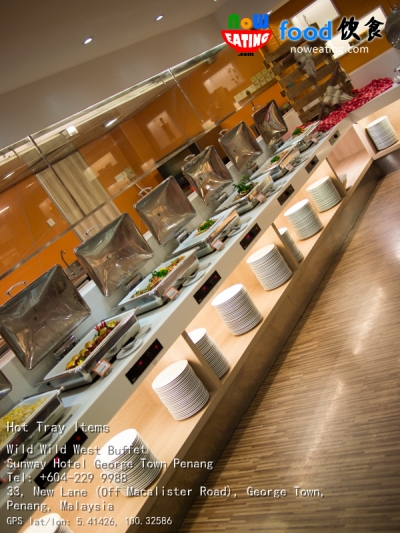 Wild Wild West Buffet consists of more than 40 items including starter, soup, live action stall, hot dishes, dessert and beverage.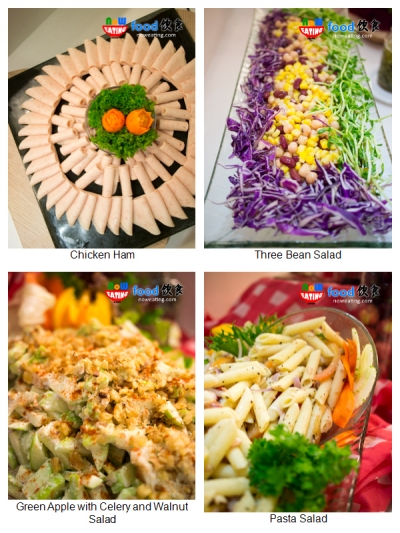 Let's begin with the starters. One starter caught our attention was the crunchy Green Apple with Celery and Walnut Salad, which turned out rather unique compared to other hotel buffets.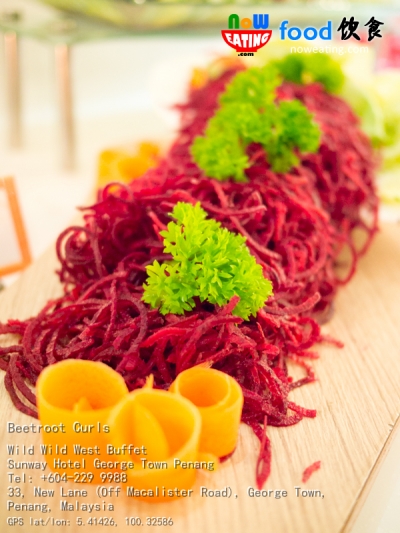 Another unique starter was Beetroot Curls. Beetroot is also known as a vegetable rich in Vitamin B. It may taste a bit plain but feel free to dress it with various sauces from salad bar, including vinaigrette, thousand island, Italian, Mayonaise, Capers, Crouton and Gherkin.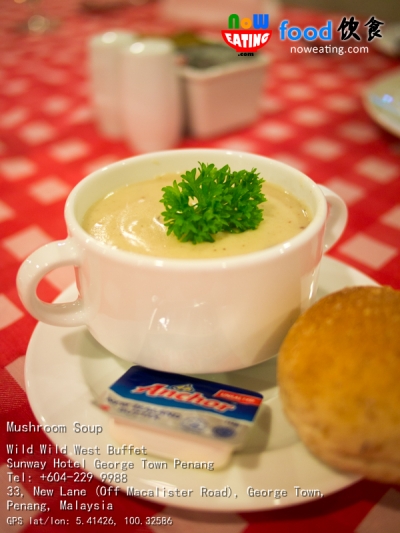 We usually skip soup for our buffet meal but if your tummy has space to spare, try their homemade thick mushroom soup.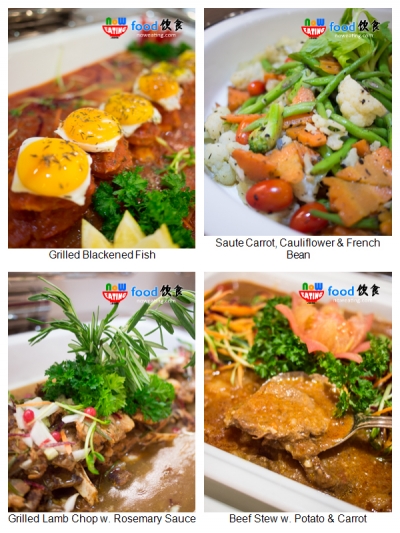 Since it is an Old West-themed buffet, most of the buffet items are meat product including chicken, lamb and beef. If you are expecting live seafood swimming in front of you or Sashimi corner then you will be disappointed. Still, the chef has prepared Grilled Blackened Fish and Saute Carrot, Cauliflower and French Bean to make this buffet a whole. Lamb lover should not miss the Grilled Lamb Chop with Rosemary Sauce.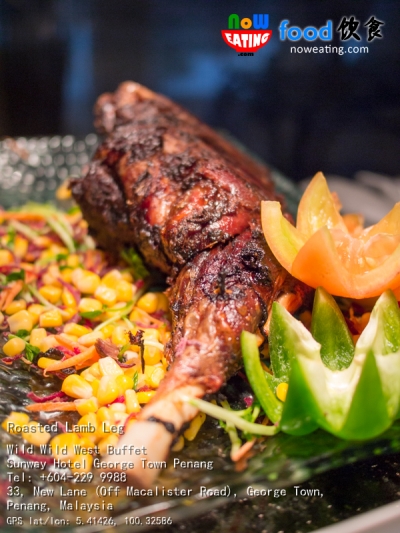 Even better, visit the live action stall for a slice of roasted lamb leg served by the crew there. Best dip with mint sauce provided.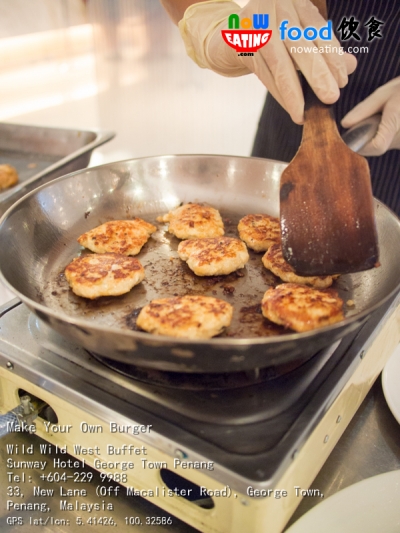 Another live action stall is called "Make Your Own Burger" stall in which you can… uh… make your own burger. Do not worry as the chicken patties will be grilled on the spot by the crew. All you need to do is to stack the grilled patty on a bun and top it with dressing of your own.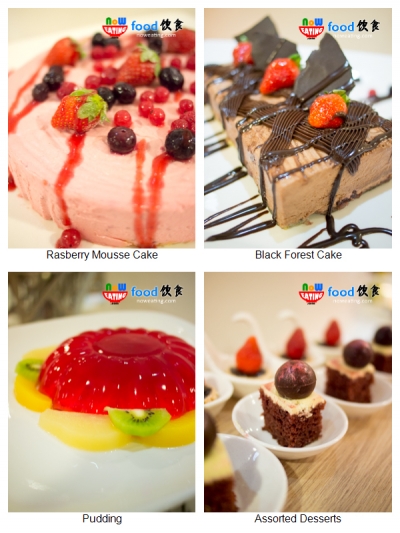 As a whole, if you are meat lover, you will benefit from Wild Wild West buffet. Feeling sinful? Try some of their lovely desserts, including assorted cakes, pudding and fresh fruit.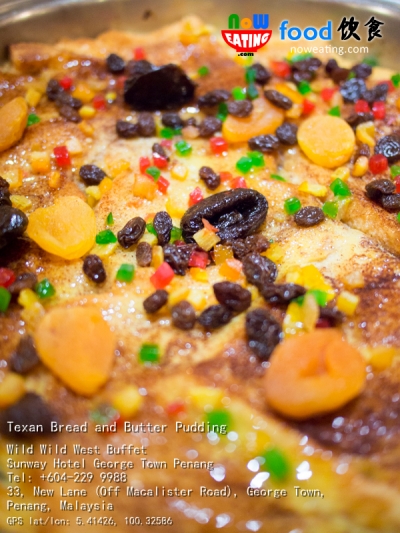 Our favorite being Texan Bread and Butter Pudding. Its aromatic Cinnamon scent covered the area when we were taking photos, and we couldn't wait to grab a piece of it towards the end of our meal.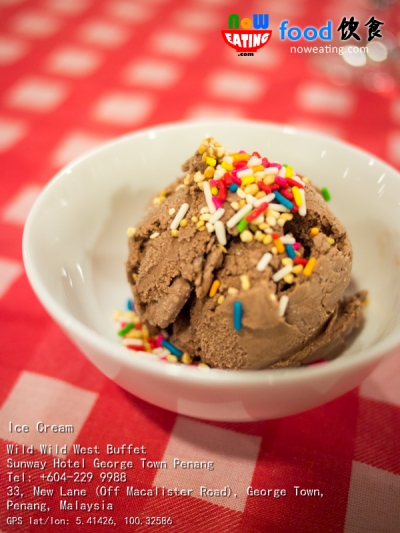 Our definition of a "good buffet" is that it must have at least an ice cream corner, and Sun Cafe does not disappoint us. You can make your own scope of ice cream, or have an Affogato by using Benitorr coffee machine there.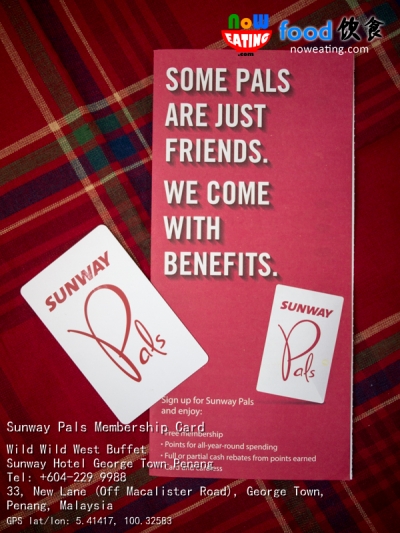 Sun Cafe's Wild Wild West Promotion continues till May 2015 every Saturday from 7pm to 10pm and is priced at RM48.00++ (~RM56 after GST) for an Adult while Child is at RM23.00++ per person. Headache with GST? If you have Maybank, CIMB, UOB, Citibank or Ambank credit cards, you will entitle up to 15% discount! Even better, with Sunway Pals membership card, you can use it to collect points and get 20% discount off total bill. It can be used on other Sunway business components, including Sunway Pyramid, Sunway Lagoon, Lost World of Tambun and etc. Personally, we applied one on the spot. After all, Sunway Pals is FREE! Also, this is a 3+1 dinner in which one diner can eat for free with every three paying adult diners (T&C applies). Please call +604-229 9988 or ask the cafe's staff for more information.
| | |
| --- | --- |
| Place Name: | Sunway Hotel Georgetown |
| Cuisine: | Buffet |
| Address: | 33, New Lane (Off Macalister Road), George Town, 10400, Penang, Malaysia |
| Tel: | +604-229 9988 |
| Email: | [email protected] |
| Website: | georgetown.sunwayhotels.com |
| Working Hour: | 7pm-10pm every Saturday (Wild Wild West Buffet) |
| Last Visit: | 20150321 |