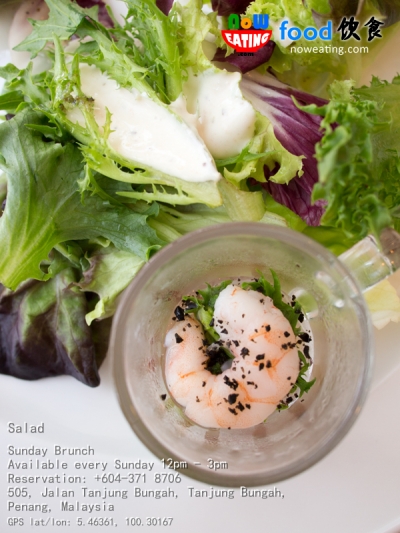 Back in April 2014, we introduced Sunday Brunch by Four Points by Sheraton Penang. It has been almost one year since we visited it and today, we bring you the newly revised Sunday Brunch with few new excitements.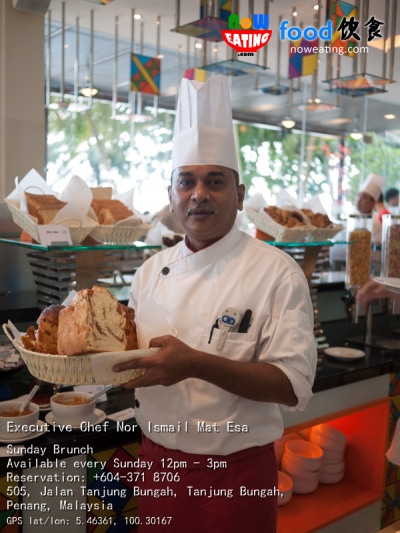 Since we introduced this Sunday Brunch before, we won't get into detail of it for this post but will show you the differences compared to previous version. First and foremost, Four Points Penang brought in new Executive Chef Nor Ismail Mat Esa from The Adaman Langkawi. We first met him last year during First Anniversary Celebration.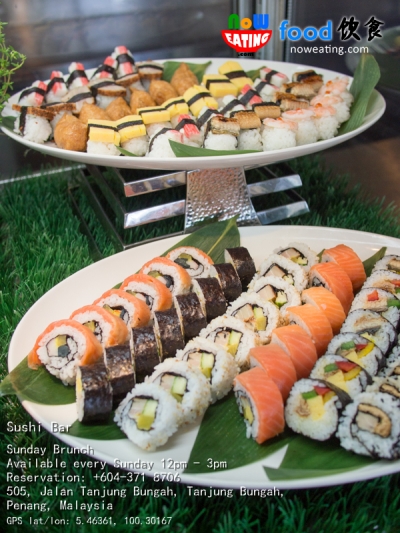 Having a new chef from 5-star hotel, Four Points managed to revamp its menu. Compared to previous Sunday Brunch, the buffet spread is now more "globalized". As a starter, they now have Sushi Bar with assorted Sushi and Maki. Be sure to grab some Salmon Maki.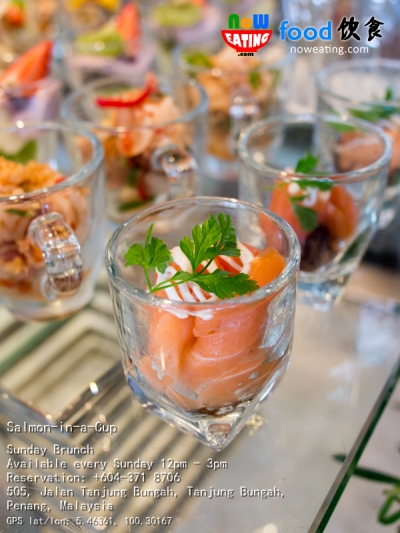 Another corner with "hidden" salmon is at Appetizer corner. A new specialty of Four Points is that they pre-mix salad/appetizer and present them in a small glass to avoid the hassle of mixing salad on your own. Due to some sharp-eye customers, this "Salmon-in-a-Cup" finishes fast. Our favorite was Mussel and Squid Salad.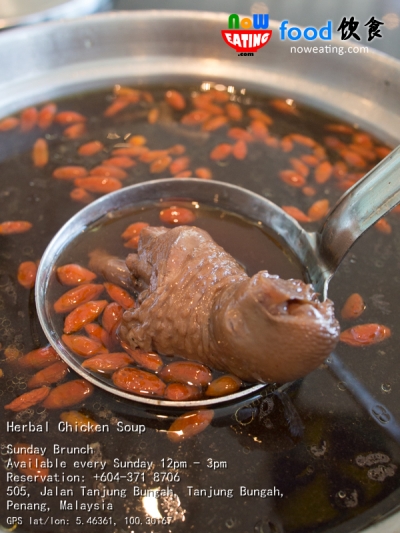 Soup of the day were rich Pumpkin Soup and Herbal Chicken Soup – an energy booster before your weekend's shopping spree.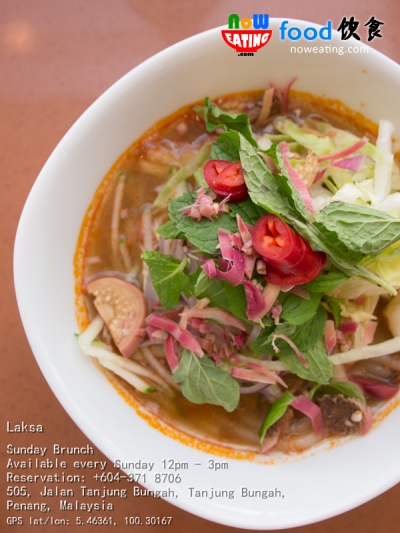 Noodle Station is still available for this new Sunday Brunch but instead of self-service, a chef will serve you the noodle at the station and all you need to do is to add desired toppings. This round, we had Laksa which surprisingly turned out not bad – rich, smooth, and definitely hygienic compared to stalls outside.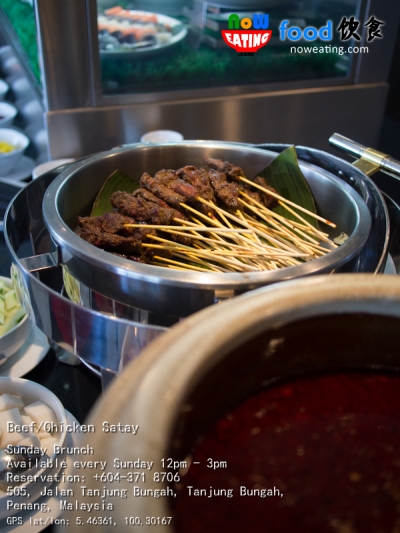 Another local cuisine not found in previous Sunday Brunch is beef/chicken satays. Pasembur and Rojak Buah are also available as part of the buffet spread. Satays are pre-grilled in the kitchen which turn out a bit cold when serving. Good thing is that the dining area is not smokey at all, which is a big plus especially for guests who have adjacent events and prefer not to have stained cloths carried with them the whole day.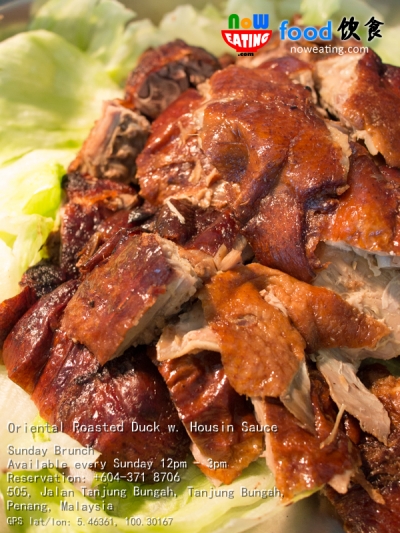 For those who prefer a little more Oriental taste, try their Oriental Roasted Duck with Housin Sauce which is one of the hot tray items. Roasted duck can be considered a "luxury" item nowadays in which a plate of duck rice for one pax costs nearly RM10 in some coffee shops.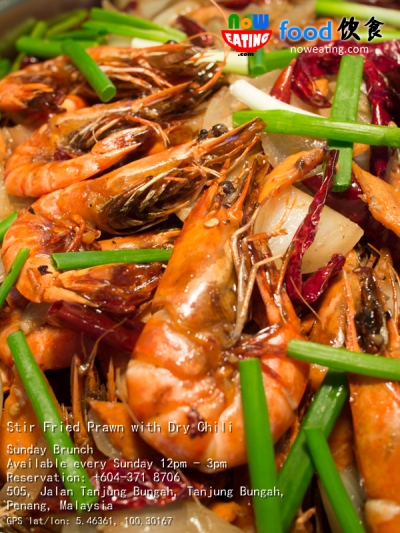 Seafood lover? Try the Stir Fried Tiger Prawn with Dry Chili – one of the luxury hot tray items.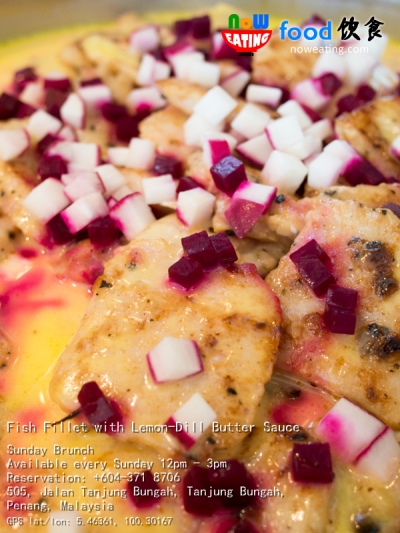 In general, their hot tray items are more distributed now. Other than Oriental dishes, Western and Malay dishes such as Lamb, Fish and Chicken Curry are also available. One item caught our attention was this Fish Fillet with Lemon-Dill Butter Sauce. Dill is a type of aromatic parsley commonly used on western food. This sweet and sour Lemon-Dill Butter Sauce is pretty unique and upgrades the usually-tasteless Dory fish to next level.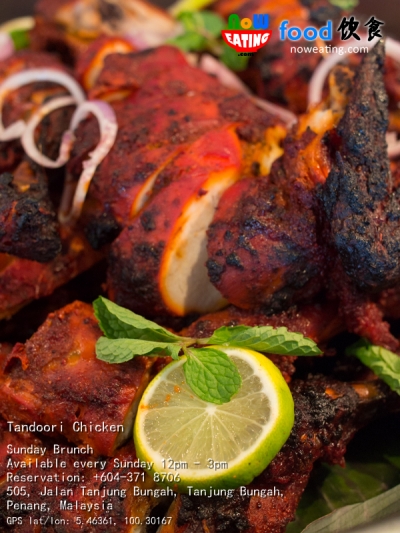 Indian cuisine such as Tandoori Chicken is also available. Be sure to dip it with assorted sauces presented at the counter. Perhaps the only cuisine missing is Thai cuisine but seriously, the buffet spread is more than enough for one.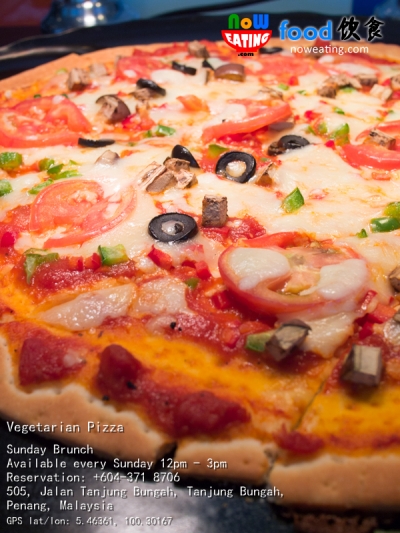 Another new corner for this Sunday Brunch is the Vegetarian Corner designed for vegetarians. During our visit, we were welcomed with Vegetarian Prawns, Kailan with Vegetarian Char Siew, Vegetarian Fried Rice, Vegetarian Chicken Curry, Wok Fried Vegetable with Glass Noodle, Vegetarian Mee Mamak, and Vegetarian Pizza.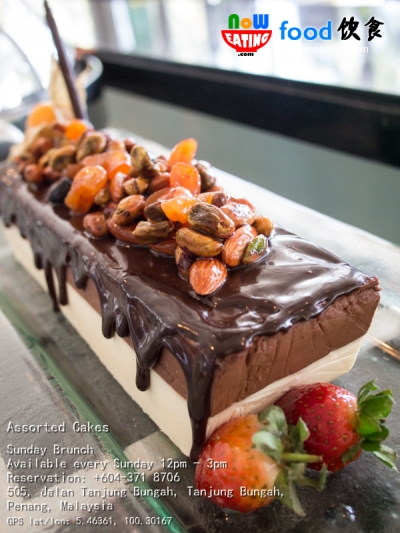 End your culinary journey with a variety of desserts. A must-try is the Pannacotta Chestnut, Berry Pavlova and White and Dark Chocolate Mousse (figure above). For a classic sweet ending, look out for the ice-cream station and top your favorite ice-cream with fun toppings like M&M's jelly beans, marshmallows and Oreo's. You may also put your ice-cream on top of a waffle – a new addition to this Sunday Brunch.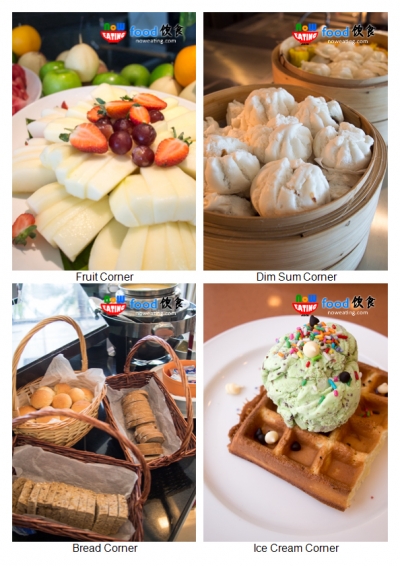 Overall, we are pretty impressed with this new Sunday Brunch. Best of all, it is now only RM48+ per adult and RM24+ per child (age 4-11 years old) compared to RM60+ per adult previously. That's 20% in saving! Starwood Preferred Guest (SPG) will get further 20% off the food bill. According to the management, they intended to draw more customers to visit The Eatery for Sunday Brunch and hence this low price. Hurry before they revise the price again!
| | |
| --- | --- |
| Place Name: | Four Points by Sheraton Penang |
| Cuisine: | Buffet |
| Address: | 505, Jalan Tanjung Bungah, Tanjung Bungah, Penang, Malaysia |
| Tel: | +604-371 8706 |
| Website: | www.fourpointspenang.com |
| Working Hour: | Sunday 12pm - 3pm |
| Tax: | 6% government tax |
| Last Visit: | 20150301 |