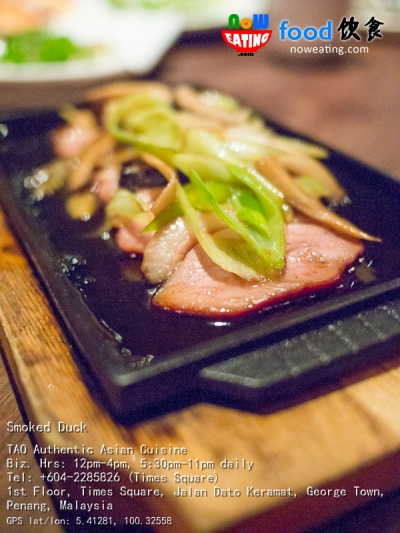 Smoked Duck is our favorite cold platter usually found in buffet line. How about a  sizzling hot pan fried smoke duck breast with sweet garlic sauce? This is just one of 105 items you will find in new Tao menu.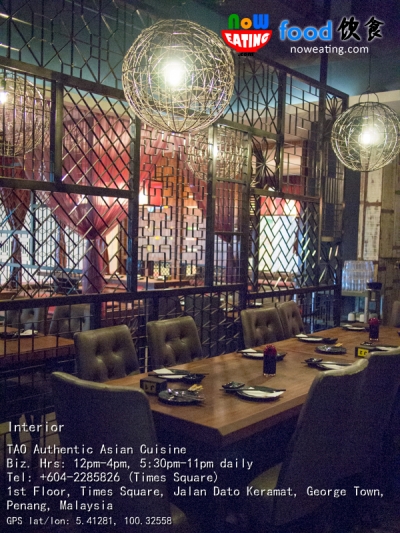 Time flies and it has been more than two years since we last reviewed Tao at Times Square, Penang (Please refer to our previous post for the introduction). With so many cafes and restaurants come and gone for the past two years, Tao is still able to sustain its business in this quiet mall.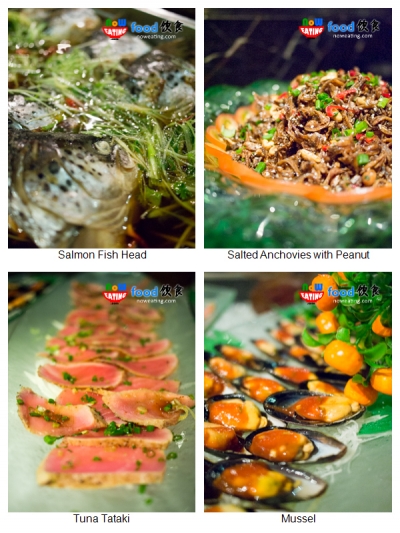 Compared to previous visit in year 2012, some items such as fresh oyster, salmon sashimi and sushi are not found at the counter. Maybe they are seasonal. Some items available are such as Salmon Fish Head, Tuna Tataki, Mussels, and some cold platters. Still, you can order sashimi and sushi from the menu containing more than 100 dishes. After all, Tao concept is ALL-U-CAN-EAT with quality food prepared based on customer orders.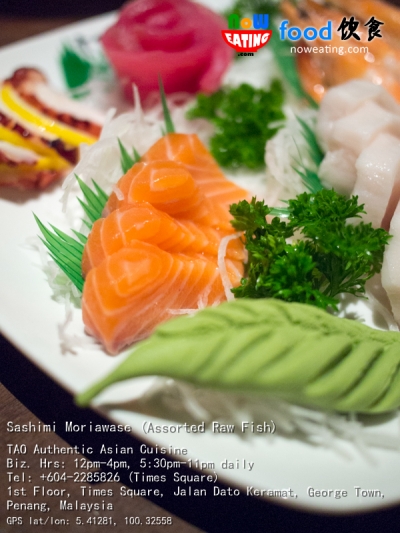 When we first opened its new menu, it was like dining in a Japanese restaurant with our favorite maki, sashimi, teppanyaki, temaki and donburi sub-menu (except that they do not have price next to it). Our recommendation is to have a plate of Sashimi Moriawase to begin your meal. In most Japanese restaurant, a plate like this costs more than RM60.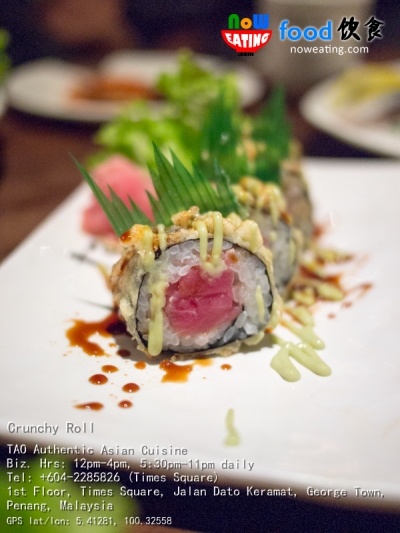 Some maki are quite tempting as well, especially the Crunchy Roll with deep fried sushi roll stuffed with Tuna fish, topped with wasabi mayo. Crunchy outside, juicy inside.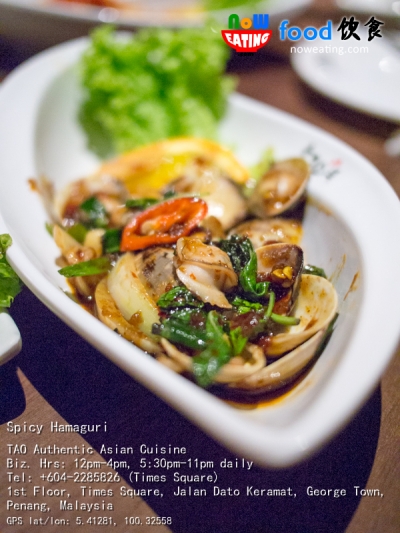 This time, we dined in with our friends who are Tao regular customers. As most of us were pretty hungry, without further delay, they started ordering their favorite food from the menu. Seriously, we did not recall which one is old and which one is new in this menu. One thing for sure is: those "regular customers" sure know how to order food.  Figure above shows Spicy Hamaguri – Stir Fried Clams with Thai Spicy Sauce.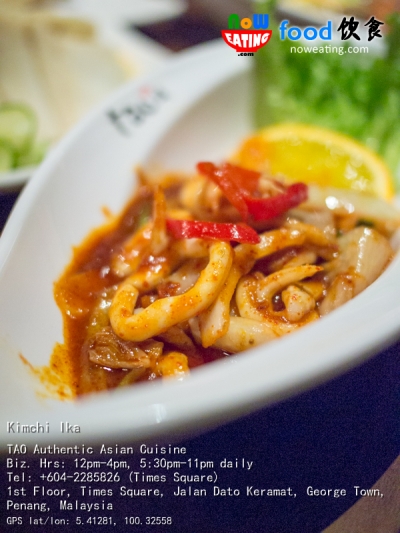 Even though the menu looks like a Japanese restaurant menu, Tao still position itself as Asian cuisine restaurant so that they can serve you the best food from different countries, including Kimchi Ika (Stir Fried Squid with Kimchi) from Korea.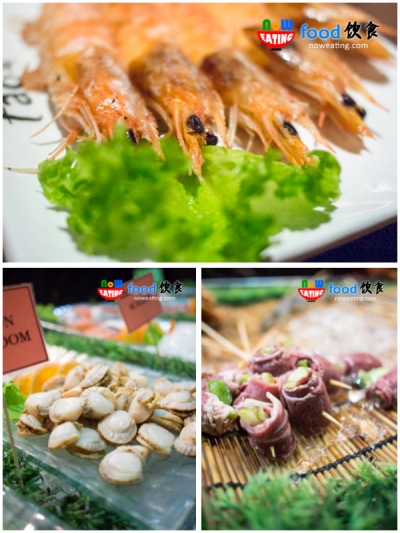 Instead of ordering from the menu, again, don't forget that Tao at Times Square still has some counters for cold platters, salad bar, Kantodaki (关东煮), ice cream, and more important – the Teppanyaki corner. You can select fresh seafood on ice, pass your "order clip" to a staff there, and they will grill the seafood for you. Be sure to grab some sea cucumber – the premium seafood with zero cholesterol.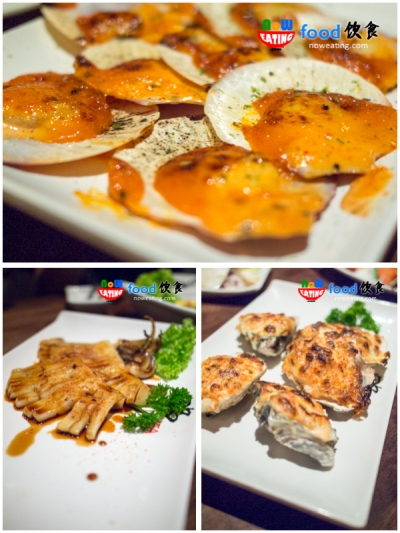 These are our "staple food" when dining in Tao – Motoyaki Scallop, Ika Teriyaki (Grilled Squid with Teriyaki Sauce) and Kaki Hiroyaki (Baked Oyster with Cheese Mayo).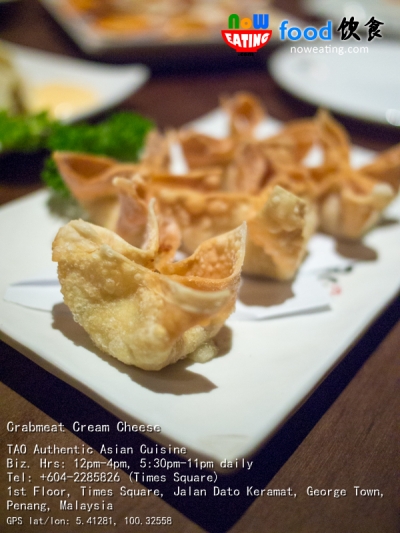 When our friends ordered this Crabmeat Cream Cheese, we were like, "The hell someone order dumplings for buffet?". It turned out that we were wrong. It is not an ordinary fried dumpling found in Wonton Noodle, but a medium-sized dumpling stuffed with minced crab meat with cheese in it.
Abalone, anyone?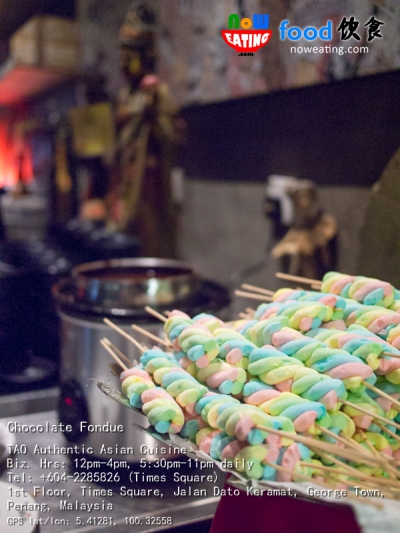 Be sure to reserve some space in your tummy for desserts, such as Chocolate Fondue and ice cream.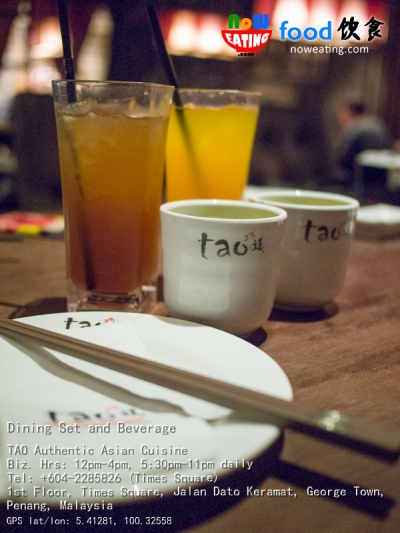 Overall, we were glad that Tao at Times Square is still maintaining its food and service qualities after more than two years. Even better, the price still remains the same:
Lunch (Monday to Friday 12pm – 4pm): RM51++
Lunch (Saturday, Sunday & Public Holiday 12pm – 4pm): RM62++
Dinner (Everyday and Public Holiday) 5.30pm-11pm: RM62++
20% for senior citizen 60 y/o and above. Only applicable for RM62++. Except public holiday.
10% discount for early bird (5.30pm-6.30pm). Mon-Fri only. Except public holiday.
For a copy of full menu, kindly refer to official site.
| | |
| --- | --- |
| Place Name: | TAO Authentic Asian Cuisine |
| Cuisine: | Buffet |
| Address: | First Floor, Penang Times Square, Jalan Dato Keramat, George Town, 10150, Penang, Malaysia |
| Tel: | +604-2285826 |
| Website: | www.tao-cuisine.com/ |
| Working Hour: | 12pm-4pm, 5:30pm-11pm daily |
| Last Visit: | 20150323 |