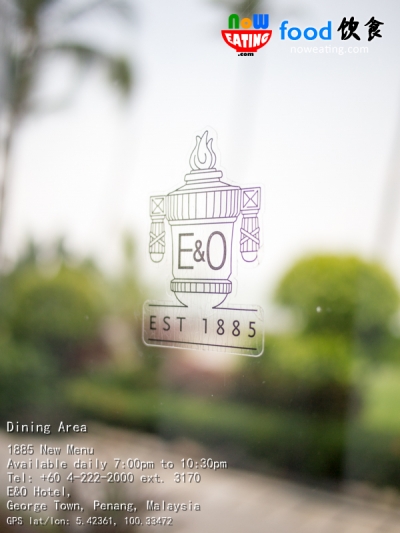 It is amazing that Eastern and Oriental (E&O) Hotel is already here at George Town, Penang for 130 years. We recently visited its 1885 restaurant which is named after the year E&O Hotel is established for its new menu created by Guest Chef Mark Jarvis for April 2015 onward.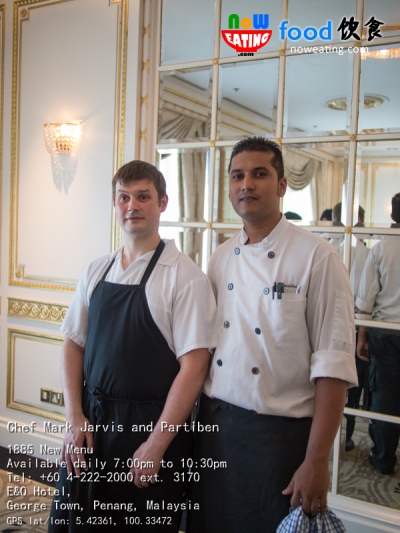 A brief introduction on Guest Chef – Mark Jarvis (left). The 33 years old chef has a total of 11 years experience in culinary industry and has been working in Michelin-starred restaurants before. In between, he was an executive chef in the famous Bingham Richmond Hotel in year 2013 before starting his new venture. Chef Partiben (right) is E&O's Chef de Cuisine.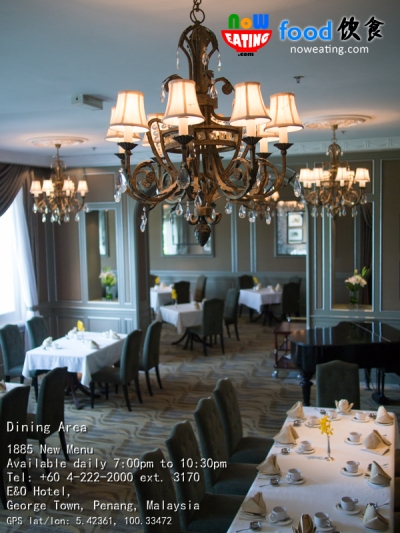 Mark Jarvis emphasizes on natural food and in this trip as a Guest Chef in E&O Hotel, he presents us "Fresh & Vibrant London cuisine". During our recent visit to 1885, we were presented with a tasting menu comprising 6 out of total 20 dishes from the finalized menu. Note that these are sampling dishes and the actual portion is usually larger.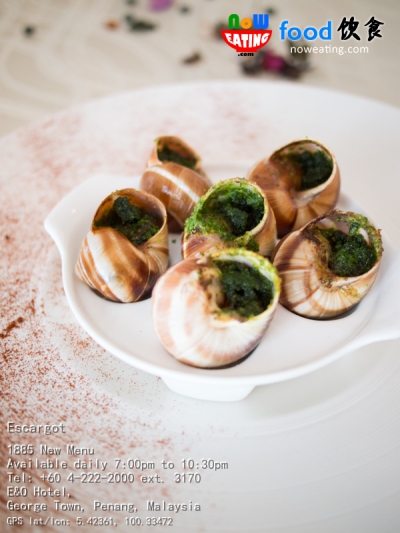 From our observation, Mark Jarvis is talented in using herbs and other natural ingredients to complement the food. The result? You hardly get irritated or stuffy toward the end of your meal. Escargot (RM67.65) here is perhaps the best we've tried in Penang with added garlic butter and parsley crust without a trace of earthy taste. Note on the weird price figure. After implementing GST, all prices includes 10% service charge and 6% GST.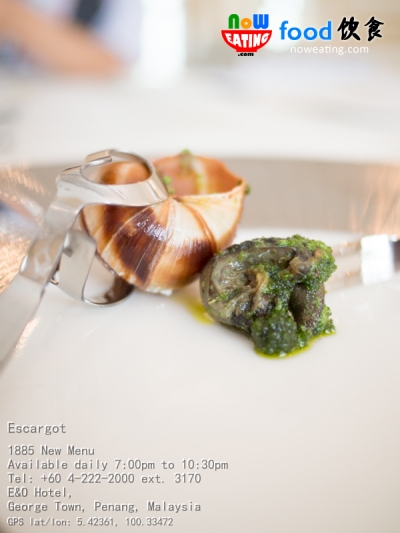 Escargot is an edible snail high in protein and low in fat. It is usually served as a starter in Spain and France. A special tong and fork will be provided to fork out the snail hidden in the shell.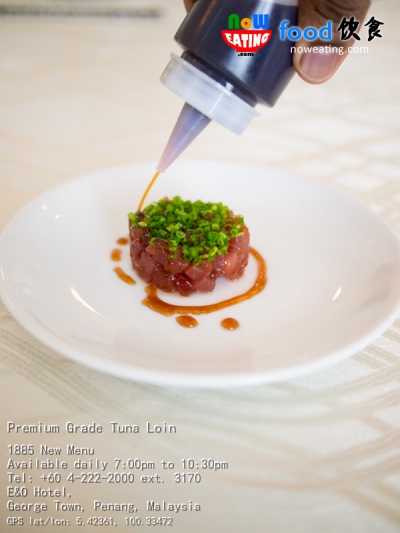 White truffle is a rare underground fungus and is more difficult to get compared to black truffle. It only grows few months per year and is usually sold at astonishing price to some restaurants. A white truffle less than a kilogram can be easily sold for half a million RM. In 1885, Premium Grade Tuna Loin (RM97.95) is prepared with White Truffle Oil Emulsion with Soy Sauce.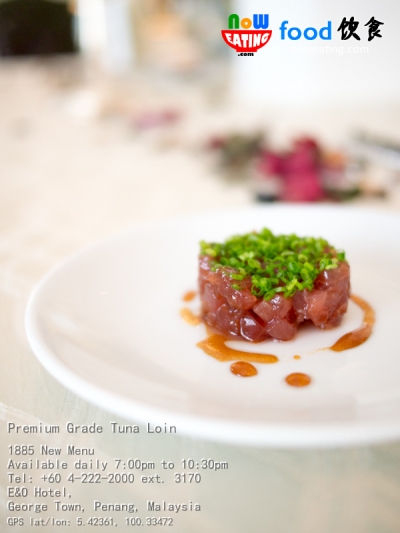 It tastes a bit like Japanese smoked sashimi but the combination goes so well that you really don't need wasabi to cover the fishy taste, if there is any.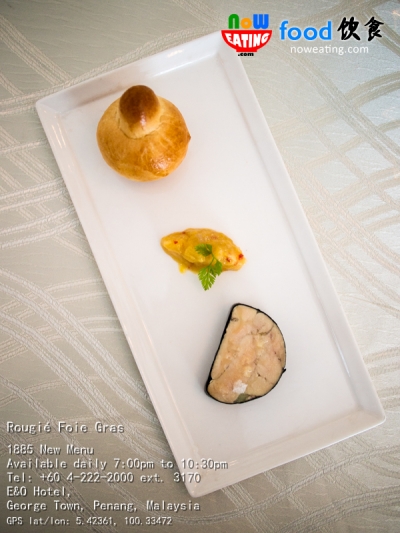 Goose liver, anyone? The Rougié Foie Gras (RM109.60) is salted for at least 24 hours to remove the bitterness of the luxury Foie Gras. It is then soaked with Brandy before wrapping with seaweed. The whole process takes at least two days to complete before presenting on guest tables which is served with refreshing spiced mango chutney with orange scented broiche (a French pastry).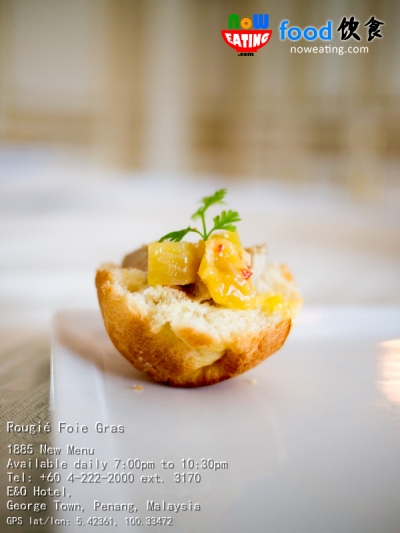 The result? A refreshing and sweet starter.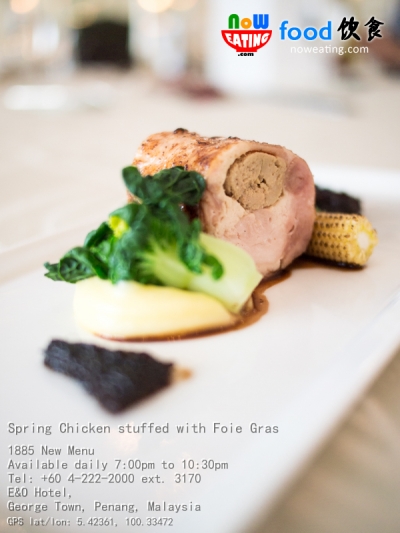 Foie Gras is a popular delicacy in French cuisine and is described as rich, buttery and delicate. Other than starter, it is also used for main course thanks to the creative recipe from Mark Jarvis. Spring Chicken stuffed with Foie Gras (RM120.10), for instance, is made of de-boned and "compressed" spring chicken, young corn, morel (羊肚菌), and Madeira Sauce. Morel is a premium wild fungus with texture similar to black fungus and has medication effect.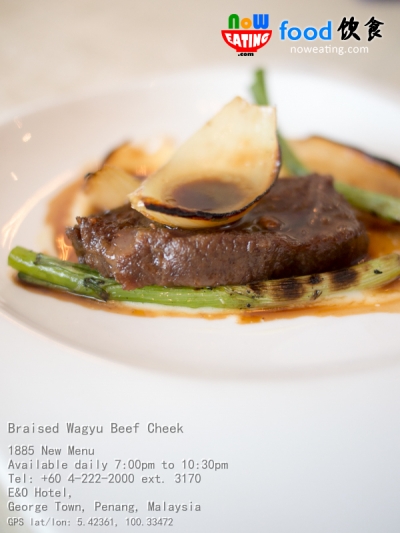 Wagyu (和牛 or literally Japanese Cow) is well-known of its tender meat which melt in your mouth effortlessly. In Japan, massaging and beer are added to produce the quality meat. 1885 presents you Braised Wagyu Beef Cheek (RM117.75) which is sauteed with onion cream and dark soy glaze.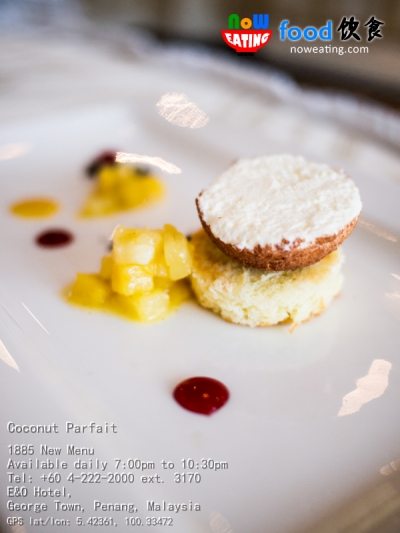 We ended our food sampling session with Coconut Parfait (RM22.15) made of Malibu Parfait, Coconut Joconde Biscuit and Mango Chutney. Again, Mark Jarvis complemented this sweet dessert with a drip of Malibu Caribbean rum.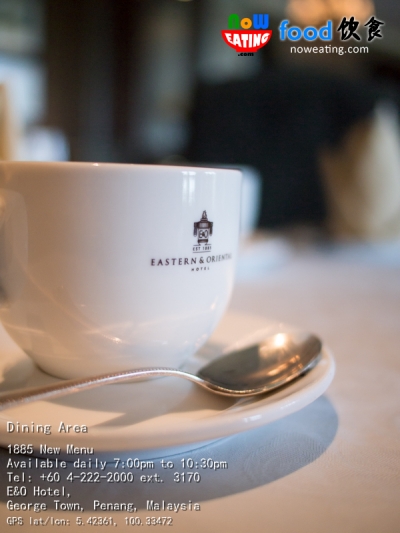 So, what is "London cuisine"? We believe from Mark Jarvis's definition, it is all about fresh, delighted and creative cuisine using natural ingredients instead of ordinary "fish-n-chip". 1885 at E&O Hotel opens daily for dinner from 7pm to 10.30pm. For the convenience of our readers, we also provide its new menu here. For latest pricing and menu, always refers to the actual hardcopy at 1885. Thanks.
| | |
| --- | --- |
| Place Name: | 1885 |
| Cuisine: | Western |
| Address: | E&O Hotel, George Town, Penang, Malaysia |
| Tel: | Tel: +60 4-222-2000 ext. 3170 |
| Working Hour: | Available daily 7:00pm to 10:30pm |
| Last Visit: | 20150404 |