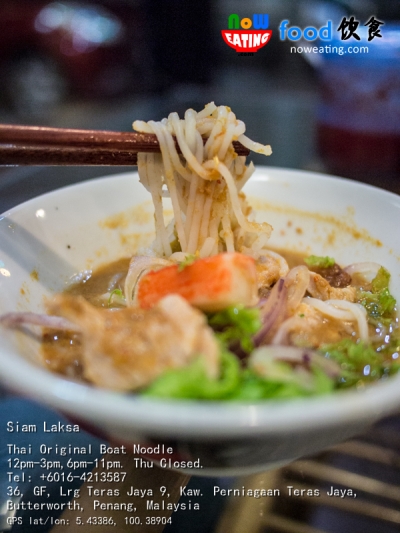 It was a long Saturday in which we had to work from nine to six. Our eyes were like Mashimaro  when we arrived at Thai Original Boat Noodle – a restaurant we decided to give it a try when venturing in Teras Jaya Business Park at Raja Uda, Butterworth, Penang. Our eyes immediately opened after having a sip of the soup.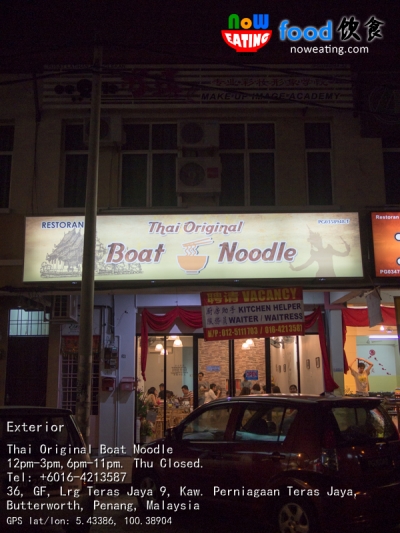 According to the waiter, Thai Original Boat Noodle opened about one month ago. It is located near Econsave, same row with The Classroom, Say Cheese, Eighty Tree and etc. Thai Original Boat Noodle is the first Thai Boat Noodle restaurant we tried in Penang mainland. It offers not one, not two, but SIX types of boat noodles.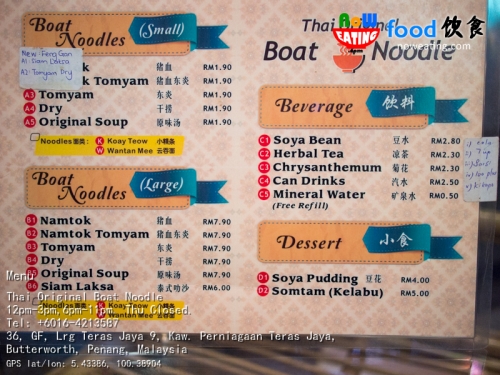 We believed that the owner had revised their menu, such as by removing noodles with pig blood. "Pig blood" may sound disgusting but it is actually the original recipe in Thailand. Perhaps the restaurant was serving the most original Boat Noodle from Thailand but due to supply/demand issue, they have to replace them with others. The six types of boat noodles include:
Feng Gan (New)
Siam Laksa
Tom Yam Dry
Tom Yam
Dry
Original Soup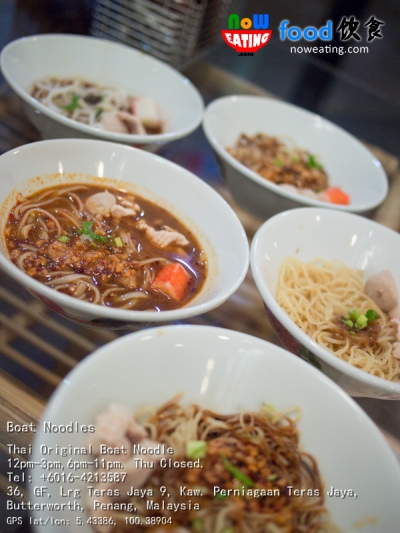 For each boat noodle, two sizes are available – small (RM1.90) and large (mostly RM7.90) with two types of noodle – Koay Teow and Wantan Mee. We were served by a friendly waiter, allowing us to have ample time to customize our noodles. We ended up ordering a bowl for each type.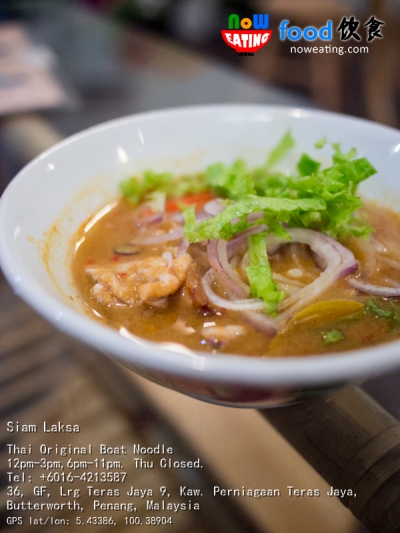 Back to the Siam Laksa. Unlike other boat noodles in which you can select between Koay Teow and Wantan Mee, Siam Laksa only comes with Laksa noodle. The Laksa noodle is slightly thinner than our local version. Its broth is the richest among others which tasted like Balik Pulau's laksa lemak with added onions.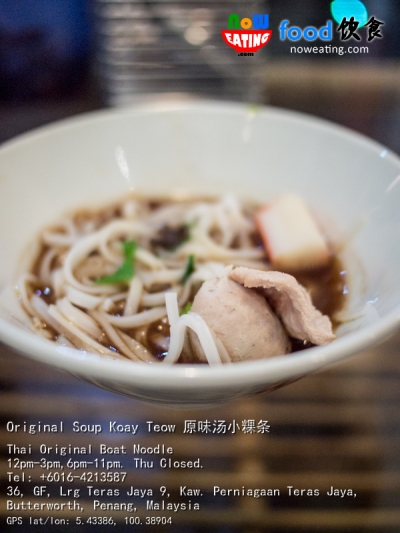 Our second favorite goes to Original Soup with mild herbal taste – not as strong as the Summerton's one but still acceptable. Each bowl of boat noodle comes with a meat ball, a slice of pork, crab stick and ground peanut.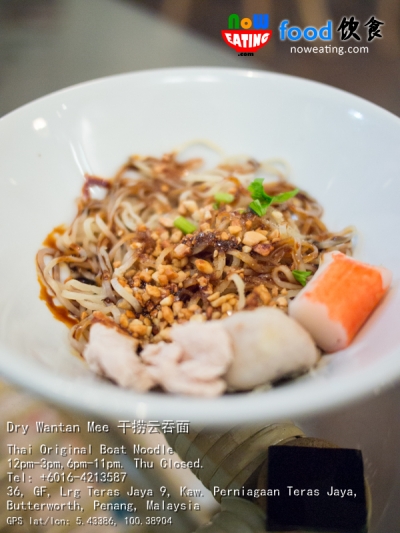 This was perhaps our first time seeing Wantan Mee (egg noodle) appear in Boat Noodle restaurant but it tasted exceptionally well with Dry version. Taste-wise, it was a bit like dried Wantan Mee from hawker stalls.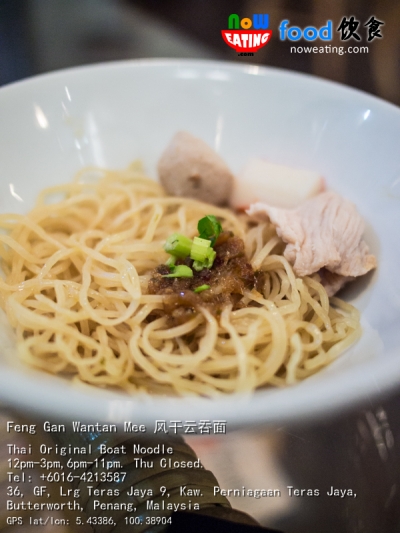 Even better, make it into a bowl of Feng Gan Wantan Mee 风干云吞面. "Feng Gan" means air dried. It is basically a dry noodle without any dark soy sauce, topped with spicy and sour chili paste. Be sure to stir well before enjoying. With springy Wantan Mee, it was like eating an instant noodle.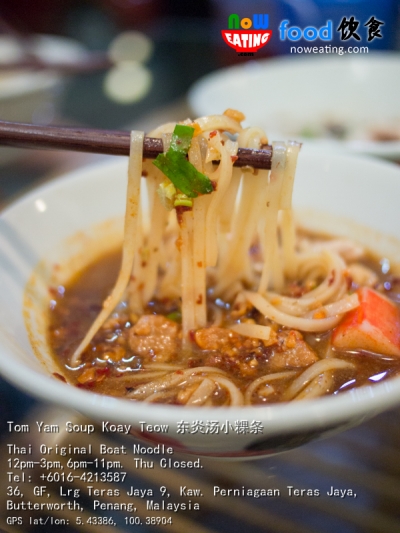 As for the Tom Yam series, unfortunately, we found it a bit plain in the sense that it was just pure sour without the aromatic taste from lemongrass, ginger torch, kaffir lime leave and galangal.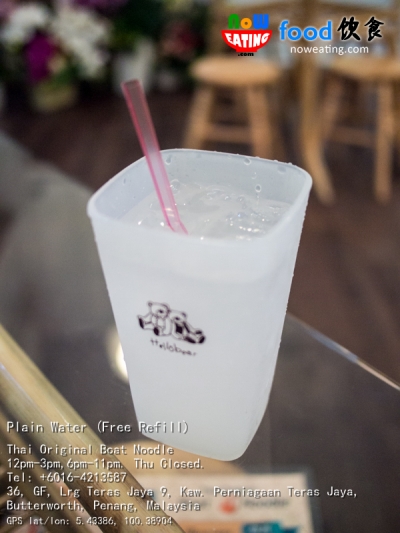 Last but not least, we had a glass of plain water (RM0.50) and Chrysanthemum Tea (RM2.50). The refillable plain water came in the right time especially after GST was implemented. We spent RM14.20 that evening for six small bowls of boat noodles with different flavors and two glasses of drink. Not bad at all.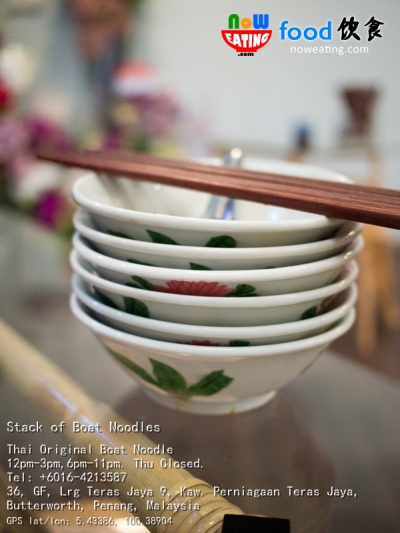 Below is our ranking for boat noodle:
Siam Laksa
Original Soup
Feng Gan
Dry
Tom Yam Soup
Tom Yam Dry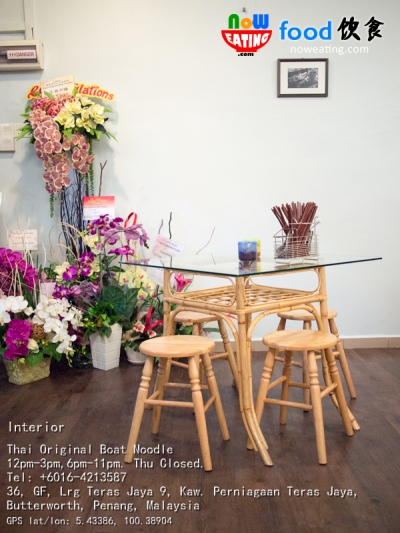 As a whole, Thai Original Boat Noodle is probably one of the best boat noodle restaurants in Penang mainland with more varieties compared to competitors. We strongly recommend Siam Laksa. If you are a big eater and stacking bowls is not your type, you can always opts for normal size noodle. The restaurant closes on Thursday.
| | |
| --- | --- |
| Place Name: | Thai Original Boat Noodle |
| Cuisine: | Thai |
| Address: | 36, Ground Floor, Lorong Teras Jaya 9, Kawasan Perniagaan Teras Jaya, Raja Uda, Penang, Malaysia |
| Tel: | +6016-4213587 |
| Working Hour: | 12pm-3pm,6pm-11pm. Thu Closed. |
| Tax: | No |