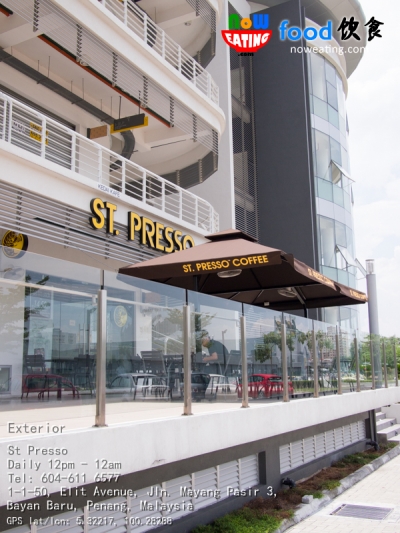 Our first thought of St Presso was that it could be just another franchised cafe but it turned out that we were wrong. It is a Penang cafe established by entrepreneur – Mr. Lor in 15-Aug-2014 with its first and only outlet located at Elit Avenue – the new SOHO building located opposite of Giant and Pantai Hospital of Bayan Baru.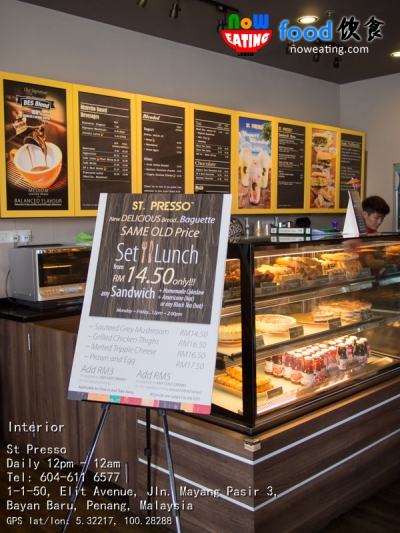 St Presso is the combination of "Sandwich" and "Espresso" words which are also the main items sold in this cafe. Its logo looks like a sleeping child but it is actually a cupid with its wings in the background. Currently the cafe opens daily from 12 noon to 12 midnight.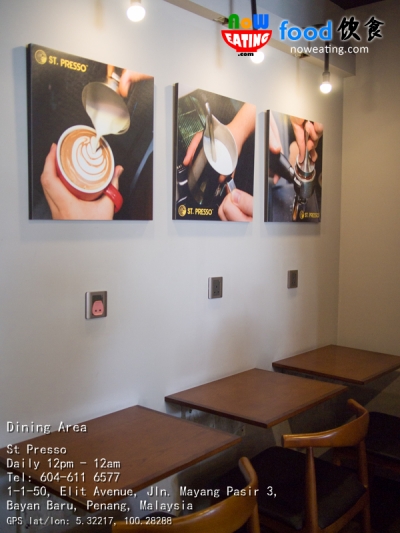 The cafe has few dining layout – normal dining table, stools, sofa, and wall mounted tables designed for solo customer.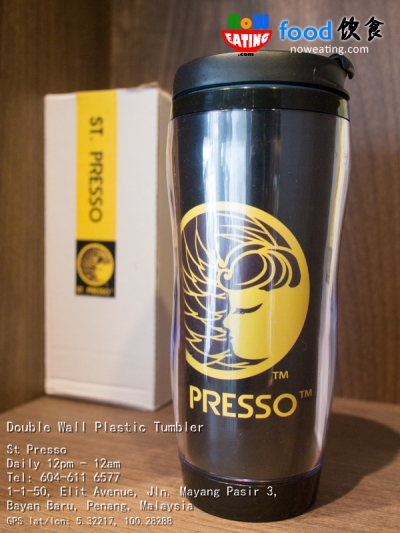 The cafe has some merchandise items as well, including double-walled plastic tumbler with its own logo (350ml) at RM32.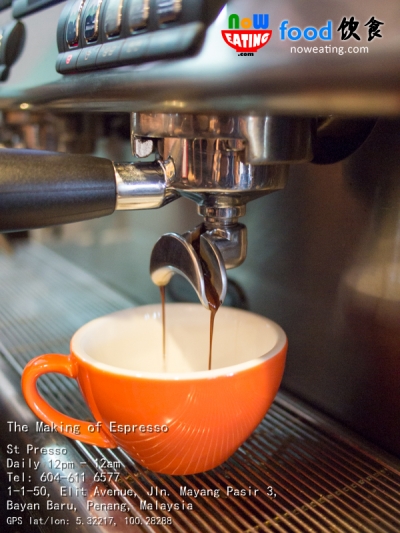 It was our pleasure to meet with the director of St Presso – Mr. Lor, explaining their menu which was revised in 1-April-2015. He even brought us to their kitchen showing us how easy to make a cup of failed coffee even with the aid of espresso machine. At the minimum, Baristas must be able to control the temperature and apply the right pressure to produce a good coffee.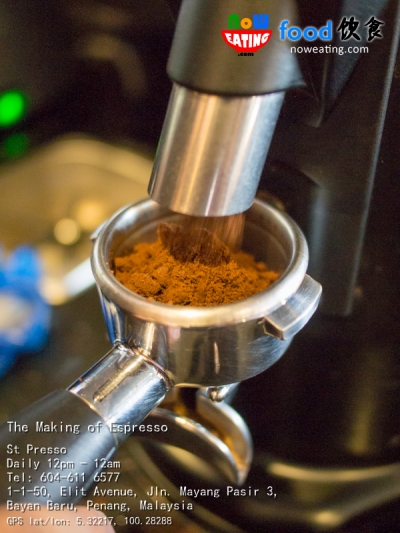 By default, St Presso uses medium roasted coffee beans of its own brand (also known as BES Blend) from Brazil/Ethiopia/Sumatra. It has medium body with hint of fruity acidity and nutty aroma. In other words, it is well-balanced. Occasionally, they do have seasonal coffee beans as well such as Guatemala Antigua and Ethiopia Sidamo Red Cherry Natural.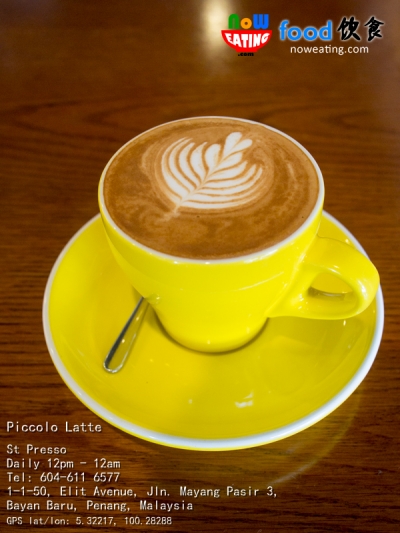 More important, St Presso applies strict quality control. Coffee bean roasted more than 21 days will be discarded. We ordered a cup of Piccolo Latte (RM9.00+). Compared to normal Cafe Latte, Piccolo Latte uses less milk. The milk foaming was smooth and shiny thanks to the use of right temperature.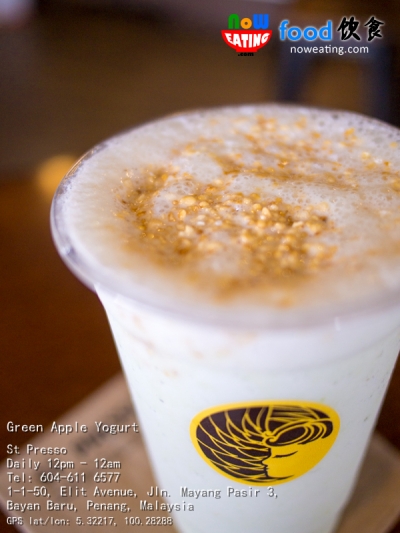 Not a fan of coffee? Try their yogurt series. We were recommended with their Green Apple Yogurt (RM13.50+) which was refreshing and worked well as thirst quencher during hot day.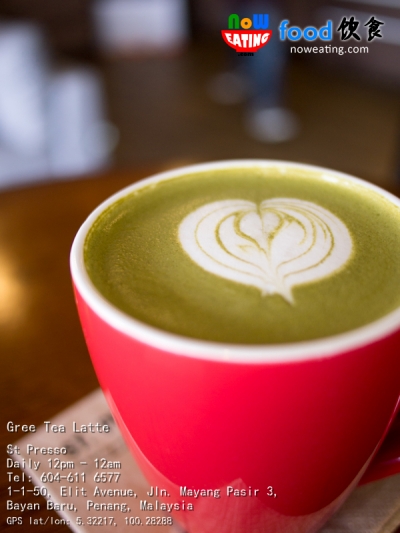 Other drinks include Green Tea Latte (RM11.00+ Hot). However, it was just average and we personally recommend you to go for their yogurt series for non-coffee lover.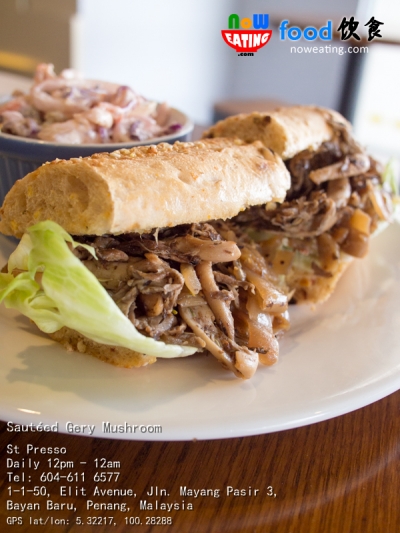 St Presso's main objective is to provide best coffee to customers at reasonable price. If you are looking for a place for family dinner then perhaps this cafe is not a place for you. St Presso, however, offers four sandwiches of their own recipes. The first being a vegetarian sandwich – Sautéed Gery Mushroom with caramelized sweet onion (RM13.50+). Each sandwich comes with homemade coleslaw.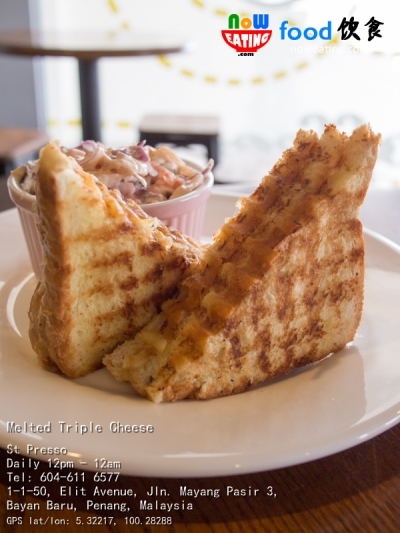 Our favorite was Melted Triple Cheese (RM15.50+) made of Cheddar, Edam and Guada cheeses. This is also the most difficult sandwich to prepare as it requires frequent flipping on each side to melt the cheese while at the same time try not to burn the toast.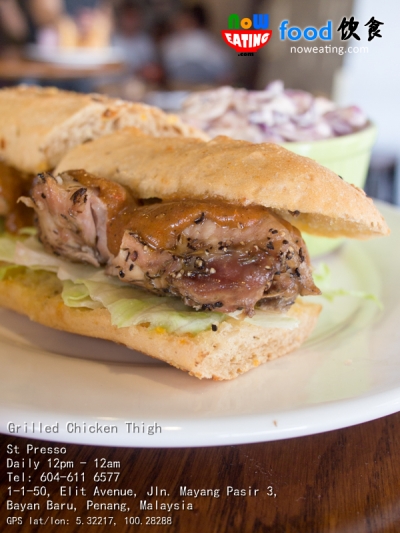 Grilled Chicken Thigh (RM16.00+) is lightly marinated before grilling to ensure that customers will get the "grilled flavor". It is then topped with their homemade sauce which remains as "trade secret". The result? Juicy and tender.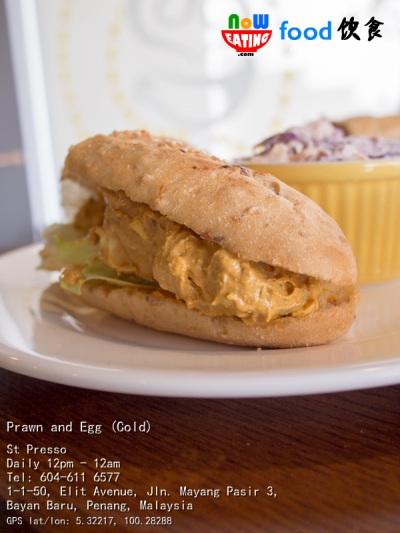 Prawn and Egg (RM16.50+) is another unique sandwich. The poached whole prawn and hard boiled egg are coated in curry mayonnaise. The curry mayonnaise has mild spiciness just like Japanese curry. We liked the texture of juicy prawn in it as it makes the sandwich more enjoyable to consume despite of creamy texture of the mayonnaise. By the way, St Presso uses Baguette – French's long thin loaf for their sandwiches (except Melted Triple Cheese).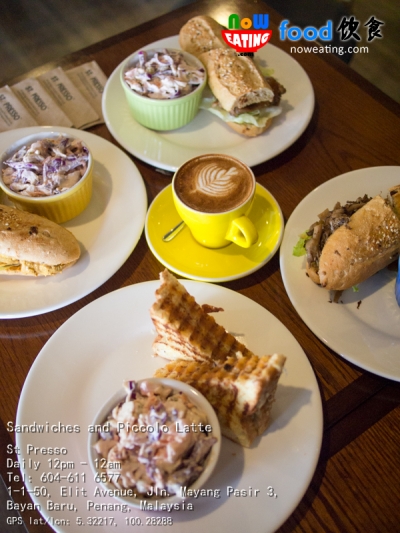 Set Lunch is also available at RM14.50+ each, comes with homemade coleslaw and a cup of Americano (Hot) or Black Tea (Hot). As a whole, St Presso is like a cupid ready to spread its wings with its quality control and well-trained baristas. Pricing-wise, it is quite reasonable considering the quality of food and beverage you will get. Just like the owner said, "You deserve a good cup of coffee with the price you pay".
Last but not least, starting from 1-Apr-2015, St Presso has its own Loyalty Program:
RM10 enrollment fee. No expire date on card.
RM1.00 = 1 point. No expire date of points.
Use accumulated points to redeem anything from menu.
| | |
| --- | --- |
| Place Name: | St Presso |
| Cuisine: | Western |
| Address: | 1-1-50, Elit Avenue, Jalan Mayang Pasir 3, Bayan Baru, 11950, Penang, Malaysia |
| Tel: | 604-611 6577 |
| Email: | [email protected] |
| Website: | http://www.stpresso.com/ |
| Working Hour: | 12pm - 12am daily |
| Tax: | 6% GST |
| Last Visit: | 20150411 |