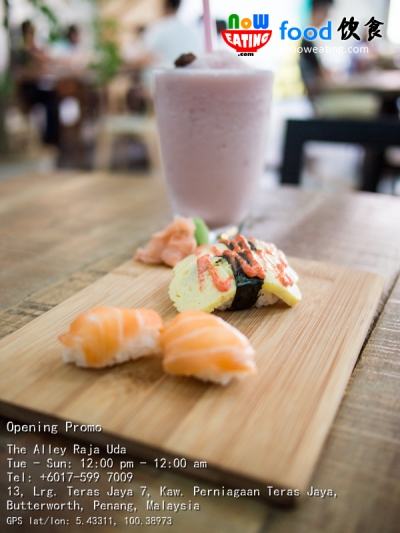 As long as Japanese food is concerned, our immediate reaction is to order a cup of hot green tea without any thinking. How about sushi with a cup of coffee? You will find this "clash of cuisine" at The Alley, Raja Uda.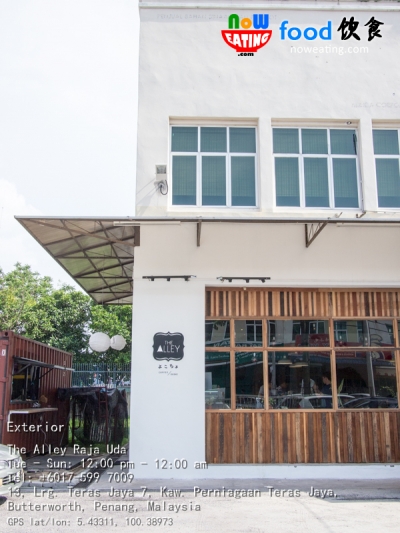 The Alley is located inside Teras Jaya Business Park where The Classroom, Econsave, Kopitan, etc are located. Even with the help of Waze, it is difficult to allocated this cafe. We drove few rounds and almost gave up searching for it until we searched online for clues. By luck, we found one picture with reflection on The Alley's windows, showing the shops opposite of it. We gave it the last try and finally found it!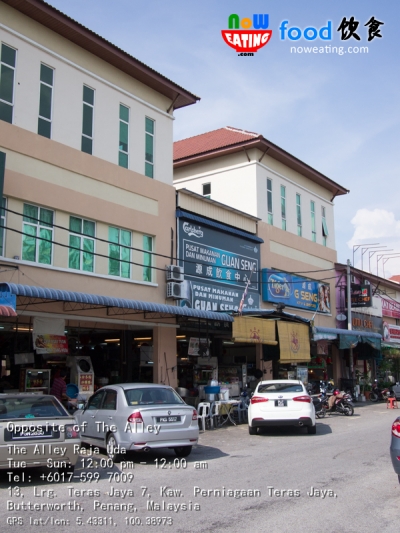 Here's the exact location: Most streets in Teras Jaya are one way street and you will eventually reach Econsave. Assuming Econsave is on your right, travel until the end and turn left. On your right hand side is a restaurant called "Big Gin Na Restaurant". Drive slowly for about 40m and when you see Guan Seng food court on your left, look on your right.
The Alley is just opposite of Guan Seng food court with barely noticeable little black signboard.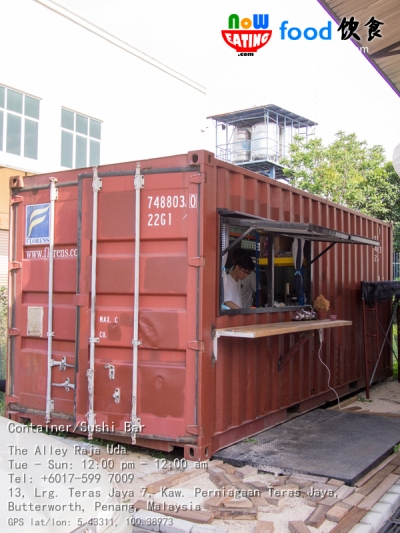 The Alley occupies a double-storey light industry building with few parking spaces in it. Alternatively, you may park your car opposite of the street. Before the entrance is a container which is converted into a kitchen. Sushi is made inside. A pretty unique design but trust us, it is not a good place to work inside for long hours.
In contrast to the container, the dining area is spacious and cozy with high ceiling. It has a modern cafe design with a counter for customers to place orders. Once order is made, you will be given a number and the waitress will serve you the food or drink based on the number. Since it is a light industrial area, occasionally there were some flies flying around and we noticed that the crews were trying their best in zapping them.
Currently, the menu has limited choice but we believe that The Alley Raja Uda is in the process of upgrading their menu as of this blog is written. We ordered Opening Promo (RM13) which was a set meal designed for new visitor to try out their sushi and coffee at once. The set comes with 2 x Tamago Mentai, 2 x Salmon Sushi, and 1 x Hot Coffee. While Tamago Mentai was good, we found that the salmon was a bit too thin.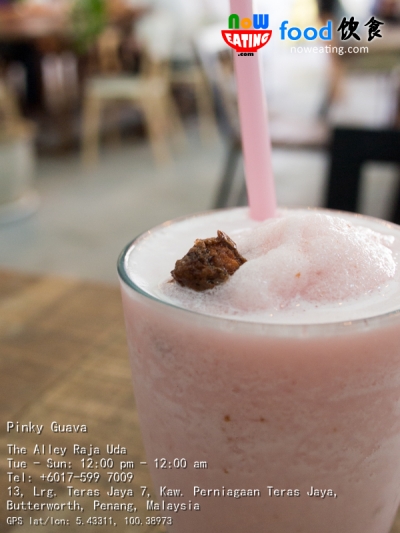 We were quite dehydrated after long journey so we added RM2 to upgrade our drink to Pink Guava which is individually priced at RM13 per glass. In other words, we only added RM2 for those sushi. The pink guava is ice-blended with sour plum. A good thirst quencher.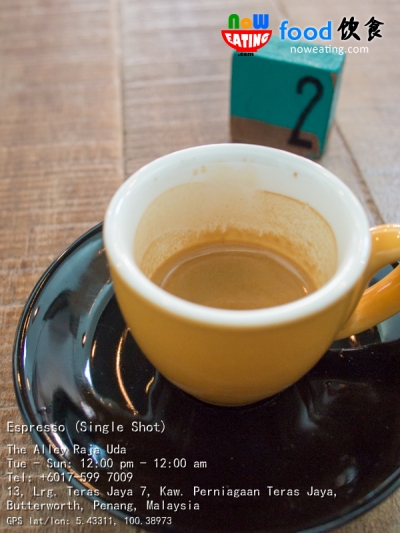 Since our eyes were a bit souring after long journey, we ordered a single shot of espresso (RM6). It had acidic taste on first sip and mild bitterness after taste. Thanks for it, our eyes reopened and we continued our journey.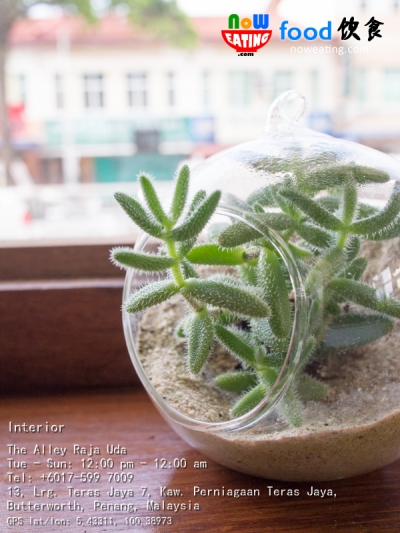 As a whole, The Alley at Raja Uda is a cafe worth visiting for its environment more than the food itself. Consider it as a place for coffee with sushi as bonus items. Pricing-wise, it is on a par with market rate. The current Japanese menu items are pretty limited (e.g. no bento/ramen/donburi items) but we believe that The Alley will be improving it soon.
| | |
| --- | --- |
| Place Name: | The Alley |
| Cuisine: | Japanese |
| Address: | 13, Lorong Teras Jaya 7, Kawasan Perniagaan Teras Jaya, Butterworth, Penang, Malaysia |
| Tel: | +6017-599 7009 |
| Working Hour: | Tue - Sun: 12pm - 12am |
| Last Visit: | 20150412 |