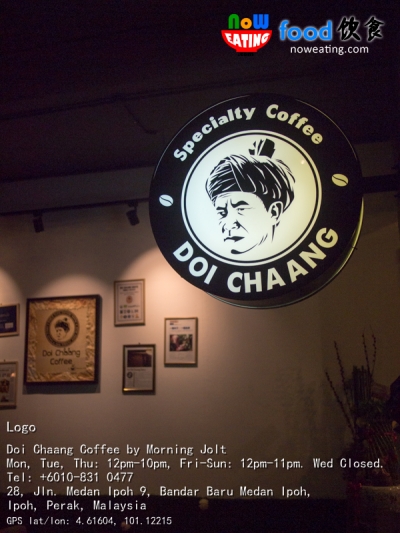 Our first encounter with Thai coffee was when we were in Changmai for holiday trip in year 2014. We visited Wawee for a cup of coffee while walking near university district. The coffee shop is similar to Starbucks with air-conditioned environment, soft music in the background and WIFI, allowing customers to online for various purposes. Today, we introduce you another Thai coffee – Doi Chaang.
Good news is that, there is no need to travel all the way to North Thailand for a cup of Doi Chaang coffee. An offshore licensed outlet can be found in Bandar Baru Medan Ipoh where Aeon and Tesco Ipoh are located, specifically, at Jalan Medan Ipoh 9 facing North-South Highway.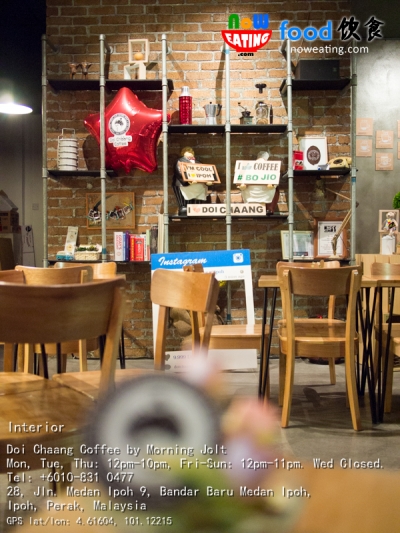 Doi Chaang Coffee at Ipoh is a nice place for gathering or doing assignment. It has both sofa and dining table setup with some photo shooting opportunity. We found out that their Internet is pretty fast as well.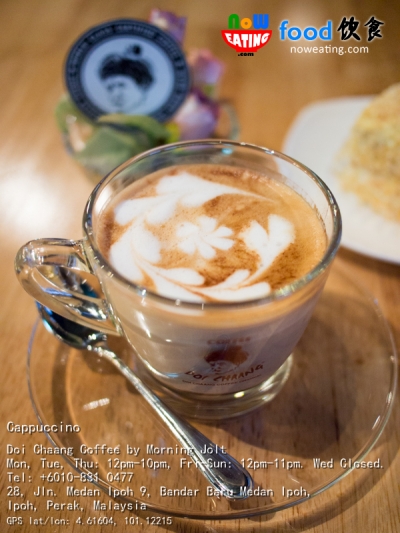 Compared to its competitor, Doi Chaang's coffee is harvested from North Thailand, 1200m – 1600m from the sea level (similar to Cameron Highlands). The Arabica coffee bean is hand picked by Akha Hill tribe in a single estate. Doi Chaang Coffee is perhaps the only Thai coffee with fair trade and organic certificates. "Fair trade" means that fair price is paid to the producers in the developing country which in this case, the Akha Hill tribe. Picture shows a cup of cappuccino (RM9.80) with nice latte art.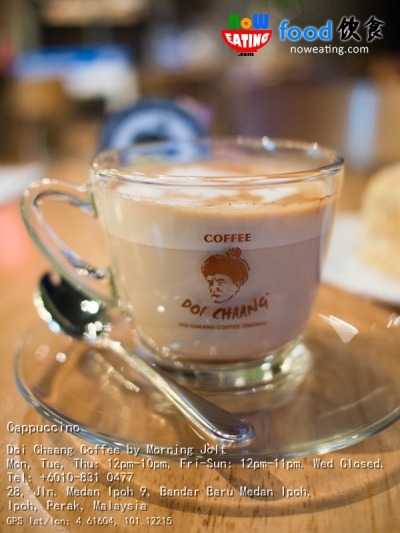 We visited Doi Chaang in Ipoh during our recent day trip to Cameron Highlands. On our way back, we were pretty tired and stopped by this outlet to have a cup of coffee being heading back to Penang. Doi Chaang coffee bean is very clean, medium roasted, moderate acidity and syrupy mouth feel.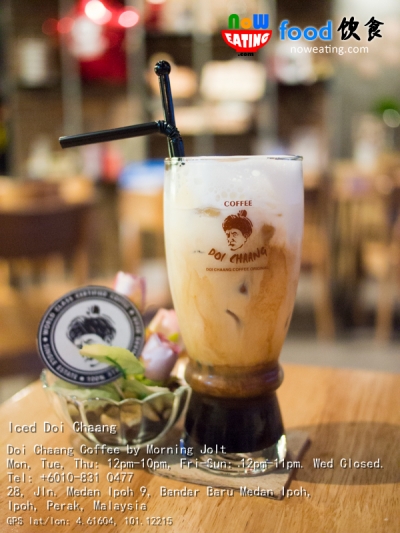 Ice Doi Chaang (RM10.80) is the signature drink. The tall glass is made of double shoot of espresso, milk and brown sugar syrup. It can be further customized to be less ice and less sugar which is the one we ordered. It looks like three-layer milk tea found in some coffee shops but is definitely not the over-sweet drink. The richness and non-diluted coffee is still in it.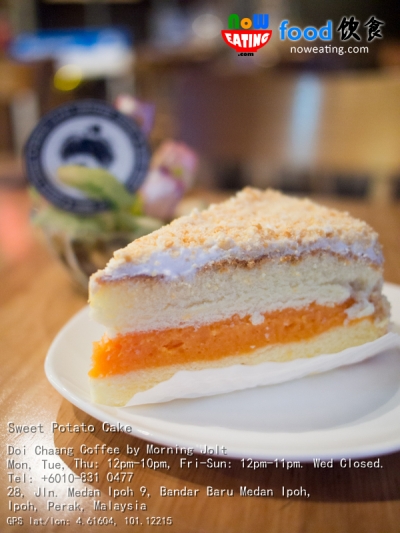 Doi Chaang Coffee at Ipoh is also selling some homemade cakes, including the recommended Sweet Potato Cake. The fluffy cake is pretty unique and is like a "fusion cake" for us who used to Deep Fried Sweet Potato found at the roadside.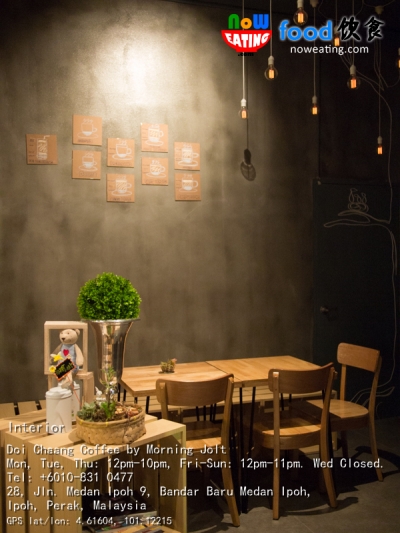 The result? Our eyes reopened and continued our way back to Penang island which took about another two hours. As a whole, Doi Chaang Coffee at Ipoh is a good alternative compared to some retail chain coffee outlets thanks to its premium Arabica coffee bean which is ranked top 1% of world coffee, cozy environment and fast Internet. More important, you are contributing to sustainable farming and hill tribe on every cup of coffee you enjoy. It is a bit hidden away from main road so please use Waze to navigate if needed (GPS: 4.61604,100.12215).
| | |
| --- | --- |
| Place Name: | Doi Chaang Coffee by Morning Jolt |
| Cuisine: | Western |
| Address: | 28, Jalan Medan Ipoh 9, Bandar Baru Medan Ipoh, Ipoh, 31400, Perak, Malaysia |
| Tel: | +6010-831 0477 |
| Email: | [email protected] |
| Working Hour: | Mon, Tue, Thu: 12pm - 10pm, Fri - Sun: 12pm - 11pm. Wed Closed. |
| Tax: | No |