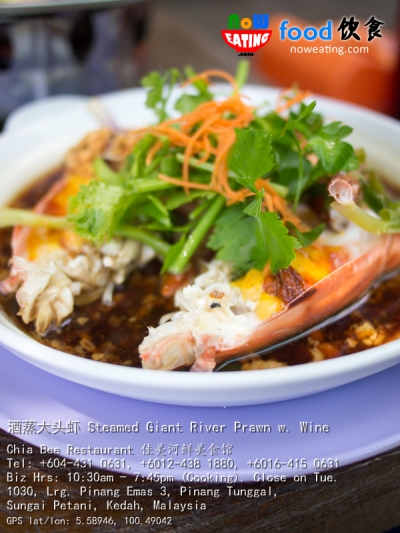 Prawn – a dish we seldom order because we are lazy to peel off the shell. We forgot when was our last time having prawn in restaurant, until we visited Chia Bee Restaurant 佳美河鲜美食馆 for a plate of Steamed Giant River Prawn w. Wine 酒蒸大头虾.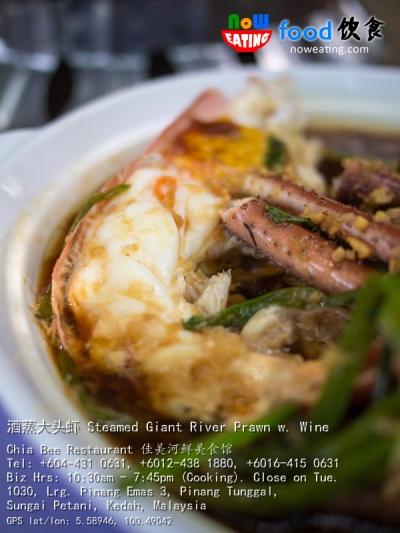 Giant River Prawn is also known as Udang Galah in Malaysia. When ordering, we were told by the host that we can just order one of it. The prawn will cut into half and can be shared with two persons. At first, we were in doubt on whether or not a prawn is enough for two persons. When the food arrive, we felt lucky that we only ordered one of it as the portion was quite big.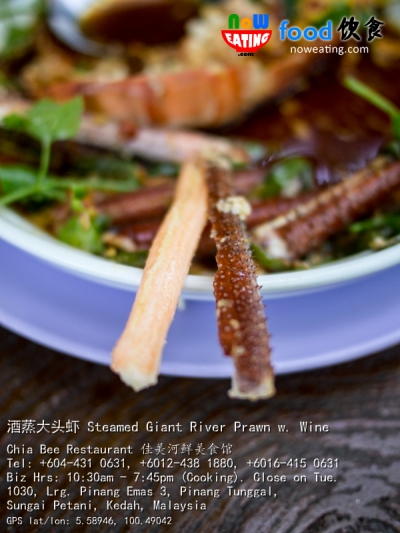 Thing that surprised us is the giant claws of Giant River Prawn. Our first thought was that they could be as difficult as eating crab but turned out that we were wrong. The chef already made an opening on its shell, allowing us to fork the content out easily. The prawn is steamed with soy sauce, rice wine and is best accompany with a plate of rice. During our visit, a 100g of it is priced at RM14. A recommended dish.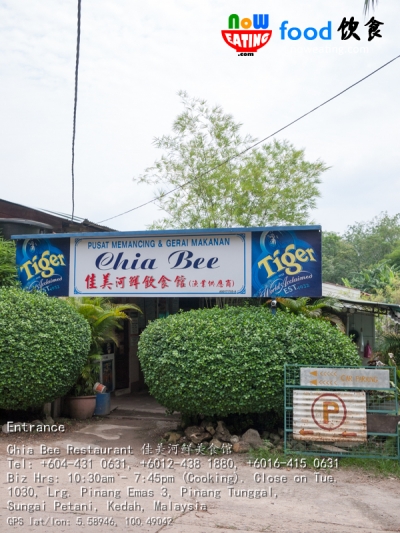 Chia Bee is located at Pinang Tunggal, a small town south of Sungai Petani. From Plaza Tol Sungai Petani Selatan, turn into Taman Sejati. Go straight, all the way to the traffic light at Jalan Lencongan Timur. Go straight at the cross road. You will pass by residential area and some shop houses. Continue straight until you reach a T-junction. Turn left. Drive for a while and notice Chia Bee signboard on your left. Turn left to an unpaved road. Follow the signboard until reaching this restaurant hidden in a light industry area.

The moment you walk into the restaurant, you will be welcomed by few fishing ponds. Fishing is available daily except Tuesday from 8am – 8pm. Restaurant is opened from 10:30am – 7:45pm. We won't cover the fishing detail here but feel free to call them (Tel: +604-431 0631, +6012-438 1880, +6016-415 0631) for details.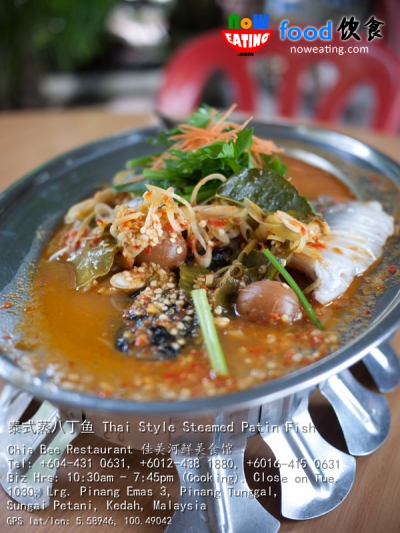 Our most recent visit was also our second visit to the restaurant. During our first visit, we ordered Thai Style Steamed Patin Fish 泰式蒸八丁鱼. Unfortunately, it was too spicy to our liking. We were also worrying that the price could be expensive as a wild Patin fish usually costs about hundred ringgit out there. Luckily, it was just RM27 for 600g. Patin is a freshwater catfish famous with its juicy taste and is one of the famous freshwater fishes in Malaysia.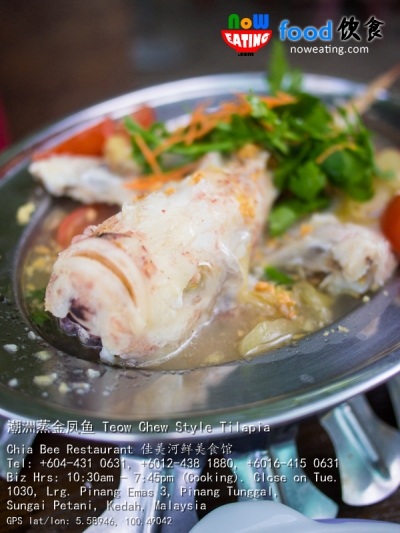 A point worth taking note is that the restaurant only serves freshwater fishes and not seafood. We believe that most of them are reared in their fish ponds. During our second visit and due to the lesson learned, we ordered Teow Chew Style Tilapia 潮洲蒸金凤鱼 (RM23 for 700g). Tilapia is usually not our first choice as it is usually tasteless and occasionally with earth taste. Chia Bee did it quite well surprisingly. At first, we found that the broth had no enough "Oumph" and it turned out that they forgot to squeeze the sour plums on it.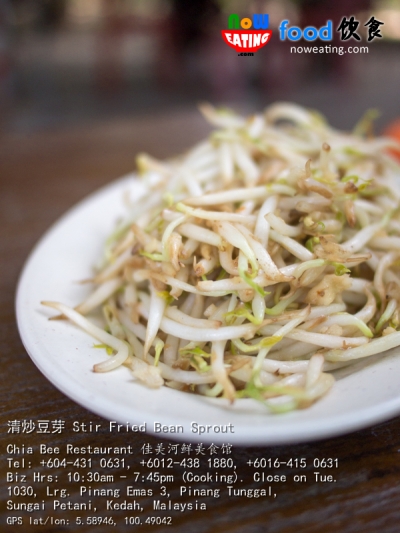 As for the vegetables, they are pretty standard. Stir Fried Bean Sprout 清炒豆芽 is priced at RM6 with adequate amount of "Wok Hey".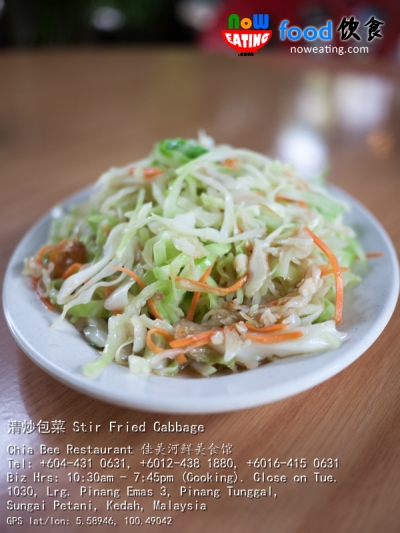 Stir Fried Cabbage 清炒包菜 (RM6) was the one we ordered during first visit last year. Another point worth taking note is that Chia Bee does not impose GST.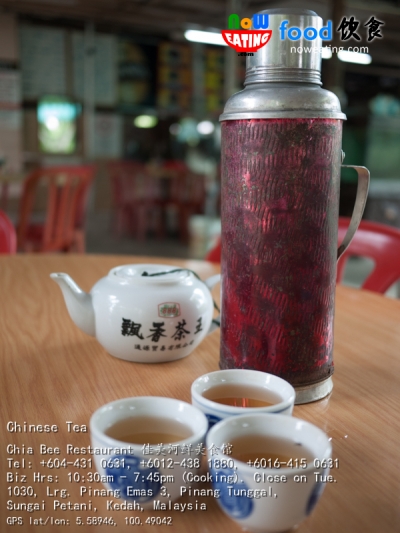 For both of our visit, we ordered Chinese Tea. It has been a while since we saw a traditional red thermal flask like this.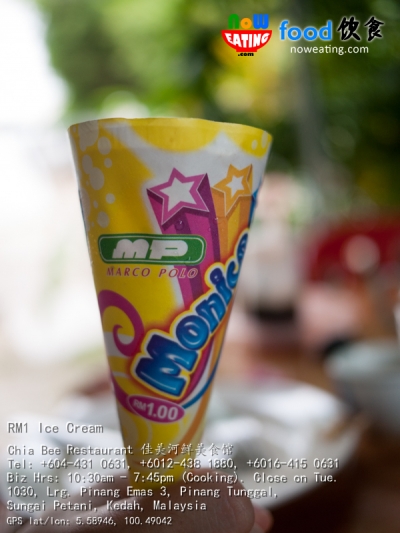 If your tongue is burning due to spicy food, ice cream is available for sale. They are not some well-known brands but good thing is they are relatively cheaper.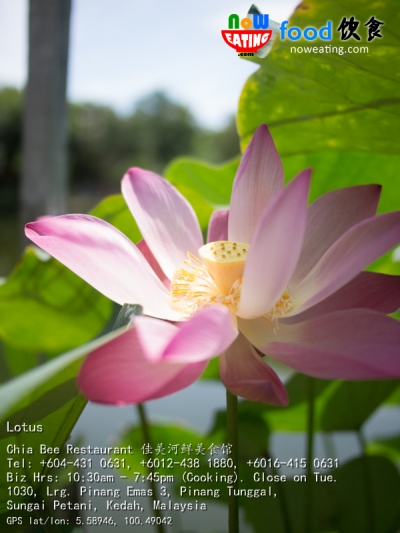 As a whole, Chia Bee is a good place for fresh water fishes and relaxation. Pricing-wise is quite reasonable as well. If "Choo Char" is not your type, fried noodles are also available. Perhaps the only drawback is that since it is next to ponds, flies are seen flying around when food arrive. The restaurant is pork free.
| | |
| --- | --- |
| Place Name: | Chia Bee Restaurant 佳美河鲜美食馆 |
| Cuisine: | Chinese |
| Address: | 1030, Lorong Pinang Emas 3, Pinang Tunggal, Sungai Petani, 08000, Penang, Malaysia |
| Tel: | Tel: +604-431 0631, +6012-438 1880, +6016-415 0631 |
| Working Hour: | 10:30am - 7:45pm (Cooking). 8am - 8pm (Fishing). Close on Tue. |
| Tax: | No GST, No Service Tax |
| Last Visit: | 20150517 |