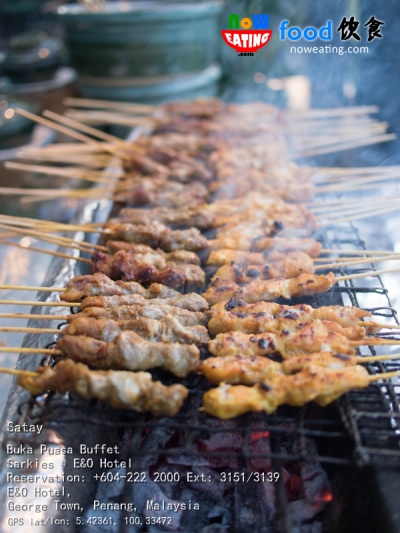 Last year, we visited Eastern and Oriental (E&O) Hotel for its Jamuan Buka Puasa. This year is not exception. Instead of having a preview session, we joined E&O guests for Buka Puasa moment on the first day of fasting month.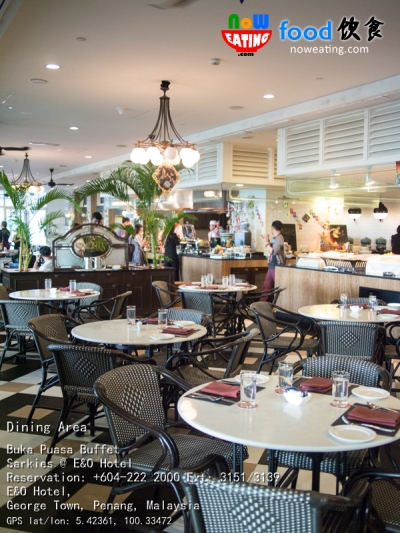 Baka Puasa Buffet is available at Sarkies restaurant of E&O Hotel. E&O Hotel was established in George Town, Penang in year 1885. On March 2013, a 15-storey building named the Victoria Annexe was built next to the old block of the hotel. It is also the building hosting the Sarkies restaurant.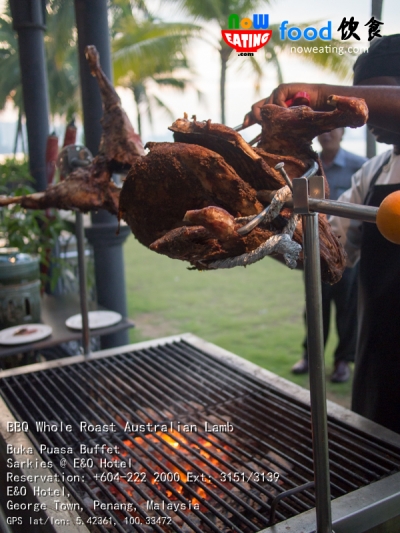 Special for the month of Ramadan, BBQ Whole Roast Australian Lamb, Satay, Roti Canai, and Teh Tarik are available outside of the restaurant. Grilled lamb is a must-try and is usually finished fast. Grilled using charcoal, Satay at E&O Hotel tastes more authentic compared to some hotels.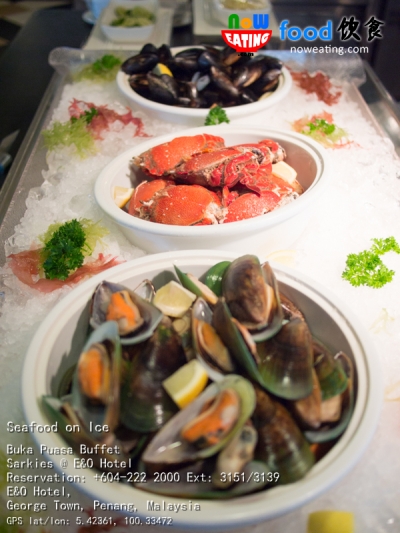 If you fear that the buffet may not worth the money you pay for due to the fact that some hotels usually change their buffet theme from international cuisine to Malaysian cuisine during the month of Ramadan, then you should not worry at Sarkies here. We visited Sarkies several times for its buffet during different months and from our observation, the Buka Puasa buffet remains as "international" as possible with addition of Malaysian cuisine specially for the month of Ramadan.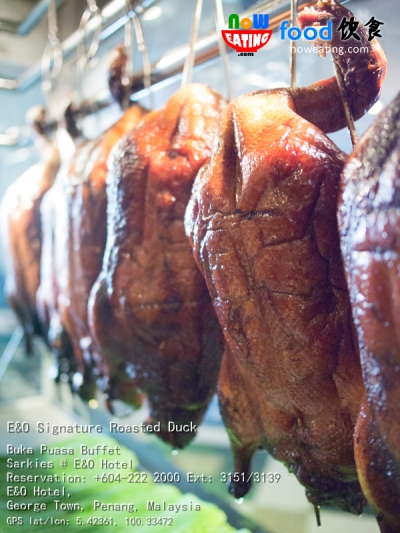 As an example, E&O Roasted Duck – a popular house specialty that goes great with its accompanying gravy is still there and you should not miss this succulent item. This is also an item recommended by Executive Chef Michel Camy.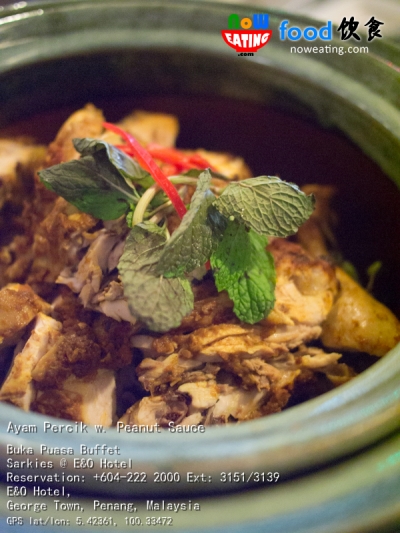 For Buka Puasa, they have their chef creation Malaysian Kampong dishes such as Ayam Percik, Rendang Daging, Daging Masak Merah, Kurma Kambing, Udang Goreng Rempah, Opor Daging Kambing, Gulai Ketam Kampung style and Lala Tumis Kering.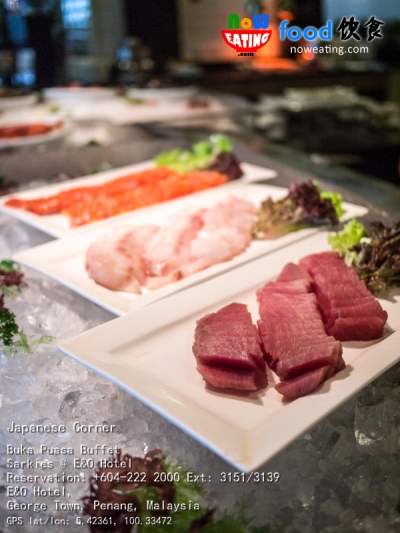 If you are a fan of Japanese cuisine, the sushi rolls, salmon and tuna in smoked and sashimi form are available at a special counter and will certainly whet your appetite.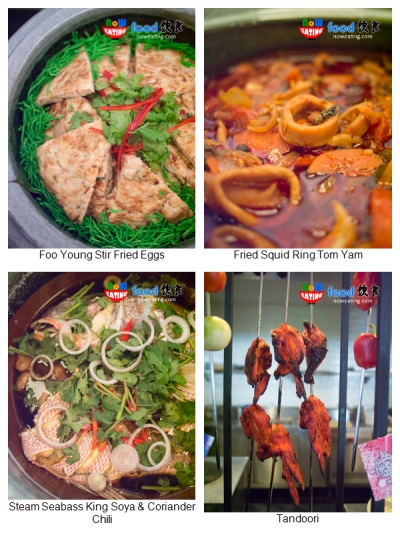 Not to be missed are some Chinese, Indian and Thai cuisine such as Foo Young Stir Fried Eggs, Steam Seabass King Soya & Coriander Chili, Tandoori Chicken, and Fried Squid Ring Tom Yam.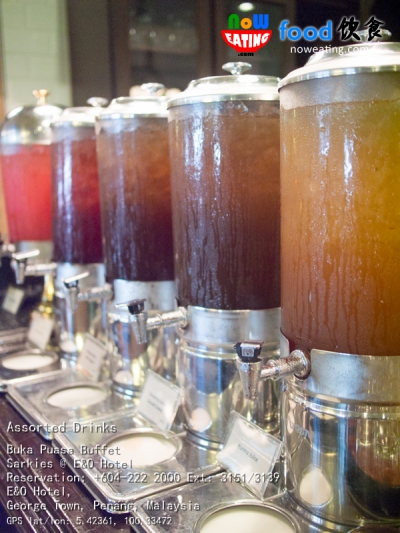 Among hotels we visited this year, E&O Hotel has the most choices for beverage. During our visit, total of five juices including Fruit Punch, Rosella Juice, Wintermelon with Longan, Tamarind Juice and Kurma Juice are available. Did we mention that there are Teh Tarik and coffee machine as well?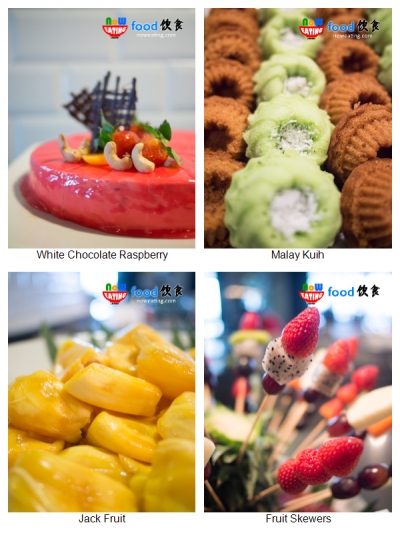 For desserts, again, diners will be spoiled with choices from the medley of delectable items including cakes, Malay Kuih, fresh fruits, ice cream and etc. We particularly enjoyed the seasonal Jackfruit as it was quite rare in any buffet lines.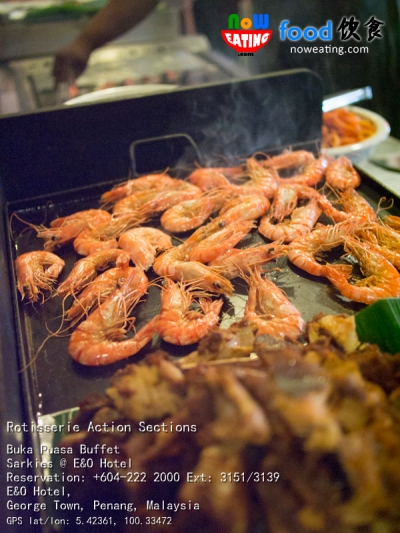 With so many quality food and beverage, it is totally worth spending whole evening in the Sarkies restaurant for its Buka Puasa Buffet. The buffet is priced at RM128.30 nett per person and RM55.95 nett for children aged 6-12 while children below 6 years old get to dine for free. For reservation, please call +604-222 2000 ext. 3151/3139.
| | |
| --- | --- |
| Place Name: | E&O Hotel |
| Cuisine: | Buffet |
| Address: | 10, Lebuh Farquhar, George Town, 10200, Penang, Malaysia |
| Tel: | +604-222 2000 Ext: 3151/3139 |
| Website: | www.eohotels.com |
| Tax: | Nett for Buka Puasa Buffet |
| Last Visit: | 20150618 |