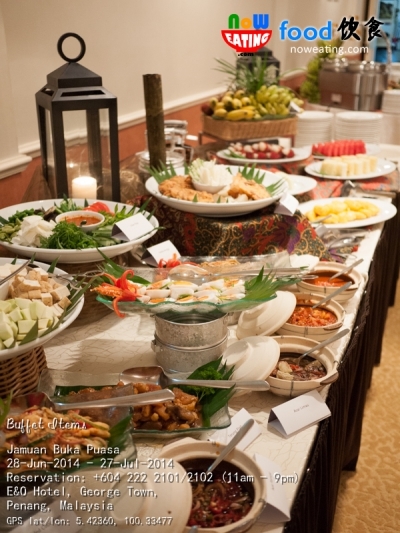 This coming Ramadhan month, Eastern and Oriental (E&O) Hotel of George Town, Penang, Malaysia is pleased to offer you Jamuan Buka Puasa consisting wide selection of Malay cuisine on top of already-famous Chef's Catch, Roast & BBQ Night, and Weekend Buffet Dinner.
Jamuan Buka Puasa begins from 28-June-2014 to 27-July-2014 at the following price:
Jamuan Buka Puasa
28 June – 27 July 2014 (7pm – 10.30pm)
Sundays – Tuesdays: RM96++ (adult)   RM48++ (child)
Wednesdays – Saturdays: RM110++ (adult)  RM65++ (child)
'Salam Aidilfitri' Hi-Tea
Monday & Tuesday, 28 & 29 July 2014 (12 noon – 2.30pm)
RM78++ (adult)  RM39++ (child)
'Salam Aidilfitri' Buffet Dinner
Monday & Tuesday, 28 & 29 July 2014 (7pm – 10.30pm)
RM110++ (adult)  RM65++ (child)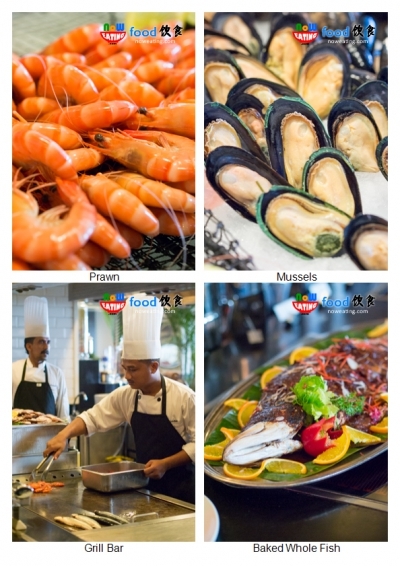 Note that Malay cuisine will be "the staple food" throughout the month of Ramadhan. On Wednesday, additional fresh seafood will be served (hence the slightly higher price compared to other weekdays). For more information about Wednesday's buffet, kindly refer to my previous post.
As for Thursday, it will be Roast & BBQ Night. Additional live action counters are available outside the Sarkies restaurant, including Roasted Lamb Stall, Satay Stall, Tandoori Stall, and Roti Canai Stall.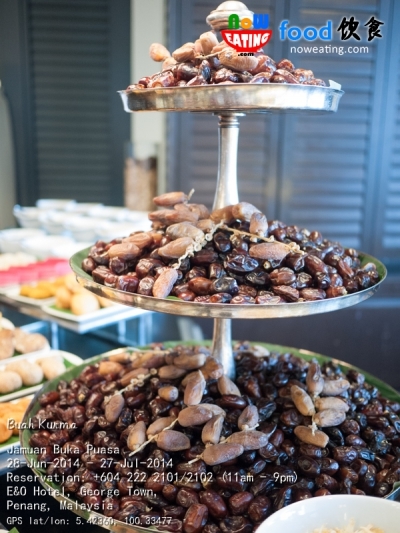 During Ramadhan month, majority of appetizer, main course and desserts will be replaced with Malay cuisine to cater for Muslim guests. As a starter, Buah Kurma (Dates) is readily available as the energy booster.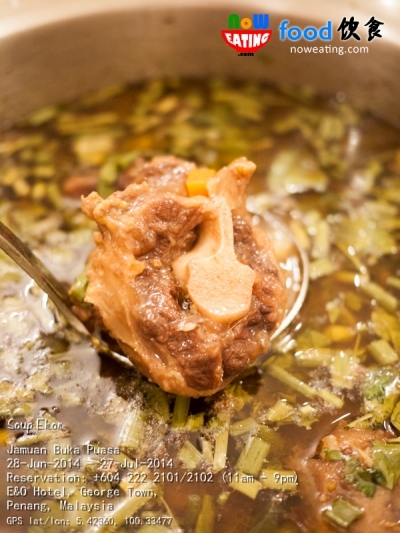 Don't miss the Sup Ekor (Oxtail Soup) as I was told that it tastes good. Best dip with a slice of bread.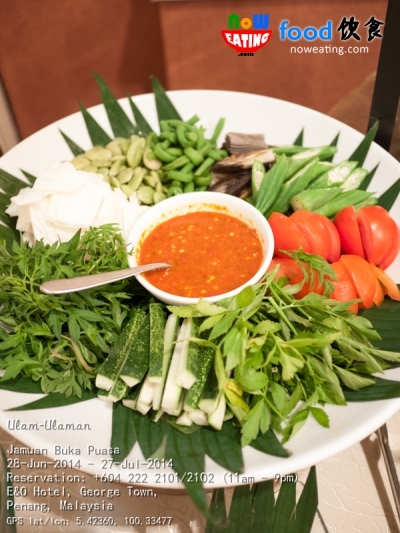 Ulam-Ulaman (assorted raw vegetables) is best accompanied with homemade Chili sauce.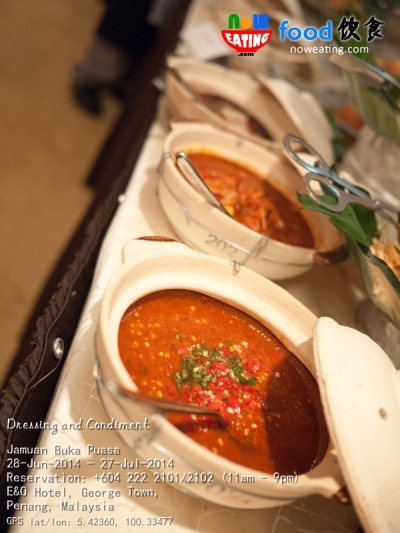 E&O Hotel never fails me on their dipping sauce, including Sambal Belacan, Budu (fish sauce commonly found in Kelantan, Terrengganu, and Southern Thailand),  Cincalok, and etc. They are freely available in this Ramadhan buffet. Beware that some are quite spicy.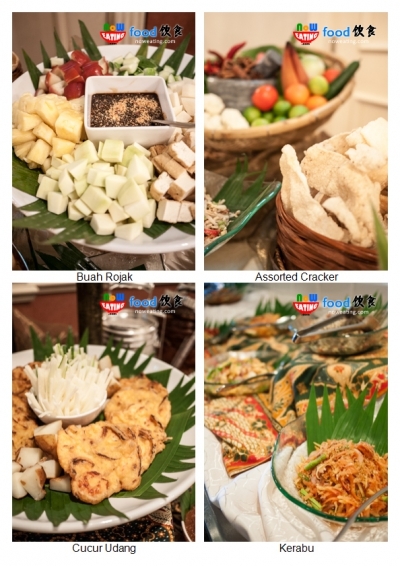 Other appetizers include Buah Rojak, Kerabu, Assorted Cracker, and Cucur Udang. Personally I like their Kerabu Mangga (Mango Salad) and Cucur Udang with whole peeled shrimp stuffed in it.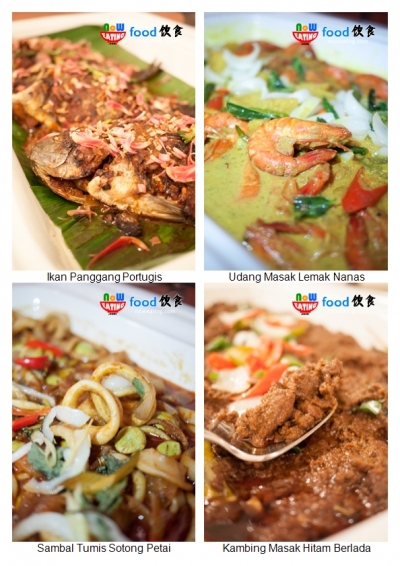 As for the main course, Ikan Panggang Portugis (Grilled Fish Portuguese Style), Udang Masak Lemak Nanas (Stir-Fried Prawn with Pineapple), Sambal Tumis Sotong Petai (Chili Squid with Stink Bean), and Kambing Masak Hitam Berlada (Spicy Lamb) are my favorites. E&O Hotel is not hesitated in using the best quality ingredients to prepare the food, which make the food more delightful to enjoy so that guests always come back for second round.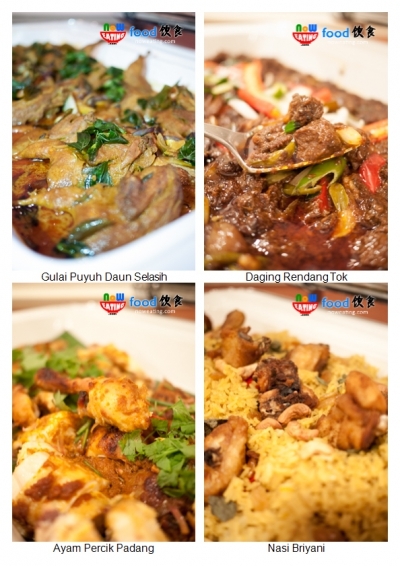 Looking for something exotic? Try Gulai Puyuh Daun Selasih (Quail Curry with Basil Leaves). Another dish I like was Ayam Percik Padang (Grilled Chicken) originated from Kelantan.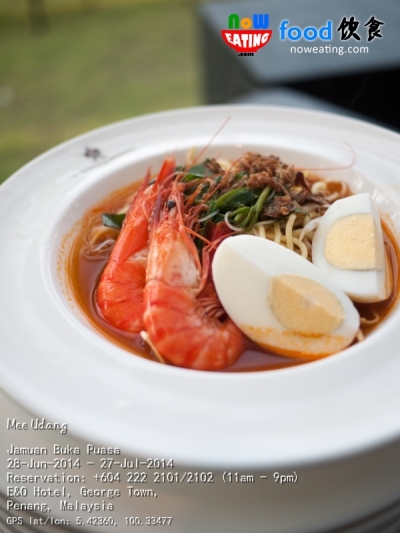 Occasionally, they do serve Mee Udang (Prawn Noodle) from live action counter. The big prawns sure look tempting.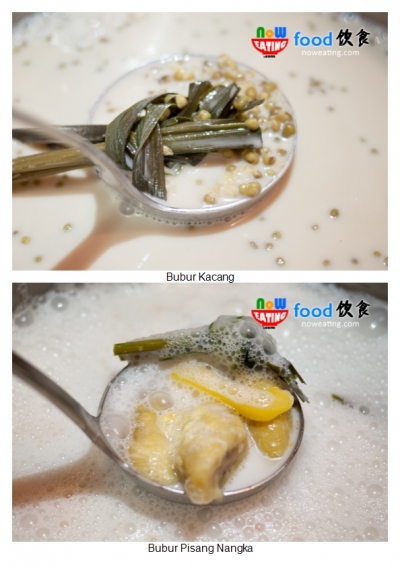 Time for some desserts. Bubur Kacang and Bubur Pisang Nangka are two Ramadhan desserts available.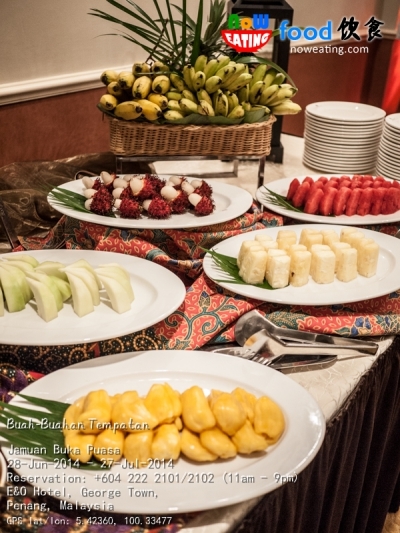 Prefer something simple? Do try their local fruits such as jackfruit, pineapples, honeydew, watermelon, banana, and rambutan.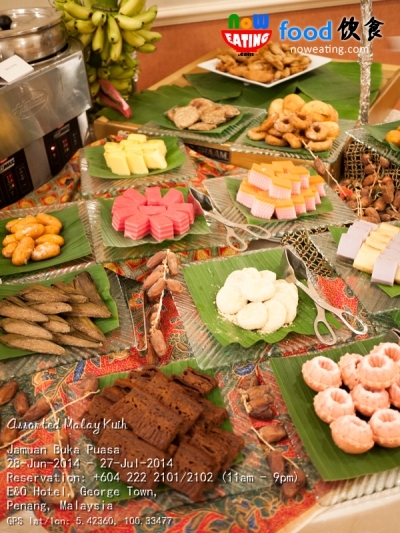 Assorted Malay Kuih are also available during this Ramadhan month.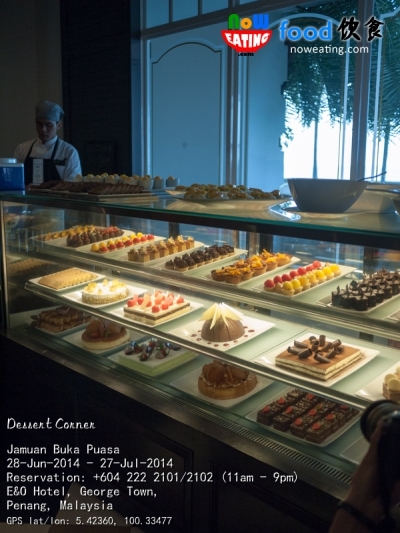 Of course, Western desserts are still there. Cakes of different flavors usually finish fast so my advice is to take some to your table at the beginning of your meal to avoid any disappointment.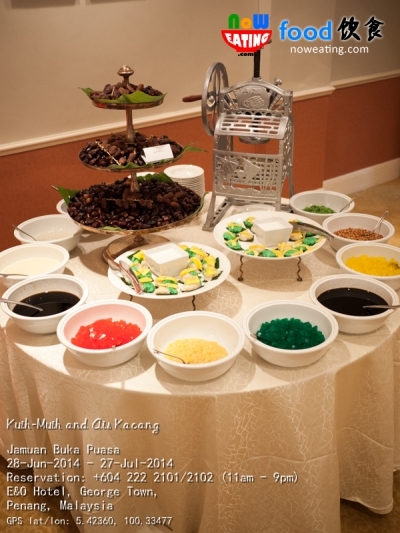 How about a bowl of Ais Kacang?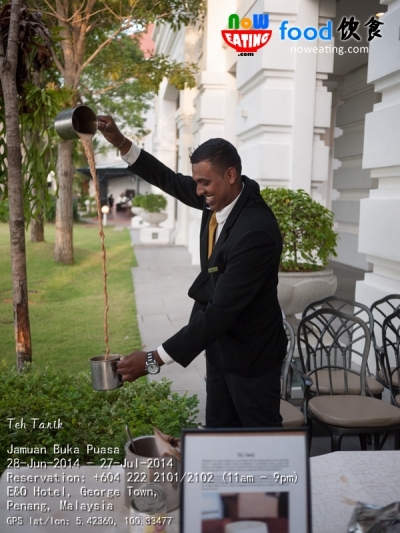 Last but not least, remember to try their Teh Tarik (Hot Milk Tea) prepared and "pulled" live by the crew. It may be a bit too sweet by default and you are always welcomed to ask for "kurang manis" (less sugar) version.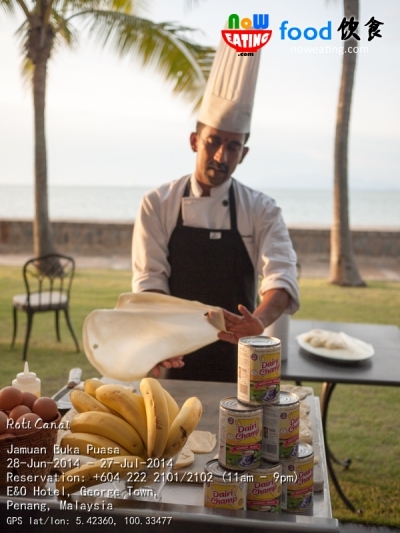 As a whole, Jamuan Buka Puasa at E&O Hotel provides guests a great "buka puasa" experience next to the sea with friends and family. Be sure to make reservation earlier to avoid any disappointment (Tel: +604 222 2101/2102).
| | |
| --- | --- |
| Place Name: | Sarkies |
| Cuisine: | Buffet |
| Address: | E&O Hotel, George Town, Penang, Malaysia |
| Tel: | +604 222 2101/2102 (11.00am - 9.00pm) |
| Email: | [email protected] |
| Website: | http://www.eohotels.com/ |
| Tax: | 10% Service Tax, 6% Government Tax |
| Last Visit: | 20140619 |