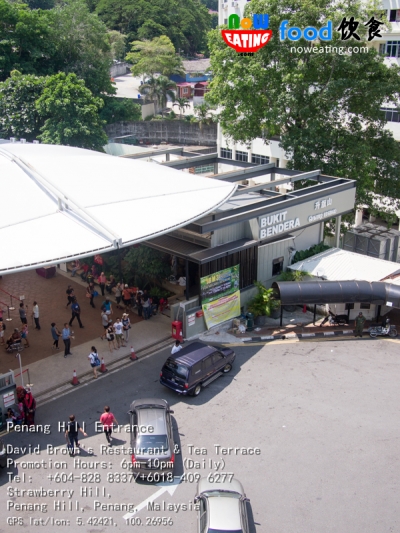 We couldn't remember our last time visiting Penang Hill by train. Recently, we re-visited it again for David Brown's Restaurant 8th Year Anniversary Promotion -the "Buy 1 Free 1" Set Dinner!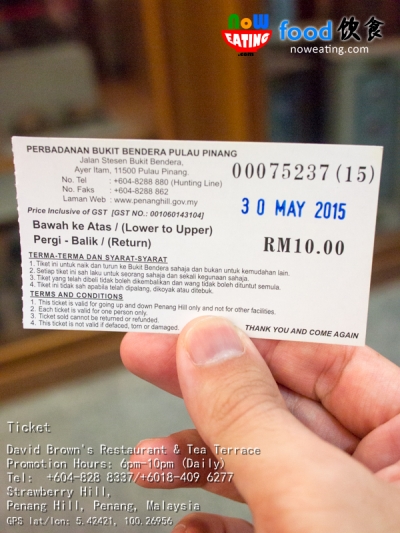 Having phobia on overly-priced admission fee on some local attractions, the ticket fee for Penang Hill train is surprisingly reasonable with round-trip ticket for RM10. The price, however, is only applicable for Malaysia citizen so please bring along your MyKad when purchasing.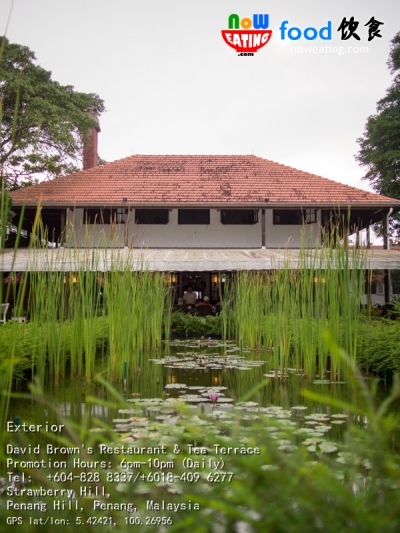 Compared to old train prior to year 2011, the new train is much faster and took about 5 minutes to reach the top. We were amazed by the progress of state government in revamping once looked un-maintained Penang Hill to a lively tourist spot with new Owl Museum, Love Lock and food court attractions. One building remains unchanged is the David Brown's bungalow.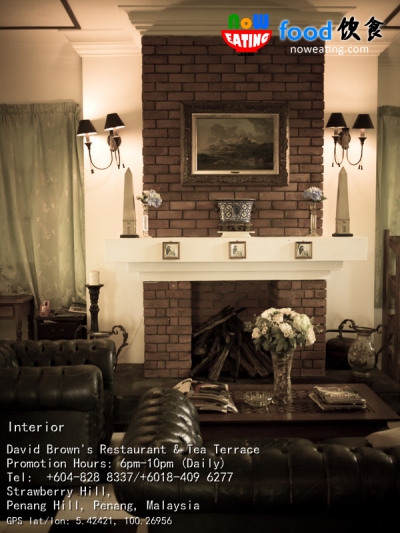 David Brown is a successful English businessman who contributed a lot to Penang. Some places are also named after him, including Padang Brown and Jalan Brown. The bungalow on Penang Hill was belong to David Brown. Now, it is turned into a restaurant by another company. The company used to join venture with The Smokehouse Hotel of Cameron Highlands and as a result, you will notice some similarity here, including the interior, cuisine, and of course – the price.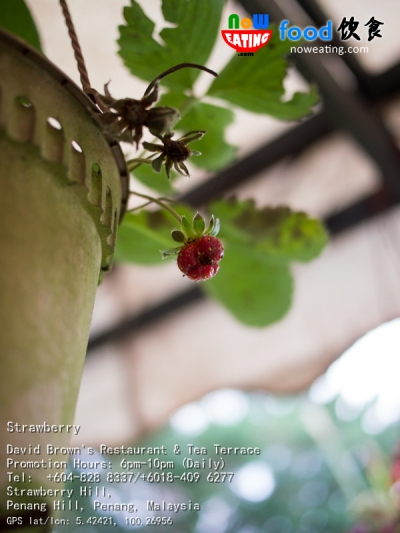 To be exact, David Brown's Restaurant is located at Strawberry Hill of Penang Hill. The reason it is called Strawberry Hill is because Penang Hill was once a strawberry farm but due to global warming, it is no longer a place for strawberry. Recently, David Brown's management found a method to bring strawberry to life on Strawberry Hill again. Picture shows a tiny strawberry we captured in front of the restaurant.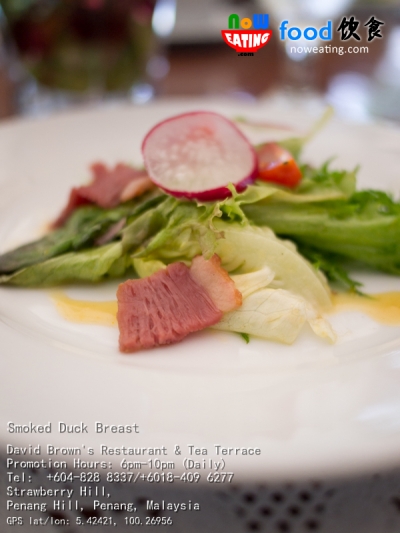 Our promotional Set Dinner begun with an appetizer – Smoked Duck Breast with Mix Green and Honey Lemon Vinaigrette.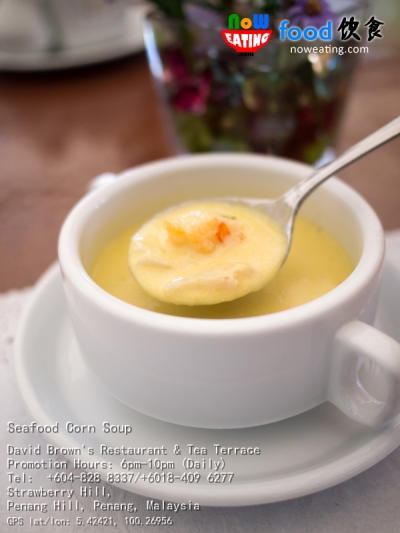 The second item was Seafood Corn Soup made of prawn, scallop and lemongrass. The broth was cooked with fish head and bone… a rather unique soup which looks like pumpkin soup but tastes like seafood chowder minus the fishy taste thanks to the added lemongrass.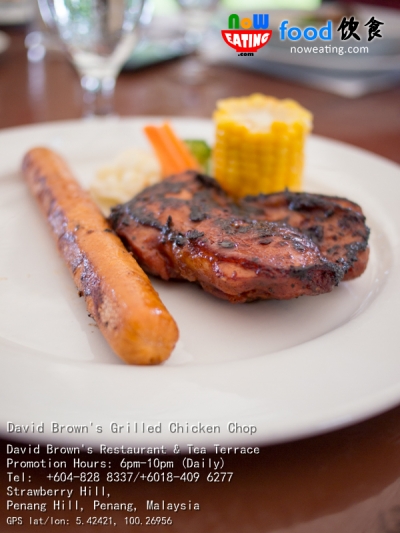 As for the main course, you may choose one out of four dishes available, including David Brown's Grilled Chicken Chop served with Roasted Baby Potato, Steam Vegetable and Corn, and Jumbo Sausage.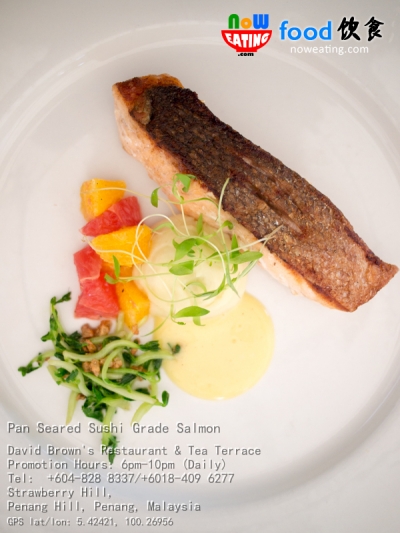 Pan Seared Sushi Grade Salmon was the one we ordered. Served with Potato Cream, Citrus Salsa, Pea Sprout and Aioli.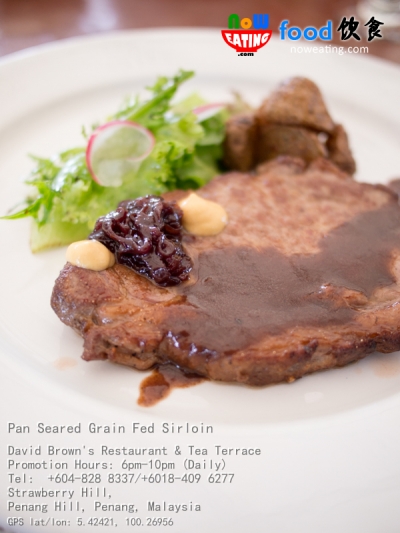 Beef lover should try this Pan Seared Grain Fed Sirloin served with Roasted Baby Potato, Onion Marmalade, Mix Green, Balsamic Reduction, and Au Jus. Note that the Onion Marmalade contains wine. David Brown's Restaurant is pork-free by the way.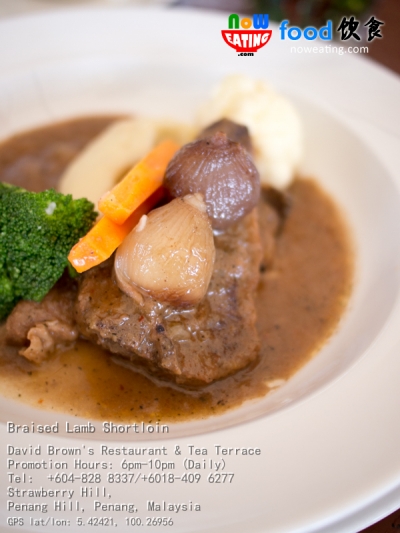 Braised Lamb Shortloin is another special dish from the kitchen in which the lamb is oven-braised for three hours until the flesh becomes soft. Served with sweet Potato Cream, Onion Confit, and Steam Vegetable and Corn.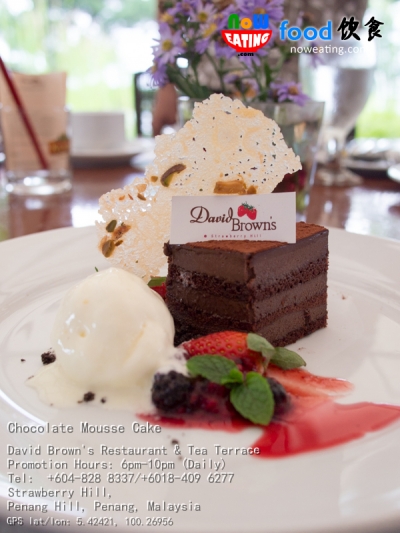 Our favourite was its dessert – Chocolate Mousse Cake with Pistachio Tuile, Vanilla Ice Cream, Mixed Berry Compote, and Orea Soil. The cake was firm with a hint of bitterness and is best consumed with the ice cream.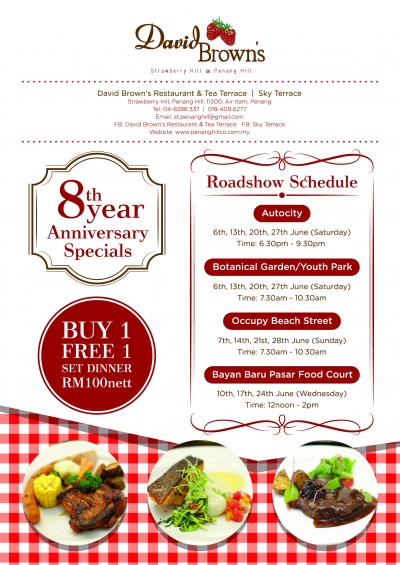 (Right-click and "Save link as…" for full size copy)
The "Buy 1 Free 1" promotion is priced at RM100 nett and is valid for two months – until the end of July 2015. Unlike other restaurants which usually charge customers based on the item with the highest price, David Brown's Restaurant have few "rules" in order to entitle for the promotion:
No walk-in is allowed
You need to purchase a voucher at roadshow (refer to figure above for the roadshow schedule)
Each voucher is priced at RM100
Reservation of 3 days in advance is required
Valid for dinner from 6pm-10pm daily.
Not valid on Public Holiday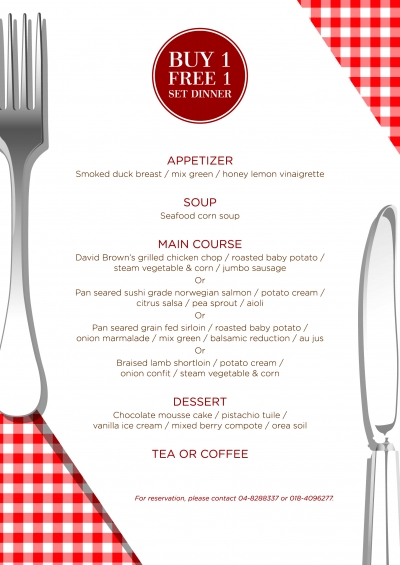 (Right-click and "Save link as…" for full size copy)
So, before going to Penang Hill, visit the nearest roadshow and grab some vouchers first. Is it worth the price? According to the general manager, this is a low profit promotion to attract more customers to try out their food. Note that this is a special menu and is not available as a part of Ala Carte menu. Ala Carte menu is available daily from 11am – 10pm and walk-in is welcomed.
| | |
| --- | --- |
| Place Name: | David Brown's Restaurant |
| Cuisine: | Western |
| Address: | Strawberry Hill, Penang Hill, Penang, Malaysia |
| Tel: | +604-828 8337/+6018-409 6277 |
| Working Hour: | 11am-3pm (Lunch), 3pm-6pm (Afternoon Tea), 6pm-9pm (Dinner) |
| Last Visit: | 20150530 |