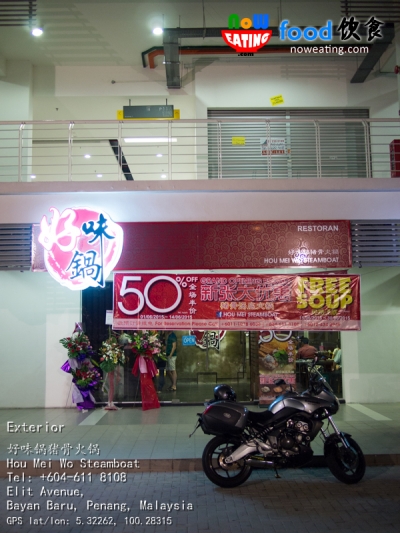 好味锅猪骨火锅 Hou Mei Wo Steamboat has its first outlet opened at Ipoh, followed by first branch at Menglembu and finally, second branch at Elit Avenue, Bayan Baru, Penang. This also marks the second steamboat (hot pot) restaurant in Elit Avenue. We were fortunate enough to visit it on its first day of opening, 1-June-2015.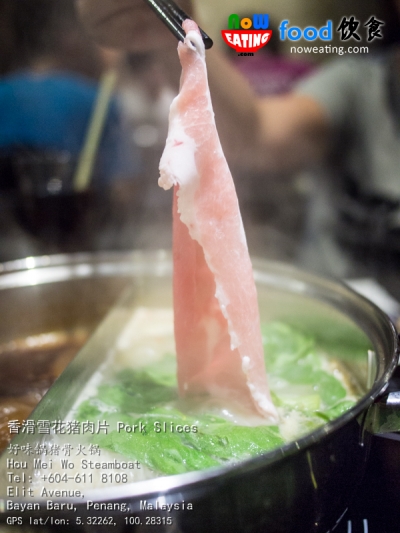 In conjunction with new opening, Hou Mei Wo is offering 50% discount from 1-June-2015 until 14-June-2015 on all ingredients (except drinks) and FREE soup. From 15-June-2015 – 30-June-2015, 50% discount will be no longer available but customers will still entitle for free soup.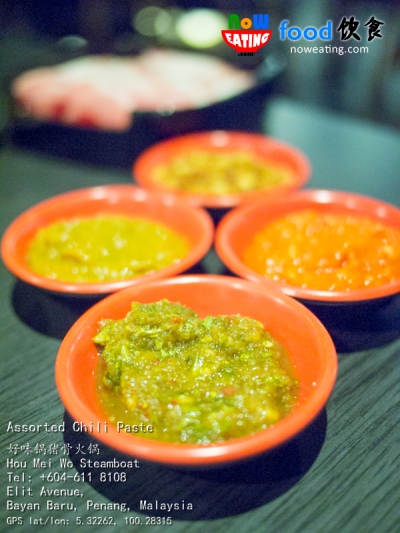 While waiting for your hot pot to arrive, it is good to grab some homemade chill sauces such as coriander chili, lime garlic chilli, and garlic chili. Personally, we liked the coriander chili.
Coriander also acts as key ingredient in 特制猪骨 Special Pork Bone Soup (RM12.90++). It is perhaps one of the best hot pot/steamboat base soup we have tried and can be describe as rich, sweet and aromatic. It came with sweet yam, radish, tofu skin, Chinese cabbage, and a "big bone" if you are ordering single soup.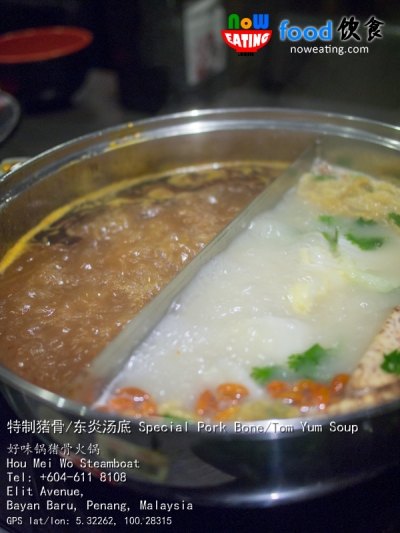 Even though you can order twin soup (e.g. Pork Bone + Tom Yum for RM15.90++), we recommended you to stick with pork bone soup as Tom Yum was kind of average for us (e.g. plain and tasted a bit like those from instant noodle). The soup is refillable.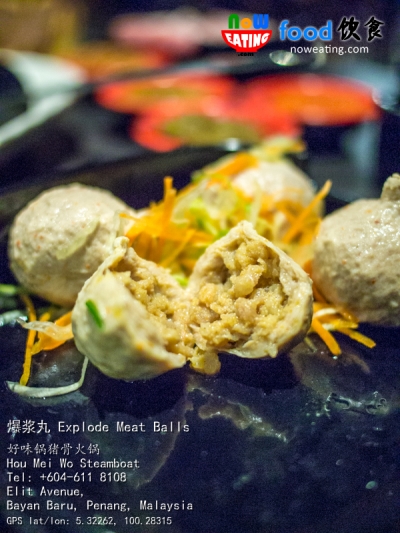 Note that this is not a buffet steamboat and a menu will be given for you to select ingredients. Sets are also available but we prefer to try something unique and thus we selected our own ingredients. The first item we ordered was 爆浆丸 Explode Meat Balls (RM8.90++). Similar to the one in Stephen Chow's movie, it actually squirts the moment you bite it. The filling is made of pork and tastes a bit like "otak-otak".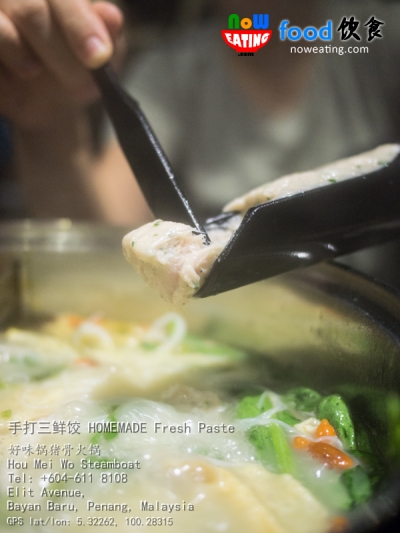 手打三鲜饺 HOMEMADE Fresh Paste (RM12.90++) is another recommended dish. Squid, prawn and chicken were mixed and minced into two "bamboo tube".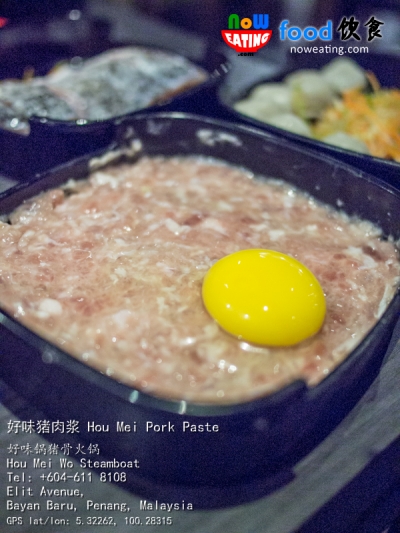 Homemade Fresh Paste has a taste of seafood. If seafood is not your type, we recommended 好味猪肉浆 Hou Mei Pork Paste (RM8.90++). Stir the raw egg with the minced meat before putting them into the boiling soup.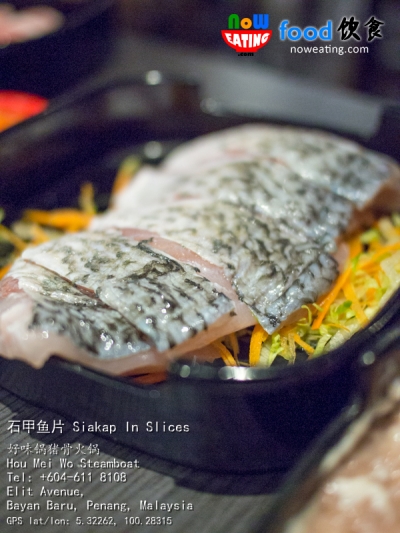 石甲鱼片 Siakap In Slices (RM12.90++) is definitely worth the price thanks to fresh and thick portion.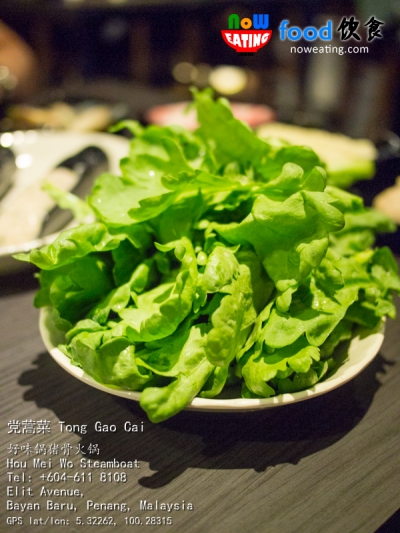 党蒿菜 Tong Gao Cai (RM5.90++) is also known as "steamboat vegetable". A must-have and the portion is also quite big.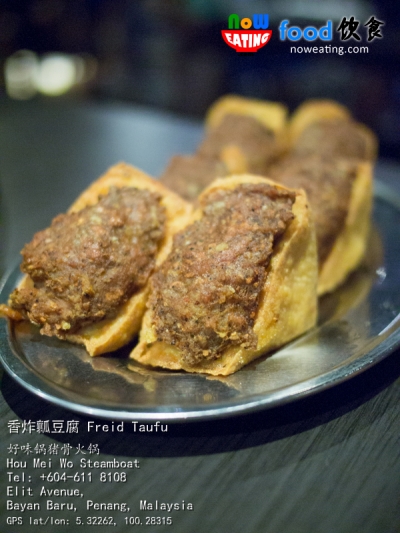 香炸瓤豆腐 Freid Taufu (RM7.90++) even though are homemade, they did not go well with hot pot. The pre-fried filling was a bit hard as well.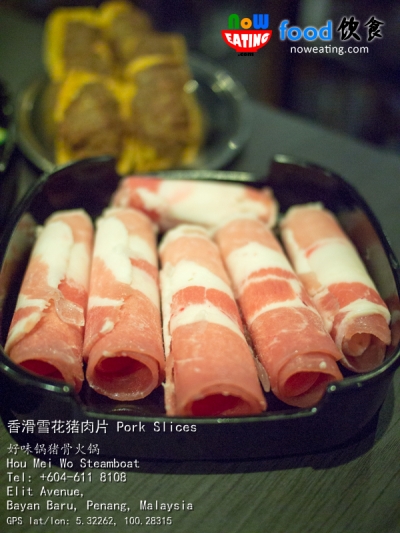 Time for shabu-shabu. 香滑雪花猪肉片 Pork Slices (RM9.90++) is a must-try.  You can even order a combo platter consisting of lamb, beef, pork and chicken slices, or a "party plate" consisting of 30x pork slices.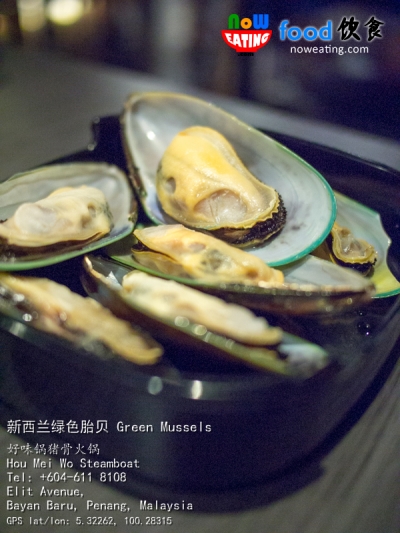 新西兰绿色胎贝 Green Mussels (RM8.90++). As a whole, Hou Mei Wo Steamboat is definitely worth a try thanks to its quality Pork Bone Soup. Similar to most steamboat restaurants, you may feel dehydrated after the meal. During our visit, power trips occurred due to power overloading (most tables are using induction cookers) but we believed that the issue will be ironed out soon. After all, it was their first day in business.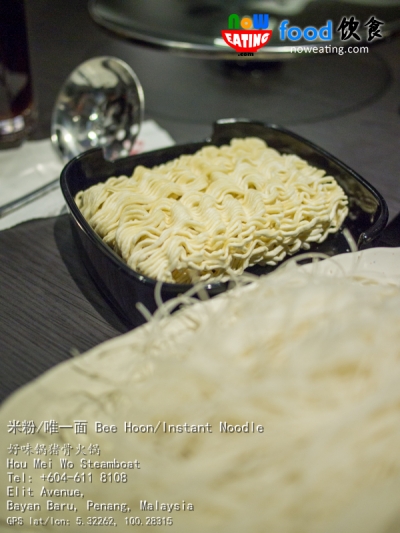 With 50% promotion, both of us spent RM42.50 inclusive service charge and GST, cheaper than some buffet steamboat for two. We were full to an extend that we need to take-away the Instant Noodle (RM1.50++) we ordered. The portion of Bee Hoon (RM1.50++) was quite big and went well with Pork Bone Soup.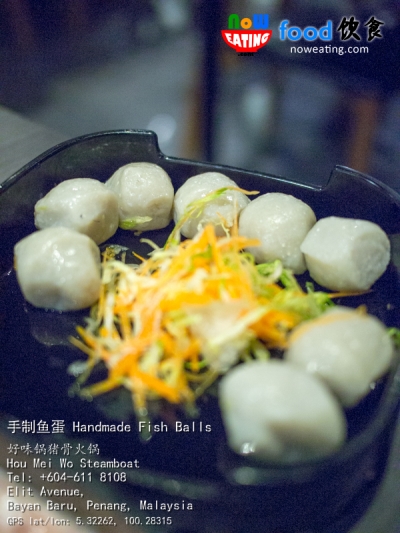 手制鱼蛋 Handmade Fish Balls (RM7.90++). We forgot to ask for the business hour and the information is nowhere to be found in their business card nor Facebook page. We visited it during one evening. Feel free to call them at +604-611 8108 for reservation and questions.
| | |
| --- | --- |
| Place Name: | 好味锅猪骨火锅 Hou Mei Wo Steamboat |
| Cuisine: | Chinese |
| Address: | 1-01-08, Jalan Mayang Pasir 3, Elit Avenue, Bayan Baru, 11950, Penang, Malaysia |
| Tel: | +604-6118108 |
| Tax: | 10% Service Charge, 6% GST |
| Last Visit: | 20150601 |